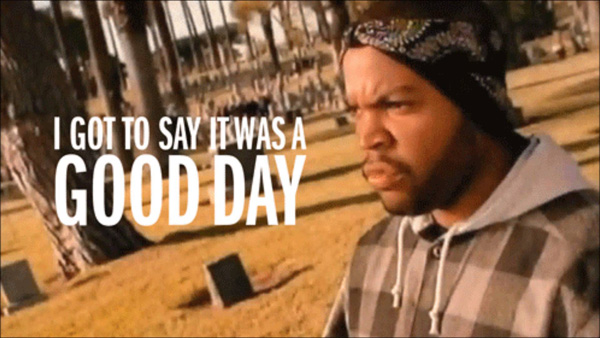 Indeed it was IceCube, it was a good day. A very, very good day I might add. I've had a really good time with two good friends, one of whom I don't see to often. But hopefully that will change and we can have more fun together. Had some food in town, then we sat and talk for a while and it was fun. Overall today has been a great day and any signs of looming depression is wiped away. I really hope this good feeling will last a long time now.
I've also started playing The Order 1886 for the PlayStation 4. Not to far into the game, but so far its pretty nice. I don't really care for graphics but man, that game is beautiful. If it is as good or bad as people say, I can't say anything about right now. I'm to early into the game to have a real opinion of the game.
Hopefully I can start my GameBoy Advance project soon. I've gotten a hold of a faulty GBA SP and I hope the screen at least work as it should. I'm going to mod it so I can a front lit screen in an original GBA since I like the form factor so much more. I'll post some pics when I start my project and hopefully I can get everything to work.
And by the way! If you have a Kickstarter account and love the old platform games Rare used to make like Donkey Kong Country N64 and Banjo-Kazooie. Some old Rare members have formed a new company and is kickstarting Yooka-Laylee. It looks great, so check it out! I've done my part.
I've had wonderful time with my vacation, it was well needed. And I've managed to get a somethings done so that's even better. But tomorrow its back to work, but I could definitely have had some more vacation days. Haha, well I suppose I shouldn't be greedy. Having easter of was more than enough. The first day I was incredible lazy. I only watched TV and caught up with some shows and animes I've missed and it was great. Finally back on track there. Honestly I almost felt bad of how good, doing nothing was. After that it was time to finish of some games I had lying around. And that's probably what I'll do today, if I feel better. Came down with something yesterday, that really made me feel like shit. Vomiting and just feeling, sick. Ugh. Hopefully it will feel better later today.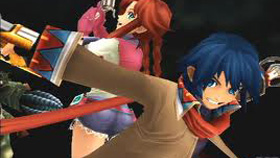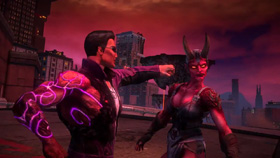 There where two games I finished before I had my easter vacation, but it was so close to it so I thought I'd mention them anyway.
Wild Arms 5
was a good game, much better than
Wild Arms 4
but I still think I like
Wild Arms 3
more personally. Better characters and I like the world more, even the fighting more actually.
The HEX-fighting system is good, but I prefer the games without to be honest.
And right now I am so sick of WA5 battle theme… Sure these things might sound like I'm pissing on the game, but I'm not. I had a very good time with the game, even if I didn't like everything about it.
Saints Row: Gat Out of Hell
was a short but fun game, something that I felt I needed after a long JRPG. It is silly, it is over the top. But damn it was enjoyable, even if it was a tad short.
Next up was a game I've been eyeing for sometime and it was
Metroid: Zero Mission
. I have actually never played a Metroid game from start to finish before.
This was such a good game, it felt really great playing it and I really think I needed a game like this.
Samus Aran
is such a cool lady, kicking space pirates ass and doesn't afraid of anything.
(Old internet meme. Goggle it.)
And last but certainly not least! The
Legend of Zelda: Wind Waker
. Me and my friend
Elden
have been playing some Zelda games together in the past, like
A Link To The Past
,
Skyward Sword
and now Wind Waker HD. Such a good game, I was very enjoyable. Guess we'll see if we will tackle more Zelda games together in future.
And now I'm going to enjoy Final Fantasy Type 0 HD, I've just played a few hours on it but I like it so far. I'm just starting on chapter 3. So I'm looking forward to get to know Class Zero even more. Before I leave I just want to thank my good friend Elden for making drawing me! Right now I'm using it in my banner and I really like it! But then again I do enjoy his art and if your interested check it out! He has some really cool stuff. Here is the old chibi art VS the new one, which took some inspiration from the Tales of games. With a bit of his own style thrown into the mix. Hopefully I can get him to make a new one, when I start to loose some weight. Hehe.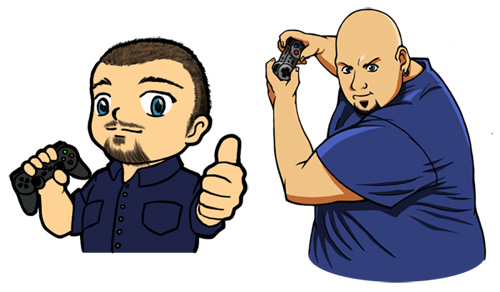 It will soon be the 27th October and that means I will turn 31. A year older and a year wiser as they might say, haha. Well not so sure about the last part, but at least older. And today I was moved, I'm still at a loss for expressing my gratitude.
My friends banded together and got me something I've wanted for a long, long time. Or rather I wanted to regain something that I lost a long time ago. This year marks 20years since I got the Green Ranger's Dragon Dagger for Christmas and my friends got me the Legacy Dragon Dagger. And my emotions are all over the damn place! The original Dragon Dagger was my favorite Power Rangers toy when I was a child and I've always loved to, so to finally have it again has made me happy beyond words. I really can't express how I feel, but hopefully I can get though a bit more in the second episode of YazTalks.
You might have seen my previous post where I opened up pretty much about my experience with love and my fears about it. And I said I was probably going to tackle my time being bullied and how it's affected me, how it hurt and made my life terrible for me and how I have to deal with all that daily. It's a scar that heals slowly, so incredible slow. But one day I can get over all this and live without my problems.
I'm not writing this to seek sympathy from people, I'm writing this because I need to get this shit out. It is eating me up inside and I need to get some thoughts out.
I've always been a weird one, I've liked stuff no one other around me liked. I've always been "special" according to people. Well I have a mild diagnose of ADHD and had a hard time grasping stuff at a young age, that filled me with a rage I don't miss. It was because I was hyperactive and I couldn't burn the energy, I had trouble focusing on one thing. I still have these problems, that I'm still so hyper at times that I fall into depression and I can do nothing about it. I want to do hundred things, but I can never start anything. Sometimes if I have conversations with my friends I can space out and totally loose the conversation, its hard when it happens since I don't want people to repeat themselves because I couldn't focus. It also makes some parts of my work hard, because I can start spacing out and then forget what I was talking about. I still have periods when I get to excited where I seem to loose control and I can see what I am doing, but I have no control of it until I "cool down". I hate when that happens, it feels like I'm not me… And it was only a few years ago I got my diagnose, so I could start trying to wrap my head around all the stuff I didn't get. If you want to know more about ADHD google it.
The problem with all this was, that when I was young no one bother to check if I had a diagnose. I was just a problem child, who was a bit too wild perhaps. I started school a year later than everyone else in my age, since it didn't work for me being in school. Because of my wild behavior I had a really hard time making friends, I didn't know how to approach people and I guess kids didn't want to be with me since I was a weirdo. There where some people who was with me on recesses, but nothing more than that. And not being able to make friends, really left a deep scar inside. I still carry that inside me, I am so afraid to meet new people and I'm afraid the ones I've met will leave me…
But at least one thing changed in 1994 I went to a school where I made my first friend, it was around this time Power Rangers was popular and me and my friend where about the only two people at school that where honest with liking the show. A classmate introduced us, I remember that day so well. He had just gotten a new toy from Biker Mice from Mars and he was showing it of to two classmates/friends, then I approached him and we started to talk about Power Rangers and stuff. And now 20 years later he is still one of my dearest and best friends, but I don't think he understands how important this is to me. Since he doesn't have my problems, I constantly worry that I'll loose his friendship just because of my problems. The same goes for all other friends I have now, I'm so afraid of this.
After we have known each other for a few months, there where rumors about us being gay. Well we where both weird and liked cartoons and videogames and that was more of less a big fat no at our school. If you didn't like cars and that shit, you where an outcast.
And then we where bullied for playing Power Rangers at school, in the past I regretted this so much, but now I think it was great. Now that I've written all this, I really noticed how hard it is to form the words I really want. So I'll just skip some stuff I was going to write from the start.
I've been bullied hard in my life, hit, kicked and treated like I had the plague. Treated like I had the plague because of my psoriasis. So I developed social phobia and my depressions where getting worse and worse, to the point where I've tried to take my life two times. But I'm still here, so you can guess how that went. So to find some sort of escape, I started to eat. Eat and eat and I'm large today and that just keeps adding to the depression. It's always something, but I hope I can start loosing weight soon. I'm going to start training and I hope it goes well, I want to be thin again. Well thinner at least, just that would do so much for me.
But there most have been some form of comfort in my life? Yes, I found comfort in videogames at an early age, its always been the constant thing in my life. Even when I didn't have any friends I always had my games, that's why videogames are so important and such a big part of my life. It is not just a hobby, I think of it as a big savior for me. It was a world I could turn to, it was a better world, to be a hero with friends who cares deeply for him. Cartoons and TV-shows was also a world I could escape too, and I still love cartoons today and watch as much anime as I can. Sure it wasn't a solution, but it was what I had and still have. But perhaps people can understand why I post so much about games and I'll continue to do so. Music has and is also a big part of my life, especially metal. It has given me power to carry on and fight, even if nothing works out for you. Never give up. I've been close to ending my life, I've had two failed attempts at ending it. I'm not sure I've even told my friends about that, but now you'll know…
There has been a lot of other stuff I've had to deal with and the stuff I've written so far only covers 4 years of school life. There are 5 more years of school, problems, being bullied and thoughts of suicide. Then we have all the time outside of school and the years after it, the stuff I've had to deal with there. I don't think I'll go into any of that, at least not now. Just writing this brings back so many bad memories that I'm sitting here crying right now as I type this. Even with my life and the stuff I've had to endure, my life hasn't been one big problem filled one. I've made friends, who I hope will always be there. I've gotten a job that has helped me get on my feet and be able to live without anyones help. It may sound like my parents haven't been a big help for me, but that isn't true. They have always been there, perhaps not always in the way I needed them to be. But despite what anyone thinks, nobody knows what we've gone through. Both good and bad stuff, so don't judge.
I'll just wrap this up by thanking all the people in my life, thank you for you are part of it. Friends, family and all those few individuals who has stayed with me and I hope you will stay with me. Even with all my problems, even the ones I can't control. But hopefully you'll know why it's like that now, or at least try to understand. I have to stop writing now, it's just to damn hard and I'm still sitting here with tears in my eyes and a bunch of bad memories bubbling up. Future posts will be much, much happier posts. Now that I've got this crap out of the way.
For once its not a post of videogames, I have to make one of these from time to time. I have been thinking a whole lot about this in the past weeks and now I just have to get it out of my system.
They say love is powerful and can be magical, it a wonderful and awesome thing. But how do you handle love when you don't understand it? There are a lot of people, if not all who doesn't understand love. But for me with my problems of not understanding my emotions, this is extra hard. I think I've been in love once, it was a long long time ago. I was just a kid in middle school (lågstadiet) and there was this girl I like no loved I think. I felt something really strong for her, something I've never felt about anyone else. But she ruined me, she made it impossible for me to feel anything like that again. I'm afraid, her reply to my love letter I wrote (I'm coming to it) has really fucked me up good. This together with being bullied in most of my school years made me close of what emotions I had. And now about 15-16 years later I still can't seem to unravel my emotions, they are fucked up.
Well yeah, as any person who is afraid to confront someone directly I wrote a sappy love letter. Along the line of, "You are the most beautiful girl I've seen. Just seeing you makes me happy and brightens my day." Stuff like that, nothing in appropriate or hurtful. So after much debating on how to give it to her, I put it in her locker. And here is the part where went straight to hell. She found the letter, I didn't write is was from me. But her reaction to reading it is that she starts crying. Not happy crying, but hurtful disgusted crying. Her friends asked me if I wrote it, being in shock of that reaction from her I said no. But they apparently knew, so already being the "weird" kid with hobbies like no one else had and having a hard time, things got worse.
No girl in my entire class would speak to me anymore. Can you even imagine what that did to a little kid? A kid who already had problems he didn't understand and could deal with. Now had to suffer through this shit too?! I really regret writing that letter, its made my life terrible and I'm afraid to trust and love people.
Some say I should get over it since it happened long ago. True, but how do you fix something like this? I have been scared of women ever since, I'm afraid to get close and talk because I think I'll get rejected. I have some really great female friends right now, but I have this constant fear of loosing their friendship. If I show who I am, they will all leave. But then again, I have that fear even when it comes to my male friends.
The reason why I can understand feeling well is because I have a diagnose. I can flip out at times when I get to excited. I have problems with concentration and knowing what I feel and how to react to it. There are probably more stuff that I don't know about, but I might make a post about that later. So people might understand me better.
This is also one of the main reasons I hide my fears when talking about women with my friends. I can get very sexual in those talks, but that's the scared little boy talking. I don't want to let people in, since I'm afraid and I don't know how to handle it. Like Elza from Disney's Frozen I "Conceal, don't feel. Put on a show". So I cover it up with crude humor and stuff, my friends now how I can be. But know they'll also know why, I have actually never told them before.
So how as a 30 year old do you deal with this? I'm to afraid to try and meet someone. I'm afraid they'll leave when they get to know the real me. I'm a videogame, anime loving person, who also suffer from social phobia and are afraid of being rejected by everyone.
Well this turned out to be a long post, but it feels better having gotten some of it out. Just writing it here make it feel a bit better, but it doesn't take away the problem. But hopefully I deal with them slowly. I apologize if there are a lot of misspellings and stuff, I'm writing this from my mobile. So I'll have to clean it up later, I just wanted to get this out.
So today I turned 30 and it feels good. Nothing different about it, I'm just pleased I got my own home and job before I turned 30. So it's good, good, good!
I was treated to a delicious meal by my good friend Recluse yesterday, it was a very good chicken curry stew. Loved it! And to be able to share that with some of my best friends was awesome, best birthday present I could have gotten.
If it wasn't for that I wouldn't even care about gifts, I'm giving myself a PlayStation 4 next month that's more than enough. Sure, I wouldn't say no to gifts but they are not important.
So far today I've been out and got groceries, got toilet paper (it's important!) and done the laundry. Now I'm just going to take it easy and relax and enjoy the day. See if I decide to play something or just watch a movie, I feel like I want to do something. But I'm not quite sure what. Hopefully I'll find something to do.
Just one more week until I turn 30! Awesome or something. I plan to spend next Saturday (the day before my birthday) with a couple of friends. Getting treated to dinner and I never say no to a free dinner, no sir. Otherwise I am not going to celebrate this year, I don't feel the need to. Sure, I'll probably make a post about it here and such. But I won't be inviting people over and all that, let the people who think that's fun do that. I'd rather do something that makes me feel better, so hanging out with friends or playing videogames.
If you have missed it, my review for Disgaea D2: A Brighter Darkness is now up on PSSverige. So head over there and check it out! It was a good game, perhaps not all what I had hoped but still good. I hope I can pick up a bit of Kingdom Hearts 1HD again tomorrow, I haven't played it for a while now. So I'll see if I feel more like it tomorrow. I'd rather be playing Kingdom Hearts: Birth by Sleep HD to be honest, I've been interested in that game for some time and I'm glad it will be getting an HD port.
And we are now 40 days away from the PlayStation 4 release here in Europe, I'm starting to feel a bit hyped now. Hopefully these days will go by fast and before I know it, I'll be sitting there with my PS4. Sure there are still a bunch of games coming for PlayStation 3 that I am going to get, but I want to be out and among the first this time. I haven't been able to get a console at launch since GameCube, I just want to be a part of that. And it's going to be nice to be able to use the DualShock 4 controller on the PC, right out of the box. That's something I really like, since I have been thinking of trying certain games on my PC. But I have lacked a controller I feel really comfortable with and I want to play some emulators too.
Well more chit chat at a later date, now I have to try to get some sleep if the coughing will let me sleep. I'm going back to work tomorrow, so we'll see how that works. I just hope the coughing will end soon, feels like it's killing me. Goddamn it.