Det är ingen frågan om saken, Nintendo vann E3. Dom kom, visade och segrade hårt! Det var snabbt, snyggt och informativt. Sitter fortfarande och bara tänker på det hela, hände det verkligen? Det är första gången på många år som Nintendo kört över motståndet på detta sättet, i min mening då. Ni behöver inte hålla med. ;)
Switch får verkligen en grym start kan man ju säga.
Xenoblade Chronicles 2 Släpps: 2017

Game of the show för min del! Jag älskar ju Xeno-serien som de flesta av er troligen vet numera. Blev så väldigt glad att spelet blev åter igen bekräftat för release under 2017, elaka rykten sa att det blivit försenat till 2018.
Trailern gör mig bara mer hajpad och jag längtar ihjäl mig. Vill ha nu!
Super Mario Odyssey Släpps: 27 oktober

Wow, wow! Denna trailern lurade mig otroligt mycket. Ni märker när ni ser den, hehe. Spelet är så fullt av liv och annorlunda än något av de senaste Mario-spelen.
Jag vet inte vad man mer ska säga om spelet, troligen är detta Mario-spelet jag väntat på sedan Mario 64.

Kirby (inget datum)

Ett riktigt Kirby spel som ser kul ut! Bättre än Rainbow Paintbrush hoppas jag åtminstone, för det var inte roligt alls. Men detta ser fantastiskt kul ut. Blir lätt ett köp.

Yoshi (inget datum)

Metroid Prime 4 (inget datum)

En av de största överraskningar under hela showen! Nintendo kommer äntligen fortsätta med Metroid Prime! Har en kompis som sagt han köper en Switch om den fick ett Metroid-spel, så det ska bli kul. :D
Kommer själv köpa detta, om inget annat för att stödja Metroid-serien.

En annan överraskning är Metroid Samus Returns till Nintendo 3DS. Det är en reimagening av Metroid till GameBoy.

Ser inte alls pjåkigt ut! Blir själv rejält sugen måste jag säga!
En annan sak som jag älskade att dom bekräftade under sin E3 är att det kommer ett "ordentligt" Pokémon till Switch, de har påbörjat arbetet på det nu. Vi får kanske se något av det till nästa E3, men nu har man något att se fram emot där också. Underbart.
I've had wonderful time with my vacation, it was well needed. And I've managed to get a somethings done so that's even better. But tomorrow its back to work, but I could definitely have had some more vacation days. Haha, well I suppose I shouldn't be greedy. Having easter of was more than enough. The first day I was incredible lazy. I only watched TV and caught up with some shows and animes I've missed and it was great. Finally back on track there. Honestly I almost felt bad of how good, doing nothing was. After that it was time to finish of some games I had lying around. And that's probably what I'll do today, if I feel better. Came down with something yesterday, that really made me feel like shit. Vomiting and just feeling, sick. Ugh. Hopefully it will feel better later today.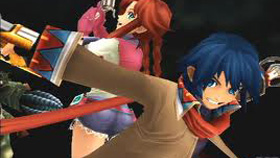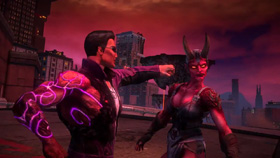 There where two games I finished before I had my easter vacation, but it was so close to it so I thought I'd mention them anyway.
Wild Arms 5
was a good game, much better than
Wild Arms 4
but I still think I like
Wild Arms 3
more personally. Better characters and I like the world more, even the fighting more actually.
The HEX-fighting system is good, but I prefer the games without to be honest.
And right now I am so sick of WA5 battle theme… Sure these things might sound like I'm pissing on the game, but I'm not. I had a very good time with the game, even if I didn't like everything about it.
Saints Row: Gat Out of Hell
was a short but fun game, something that I felt I needed after a long JRPG. It is silly, it is over the top. But damn it was enjoyable, even if it was a tad short.
Next up was a game I've been eyeing for sometime and it was
Metroid: Zero Mission
. I have actually never played a Metroid game from start to finish before.
This was such a good game, it felt really great playing it and I really think I needed a game like this.
Samus Aran
is such a cool lady, kicking space pirates ass and doesn't afraid of anything.
(Old internet meme. Goggle it.)
And last but certainly not least! The
Legend of Zelda: Wind Waker
. Me and my friend
Elden
have been playing some Zelda games together in the past, like
A Link To The Past
,
Skyward Sword
and now Wind Waker HD. Such a good game, I was very enjoyable. Guess we'll see if we will tackle more Zelda games together in future.
And now I'm going to enjoy Final Fantasy Type 0 HD, I've just played a few hours on it but I like it so far. I'm just starting on chapter 3. So I'm looking forward to get to know Class Zero even more. Before I leave I just want to thank my good friend Elden for making drawing me! Right now I'm using it in my banner and I really like it! But then again I do enjoy his art and if your interested check it out! He has some really cool stuff. Here is the old chibi art VS the new one, which took some inspiration from the Tales of games. With a bit of his own style thrown into the mix. Hopefully I can get him to make a new one, when I start to loose some weight. Hehe.