Då är det en vecka sedan man fyllde år, känns ju inte annorlunda alls. Inte mer än att man ändrat den förbannade klockan och man är trött hela tiden nu. Blä.
Min gamle trogna spelfåtölj gick sönder runt samma tid, en väldigt skön fåtölj som jag köpte ifrån en Secondhand butik för 200kr i slutet av 2012. Det har varit grym valuta för de pengarna, men jag hade inte blivit lika ledsen om min soffa gick sönder.
Men alla bra grejer tar ju slut för eller senare. Men det har varit så oskönt att spela, nog för jag gillar min soffa, men jag har alltid haft en spelfåtölj. Så jag bestämde mig för att skaffa en ny, detta är faktiskt nog den möbel jag haft som jag köpt helt ny.
Om vi inte räknar TV-bänk och bokhyllor nu vill säga.
Men nu har jag en ny fin recliner fåtölj, som jag kan göra mig väldigt bekväm i.
Den levererades igår, så nu till helgen ska jag göra mig ordentligt bekväm i det. Hoppas på många härliga och sköna spelstunder i denna fåtöljen.
Dock än en gång gör folk i min omgivning mig besviken.
Det var väldigt få som önskade mig grattis på födelsedagen, där ibland familjemedlemmar.
Jag är sjukt besviken, även på de nära vänner som jag känt i många år som inte hört av sig…
Har internetvänner som inte känner mig så bra som sagt grattis. Om inget annat var det, det stora beviset för min del att min födelsedag har alltid varit något jag ogillat då det aldrig varit en glad dag för mig, åtminstone de senaste 18-20 åren.
Men det är bra att veta, räkna med samma mynt tillbaka. Jag bryr mig inte om presenter och så, men det hade ju varit kul att åtminstone få tro att folk i min omgivning brydde sig lite.
Jag har faktiskt mått lite dåligt sedan dess. Personer i min nära omgivning borde ju vid detta laget veta att jag har stora problem med att jag redan känner mig utanför, övergiven och att ingen vill ha med mig att göra.
Så detta har ju bara spätt på de dåliga och mörka tankarna… Det var väl också en stor bidragande faktor till att jag köpte den nya fåtöljen, kände mig väldigt oälskad och behövde muntras upp med något som aldrig svikit mig.
TV-spel och TV-spels relaterade grejer.
Nu har det snart gått en vecka sedan min operation och den gick hur bra som helst, inga komplikationer överhuvudtaget. Mest lite obehag och och småont efteråt, men det är ju sådant man får ta. Nu en vecka senare måste jag säga att det känns rätt bra, har väl fortfarande lite småvärk i vänstersidan men samtidigt känns det som om att det blir mindre och mindre påtaglig. Så jag känns rätt bra måste jag säga och känner mig betydligt piggare än jag gjort på ett tag. Så om inget annat händer, typ att smärtan skulle blossa upp igen eller något i den stilen så får man väl säga att det har varit en succé med operationen och man kan nog börja återvända till det normala igen. Nu väntar jag bara på att se så allt håller i sig och man fortsätter må bra, så ska man väl snart skriva in sig på gymmet igen.
Det hela firades väl mer eller mindre med att min vän Cristoffer Nilsson (KNtheking) ska komma på besök i början av september, var väl en sådär 5år sedan vi sågs på riktigt. Så det ska bli kul, känns extra kul då vi ska båda gå på retro mässan i Malmö medans han är hos mig. Så det blir något nytt och roligt för oss båda.
På tal om Cristoffer så fick jag även en väldigt tidig födelsedags present av honom, fyller ju år i oktober. Som ni kanske vet så samlar eller snarare samlade jag på Xenosaga-relaterade saker och det har alltid varit en sak jag har velat ha. Nämligen den stora limited edition boxen från Xenosaga Episode I. Släpptes i Japan och har dreglat över den i många år och nu har jag den! De är så otroligt vacker, känns som en fin sista bit att ha i min samling. Det blir väl det sista om de inte beslutar sig för att släppa en Figma figur på KOS-MOS V1 eller något i den stilen.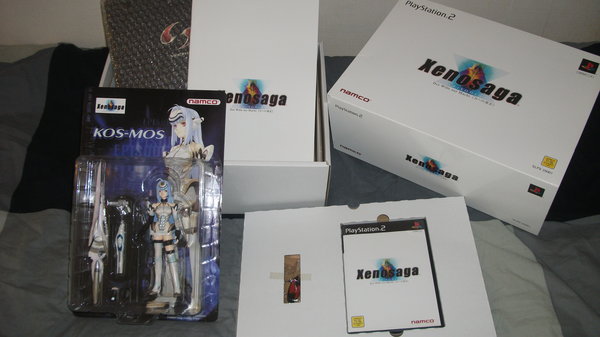 Ännu roligare med det hela är att denna har tillhört den största Xeno-samlaren i Sverige (tror inte det är en överdrivet att säga) min vän opkij. Det är kul hur liten världen är och att man kan länkas samman av sådana här saker, alltid så sjukt kul. Kolla in hans egna hemsida här.
Snart är spelhösten här och man kommer knappt hinna med den allt man vill spela, det är lite mer än två månader kvar tills Final Fantasy VX släpps och det känns lite overkligt att det snart kommer spelas i ens konsol. Ser sjukt mycket fram emot det, sedan kommer Dragon Quest VII, Dragon Quest Builders, World of Final Fantasy, Rise of the Tomb Rider till PS4. Som ni kanske märker är det en hel del Square Enix titlar på G i slutet av detta året, mycket JRPG trevligheter. Ser även fram emot att så spela första Dead Rising till PS4 när det väl släpps och en del andra titlar till som jag inte minns just nu, lika bra dock. Annars börjar man drägla över dem också. XD
Sist ut i dagens inlägg är något jag aldrig trodde jag skulle få se igen, ett nytt 2D Sonic The Hedgehog spel. Nämligen Sonic Mania! Ett återgång till den klassiska Sonic stilen och detta ser sjukt bra ut! Riktigt taggad på detta!

Så just nu är detta ett av nästa års stora spel för mig, känner mig som en liten pojke igen som ser och blir super hajpad av Sonic för första gången. Jag kommer vara där dag ett SEGA, mer av detta tack!
It will soon be the 27th October and that means I will turn 31. A year older and a year wiser as they might say, haha. Well not so sure about the last part, but at least older. And today I was moved, I'm still at a loss for expressing my gratitude.
My friends banded together and got me something I've wanted for a long, long time. Or rather I wanted to regain something that I lost a long time ago. This year marks 20years since I got the Green Ranger's Dragon Dagger for Christmas and my friends got me the Legacy Dragon Dagger. And my emotions are all over the damn place! The original Dragon Dagger was my favorite Power Rangers toy when I was a child and I've always loved to, so to finally have it again has made me happy beyond words. I really can't express how I feel, but hopefully I can get though a bit more in the second episode of YazTalks.
Only one more day until its Christmas, its a bit hard for me to think I've changed so much since last year. I'm actually looking forward to Christmas this year (not for the presents).
I've come a long way, moved to my own place. Got a job, will be earning money.
I'm looking forward to see how next year will look. But I have a feeling I'll be a much happier person, even if I'll have a bit less time to spend online.
I have wished for nothing this Christmas, getting my apartment and getting employed at the beginning of next year is more than enough for me.. But I've gotten one Christmas present from a fellow worker, have to wait till tomorrow to open it.
I'll be spending Christmas at my parents house. With the rest of my family, I think that's going to be really great. Can't wait to get some of that Christmas ham. Yum!
Christmas came and before we know it it was over again. For once we had a white Christmas, which was a nice change from the usual hot/green Christmas. But as always I sadly couldn't get into the holiday spirit. Maybe next year…
Well on the 23rd of December three of my very good friends came to visit, two of them I don't see very often. So it made me happy to meet them again. And I hope you had a good time, a shame you had to go so early…
My friend Amadeus gave me his old external HDD as a late birthday present. And I'm extremely happy for that, it was very much needed. I love it! Finally I can start working with bigger things again (AMVs, movies etc.) since the current hard drive in my computer is about 15gb. I can't do shit with it. So thanks man!
For Christmas I didn't really get that much. Just a little money, this year has been pretty bad for our whole family economically, so it yeah. Hopefully next year will bring something better, since its slowly starting to turn around. I'm really crossing my fingers that I can feel like I'm alive next year, that I can have cash to visit friends or just take a trip somewhere. Its really depressing to be so bound by money and there are no other ways to get to meet people.
I've also started to watch The Big Bang Theory. And I must say I like it! I can recognize myself in the show fairly well, except for all the smart stuff. Its a pretty good series to watch when, you have nothing else to do. Plus I must say I do enjoy the characters. Walowitz FTW. Some find this show boring, I can somewhat understand that. But I've found it quite enjoyable. See y'all around!
So my Playstation 3 broke down last night. It stopped reading discs. -.-
Great, fucking perfect! This shit always has to happen me, I have bad luck when it comes to electronic stuff. Its a curse. Truly it is or fucking bad karma. Well one good thing came out of this, my family took a bit of pity for me, so they gave me an Xbox 360 as a early birthday/x-mas gift. So at least I won't have to go without games. Just gonna do a few things here at home, then I'll be sitting down in my sofa and playing Star Ocean.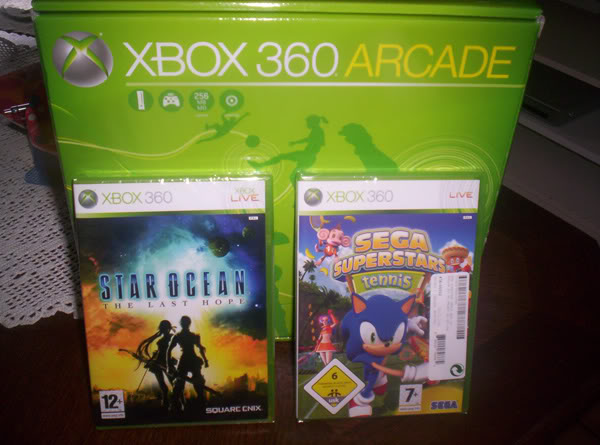 Merry Christmas everyone. Hope you've all had a great day. I don't know if I can say the days was great, since it feels like any other day of the year. Yeah, I really don't care for Christmas that much anymore. You could say I'm a bit like Scrooge. I just wish I had his money too. >_>
Well I got a new Playstation 2 from everyone in the family. Thank you all. And I also got a very nice gift from nordiclania. Prince of Persia for the PS3. Thank you so very much, I really appreciate it. I'm gonna take a picture and update the site with it later. So check back later for pics. Oh and I might be getting another present later in January. I'm saying might, so I don't get my hope up to much, if by some chance something should screw up. Until then I'll keep my mouth shut on that matter. =)
In other news, its good that this damn year soon is over. I'm hoping 2009 will bring better stuff. And not be as miserable as this year had turned out to be. Gonna have a meeting with Arbetsförmedlingen on the January 8th. Hoping they will have something good to say. Well I am fearing that they might put me in a school like place again. I got that impression when I where there and signed some papers a couple of days back… Hoping its not true. Well enough of that crap right now.
Merry Christmas everybody!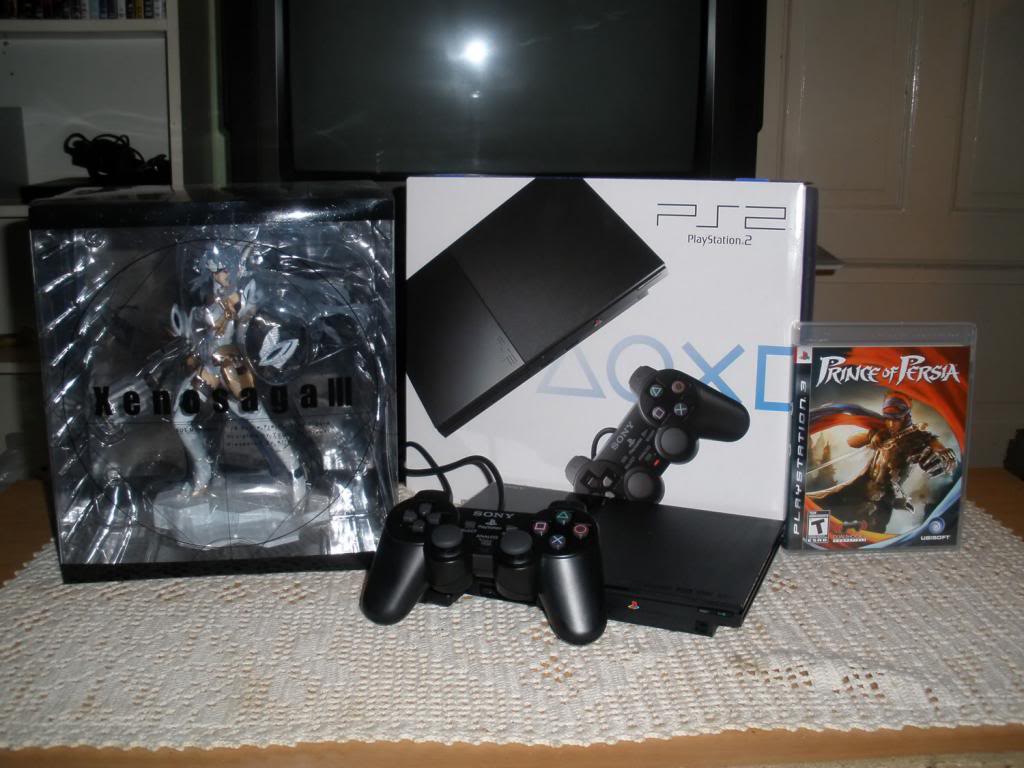 The Xenosaga figurine is an old gift, but it was a combined birthday and Christmas present from my friend ZX-Omega. So I'm posting it again.