Nu var det ett tag sedan man uppdaterade igen, har haft fullt upp som vanligt med jobb och liknande. Sedan har jag ju suttit och dröm om PlayStation 5 rätt mycket också. Men imorgon är dagen D äntligen här! Då får jag min PS5! Som jag längtat.
Jag har börjar göra lite videos igen och kommer nog göra en del uppdateringar via det hållet framöver. Ni kan ju checka in dem.
Det kommer en ny video med PS5 snart. Ska även ta en dag och skriva ett ordentligt inlägg här. Men just nu ville jag bara få ut denna infon.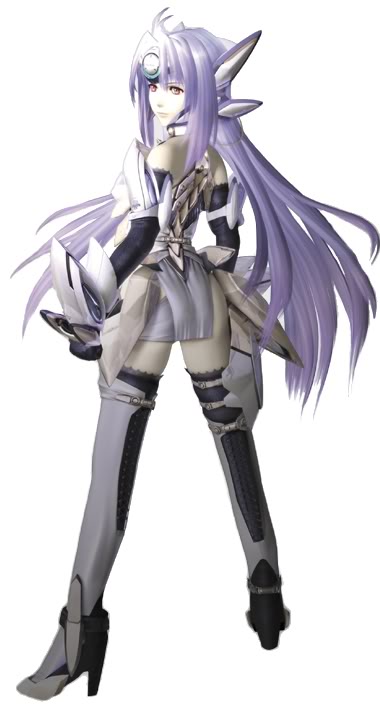 För ett tag sedan firade Xenosaga Episode III: Also Spracht Zarathustra 10 år i japan, funderade på att skriva något då men tänkte jag väntar tills 10år jubileet för USA. Dessa 10 år har gått förbi väldigt snabbt, på tok för snabbt. Känner hur det vattnas lite i ögonen när jag tänker på att det är 10år sedan jag tog farväl till Shion och gänget. Det är alltid jobbigt att säga farväl till något som har påverkar en så mycket som Xenosaga-serien gjort mig och visst kan jag återse dem när jag vill. Det är ju bara att spela om spelen, men det tar ändå inte bort det faktum att det var "sista" gången man såg dem. För det kommer ju inga fler Xenosaga-spel, hur mycket jag och andra har önskat så är serien avslutad.
Sedan får man tycka precis vad man vill om Xenoblade Chronicles och Xenoblade Chronicles X men inget av de två spelen lever upp till Xenosaga för min del, speciellt inte när det gäller karaktärer och speciellt inte Xenoblade Chronicles X med sin fruktansvärda musik (i mitt tycke) de skulle låtit teamet som gjorde musiken till Xenoblade Chronicles fått arbeta med den i X också. Men nu är det inte det jag ska snacka om, så ignorera gärna det.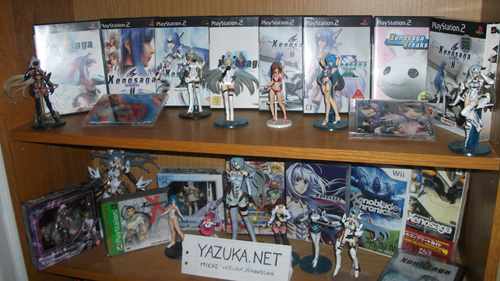 Xenosaga-serien är en av få spelserier som lämnat mig med så mycket diverse känslor, det är den serie som troligen påverkat mig mest. Inget jag trodde när jag såg första spelet för första gången i en SuperPlay tidning. Det är också en av få spelserie som jag någonsin har samlat på och något jag kände mig rätt stolt över då man kände sig rätt ensam om att gilla denna spelserie, speciellt om man nu bodde i Sverige.
Det är en sådan spelserie där alla huvudkaraktärerna verkligen talar till mig, alla har något tragedi som tynger dem. Som Ziggurat 8 (Ziggy) förlorade hela sin familj och begick självmord, dock blev han återupplivad som cyborg i framtiden. Hans mål är att förstöra allt som gjorde honom mänsklig han vill bli en komplett robot så han kan glömma allt som hände.
Sedan får man inte glömma seriens underbara musik som började i första spelet med Yasunori Mitsuda, men för min egna del blev mycket bättre i och med andra spelet när Yuki Kajiura kom in och började göra låtar till spelet. Det var då jag var helt hooked, med sånger om Fatal Fight eller She's coming back blev jag så otroligt pumpad av energi, jag tycker hennes musik passar spelets stil mycket mer. Gillar naturligtvis Yasunori Mitsuda musik väldigt mycket också, men i detta fallet är Yuki Kajiuras musik ett steg högre i min bok. Sedan i tredje spelet så gjorde Yuki Kajiura all musik själv och det är ett av mina favorit soundtrack någonsin, så underbart. Gå ut på YouTube eller något och kolla upp soundtracken om ni vill höra något ut det, det är varmt rekommenderat!
Det är svårt att få i text vad jag känner för dessa spelen, jag vet bara att jag måste spela om dem när jag väl får tiden. Jag vill tillbaka till KOS-MOS och Shion, jag vill uppleva deras äventyr igen kämpa tillsammans med dem när de möter sina demoner. Vill se Rubedos galna bror Albedo igen och deras konflikt med varandra, vill se Margulis och Jin Uzukis fight från Xenosaga II igen. Vill se MOMO överkomma Sakuras skugga, återse den alltid lika mystika chaos och få återuppleva hans roll i allt det som sker. Att se Ziggy återfår en del av det han förlorat.
Se Shion växa och axla det öde som lagts på henne och att återigen få se KOS-MOS kicka röv som ingen annan! Känner en massa olika känslor när man sitter och tänker på detta, det virvlar runt i både huvud och hjärta. Jag små avslutar detta inlägget med en av mina egna personliga AMVs som jag gjorde för Xenosaga serien. Det är också en av mina favorit AMVs.

Jag hoppas få göra om denna videon en dag med HD-kvalité och nyare och bättre bilder, det är väl lite ett av mina evighets projekt. Det är lite av mina tankar om Xenosaga-serien, den berörde mig djupt och har fått mig i tårar både en och tre gånger. Jag kommer aldrig att glömma dessa spel, den resa som jag tog med karaktärerna. En önskan hade varit att jag hade fått uppleva spelen på nytt igen, glömma det man spelat och få bekanta om sig med alla igen.
För tio år sedan skapade jag min fösta blogg, det var då på blogger. Men naturligtvis hade man en del hemsidor innan dess, drev Pokémon Gym Kristianstad när Nintendo gjorde allt för att Pokémon skulle synas ute bland folket.
Man har drivit diverse svenska Xenosaga sidor, Sailor Moon och mycket annat fandom. Men det var just det dom var, sidor för saker jag älskade. En kärlek jag ville få ut och dela med mig med resten av världen.
Så jag startade en blogg 2006 för att skriva lite om mig själv, mycket för att kunna återvända och minnas. Dels för det hjälpte mig att hantera somliga svåra situationer genom att skriva om det, jag har alltid skrivit för mig själv. Det har helt enkelt varit en egen terapi för mig och det har väl fungerar sådär, det har varit skönt att kunna få ur sig sina tankar. Även om de har varit mörka. Eller kanske speciellt för man har haft mörka tankar var det extra skönt att få skriva av sig.
Men efter blogger så hittade jag till Livejournal där man sedan snackade med en del människor, tyvärr har jag ingen kontakt med dem längre.
Det har känts skönt ändå att kunnat dela med dig av sina högpunkter och om inget annat är det kul för egen del att återvända och läsa allt gammalt bra, kanske lite sämre att läsa allt gammalt som var dåligt. Men samtidigt är det ändå rätt skönt, för jag är inte den personen längre, jag är inte i samma jobbiga situation som man en gång var. Visst jag har fortfarande mina problem, men dem blir mer och mer hanterliga. Sedan fokuserar jag inte längre på det negativa som jag gjort en gång i tiden, det tar på tok för mycket energi och är inte värt det. Jag mår mycket bättre idag är jag gjorde för tio år sedan, har andra friskare tankar och tycken. Tack alla ni som läst, även om ni inte varit med från början. Även om jag skriver för mig själv är det kul när det leder till diskussioner om spel, filmer eller annat. Kommer fortsätta skriva så länge det bara går, så nu satsar jag på tio år till! =)
I don't know why, but lately everything just seems so bleak. I have it pretty good right now, but still I can't seem to be happy. I'm just constantly being held back and drawn back to those older dark times. If I just could let go and forget, I would! It's not that easy, people who has never experienced depression can't understand this feeling. It's not so easy to just, hey get a grip. So if you have comments like that, keep them to yourself. You are helping no one.
I hate feeling like this, I wonder if it's because I hate myself? I hate what I am. I want to loose weight and get fit, but the motivation leaves me as soon as I get it. I hate my body, I hate it for my psoriasis, but mostly I hate that I can't get anything done. Like with the motivation, I wish I could hold on to it and get something done. I feel so apathetic at times, I just lie and stare into a wall of the roof instead of doing something productive.
Well at least I got some of that out of head, tomorrow will surely bring some more fun. My work is arranging a bowling activity for us workers, so I'm going to that. But I'm not bowling tomorrow, it still hurts a bit from my operation. So I'll be sitting it out, but it's just fun to get out and hey! We get free good, so I can't complain about that. When I get home I'm going to sit down and watch Sony's press conference that they are having tomorrow, so don't spoil anything for me, okay?
And like all or at least most gamers know, when we talk about level up it's of course a birthday we are talking about. And mine is just around the corner, it's my birthday tomorrow too. I will probably not be celebrating it, but then again I'd like to do something with my friends. But I'm not sure.
Last year was probably the best birthday in ages and I received one of my most precious belongings. you can read it here. That was also the first time in a very long time, I haven't hated a birthday. Don't get me wrong, I don't dislike getting older. It's just that birthdays for me has never been especially happy, same with Christmas. So that's why I really don't care about them.
So we'll see what happens, but for now I think I'll just go to bed or something.
In 2012 I made a post about what visitors are searching for on my site. I thought that it was time to do another one and some of the stuff I've seen you people search for on my page is hilarious. And a bit weird, very weird. But mostly its funny and I get a good laugh at it and at other times I'd like to post something related to the stuff you are searching for, so we'll see in the future. =)
Here are some of the top searches, they have appeared more than five times in the search history. You are all a bit perverted. I like it! Keep it up folks, I love ya! :D
knack hentai, knack the game hentia, i don't feel like watching tv tonight, sgt frog big boob, miiverse admins, gunpla, ninokuni hentai pics, ps3 controller hentai, watch hentai ps4, keroro fuck natsumi, disgaea d2 hentai pics, gay games online, zelda and link hentai, zelda hentai, link and zelda make love, imagenes anime zelda ss link x fay, link and zelda love.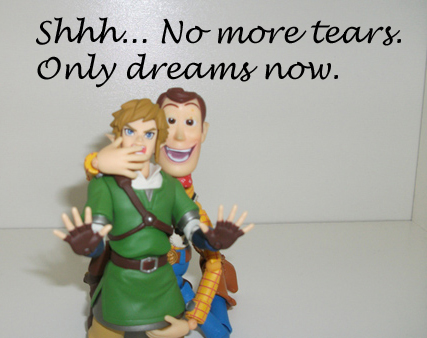 So today I turned 30 and it feels good. Nothing different about it, I'm just pleased I got my own home and job before I turned 30. So it's good, good, good!
I was treated to a delicious meal by my good friend Recluse yesterday, it was a very good chicken curry stew. Loved it! And to be able to share that with some of my best friends was awesome, best birthday present I could have gotten.
If it wasn't for that I wouldn't even care about gifts, I'm giving myself a PlayStation 4 next month that's more than enough. Sure, I wouldn't say no to gifts but they are not important.
So far today I've been out and got groceries, got toilet paper (it's important!) and done the laundry. Now I'm just going to take it easy and relax and enjoy the day. See if I decide to play something or just watch a movie, I feel like I want to do something. But I'm not quite sure what. Hopefully I'll find something to do.
Just one more week until I turn 30! Awesome or something. I plan to spend next Saturday (the day before my birthday) with a couple of friends. Getting treated to dinner and I never say no to a free dinner, no sir. Otherwise I am not going to celebrate this year, I don't feel the need to. Sure, I'll probably make a post about it here and such. But I won't be inviting people over and all that, let the people who think that's fun do that. I'd rather do something that makes me feel better, so hanging out with friends or playing videogames.
If you have missed it, my review for Disgaea D2: A Brighter Darkness is now up on PSSverige. So head over there and check it out! It was a good game, perhaps not all what I had hoped but still good. I hope I can pick up a bit of Kingdom Hearts 1HD again tomorrow, I haven't played it for a while now. So I'll see if I feel more like it tomorrow. I'd rather be playing Kingdom Hearts: Birth by Sleep HD to be honest, I've been interested in that game for some time and I'm glad it will be getting an HD port.
And we are now 40 days away from the PlayStation 4 release here in Europe, I'm starting to feel a bit hyped now. Hopefully these days will go by fast and before I know it, I'll be sitting there with my PS4. Sure there are still a bunch of games coming for PlayStation 3 that I am going to get, but I want to be out and among the first this time. I haven't been able to get a console at launch since GameCube, I just want to be a part of that. And it's going to be nice to be able to use the DualShock 4 controller on the PC, right out of the box. That's something I really like, since I have been thinking of trying certain games on my PC. But I have lacked a controller I feel really comfortable with and I want to play some emulators too.
Well more chit chat at a later date, now I have to try to get some sleep if the coughing will let me sleep. I'm going back to work tomorrow, so we'll see how that works. I just hope the coughing will end soon, feels like it's killing me. Goddamn it.