Nu var jag här med den femte delen i min serie av 52 spel på ett år. Här går jag igenom spel nr 29 – 35 denna gången! Den 6:e januari 2017 har det gått ett år, men det har gått väldigt slött och segt med att spela spel den senaste tiden. Så jag tror inte jag kommer klara denna utmaning, dessvärre. Men det var en kul sak att testa på och jag har redan hunnit spela och klara fler spel i år än under 2015. =)
Tidigare delar: DEL 1 – DEL 2 – DEL 3 – DEL 4
---
Då jag tidigare spelade igenom DuckTales Remastred kände jag att jag ville köra igenom tvåan också, som jag aldrig kört förut. Det var också ett trevligt spel med lite nyheter, som att Farbror Joakim kan få lite gadgets i spelet. Men tyvärr är spelet fruktansvärt kort och enkelt, musiken är inte heller i klass med första spelet. Men allt som allt ett trevligt lir ändå.
---
Precis som med DuckTales spelade jag det första Chip 'n Dale spelet för att par månader sedan och beslutade mig för att dra igenom tvåan också. Lite svårare än det första, som var på tok för lätt. Dem har bytt ifrån att man får själv välja bana till att man bara går vidare i spelet, det är mer strömlinje format och fungerar riktigt bra. Ännu ett av Capcoms underbara NES-spel, ahhh. Good old Capcom. <3
---
Ett trevligt Zelda-liknande spel, som lånar den del av sitt upplägg från The Legend of Zelda: Wind Waker. Mycket hav olika öar att besöka och så vidare. Det var väldigt kul att få spela ytterligare ett Zelda-liknande spel som inte är ett Zelda spel, en formula Nintendo nästan är ensamma om tråkigt nog. Kul äventyrsspel som jag skulle rekommendera om man vill stilla sitt Zelda sug, kommer inte riktigt upp i Zelda-klass men det är fortfarande bra. Helt klart värt att köra igenom! Nu längtar jag efter uppföljaren som verkar härma Skyward Sword till sin design, hoppas vi slipper massa flygande på fåglar dock.
---
Uppföljaren till Shantae: Risky's Revenge är ett mycket roligare och betydligt bättre spel än sin föregångare. Även om det också är bra, så är detta så mycket bättre. Ett riktigt härligt plattforms spel, som bara får mig att längta ännu mer till Shantae ½ Genie Hero som jag hoppas kommer snart. Shantae är kärlek.
---
Jag har inte rört Arkham Asylum sedan det kom ut 2009, men kände det var dags nu när det släpptes till PS4. Var även sugen på att spela om det för jag blev så besviken på Arkham Knight och kan ju med glädje säga att Asylum var lika bra och roligt nu som då. Ett helt underbart spel alla borde testa om man gillar Batman. I'm Batman!
---
Ett av årets stora överraskning för min del, trodde verkligen inte jag skulle fastna så mycket för detta spelet som jag gjorde. Tänka sig att fånga kända Final Fantasy monster med urgulliga karaktärer kunde vara så bra. Helt klart en av stor favoriterna i år, har ni funderat på detta spelet och gillar ni Final Fantasy och lite Pokémon så tveka inte. Det fick även äran att bli det 60:e PS4 spelet jag klarat.
---
Ett mysigt men kort bonus spel man fick till sin bokning av Final Fantasy XV. Om man hade bokat från GameStop, det var kul och småcharmigt. Gillade verkligen musiken i spelet, ett mer klassiskt beat 'em up som hade kunnat bli grymt med ett flerspelar läge och lite mer polering. Fortfarande trevligt dock.
Det var ett tag sedan man bara gjorde ett inlägg om lite allt möjlig. Inte för att det har hänt så mycket sedan sist, men det är väl två stora saker som hänt.
Har varit inne på sjukhuset igen för smärtor, vilket visade sig vara fler njurstenar.
Dock så tog det inte ett år denna gången för att få en lösning, så det är ju bra åtminstone. Men tyvärr har det ju gjort att jag än en gång tappat orken att hålla kontakten med folk uppe. Hoppas ni verkligen kan förlåta mig, ni som jag inte haft så bra kontakt med på senare tid. Depression och orken har varit i botten med det mesta, så det har inte funnits någon ork eller lust till något. Jag vill bara att ni ska veta att jag inte skiter i er. Jag har även hunnit fylla år, så nu är man 33år gammal. Men som vanligt så känner man sig inte äldre eller klokare för den delen heller. Men skaffade mig en egen liten present i alla fall, något jag velat ha länge!! Nämligen Lunar 2 Eternal Blue Complete till PlayStation 1. Musik CDn saknas, men jag har lyckats få tag på den på annat håll, så när den kommer är det helt komplett! <3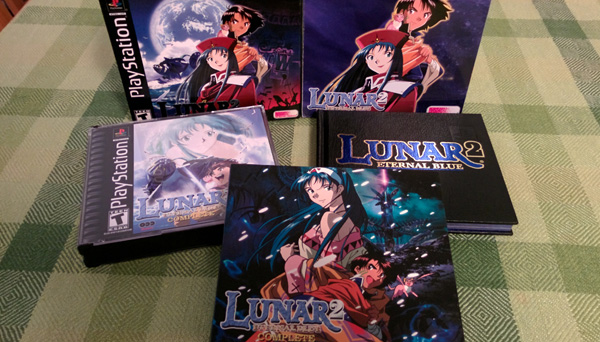 Har varit och sett Doctor Strange, som var riktigt bra! Psykedelisk om inget annat! Benedict Cumberbatch var riktigt bra som Stephen Strange och detta var ytterligare en bra Marvel film. Tack vare denna filmen så är nu magi och det övernaturliga/mystiska introducerat i filmuniversumet. Nu längtat man att få se Spider-Man: Homecoming och Thor 3: Ragnarok. Annars var detta mitt sista biobesök för i år, tror inte det blir något mer besök innan Power Rangers har premiär eller möjligen Beauty and the Beast liveaction filmen.
Har inte haft mycket ork för spel sedan en tid tillbaka, vilket alltid är tråkigt att man hamnar i ett sådant läge. Men hoppas man börjar återhämta sig nu, började nämligen spela Batman: Arkham Asylum till PlayStation 4 igår och det har känts väldigt kul att spela igen! Behövde väl mer eller mindre bara hitta rätt spel att spela. Väldigt kul att återvända till det efter besvikelsen Arkham Knight. Asylum är så mycket roligare i min mening, synd bara att de inte gjorde den PS4 port av Arkham Origins som jag är väldigt förtjust i. Trots sina buggar, men spelet har bäst design på skurkarna.
Så det blir att spela klart detta, så får man ju se hur det går med spel där emellan. Eller om det blir en liten paus igen fram tills Final Fantasy VX. Nästa vecka byter jag dock in min PlayStation 4 mot en PlayStation 4 Pro.
So I thought I was going to make a little list of the games I've beaten so far this year and write a little something about them. I will list ten games on this list at a time, that way the list won't be to long and I can perhaps write a little more about certain games, not sure I will though since this, will just reflect some simple thoughts about the games. If anyone wants to know more of what I think of a game, I can write in the comments. The dates by the name is the date I beat the game.
11: Final Fantasy Type 0 HD [ 2015-04-21 ]
I was really looking forward to play a more mature FF game, and I think I got what I wanted. It had a few surprises that I liked, but I think having 14 different characters to play from hurt the game a bit. There wasn't any real characters focus, which I was a bit disappointed with. All in all an okay game.
12: Shovel Knight [ 2015-04-26 ]
I've waited a long time to play Shovel Knight and when I finally had the chance it was awesome! I was really smitten with the game and I still think it is my favorite game I've played so far this year. Yeah, I liked it that much.
13: The Order 1886 [ 2015-05-03 ]
It wasn't a fantastic game, but it isn't as bad as I kept hearing it was. It was enjoyable for what it was, as long as you don't expect to be blown away. A bit short and perhaps to many cutscenes, and one of the best looking games I've played.
14: Hyrule Warriors [ 2015-05-12 ]
Now this is just god old fun. Even if the Dynasty Warriors concept can get a little bit boring, it was great fun. Really dig the designs for the characters in this game. Zelda is so lovely. You like hack n slash, you gotta try this.
15: Final Fantasy X HD [ 2015-06-16 ]
This is the second time in my life I've played FFX. I haven't played it since it was released for the PS2, the game still holds up. But I've really grown tired of random encounters, there where way more in this game than I remembered. But as I said the game holds up and it was great revisiting Spira.
16: Batman: Arkham Knight [ 2015-07-01 ]
One of the games I was looking forward to most this year, it sort of lived up to what I had hoped. I like the game, but the batmobile takes way much space from everything else. I can't go into more detail without spoiling, but those of you who played it know what I mean, hopefully. All in all it was a good game.
17: Shantae: Risky's Revenge – Director's Cut [ 2015-07-07 ]
I had been craving a more classic platformer and Shantae came to the rescue. Short, but very enjoyable. I'm already looking forward to 1½ Genie Hero.
18: Wolfenstein: The Old Blood [ 2015-07-08 ]
Prequel to The New Order and I just had to play it since I liked the other one. Every bit as good as the TNO with a really nice twist in the game. I might start to enjoy FPS more after these games.
19: DmC: Devil May Cry – Definitive Edition [ 2015-07-12 ]
I played this game originally on the PS3 and I really liked this game, so I had to get the Definitive Edition. I've enjoyed this game very much, both times I've played it. Give it a chance if you can.
20: Onechanbara Z2: Chaos [ 2015-08-03 ]
The 20th game I've beaten this year. Not quite sure what I think of the game, I liked parts of it and it was a pretty okay action game, standard hack 'n slash. I'll have to think on this a bit to see what my final verdict on the game is. For now it was a nice game to play thought, but I'm not sure it was worth buying.
So for the past week I've been playing Batman: Arkham Knight for the
PlayStation 4. Such a great game, I had some troubles putting the controller down. Like yesterday I played for about 15hours straight! Well I took miniature pauses for food and other visits, if ya get my drift. The worst (best) part is that it didn't feel like I spent such a long time with the game, the day just flew by and I haven't done gaming in one sitting like this in years! Mostly I've just gotten 2-3hours in one sitting.
I did really like the game, but I'm a tad sad that the batmobile takes up a bit too much space. I can't go into detail on what exactly what I mean, since I would then have to spoil some stuff and I'm NOT going to do that. All in all it was a good game and a good ending to Rocksteady's Arkham trilogy, I'm please that Rocksteady acknowledges the stuff that happened in Arkham Origins even if they didn't make the game themselves.
I just have some Riddler stuff left (almost all of it) and I'll see if I will give them ago, probably not. But if would be nice, since there is a surprise… ;)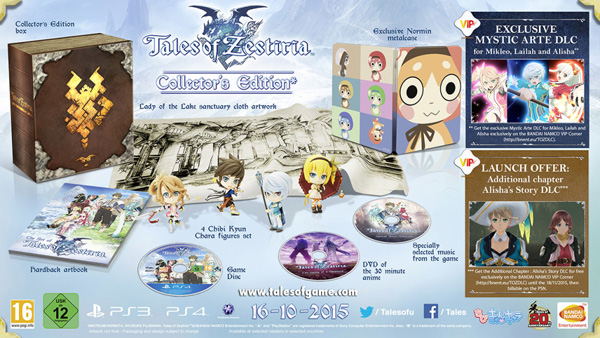 And in other news
Bandai Namco
today announced the Collectors Edition for
Tales of Zestiria
, it's more or less the same version as the Japanese CE. A shame that the will bring the ToZ OVA over, but on a DVD. You would think they would put it on a blu-ray for the PS3 and PS4. You'll get a
cloth artwork, steelbook, 4 Chibi Kyun figures, hardcover arbook, selected soundtrack cd
and a big old box to put everything in. I'm still thinking about getting this or not, some great stuff, but I would have preferred a figure like Milla or Ludger from
Tales of Xillia 1 & 2.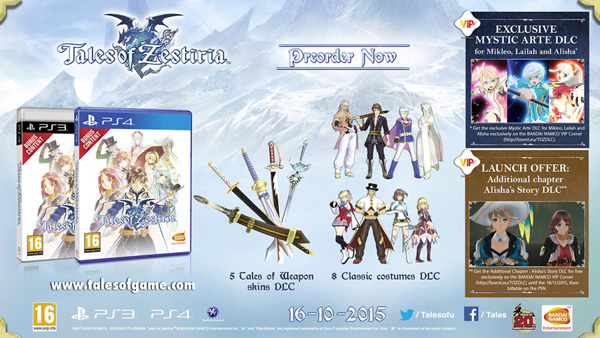 Some retailers will offer some Tales of Cameo costumes! I need them, I must have them! So hopefully my local GameStop will be able to offer these costumes. If you get the game digitally you will get them regardless. I'm not sure if this is true even for the steam version of the game, but I would be surprised if you didn't get them there too. And speaking of steam, they are going to release
Tales of Symphonia HD
on steam next year. If a lot of people preorder Tales of Zestiria on steam and they hit a certain mark, those who preordered ToZ will get ToSHD for free. Not bad, not bad.
So what is next for me in line of games? We'll I'm looking forward to
Onechanbara Z2 Chaos which is coming out the Juli 21 in the US. Guess it will be imported since we still don't have a date in Europe and I want to be sure to get a physical copy. After that its time for Metal Gear Solid V: The Phantom Pain in September, then in October I have no idea how I'm going to find time to play all the games I want. Dragon Quest Heroes, Tales of Zestiria, Transformers: Devastation. Ugh. Uncharted: The Nathan Drake Collection is something I'll be getting later, since I do not have the time and I'm pretty sure it will sell well either way. There are probably so many more games I've missed and for now that is okay, I don't need to remember them all. That would only be more trouble for me. Hehe.
What did you say? I don't have to get all the games at once? I can wait? What are you saying dear sir/madam? You crazy. O.O
May has been an incredible slow month, to the point of boredom. Not much has happened, there hasn't been much to do. Among the two most exciting things this month was my Gameboy Advance project and the kickstarter of Bloodstained from Koji Igarashi. Google the guy if you don't know, but as of this moment it's close to reaching 3 million dollars! I'm proud to be backing this, I want more of Iga's IGAvania/Metroidvania games.
I want to give a huge shout out to my friend Jrpgeek. He gave me an old Gameboy Advance SP he had lying around at home and some bonus petite Tales of characters! Super thanks man! I truly appreciate it, really I do.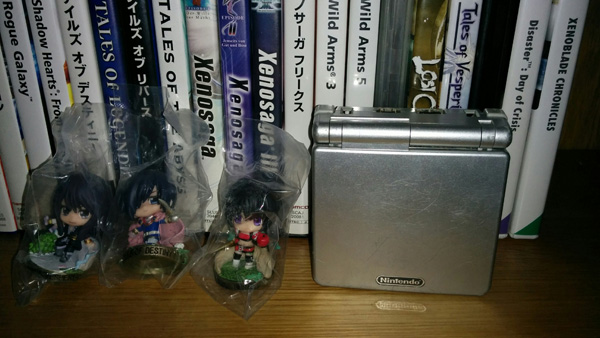 May might have been a slow month, but thankfully June will be anything but slow for me. Firstly I'm really looking forward to next weekend (6-7 June) because it is time for Tales of Festival! Where it seems like we'll be getting an announcement of a PlayStation 4 version of Tales of Zestiria! And hopefully more good Tales of news! More Tales of games are never a bad thing. I for one would love a PS4 port of Tales of Vesperia, since we who live outside of Japan never got the "complete" version of the game. With added characters, story and other goodies. I'll keep dreaming. Then we have E3 this month, 15-16 June are the most important dates, Sony, Nintendo and Square Enix are what I'm looking forward to this year.
Then my vacation starts on June 22nd and then the 23rd It's time to return to Gotham in Batman: Arkham Knight! And there will probably be more activities I'll do on my vacation, so it will be a great change of pace compared to May. I hope for many great game announcements this E3 and I'm hoping I can find a new apartment soon, so yeah there is definitely more going on this upcoming month. Not to mention that four of my friends have their birthdays in June! And just a few days apart, but I guess that'll be fun too. =)
I made this post before but in Swedish, but I thought I might revisit it and make it in English instead. Why the revision? Well one of my most anticipated games of the year has slipped into a 2016 release, which is a shame. But hopefully it will lead to a much better game. And honestly I'm not surprised it got delayed, still a shame though. This list is nowhere near complete, I have just taken the big games that I'm getting this year. I have probably missed a few titles that I would love to get my hands on. So this post might be updated at a later date, or I might have to update because new announcements or more delays… But we'll tackle that hurdle when it comes to that. But for now these are the games I'm most looking forward to in 2015.
Tales of Zestiria



I love the Tales of games. It's just about the only JRPG series that I really love and enjoy to my fullest right now. Of course there are many great games out there, but right now Tales is closest to my heart. So when Bandai Namco localizes Tales of games, I just really need to buy them an support them. And Tales of Zestiria will be no different. Just as long as it isn't any mobile stuff, in getting it. The game is looking good so far and I'm really looking forward to my hands on this title. I'm just hoping I'm not hyping myself to much on the game, but for now it is my number one sought after game this year. Just announce a date Bandai Namco! I'm there day fricking one!
Dragon Quest Heroes



When I laid my eyes upon Dragon Quest Heroes for the first time I knew I had to have this game. I was thinking of importing it but then Square Enix announced it would be released in the west. I was as happy as a cat playing in a cardboard box. Its supposed to be like a Warrios/Musou game, but with more action RPG elements and that is something I can really dig. I really like the 3D models of Akira Toriyama's designs, I think they found a 3D style that really works well. It is going to be fun running around together with old DQ heroes in the game, Jessica will be on my team as often as she can be! When a problem comes along, she'll whip it! Whip it good!
Batman: Arkham Knight



Batman! Always Batman! Always driving villains bats! So what do we do? It's simple, we kill the Batman. I guess that sums it all up huh? Well I'm very excited for this game, its the last game in Rocksteadys Arkham Trilogy and I've enjoyed the past two games very much. Even Arkham Origins which isn't made by Rocksteady.
So will this truly be the end for the caped crusader? Will he kick the bucket? Will Arkham City take over the pieces that are left of Gotham? On June 23rd we will finally find out, that is if it doesn't get delayed yet again…
Xenoblade Chronicles X



Those who have followed me for a while or just know me, knows how much I love the Xenosaga games. I still prefer them to Xenoblade, which is also a fricking awesome game! But Xenosaga just spoke more too me, an unpopular opinion which I hope I can have without being slaughtered. That being said, I can't wait to get my dirty little mittens on Xenoblade Chronicles X! What I've seen so far really blows me away, now I'm keeping my fingers crossed that this title won't be delayed into next year. That would really bum me out. Hopefully it will be fun to create your own character, so naturally I'm going to try to recreate KOS-MOS.
Metal Gear Solid V: The Phantom Pain



After MGS4 I hardly wanted anything to do with the MGS series again, it was a disappointment to me. Maybe I expected to much, but solve everything with nanomachines and taking away my sob ending, ruined it for me. With MGS5 we are turning back to Big Boss and I'm hoping we will see him fall to evil in this game. What I've seen so far of the game has really got my interest going to the game. September 1st can't come soon enough.
Yoshi's Woolly World



It's Yoshi made of yarn. If it could work for Kirby it can work for Yoshi, to be honest I actually think it will work better for him. Either way, the more platforming games we can get the better. I feel like its a dying or rather sleeping genre and its a damn shame. Nintendo always delivers quality games, so I'm 100% sure this title will be very enjoyable.
Onechanbara: Z2 Chaos



Girls, Swords, Zombies. What more can you want? Good gameplay would be nice… It seems like this has that too, from the few movies I've watched from this game, I think I'll get an enjoyable game. I've heard its an okay game and it reminds me a bit of Lollipop Chainsaw. Google it, see for yourselves. But I think this will be a "guilty pleasure" game for me this year. Not that I really have GP games, since I like what I like and I'm not afraid to say so.
Folk som har läst denna bloggen innan eller känner mig, vet att jag älskar spel. Det är en sak som alltid funnit i mitt liv och det är viktigt för mig. Även om det har blivit lite mindre spelande än jag hoppats, för att man jobbar en del. Men tack vare det kan man köpa fler spel och även under 2015 kommer det ett par spel jag gärna vill ha. Här är en liten lista på de jag kommer på just nu som jag verkligen vill ha och måste ha! Nu kan ju oturen vara framme och något av dem försenas, men det får vi hoppas inte sker.
Tales of Zestiria



Jag älskar Tales of-serien. Det är väl den enda JRPG-serie just nu som jag verkligen älskar så otroligt mycket, naturligtvis finns det många bra. Men Tales of-serien ligger mig lite närmare hjärtat. Så när Bandai Namco släpper ett nytt Tales of-spel i väst köper jag det, så länge det inte är till mobil vill säga. Tales of Zestiria ser ut att bli minst lika fartfyllt i fighterna som de senaste i serien, så längtan är stor att få besöka denna världen. <3
Dragon Quest Heroes



När man fick se DQH för första gången blev jag otroligt sugen på spelet. Gjort av Omega Force som är kända för sina "Dynasty Warriors" spel. Dragon Quest Heroes har element ifrån Dynasty Warriors serierna, men ska tydligen vara mer action-rpg. Gillar verkligen hur bra Akira Toriyamas stil passar i 3D och så ser jag fram emot att få spela med klassiska Dragon Quest hjältar. Hoppas detta släpps till sommaren eller så i väst.
Batman: Arkham Knight



Batman! Alltid denna Batman! Du gör alla förbrytare tokiga! Så vad gör vi? Det är simpelt! Vi dödar Batman! Vi hjälps alla åt! Lite så kommer det nog vara i Batman Arkam Knight. Det sägs också vara det sista spelet i Rocksteadys trilogi, Arkham Origins gjordes inte av dom. Kommer Batman att dö? Kommer Gotham bli skurkarnas paradis? I juni vet vi svaret på de frågorna.
Xenoblade Chronicles X



Som den Xenosaga-fan jag är, så måste jag köpa allt som Monolith Software gör. Jag älskar deras spel, Xenoblade var trevligt även om jag inte klarat det än. Ja, jag skäms över det. Men det tar vi itu med sedan. XBX ser otroligt ut och verkar enormt! Ska bli intressant att få skapa sin egna karaktär och utforska världen.
The Legend of Zelda Wii U



Allt vi har fått se av detta spelet än så länge har gjort mig otroligt hajpad. Allt från de enorma landskapen till att hoppa från hästrygg och skjuter pilar på monster. Zelda spelen levererar alltid på ett eller annat sätt, så jag ser fram emot detta något otroligt. Själv hoppas jag nästan lite att Link fortsätter bära sina blåa kläder vi sett honom bära i de få bilder och trailers vi sett. Var lite uppfriskande att inte se honom i sin tunika, inte för att det är första gången han är utan dem. Hoppas på klädes byte annars. ;)
Metal Gear Solid V: The Phantom Pain



Efter MGS4 ville jag i stort sätt inte ha något med serien att göra. För mig var det en besvikelse, somliga delar var naturligtvis bra. Men det slutar på ett otroligt dålig sätt i min mening. Men nog om det nu, MGS5 ser i att bli ett riktigt grymt spel och vi får än en gång bekanta oss med Big Boss. Ska vi äntligen få se honom bli "ond"? Personligen hoppas jag verkligen det och kanske skulle vi kunna få se en ung Solid Snake. Hoppas kan man alltid.