So for the past week I've been playing Batman: Arkham Knight for the
PlayStation 4. Such a great game, I had some troubles putting the controller down. Like yesterday I played for about 15hours straight! Well I took miniature pauses for food and other visits, if ya get my drift. The worst (best) part is that it didn't feel like I spent such a long time with the game, the day just flew by and I haven't done gaming in one sitting like this in years! Mostly I've just gotten 2-3hours in one sitting.
I did really like the game, but I'm a tad sad that the batmobile takes up a bit too much space. I can't go into detail on what exactly what I mean, since I would then have to spoil some stuff and I'm NOT going to do that. All in all it was a good game and a good ending to Rocksteady's Arkham trilogy, I'm please that Rocksteady acknowledges the stuff that happened in Arkham Origins even if they didn't make the game themselves.
I just have some Riddler stuff left (almost all of it) and I'll see if I will give them ago, probably not. But if would be nice, since there is a surprise… ;)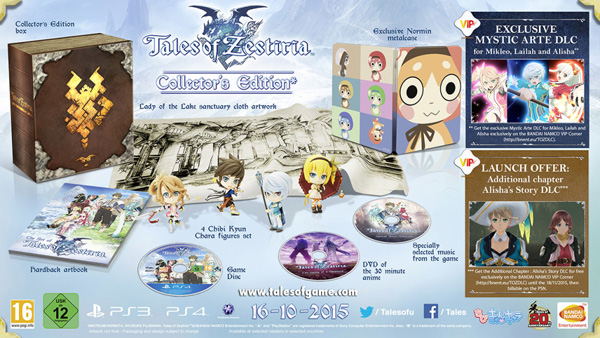 And in other news
Bandai Namco
today announced the Collectors Edition for
Tales of Zestiria
, it's more or less the same version as the Japanese CE. A shame that the will bring the ToZ OVA over, but on a DVD. You would think they would put it on a blu-ray for the PS3 and PS4. You'll get a
cloth artwork, steelbook, 4 Chibi Kyun figures, hardcover arbook, selected soundtrack cd
and a big old box to put everything in. I'm still thinking about getting this or not, some great stuff, but I would have preferred a figure like Milla or Ludger from
Tales of Xillia 1 & 2.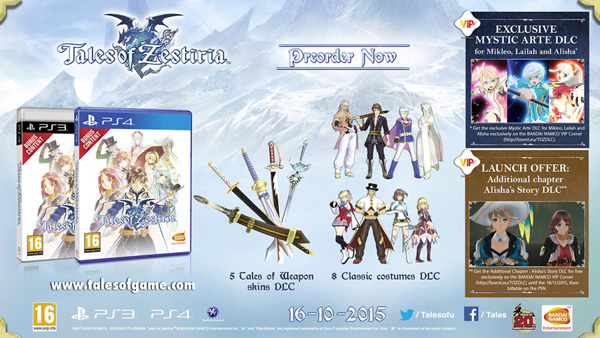 Some retailers will offer some Tales of Cameo costumes! I need them, I must have them! So hopefully my local GameStop will be able to offer these costumes. If you get the game digitally you will get them regardless. I'm not sure if this is true even for the steam version of the game, but I would be surprised if you didn't get them there too. And speaking of steam, they are going to release
Tales of Symphonia HD
on steam next year. If a lot of people preorder Tales of Zestiria on steam and they hit a certain mark, those who preordered ToZ will get ToSHD for free. Not bad, not bad.
So what is next for me in line of games? We'll I'm looking forward to
Onechanbara Z2 Chaos which is coming out the Juli 21 in the US. Guess it will be imported since we still don't have a date in Europe and I want to be sure to get a physical copy. After that its time for Metal Gear Solid V: The Phantom Pain in September, then in October I have no idea how I'm going to find time to play all the games I want. Dragon Quest Heroes, Tales of Zestiria, Transformers: Devastation. Ugh. Uncharted: The Nathan Drake Collection is something I'll be getting later, since I do not have the time and I'm pretty sure it will sell well either way. There are probably so many more games I've missed and for now that is okay, I don't need to remember them all. That would only be more trouble for me. Hehe.
What did you say? I don't have to get all the games at once? I can wait? What are you saying dear sir/madam? You crazy. O.O
May has been an incredible slow month, to the point of boredom. Not much has happened, there hasn't been much to do. Among the two most exciting things this month was my Gameboy Advance project and the kickstarter of Bloodstained from Koji Igarashi. Google the guy if you don't know, but as of this moment it's close to reaching 3 million dollars! I'm proud to be backing this, I want more of Iga's IGAvania/Metroidvania games.
I want to give a huge shout out to my friend Jrpgeek. He gave me an old Gameboy Advance SP he had lying around at home and some bonus petite Tales of characters! Super thanks man! I truly appreciate it, really I do.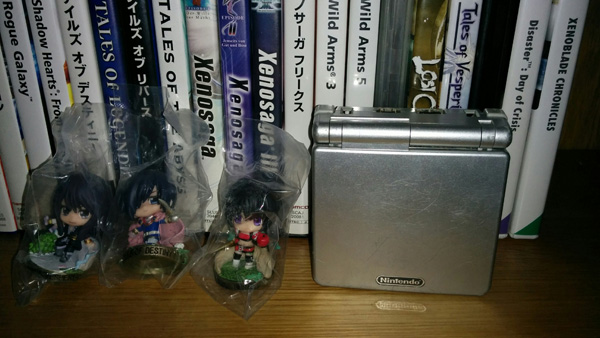 May might have been a slow month, but thankfully June will be anything but slow for me. Firstly I'm really looking forward to next weekend (6-7 June) because it is time for Tales of Festival! Where it seems like we'll be getting an announcement of a PlayStation 4 version of Tales of Zestiria! And hopefully more good Tales of news! More Tales of games are never a bad thing. I for one would love a PS4 port of Tales of Vesperia, since we who live outside of Japan never got the "complete" version of the game. With added characters, story and other goodies. I'll keep dreaming. Then we have E3 this month, 15-16 June are the most important dates, Sony, Nintendo and Square Enix are what I'm looking forward to this year.
Then my vacation starts on June 22nd and then the 23rd It's time to return to Gotham in Batman: Arkham Knight! And there will probably be more activities I'll do on my vacation, so it will be a great change of pace compared to May. I hope for many great game announcements this E3 and I'm hoping I can find a new apartment soon, so yeah there is definitely more going on this upcoming month. Not to mention that four of my friends have their birthdays in June! And just a few days apart, but I guess that'll be fun too. =)
I made this post before but in Swedish, but I thought I might revisit it and make it in English instead. Why the revision? Well one of my most anticipated games of the year has slipped into a 2016 release, which is a shame. But hopefully it will lead to a much better game. And honestly I'm not surprised it got delayed, still a shame though. This list is nowhere near complete, I have just taken the big games that I'm getting this year. I have probably missed a few titles that I would love to get my hands on. So this post might be updated at a later date, or I might have to update because new announcements or more delays… But we'll tackle that hurdle when it comes to that. But for now these are the games I'm most looking forward to in 2015.
Tales of Zestiria



I love the Tales of games. It's just about the only JRPG series that I really love and enjoy to my fullest right now. Of course there are many great games out there, but right now Tales is closest to my heart. So when Bandai Namco localizes Tales of games, I just really need to buy them an support them. And Tales of Zestiria will be no different. Just as long as it isn't any mobile stuff, in getting it. The game is looking good so far and I'm really looking forward to my hands on this title. I'm just hoping I'm not hyping myself to much on the game, but for now it is my number one sought after game this year. Just announce a date Bandai Namco! I'm there day fricking one!
Dragon Quest Heroes



When I laid my eyes upon Dragon Quest Heroes for the first time I knew I had to have this game. I was thinking of importing it but then Square Enix announced it would be released in the west. I was as happy as a cat playing in a cardboard box. Its supposed to be like a Warrios/Musou game, but with more action RPG elements and that is something I can really dig. I really like the 3D models of Akira Toriyama's designs, I think they found a 3D style that really works well. It is going to be fun running around together with old DQ heroes in the game, Jessica will be on my team as often as she can be! When a problem comes along, she'll whip it! Whip it good!
Batman: Arkham Knight



Batman! Always Batman! Always driving villains bats! So what do we do? It's simple, we kill the Batman. I guess that sums it all up huh? Well I'm very excited for this game, its the last game in Rocksteadys Arkham Trilogy and I've enjoyed the past two games very much. Even Arkham Origins which isn't made by Rocksteady.
So will this truly be the end for the caped crusader? Will he kick the bucket? Will Arkham City take over the pieces that are left of Gotham? On June 23rd we will finally find out, that is if it doesn't get delayed yet again…
Xenoblade Chronicles X



Those who have followed me for a while or just know me, knows how much I love the Xenosaga games. I still prefer them to Xenoblade, which is also a fricking awesome game! But Xenosaga just spoke more too me, an unpopular opinion which I hope I can have without being slaughtered. That being said, I can't wait to get my dirty little mittens on Xenoblade Chronicles X! What I've seen so far really blows me away, now I'm keeping my fingers crossed that this title won't be delayed into next year. That would really bum me out. Hopefully it will be fun to create your own character, so naturally I'm going to try to recreate KOS-MOS.
Metal Gear Solid V: The Phantom Pain



After MGS4 I hardly wanted anything to do with the MGS series again, it was a disappointment to me. Maybe I expected to much, but solve everything with nanomachines and taking away my sob ending, ruined it for me. With MGS5 we are turning back to Big Boss and I'm hoping we will see him fall to evil in this game. What I've seen so far of the game has really got my interest going to the game. September 1st can't come soon enough.
Yoshi's Woolly World



It's Yoshi made of yarn. If it could work for Kirby it can work for Yoshi, to be honest I actually think it will work better for him. Either way, the more platforming games we can get the better. I feel like its a dying or rather sleeping genre and its a damn shame. Nintendo always delivers quality games, so I'm 100% sure this title will be very enjoyable.
Onechanbara: Z2 Chaos



Girls, Swords, Zombies. What more can you want? Good gameplay would be nice… It seems like this has that too, from the few movies I've watched from this game, I think I'll get an enjoyable game. I've heard its an okay game and it reminds me a bit of Lollipop Chainsaw. Google it, see for yourselves. But I think this will be a "guilty pleasure" game for me this year. Not that I really have GP games, since I like what I like and I'm not afraid to say so.