So I thought I was going to make a little list of the games I've beaten so far this year and write a little something about them. I will list ten games on this list at a time, that way the list won't be to long and I can perhaps write a little more about certain games, not sure I will though since this, will just reflect some simple thoughts about the games. If anyone wants to know more of what I think of a game, I can write in the comments. The dates by the name is the date I beat the game.
11: Final Fantasy Type 0 HD [ 2015-04-21 ]
I was really looking forward to play a more mature FF game, and I think I got what I wanted. It had a few surprises that I liked, but I think having 14 different characters to play from hurt the game a bit. There wasn't any real characters focus, which I was a bit disappointed with. All in all an okay game.
12: Shovel Knight [ 2015-04-26 ]
I've waited a long time to play Shovel Knight and when I finally had the chance it was awesome! I was really smitten with the game and I still think it is my favorite game I've played so far this year. Yeah, I liked it that much.
13: The Order 1886 [ 2015-05-03 ]
It wasn't a fantastic game, but it isn't as bad as I kept hearing it was. It was enjoyable for what it was, as long as you don't expect to be blown away. A bit short and perhaps to many cutscenes, and one of the best looking games I've played.
14: Hyrule Warriors [ 2015-05-12 ]
Now this is just god old fun. Even if the Dynasty Warriors concept can get a little bit boring, it was great fun. Really dig the designs for the characters in this game. Zelda is so lovely. You like hack n slash, you gotta try this.
15: Final Fantasy X HD [ 2015-06-16 ]
This is the second time in my life I've played FFX. I haven't played it since it was released for the PS2, the game still holds up. But I've really grown tired of random encounters, there where way more in this game than I remembered. But as I said the game holds up and it was great revisiting Spira.
16: Batman: Arkham Knight [ 2015-07-01 ]
One of the games I was looking forward to most this year, it sort of lived up to what I had hoped. I like the game, but the batmobile takes way much space from everything else. I can't go into more detail without spoiling, but those of you who played it know what I mean, hopefully. All in all it was a good game.
17: Shantae: Risky's Revenge – Director's Cut [ 2015-07-07 ]
I had been craving a more classic platformer and Shantae came to the rescue. Short, but very enjoyable. I'm already looking forward to 1½ Genie Hero.
18: Wolfenstein: The Old Blood [ 2015-07-08 ]
Prequel to The New Order and I just had to play it since I liked the other one. Every bit as good as the TNO with a really nice twist in the game. I might start to enjoy FPS more after these games.
19: DmC: Devil May Cry – Definitive Edition [ 2015-07-12 ]
I played this game originally on the PS3 and I really liked this game, so I had to get the Definitive Edition. I've enjoyed this game very much, both times I've played it. Give it a chance if you can.
20: Onechanbara Z2: Chaos [ 2015-08-03 ]
The 20th game I've beaten this year. Not quite sure what I think of the game, I liked parts of it and it was a pretty okay action game, standard hack 'n slash. I'll have to think on this a bit to see what my final verdict on the game is. For now it was a nice game to play thought, but I'm not sure it was worth buying.
So I thought I was going to make a little list of the games I've beaten so far this year and write a little something about them. I will list ten games on this list at a time, that way the list won't be to long and I can perhaps write a little more about certain games, not sure I will though since this, will just reflect some simple thoughts about the games. If anyone wants to know more of what I think of a game, I can write in the comments. The dates by the name is the date I beat the game.
01: Tomb Raider: Definitive Edition [ 2015-01-01 ]
I was never a fan of the original Tomb Rider series, but this rebooted series really clicked with me. So much that I had finished the last gen version of this game and I had to play the current gen version too. I don't replay games that often, but this was so good. A great way to start the year.
02: Tales of Symphonia Dawn of The New World HD [ 2015-01-10 ]
In my opinion it is a much weaker game than its predecessor, but I don't think it's flat out bad as so many others do. I had fun with the game, Martha is great!
03: The Wolf Among Us [ 2015-01-15 ]
Bigsby is one cool wolf. I really liked the story in this game, it might not have been anything special but it was fun seeing fairytale creatures hide in our world like regular humans.
04: Super Princess Peach [ 2015-02-01 ]
Move over Mario! It's time for Peach to kick some butt! And she sure kicked it hard. A pretty typical Mario platformer game, really nice to see Peach being the star and not being kidnapped for once.
05: Transistor [ 2015-02-22 ]
I've heard people say so many great thing about this game, so of course I had to try it. But I honestly don't see why people like this game. I didn't really enjoy it while I was playing and wanted it mostly to end, sorry folks. This was the first disappointment of the year for me..
06: Wolfenstein: The New Order [ 2015-03-08 ]
Those who might have read what I've written before, know I'm not a fan of FPS but I got this one recommend from a friend who also didn't like FPS. I must say I was really surprised! I had a blast with this game, it was fun and it was pretty nice to play something else than only JRPGs. A breath of fresh air for me.
07: Wild Arms 5 [ 2015-03-22 ]
And speaking about playing only JRPG's… I wanted to finish this game for sometime and when I did I felt a bit empty, the game starts out great but I think it slowly goes downhill from there. Don't get me wrong it is a good game, it just didn't reach all the way to the end for me. Still hope we'll see a Wild Arms 6 one day.
08: Saints Row: Gat out of Hell [ 2015-03-23 ]
Chaos, mayhem and destruction. A few words to describe the Saints Row series as of late, Gat out of Hell was short, very, very short. But it game some enjoyment, like punching Satan right in the face.
09: Metroid: Zero Mission [ 2015-04-03 ]
This was actually my very first Metroid game and I really liked it. It was enjoyable from start to finish, well the Zero Mission part was a bit frustrating, but enjoyable. We'll see if I'll ever finish Metroid Fusion.
10: The Legend of Zelda: Wind Waker HD [ 2015-04-04 ]
Me and my pal played thought the entire game together, it was really fun I must say. This was also my very first time clearing the game, I sadly lost all interest in the original when it came to gather the Triforce pieces. I am a bit ashamed of that, but at least I finished it, this time around
I get a bit sad that I don't write as much as I did before, since it is something I really enjoy. But as long as I'm writing something I'm good. Things have been weird for a while, like I've fallen into depression and I'm not really sure where to turn or what go do. And sometimes I get the feeling that I am not myself, I can't explain it well. Like I'm trapped or something looking out from someone else's eyes, hm… Now y'all probably think I'm crazy too.
There have been some highlights though. A friend from England came to visit and that was nice, we only see him once a year but it is fun and I hope he enjoys it too. Disappointed they never came over to my place, but what can you do? :/
Tried cheering up another friend who was feeling down, only to fall into depression myself and had to use medication again. I hate taking pills. But its starting to get better, but it will take a while before I am back to the old me. I've gotten inFAMOUS: First Light for the PlayStation 4, but I've hardly touched it. I hope fix that problem under this week. But I have played Muramasa Rebirth for PlayStation Vita and it was pretty nice. Can't say it was anything spectacular, but it was nice. As usually I am waiting for Tales of Hears R and a few other games, we'll see which I'll be able go get.
Would love to go see Dracula Untold when it premiers, but I don't have the cash for that now sadly. In the passing weekend me and Elden continued with our yearly tradition with watching monster/horror/scary movies in October, like many others do.
We saw Horns, The Howling and The Mist. God I love The Mist. In our upcoming movie viewing we are having a Jeffrey Combs days. We will at least watch From Beyond, Beyond Reanimator and The Frighteners. We have some other stuff to check out also, but right now I can't remember any of them. Typical.
Oh, yeah. I've also done some upgrading to the "Games I've beaten" section, more work will be done on it later. But just about every console had their own section right now, a few consoles will share. And to finish things off today, I just wanted to say my birthday is on the 27th October hopefully it will be a good day. Just take it easy and relax, I'm not 25 anymore.
Wow! I have now beaten 101 games for the PlayStation 3, that feels great!
I have of course played more than one hundred games, but I haven't finished all. But I have gone through 101 games from the start to finish. I started playing on the PlayStation 3 around 2008, so its taken its time.
Especially since I haven't been able to play as much as I want for the last two years.
But I am still very pleased and a bit proud. To many this is nothing special and I get that, but to me its something else. I can't really explain it, but its gotta be love or something.
My one hundredth game was Castlevania: Lords of Shadow 2 and the 101th game is Lightning Returns: Final Fantay XIII. As soon as I have the time I will sit down and go through my list of beaten PS3 games and write something more about my favorites among that list. If you want to check out my beaten games list under the game section.
Let me explain that a bit better for ya. Yesterday, I had finished 29 games under the entire 2013. My goal was to at least clear 30 games before this year was over and it was looking grim. But then yesterday I started playing Kingdom Hearts Final Mix HD for PlayStation 3 and I've went through the entire game, not skipping any story stuff and finished it right now!
It feels so good that the goal of beating 30 games under 2013 could be reached, this doesn't mean shit you probably. But I'm very happy that I was able to achieve it, the way I've been working this I thought I wouldn't be able to do it.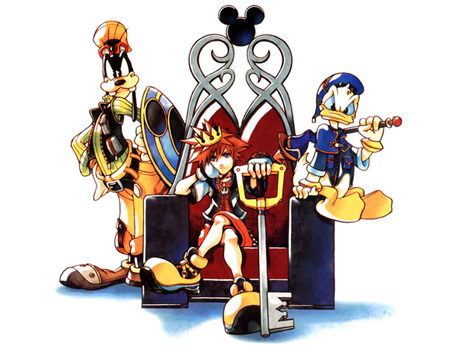 Next year will be filled with great games, new as old. Ironically those games I'm looking forward to most are all remasters. There is Tales of Symphonia Chronicles, which contain both the first and second Tales of Symphonia game. Then there is Final Fantasy X / X-2 HD remaster, looking forward to playing those games with some improved visuals. Even if its not much, its still nice that the people who missed out on them can get a new chance to play them. Then there is Kingdom Hearts 2.5 HD ReMIX, which includes Kingdom Hearts 2 and Kingdom Hearts: Birth By Sleep, really, really want to play BBS.
From the guys that brought us Nier (awesome game) there is Drakengard 3. All the games I've mentioned now are for PlayStstion 3, so its still going strong even in 2014. My most hyped PlayStation 4 game for next year is Infamous: Second Son, it looks fantastic!
Well I could go on forever talking about games, but now I'm just going to relax and enjoy the last half hour of 2013. Take care all visitors and I hope you'll have a great start next year, happy new year everyone!! See you in 2014!
… Really good actually! I was a bit worried when Rocksteady wouldn't be developing Batman: Arkham Origins, but it turned out pretty good! Even if I've had my share of bugs and that I could have done without. Some bugs made it impossible to continue, I had to exit the game and then go back into it again for it to be possible to progress through the game. Sure, it's not that bad. But come on! I shouldn't have to reset the game for it to work. =/
Well the game is great and both Batman and the Joker's new voice actors do a great job! Troy Baker who voices the Joker is scary! He does such a good job at times, that I had a hard time telling that it wasn't Mark Hamill that voiced him! He is great the other times too, but some times he is just as I said scary.
I love how they did with Bane in this game, he is smart, powerful and great! A shame he isn't this good IMO in the other two Arkham games. But this is so far without a doubt my favorite version of Bane.
All in all Batman: Arkham Origins is a good game and I think you should play it if you liked the other two Arkham games. If you didn't know this is a prequel and takes place before both Arkham Asylum and Arkham City. This became my 94th beaten PlayStation 3 game and my 23rd beaten game this year. Only six more games to beat my goal of having played and beaten 100 PlayStation 3 games! Well I've played well over a 100 games, but I only count them I beat. And now we are roughly two weeks away from the PlayStation 4 release here in Sweden! I'm getting hyped and pumped! So looking forward to try the DualShock 4. Hope these two weeks go by in a flash!
Today me and Elden finished up or play session of The Legend of Zelda: Skyward Sword, it took a while but now we are finished. A good Zelda game but not my favorite, I'm not very fond of motion controls. They do work good, but I feel they are not for me, I prefer playing the Zelda games with a controller and not motion controllers. But that's just me, no need for ya'll to agree with me. But I would have loved to see how this game would have been if you could have picked controller type, like the pro controller for Wii. But alas, enough talk about the damn controls.
I liked the game, I like the world. Even if I would have preferred a more open world like Ocarina of Time and a bit more towns to visit. But I get why it isn't so, so it isn't really a problem. Just something I would like to see more of. I really like the design of the game and the graphics they've used, I very much enjoy the games feeling. I like Link's design, even if he is not all that different. And I adore Zelda's design, I think she is really cute in this game. And then we have Ghirahim, who is both a bit creepy and a little freaky.
Fi is just annoying and she treated the player like an idiot most times. There was to much holding the players hand and with "help" from her side. Like you are in a volcano etc. "Master, I'm 85% certain this is a volcano". Well, big woop! Congrats Fi, I was to stupid to know that myself.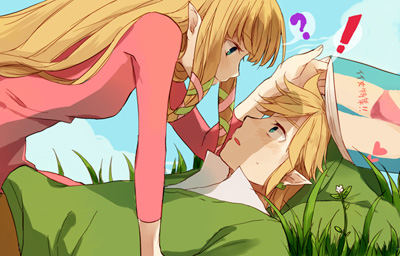 And as I've mention in other posts, I very much love that there are feelings between Link and Zelda. It make me at least all that more eager to actually save her. And you know they've grown up together, so they do know each other well. A lot of those things make me think that Skyward Sword, Zelda and Link are my favorite versions of the characters. I do hope they continue to flesh out Zelda & Link love/have feelings for each other stuff in coming games. I would like to see even more of it, maybe even see them being more romantically involved. Or a kiss, just more feeling. Even if it sound like there are a lot of complaints I did enjoy the game very much and it was a great game, I'm pleased and happy with it.
The next time me and Elden get together we are going to start our round of The Legend of Zelda: Twilight Princess. I haven't gone from beginning to end on that game, so I need to finish it. After that, I'll probably try Majora's Mask, that I have never ever played in my whole life.