Fortsättningen på min lista över kommande spel jag ska ha. Det blir en del och jag kommer säkert missa några titlar, men försöker få med så många som möjligt.
Jag kommer också gå igenom några 2020 titlar, lite av de vi fått veta som släpps och dem jag ser fram emot mest! Tror ni något saknas så kolla gärna de tidigare inläggen.
Sedan är det långt ifrån alla spel på denna listan, men som jag nämnt tidigare så är det en del av de titlar jag ser fram emot mest.
Tidigare inlägg: Del 1 – Del 2
---
River City Girls
RELEASE: 05/09 2019 – KÖPER TILL: Nintendo Switch

Söta tjejer, badass brudar, snygga pixlar, old school fighting! Ja, vad mer ska man säga egentligen?! När spelet först avslöjades så kände jag att jag föll för det direkt, det påminde mig väldigt mycket om Scott Pilgrim Vs The World till sin stil. Det råkar också vara ett av mina favorit beat 'em ups någonsin, dock finns ju inte det till moderna konsoler. Men River City Girls kommer få fysisk utgåva till både PS4 och Switch tack vare LimitedRunGames. Den versionen kommer senare, men känns skönt att kunna få det fysiskt så det eventuellt inte går samma öde som Scott Pilgrim gjorde..
Fysiska utgåvan släpps dock lite senare, men det får man stå ut med.

Gunvolt Chronicles: Luminous Avenger iX
RELEASE: 26/09 2019 – KÖPER TILL: Nintendo Switch

En spin-off serie till Gunvolt-serien, med Copen i huvudrollen. Copen var jäkligt kul att spela som i Azure Striker Gunvolt 2, men hans personlighet är så jävla dålig. Man kan ju hoppas han bättrar sig lite och bli mer likable. Men mer Mega Man-spel som inte är Mega Man-spel är inte fel! Gunvolt-serien har ju varit riktigt bra än så länge.
Kommer även finnas fysiskt till PS4 och Switch från LimitedRunGames. Den fysiska versionen kommer innehålla all DLC på kassett/skiva, släpps dock lite senare.

Shovel Knight: Treasure Trove (fysiskt)
RELEASE: ??/12 2019 – KÖPER TILL: Nintendo Switch

Idag avslöjades att den sista DLC delen till Shovel Knight släpps i December, då kommer äntligen King of Cards. I samband med det så släpper Yacht Club Games en ny fysisk utgåva, med huvudspelet, all DLC och Shovel Knight: Showdown på en och samma kassett/skiva. Den stora chocken var att denna gången kommer det även en fysisk utgåva till Xbox One. Jag har köpt Shovel Knight 3 gånger tidigare, detta blir den fjärde. Så mycket gillar jag Shovel Knight.
Njut av trailern till King of Cards, som ser fantastiskt ut.

~ TITLAR FÖR 2020 ~

Tokyo Mirage Sessions #FE Encore
RELEASE: 17/01 2020 – KÖPER TILL: Nintendo Switch

Ett spel jag alltid var nyfiken på när det släpptes till Wii U, men nu får jag en ny chans att faktiskt ge spelet en chans. Ett stort tema med musik och jag är lite svag för sådant, jag har hört väldigt mycket gott om detta spelet så det ska bli ett nöje (hoppas jag) att äntligen få ge detta en ärlig chans.

Mega Man Zero/ZX Legacy Collection
RELEASE: 21/01 2020 – KÖPER TILL: Nintendo Switch

Capcom avslöjade en ny Mega Man-samling som släpps till PS4, Switch, Xbox One och PC. Man får de fyra Mega Man Zero-spelen som först släpptes till GameBoy Advance och de två Mega Man ZX-spelen som jag tror är uppföljare till Zero-serien? Väldigt osäker på om det är så, så ta inte mina ord som fakta.
Men hej! Vi får mer Mega Man, så jag tar tacksamt emot det!
Nu Capcom… Om ni kunde visa Mega Man X9 så blir jag överlycklig.

Final Fantasy VII Remake
RELEASE: 03/03 2020 – KÖPER TILL: PlayStation 4

Som en del redan vet så är jag inget större fan av Final Fantasy VII, det har aldrig klickat med mig som det gjort med många andra. Men jag skulle ljuga om jag inte sa att Remaken inte intresserar mig. Tvärtom så är jag jävligt sugen på remaken! Mer än jag någonsin varit på något med Final Fantasy VII. Jag föredrar alla ändringar jag sett och jag gillar det mer actionbaserade stridssystemet, ser fram emot detta så jäkla mycket alltså.

Tales of Arise
RELEASE: ??/?? 2020 – KÖPER TILL: PlayStation 4

Det var längesedan vi fick ett nytt spel i Tales of-serien så när Tales of Arise utannonserades så blev jag så jäkla glad. Sitter mest och väntar på mer info, mer trailers, ja mer av allt! Vi ska ju få mer info åtminstone under kommande TokyoGameShow.

Xenoblade Chronicles: Definitive Edition
RELEASE: ??/?? 2020 – KÖPER TILL: Nintendo Switch

Helsike vilket stort spelår 2020 redan verkar bli! Blev helt lyrisk när Nintendo igår avslöjade att Xenoblade Chronicles ska få en HD remaster till Nintendo Switch. Har önskat detta hur länge som helst och spelet förtjänade ett bättre öde än en trött 3DS port. Spelet ser fantastiskt ut av det man ser i trailern, karaktärsmodellerna är fina som tusan och världen ser fantastisk ut. Nu ska man bara sitta och vänta och plågas innan man kan få ta del av denna godbiten. Men fan alltså, 2020 kommer slå hårt mot plånboken.
While I did make a list about this before, that's all it was. A list. I wanted to make it a bit more detailed and perhaps add some of my favorite games in the bottom. I kind of took inspiration with this from my friend opkji. Sorry mate, I hope that is okay with you? :)
In 2016 I beat 38 games and I tried the 52 games in a year challenge and as you've might have guess, I didn't make it. But it was fun to try, might give it another go in a couple of years. But I managed to beat 44 games last year, so that feels good that I at least played more than 2016. Hope 2018 brings the same kind of number.
Nintendo 3DS
The Legend of Zelda: Majora's Mask 3D
I hadn't played Majora's Mask before so I thought I had to give it a go now. And I didn't like it, not at all infact. Disliked temples, I didn't find it engaging at all and I didn't like the time system in the game. I never once felt the dread of the world ending because of it. Now I understand that some people love this game, just like I love other games people hate. But for me, this has been the worst Zelda game I've played.
The Legend of Zelda: A Link Between Worlds
With disappointment in my heart, I needed to play a Zelda game I knew I enjoyed. So I replayed A Link Between Worlds, hadn't played it since it's release. And this game just proved to me that I much prefer the 2D-style Zelda games over 3D the 3DS. Yes, this game has 3D models in it, but it has the same top-down style like older Zelda games and plays like the GameBoy games. One of my favorite games on the 3DS and they are using my favorite style on Link.
Nintendo Switch
SnipperClips: Cut it out, Together!
I'm not all that into puzzle games anymore, but man this is fun! Played it in 2player mode with my friend ZX-Omega and we had a blast!
Shovel Knight: Specter of Torment
DLC nr.2 let's you play as Specter Knight and oh boy is he fun too play as! Shovel Knight and it's DLC are all awesome! You need to play.
The Legend of Zelda: Breath of The Wild
How I looked forward t this game, the shear size of Hyrule is mind blowing. See those mountains there in the horizon? I'm gonna climb those! One of the best Zelda games I've played and I'm looking forward to the next big 3D Zelda title. They don't have to change much, just the weapon breaking, make the world more lively and not so ruined. I've heard many say, "How will Nintendo top this title?". In my honest opinion, they don't need to top it, just make one that's equally good.
Shovel Knight: Shovel of Hope
One again I return to Shovel Knight! After Zelda I needed something a bit different, so I replayed Shovel Knight. Again.
Man I love this game.
Blaster Master Zero
Played the original on the NES when I was younger, but I never beat it. So I thought I'd give this version a try, it was pretty nice. Frustrating at times though.
Kamiko
A cute little game with Shrine Maidens trying to protect or save the world. It was cheap and it was short, but I enjoyed it.
Wonder Boy: The Dragon's Trap
It's a trap! Pretty good remake of a game I've never played before, but I did enjoy this. Love the new more cartoony mode. But it's also nice for those who want to play with the original graphics, you can pick which one you prefer. Will probably replay in the future.
Super Bomberman R
While I'm not a fan of Bomberman it was nice to see the guy('s and gals) back. Still I wish we could get a remake of Bomberman 64, still my favorite Bomberman game to date. I really need to try the multiplayer in this game with a couple of friends.
Mighty Gunvolt Burst
What Mighty No.9 should have been. I like the style, it's fun to play and actually feels like it has replay value. Again, everything MN9 should have been.
Cave Story+
Hear a lot of stuff about this game, so thought I'd try it when it came to Switch. It was good, but not worth the money. Not much more to say really.
Disgaea 5 Complete
The Disgaea series is nice, but if this game thought me anything its that I've grown tried of them. A good game of course, but it feels stale and it hasn't evolved much.
Sonic Mania
Finally a more classic Sonic game and it's not shite! Actually it's really good, one of the better experiences I've had with Sonic in the past 10years.
Super Mario Odyssey
"Here we go, of the rails it's time to set our sails" man that song has been stuck in my head so much! The Mario game I've been dreaming of since Super Mario 64, I much enjoyed it. But I wish they toned the the moon collection part, there should have been fewer moons and harder to get. The collection part of the game gave me nothing.
Xenoblade Chronicles 2
Currently 144 hours into this game and I have finished it and what a game! My favorite from last year without a doubt, but then again there are many games from last year that I would give first place. The emotions and the travels I've had with this title are all real, when I'm not playing this game I'm thinking about playing it and I've also dreamt about the game. My only problem with it is the damn RNG blade system, 144 hours in and I'm still grinding in hope of getting KOS-MOS…
PlayStation 2
Power Rangers: Super Legends
Not only the worst game I've played in 2017, but probably one of the worst games I've ever played.
Gitaroo Man
I really love this game, my favorite rhythm game, but I wish they had released it as a PS4 classic or something.
PlayStation 4
My name is Mayo
The only reason I "played" this was because I heard it was easy to get a platinum trophy. It was. Don't do this to yourselves.
Rise of the Tomb Raider
A lot of people seem to dislike this one, but I enjoyed it. Perhaps not as good as the first one, but since I never liked the original Tomb Raider games Is till think this is good.
Steamworld Dig
I don't know what to say about this one, it didn't really click. Don't want to say much more, I think I'll get death threats if I do.
Tales of Berseria
A fresh wind for the Tales of series, with one of the best casts for the series in a long while. If perhaps not my favorite cast, it is a prequel to Tales of Zestiria but you really need to play this. It's so much better and darker than most Tales of games.
Kingdom Hearts 0.2 Birth by Sleep -A fragmentary passage-
A nice little game where you play as Aqua and a good lite demo of what to expect of Kingdom Hearts III.
Stories: A Path of Destiny
No sir, this was not for me. I really don't want to dwell deeper into it.
Batman A Telltale Series
It's a Batman story game from TellTale Games. I think that says it all.
Kingdom Hearts II HD Final Mix
My first time beating Kingdom Hearts II and it felt good! Now I feel like I'm more ready for Kingdom Hearts 3, but I guess I'll h ave to try and beat Birth by Sleep and DDD too someday.
NieR: Automata
A great game from PlatinumGames and a strange game, just what I expected from Yoko Taro. I like the original NieR much more personally.
Crash Bandicoot 1 HD
Never played any Crash games before, so this was pretty fun. Old school hard platformer. Need to play the other two games on day.
Final Fantasy XII The Zodiac Age
Didn't like this game when it first released on PS2, but after FF13 I enjoyed this much more. Still not a favorite and I'm not a big fan of Ivalance, but it was a nice game.
The Walking Dead: A New Frontier
While I'm really tired of TellTale's games, this was really good. Will at least play the last season of Walking Dead, then I'm probably never touching their games again.
Shantae Half-Genie Hero: Pirate Queen's Quest
While it was fun to play as Risky Boots, this DLC was so cheap… Same bosses, same stages as the standard game. Cheap, cheap, cheap.
While Shovel Knight reuses the same stages too, they at least change it around some. It's still enjoyable, but I wish there was more.
Uncharted: The Lost Legacy
Chloe and Nadie don't need no man! These ladies are here to kick as and they kick well! A really good game, do yourselves a favor and play it if you like the Uncharted games.
Ys VIII: Lacrimosa of Dana
The first Ys game I actually finish and I enjoyed it, mostly of it at least. I hate "Tower defense" mechanics in games and it was some of the worst parts of this game, other than that it's fun! The game will be getting a new translation patch sometime in 2018, so if you haven't played it yet, you can wait.
Knack 2
It's speknackular! Ouch, that hurt my brain to write. Haha. Good sequel with the right kind of updates, I enjoyed this like I enjoyed the first one. Give it a try, you might just like it.
Dragon Quest Builders
Here a game I was very hyped on, played for 20hours and left alone. Until my friend Elden started playing it and put god knows how many hours into it and got me back in the grove. Now I'm eagerly awaiting the second game and looking forward to playing it multiplayer with Elden.
Shovel Knight: Specter of Torment
Wait a tick? Didn't I play this earlier in the year? Indeed I did good sir, indeed. But this time it's the PS4 version and it's just as great as the the Switch version. I'm so eagerly looking forward to the last DLC "King of Cards" with King Knight. Will buy a new physical if they release the game again.
South Park: The Fractured But Whole
Seems like we waited an eternity for this game and I'm not sure what I think about it. I like it, but I think I like The Stick of Truth more. Still really good, but I didn't feel the same "hype" playing it as I did with The Stick of Truth.
Dragon Quest Heroes II
I had a pretty good time with the game, but then halfway trough I lost all will to keep playing this. After having to force myself to play through the rest I'm so sick and tried of Musou/Warrior games right now. Game was pretty okay, but frustrating at times.
Sonic Forces
I blame myself for actually thinking this Sonic game would be different. I think I love the theme song the most with the game, I really like "Fist bump".
Took this game in one sitting and I'm not returning to it.
MegaDrive, SNES, PlayStation 1 & Steam
Sonic The Hedgehog
After playing Sonic Mania, I wanted to go back and play the original. So that's what I did, so nostalgic. <3
Teenage Mutant Ninja Turtles: Turtles in Time
Me and my friend Elden went for some co-op play in Turtles in Time and it's just as fun now as it was over 15years ago.
Castlevania: Symphony of the Night
Me and Elden played this as out Halloween game, still one of the my favorite games of all time. And the first time we played it together.
Mighty Gunvolt
I actually played something on Steam!? Call a doctor. The prequel to Mighty Gunvolt Burst is short but nice. Really enjoyed this little classic.
Congrats if anyone is still reading after this long list. Well there they are the 44 games I played in 2017. It was a really good gaming year for me and probably the year with most played game for me in a while. This year I will take it a bit easier, I won't be buying as many games day one, some special cases don't apply to this rule. But for the most I'll wait a month or a halv and get them for like 15-20bucks cheaper. Still have some games from 2017 I need to play.
Well I think my 5 favorite games from 2017 are the following, I don't want to rank them since I enjoyed them all tremendously.
Xenoblade Chronicles 2, The Legend of Zelda Breath of the Wild,
Tales of Berseria, and Super Mario Odyssey
Nu är jag här med ett inlägg jag gärna hade velat posta mer av! Nämligen modifikations inlägg. Jag har nämligen modifierat min Joycon till Nintendo Switch.
Har satt till ett styrkors istället för de fyra knapparna som är med från början.
Det fungerar fantastiskt bra! Shovel Knight som är på bilden känns så otroligt mycket bättre (i min mening) att köras bärbart nu än det gjorde innan.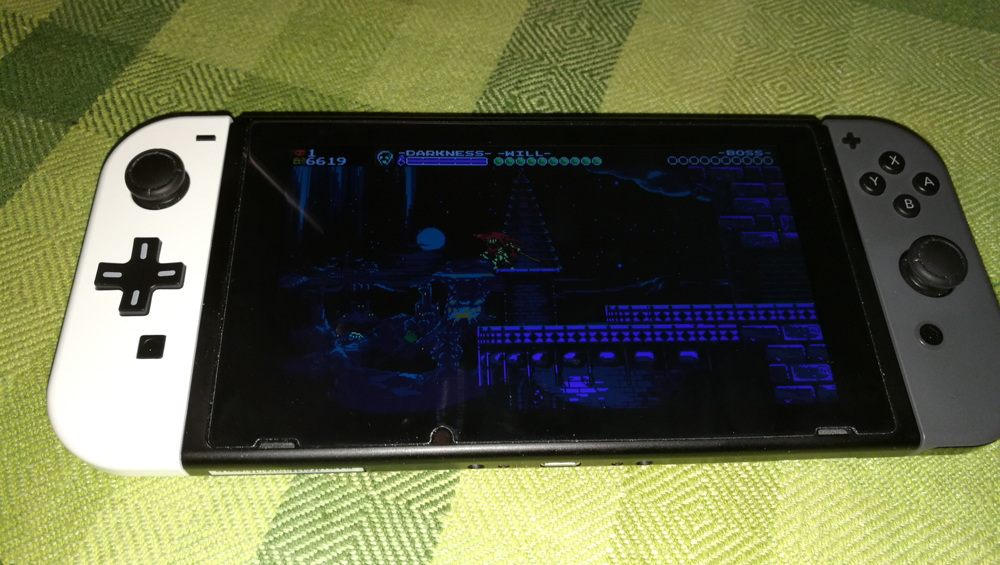 Jag önskar jag kunde modda och ha mig mer, tycker det är fascinerande. Extra glad är jag ju av att jag fick ihop allt igen och det fungerar hur bra som helst.
Synd bara att Nintendo inte har släppt detta officiellt, så man slapp öppna och och modda sin kontroll, för att få ett styrkors. Lite trist att kontrollen är vit nu, även om vit är en snygg färg. Men hade velat ha den i samma gråa som kommer med maskinen. Vem vet? Släpps det ett grått skall med styrkors, gör jag nog om allt igen.
Dår är 2016 här och vi lämnar spelåret 2015 bakom oss. Det var ett mycket bra spelår tyckte jag, fick en hel del spelat och det blev 32 spel som blev klarade förra året. Det är åtta spel fler än 2014, inte illa får jag säga. Väldigt glad att det blev så många ändå, med tanke på hur upptagen jag varit med annat under 2015. Här kommer i alla fall min lista på de spel som jag har gillat mest i år. Det finns naturligtvis många spel jag gillade, men väljer de som har givit mig mest nöje eller som jag haft roligast med. Eller helt enkelt ett spel som stod ut för mig över de andra.
Även om det är en del speltid kvar innan jag når slutet på detta underbara spel, så är det redan mitt favoritspel som jag spelade under 2015. Och ett väldigt bra sätt att påbörja 2016 med måste jag säga. En dag satte jag mig och spelade och helt plötsligt hade 9 timmar passerar, det är farligt, farligt! Men ack så roligt! Det var längesedan jag spelade ett spel där det var så svårt att lägga ifrån sig handkontrollen.
Utforskandet är väldigt kul och beroende framkallande måste jag säga, kan förstå lite bättre nu varför en del folk fastnar i MMORPG-träsket.
Det jag redan nu önskar mig är mer story, vill ha mycket, mycket mer story! Det är väl det enda negativa jag ser just nu. Då jag älskar Xenosaga-spelen där det var otroligt mycket story i, så hade jag hoppats med något liknande i detta. Det är verkligen inte dåligt det man får, men jag vill ha mer. Svårighetsgraden är ju riktigt härlig också, ibland från hur enkelt som helst till, hur svårt som helst bara genom att ha gått ett på meter till nästa fiende. Önskar det fanns fler val till ens egenskapade karaktär, känns på tok för begränsat för att det ska bli riktigt roligt att spela som den. Önskar även den hade lite mer personlighet. Därför jag föredrar att spela med en spelskapad karaktär än en egenskapad. Är nu uppe i närmare 60timmar på spelet och har en del kvar innan jag är klar, kan jag tänka mig. Men ja, timmarna har bara flugit förbi måste jag säga. Riktigt underbart och rekommenderar att alla som har en Wii U skaffar spelet. Dock hoppas jag för mig själv att nästa spel dom gör blir mer i stil med Xenosaga och story tungt, men behåller all grym gameplay och saker de lärt sig om Xenoblade CX.
Tillsammans med Xenoblade CX var Tales of Zestiria de spel jag såg fram emot mest under hela 2015 och som tur var levererade både spelen. Även om de inte är perfekta (inga spel är i min mening) så gav de mig precis det jag ville. Dock är jag inte alls förtjust i stridskameran som kan ställa till det rejält för dig i fighter, den hade verkligen behövt mer arbete. Något jag verkligen hoppas de har lagt ner i Tales of Berseria.
Sedan är det fusions-systemet som jag inte alls gillar, du ska du slå samman vapen för att skapa ett starkare vapen. Det låter bra på papper, men det är så invecklat och tar bort det roliga. Det är kul att de testar något nytt, men snälla låt mig bara köpa
och hitta vapen ordentligt som i äldre Tales of-spel. Det är en så stor behållning när man hittar ett nytt kraftigt vapen.
Sedan tycker jag nog också att Sorey är den tråkigaste Tales of-huvudkaraktären just nu, visst gillar jag han fortfarande men han tilltalade inte alls mig. Så även på den punkten ser jag grymt mycket fram emot Velvet från Tales of Berseria.
Nu låter det kanske som mycket gnäll, men så farligt är det inte. För spelet levererade för mig, men man måste kunna kritisera också. Känner mig helnöjd och bara längtar till Tales of Berseria nu.
Shovel Knight har ju funnits ute ett tag, men det var först i år jag fick en chans att spela det. Det var värt väntan. Ett underbart klassiskt, retro doftande spel med så otroligt mycket charm och gudomlig musik. Musiken är för övrigt gjord av Jake Kaufman, som bland annat gjort musiken till DuckTales Remastered.
Det är verkligen ett härligt spel som fick ge mig de där "trial and error" känslorna, jag inte tycker man får av många spel nu för tiden. Då alla ska hålla en i handen, har du problem med en boss eller ett ställe, så måste du blir bra. Precis som i många klassiska NES-spel. Inte undra på att jag föll pladask för spelet! Hoppas innerligen att det kommer en uppföljare, jag vill verkligen se vad de kan göra om de kan göra ett större och mer fyllt spel. Missförstå mig inte nu, spelet är verkligen lagom stort och fyllt med härligheter. Men det känns som de kan göra mycket mer, hur som helst så ser jag verkligen fram emot nästa del i Shovel Knight-sagan! Glöm för allt i världen inte att spela DLC:n Shovel Knight: Plauge of Shadows, det är DLC som fler borde satsa på att göra.
Som en del vet så älskar jag Transformers, jag växte upp med dom. Jag grät när Optimus Prime dog i den tecknade Transformers The Movie. Var nog 6år när jag såg den första gången, det var väldigt känslomässigt. Så när vi började höra rykten om Transformers Devastation, blev jag väldigt glad. Då det finns en serietidning med samma namn, så hoppades jag den skulle baseras på den och då även ha G1 designerna. Till min stora lycka var det just det som hände! Dock baseras det inte helt på Devastation-storyn. Utan tar plats i IDW-serietidnings unversum där de kör med G1-stilen. Okej, visst det är ju bra. Men licens-spel är ju sådär. Men va? Ska Platinum Games göra spelet? Mästarna på action? Okej, jag är såld.
Det var typ så mina reaktioner såg ut. Och mycket riktigt ledde det till att Devastation är ett av mina absoluta favorit action-spel i år, men även ett av mina favorit licens-spel någonsin. En helt underbart cell-shadad stil, som verkligen gör G1-stilen rättvisa, bra musik och tung musik. Som imponerande nog förs en del av musiken av Vince DiCola som gjorde tecknade film musiken och det hörs verkligen i vissa delar!
Vi får inte glömma en grym voiceacting, där i stort sätt alla levande G1-röstaktörer kommer tillbaka och ger röst åt sin karaktär. Nostalgi mätaren är i topp!  Det jag hade önskat är att det var lite längre och att det var mer story i spelet. Får hoppas en eventuell uppföljare får mer av båda.
Här är en liten lista på de spel jag har klarat under året, jag skriver bara en liten text under titeln på spelet. Förklarar lite snabbt vad jag gillade eller ogillade med spelet. Det kan hända att jag skriver något längre om ett specifikt spel längre fram eller om något i kommentarerna vill veta mer så kan jag skriva mer. Datumen efter namnen på spelet är när spelet klarades.
21: Suikoden [ 2015-08-22 ]
Ett kul JRPG av den klassiska sorten, som var bland de första jag spelade.
Men då jag inte var så bra på JRPG på den tiden när spelet var nytt, så klarade jag det aldrig. Detta behövde naturligtvis rättas till. Ett bra spel, men jag förstår inte riktigt hajpen med det.
22: Guacamelee! Super Turbo Championship Edition [ 2015-08-24 ]
Aye caramba! Ett ganska kul Metroidvania inspirerat spel, med ett mexikanskt tema.
Från början gillade jag inte detta alls, men jag blev fäst vid det efter någon timme eller två.
Helt klart värt att kolla upp om man söker ett Metroidvania liknande spel.
23: Mega Man [ 2015-08-30 ]
Ett av de mest klassiska spelen från min barndom, det var riktigt kul att spela om. Roligt nog så kändes det betydligt svårare nu på äldre dar än det gjorde när jag var barn. Fortfarande kul dock. =)
24: Mega Man 2 [ 2015-08-30 ]
Mitt favorit bland klassiska Mega Man spelen! Musiken, robotarna! Gillar det mesta till tusan, var i princip hur jag mindes det. Det har åldrats bra, dock kändes det på tok för enkelt. Får köra på svårare svårighetsgraden nästa gång.
25: Mega Man 3 [ 2015-08-30 ]
Detta var lite av en besvikelse, fortfarande bra, men inte så bra som jag mindes det. Var lite utmanande här och där, men det kändes inte så kul. Gillade detta betydligt mer när jag var barn.
26: Metal Gear Solid V: The Phantom Pain [ 2015-09-18 ]
Troligen den största besvikelsen i år för min del, knappt någon story, inga minnesvärda bossar eller boss fighter alls. Allt kändes så otroligt "meh" för min del. Gameplayet är hur bra som helst och spelet hade stor potential. Men utan allt det där klassiska Metal Gear, föll det väldigt platt för min del.
27: Transformers Devastation [ 2015-10-13 ]
Transforms and roll out! Ja! Bland det roligaste jag spelat i år, visst det är väl inte mycket annorlunda än många action spel. Men spelet har en tight kontroll, grymt rockigt soundtrack och man slåss som stora robotar. Vad mer kan man behöva!?
Det baseras på G1 och IDW serietidnings versioner av Transformers och är grymt som bara den! Gillar man Platinum Games och gillar man Transformers så borde man verkligen spela detta.
28: Tales of Zestiria [ 2015-11-06 ]
Mitt mest efterlängtade spel i år! Det levde absolut upp till mina förväntningar, men som många andra spel är det inte perfekt. Striderna är roliga som vanligt, men jag gillar inte Fusions och skill-systemet så mycket. Finns andra små saker som irriterade lite, men i det stora hela är jag väldigt nöjd med spelet och fick absolut valuta för mina pengar.
29: Shovel Knight: Plague of Shadows [ 2015-11-15 ]
Visst är Plague of Shadows bara DLC material, men jag kände att det var så fullt med saker att jag räknar det som ett eget spel. Hur som helst var det bra som tusan! Det var kul och svårt att spela som Plague Knight, har du inte spelat Shovel Knight än så gör det! Det är bland det roligaste jag spelat i år, både original versionen och DLC.
30: Kirby and the Rainbow Paintbrush [ 2015-12-05 ]
Kirby blev spel 30 att avklaras i år, det var ett trevligt och söt äventyr. Blev dock besviken att man enbart spelade med stylusen, hade hoppats på en mer klassisk styrning. Men allt som allt, helt klart ett trevligt spel.
So I thought I was going to make a little list of the games I've beaten so far this year and write a little something about them. I will list ten games on this list at a time, that way the list won't be to long and I can perhaps write a little more about certain games, not sure I will though since this, will just reflect some simple thoughts about the games. If anyone wants to know more of what I think of a game, I can write in the comments. The dates by the name is the date I beat the game.
11: Final Fantasy Type 0 HD [ 2015-04-21 ]
I was really looking forward to play a more mature FF game, and I think I got what I wanted. It had a few surprises that I liked, but I think having 14 different characters to play from hurt the game a bit. There wasn't any real characters focus, which I was a bit disappointed with. All in all an okay game.
12: Shovel Knight [ 2015-04-26 ]
I've waited a long time to play Shovel Knight and when I finally had the chance it was awesome! I was really smitten with the game and I still think it is my favorite game I've played so far this year. Yeah, I liked it that much.
13: The Order 1886 [ 2015-05-03 ]
It wasn't a fantastic game, but it isn't as bad as I kept hearing it was. It was enjoyable for what it was, as long as you don't expect to be blown away. A bit short and perhaps to many cutscenes, and one of the best looking games I've played.
14: Hyrule Warriors [ 2015-05-12 ]
Now this is just god old fun. Even if the Dynasty Warriors concept can get a little bit boring, it was great fun. Really dig the designs for the characters in this game. Zelda is so lovely. You like hack n slash, you gotta try this.
15: Final Fantasy X HD [ 2015-06-16 ]
This is the second time in my life I've played FFX. I haven't played it since it was released for the PS2, the game still holds up. But I've really grown tired of random encounters, there where way more in this game than I remembered. But as I said the game holds up and it was great revisiting Spira.
16: Batman: Arkham Knight [ 2015-07-01 ]
One of the games I was looking forward to most this year, it sort of lived up to what I had hoped. I like the game, but the batmobile takes way much space from everything else. I can't go into more detail without spoiling, but those of you who played it know what I mean, hopefully. All in all it was a good game.
17: Shantae: Risky's Revenge – Director's Cut [ 2015-07-07 ]
I had been craving a more classic platformer and Shantae came to the rescue. Short, but very enjoyable. I'm already looking forward to 1½ Genie Hero.
18: Wolfenstein: The Old Blood [ 2015-07-08 ]
Prequel to The New Order and I just had to play it since I liked the other one. Every bit as good as the TNO with a really nice twist in the game. I might start to enjoy FPS more after these games.
19: DmC: Devil May Cry – Definitive Edition [ 2015-07-12 ]
I played this game originally on the PS3 and I really liked this game, so I had to get the Definitive Edition. I've enjoyed this game very much, both times I've played it. Give it a chance if you can.
20: Onechanbara Z2: Chaos [ 2015-08-03 ]
The 20th game I've beaten this year. Not quite sure what I think of the game, I liked parts of it and it was a pretty okay action game, standard hack 'n slash. I'll have to think on this a bit to see what my final verdict on the game is. For now it was a nice game to play thought, but I'm not sure it was worth buying.
Wow, I'm almost impressed by how little that is happening now. Is a bit sad really, but somewhat refreshing too. The most exciting thing that has happened it that I watched Avengers: Age of Ultron when it premiered here in Sweden. Such a cool movie! I really enjoyed it, now I'm really hyped for Ant-man.
I've been playing some games to, finally played Shovel Knight and damn it was good! Love the charm of the game, the music is so great. Such a great "retro" feeling to the game. I honestly think this is my favorite game of the year so far, it really clicked with me. Great adventure, cool Mega Man like levels. And I just love the sprite work. Hopefully I'll be able to start playing The Order 1886 this upcoming weekend, or hopefully I'll be getting a New Nintendo 3DS and Paper Mario Sticker Star. And then I'll probably just be waiting until Batman Arkham Knight is released.
But still my most eagerly awaited game for this year is Tales of Zestiria and there are more rumors floating around that there will be a PlayStation 4 and Steam version in the west. So we'll see if that turns out to be true. Guess I'll have to but every version of the game… Maybe. ;)