So we've finally have a trailer for the newest Tales of game, Tales of Berseria. While it is not confirmed for a western release, I do hope Bandai Namco keeps up with their good work of releasing Tales of games in the west.
I like what I see, even if what we see isn't much. But I already want the game, I want it bad!! So just as usual with Tales of games. I'm looking forward to a longer trailer and to see some better artwork of Velvet and hopefully we'll see some of her companions soon. Damn, I really wish it could be October now. I really, really want to play Tales of Zestiria now.. Good things come to those who wait. Or so they say.
Bandai Namco has finally announced both a PlayStation 4 version and a PC version of the upcoming JRPG, Tales of Zestiria. This is one badly kept secret, but I'm glad Bandai Namco has confirmed what just about everyone knew. You can read a bit more on it on the PlayStation blog you can read it on the new Tales of blog.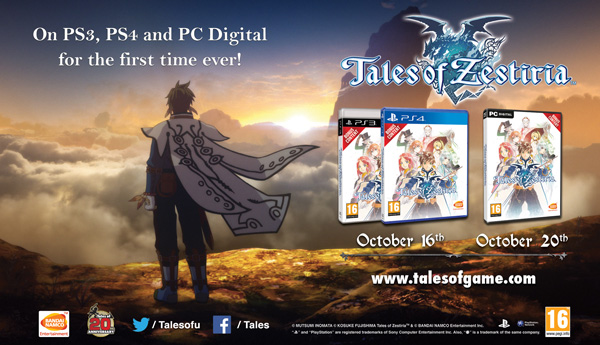 The release date for the PlayStation 3 and PlayStation 4 version is October 16 for Europe and the PC and US version will be released on the 20th October.
So I'll be getting Tales of Zestiria as an early birthday present to myself, man I'm looking forward to this! So hyped right now! I'm just glad we finally have a release date! This is without my most sought after game this year, together with Batman: Arkham Knight. But October will be an expensive month… Uncharted Nathan Drake Collection and Dragon Quest Heroes are released in that month too. Hopefully I can afford everything. The JRPG's are the most important to get or an IP that has ties to an JRPG.

So Bandai Namco has announced the newest Tales of game, its Tales of Berseria! It will be released for PS3 and PS4. Hopefully we'll also be getting this title in the west. The game will feature character design by Mustsumi Inomata (Tales of Graces ƒ, Tales of Hearts R and more). The game will feature a female protagonist, who seems to be a pirate named Velvet. Right now more info is pretty scarce, but we know Ufotable is doing the animations again. So they will at least be of high quality and here is a bad picture of Velvet, but hopefully we'll be getting better artwork pictures later.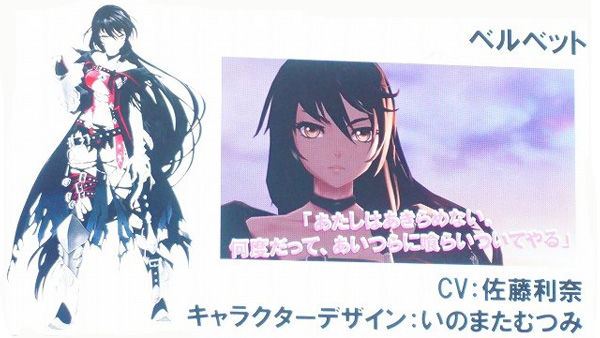 Folk som har läst denna bloggen innan eller känner mig, vet att jag älskar spel. Det är en sak som alltid funnit i mitt liv och det är viktigt för mig. Även om det har blivit lite mindre spelande än jag hoppats, för att man jobbar en del. Men tack vare det kan man köpa fler spel och även under 2015 kommer det ett par spel jag gärna vill ha. Här är en liten lista på de jag kommer på just nu som jag verkligen vill ha och måste ha! Nu kan ju oturen vara framme och något av dem försenas, men det får vi hoppas inte sker.
Tales of Zestiria



Jag älskar Tales of-serien. Det är väl den enda JRPG-serie just nu som jag verkligen älskar så otroligt mycket, naturligtvis finns det många bra. Men Tales of-serien ligger mig lite närmare hjärtat. Så när Bandai Namco släpper ett nytt Tales of-spel i väst köper jag det, så länge det inte är till mobil vill säga. Tales of Zestiria ser ut att bli minst lika fartfyllt i fighterna som de senaste i serien, så längtan är stor att få besöka denna världen. <3
Dragon Quest Heroes



När man fick se DQH för första gången blev jag otroligt sugen på spelet. Gjort av Omega Force som är kända för sina "Dynasty Warriors" spel. Dragon Quest Heroes har element ifrån Dynasty Warriors serierna, men ska tydligen vara mer action-rpg. Gillar verkligen hur bra Akira Toriyamas stil passar i 3D och så ser jag fram emot att få spela med klassiska Dragon Quest hjältar. Hoppas detta släpps till sommaren eller så i väst.
Batman: Arkham Knight



Batman! Alltid denna Batman! Du gör alla förbrytare tokiga! Så vad gör vi? Det är simpelt! Vi dödar Batman! Vi hjälps alla åt! Lite så kommer det nog vara i Batman Arkam Knight. Det sägs också vara det sista spelet i Rocksteadys trilogi, Arkham Origins gjordes inte av dom. Kommer Batman att dö? Kommer Gotham bli skurkarnas paradis? I juni vet vi svaret på de frågorna.
Xenoblade Chronicles X



Som den Xenosaga-fan jag är, så måste jag köpa allt som Monolith Software gör. Jag älskar deras spel, Xenoblade var trevligt även om jag inte klarat det än. Ja, jag skäms över det. Men det tar vi itu med sedan. XBX ser otroligt ut och verkar enormt! Ska bli intressant att få skapa sin egna karaktär och utforska världen.
The Legend of Zelda Wii U



Allt vi har fått se av detta spelet än så länge har gjort mig otroligt hajpad. Allt från de enorma landskapen till att hoppa från hästrygg och skjuter pilar på monster. Zelda spelen levererar alltid på ett eller annat sätt, så jag ser fram emot detta något otroligt. Själv hoppas jag nästan lite att Link fortsätter bära sina blåa kläder vi sett honom bära i de få bilder och trailers vi sett. Var lite uppfriskande att inte se honom i sin tunika, inte för att det är första gången han är utan dem. Hoppas på klädes byte annars. ;)
Metal Gear Solid V: The Phantom Pain



Efter MGS4 ville jag i stort sätt inte ha något med serien att göra. För mig var det en besvikelse, somliga delar var naturligtvis bra. Men det slutar på ett otroligt dålig sätt i min mening. Men nog om det nu, MGS5 ser i att bli ett riktigt grymt spel och vi får än en gång bekanta oss med Big Boss. Ska vi äntligen få se honom bli "ond"? Personligen hoppas jag verkligen det och kanske skulle vi kunna få se en ung Solid Snake. Hoppas kan man alltid.
I love my PlayStation 3, it has brought me literally thousand of hours of joy! Its probably the only console so far that I have beaten over 100 games on also. Of course I have gotten some favorites over the years, so this post will be about those titles I've enjoyed or just liked extra much. It will not be about all my favorites, just some of the titles I've had a blast with. They might have given me an extra laugh or just been fun to play, they had something little extra that made playing them awesome for me. Now some of these games are multiplatform games and are also out on the Xbox 360 for example, but it's just that I beat the game on a PS3. Of course I've gone through some crappy games too, but I don't want to talk about those games.
---
Batman: Arkham Asylum (Arkham series)



There has been a bunch of Batman games in the past, but none of them was especially good in my opinion. It was when Rocksteady made Batman: Arkham Asylum I played my first good Batman game. And boy I really enjoyed it!
While I also do like Arkham City and Arkham Origins. As I said Arkham Asylum was the first game that I thought that did Batman justice. The presentation of Batman, the designs of the villains. Everything feels top notch! I am so looking forward to Batman: Arkham Knight.
Darksiders



I'm a big fan of The Legend of Zelda series and I've always wondered why no one besides Nintendo could make really good adventure games like that. It seemed like no one ever really tried, until Darksiders! It has the elements of a TLOZ game and is set in a post apocalyptic future (meh), but it is a really great game. Of course it has its own problems like every game does, but this is still the closes thing to a 3D Zelda game, that isn't a Zelda game and that isn't on a Nintendo console. If you haven't played a single Zelda game BTW, go do it now!
Lollipop Chainsaw



Now a lot of people will probably look at me and go WTF!? But this game is awesome! It has it all! Humor, music, zombies, foul language, and a hot babe with a fucking chainsaw (swing). The story is whacked and the whole game is just crazy, but that's the reason I like it, and it has really good music! The zombie bosses in the game all have their own music style, for example, we have the viking metal boss Vikke. Voiced by Michael Rooker, badass! And the games script is written by James Gunn who directed Marvel's, The Guardians of the Galaxy. I had a ton of fun with and at this game, I really do love this game.
Tales of Graces f



While the PS3 has gotten a bunch of awesome Tales of games, of all that are released in the west my favorite is… Dare I say it? Tales of Graces f. The characters are not the best, I'll admit that. But I still like them and the world they live in and I really love the combat! Out of all the Tales of games, this is probably one of my favorite when it comes to combat. It was a blast playing! So much that I actually cleared the game three times! And I got the platinum trophie from the game. Love it, like it, hate it. Do what you must, I love it.
Uncharted 2



The first and third Uncharted games are also great, but it was the second game I found to be the best. The one I enjoyed more. Good villain, good story and I loved the environments. It had a great cinematic feel to it and was my favorite game to be released in 2009. And it had a fun multiplayer, which I and some friends constantly played. We loved it! Too bad the multiplayer in Uncharted 3 wasn't as good in my opinion.
As I started in the beginning of this post, these are just some of my favorites. There are tons of games I have enjoyed immensely. But listing them all and why, would be too time consuming and I'm not sure I can put into words why I enjoyed them all. No one has to agree with this list, but it would be nice to find more people who actually enjoyed these games.
Tomorrow I'll finally be able to pick up my copy of Tales of Hearts R. Really looking forward to play that game, it will most likely be my last JRPG of the year. So I really gotta make it count! The last one for the year has to be special. ;)
But then again, who knows if I'll manage to finish of Tales of Symphonia: Dawn of The New World before the year ends. While I think its unlikely that I'll jump on another JRPG after finishing another, you never know. Oh, right. As I was typing this it just came to my attention that Kingdom Hearts 2.5 HD REMiX will be released soon too, so I'll have to find time for that too. Hummm… Someone have some sparetime to give?
I've started playing Tomb Raider Definitive Edition for PS4. I played the original game before, but I had forgotten how fun I thought it was to play. Love hunting my enemies with a bow, mwhaha! It is my favorit weapon in the game.
I should go over and review the games I've played this year and see what title I'll grown GOTY (Game Of The Year).
And I need to make a better list of some of the games I am looking forward to next year and I mean a better list than I have done in the past. So I hope I can start working on that too.
So here we are, November and almost at the end of 2014. Man this year has really flown by, I hardly noticed where the time went. Oh, well talking about how this year has gone will have to wait until next month. So I have a whole lot of work in front of me in November, I'm going to travel and hold a two day course about my job in Malmö. I've never done it away from home, so it's both incredible freighting and somewhat exciting. The day after that I have a meeting in Malmö and then the week after that I'm going go on a two day course myself. And then there are a couple of smaller things. So yeah, I'm booked for almost two weeks. But like I said its nice and I like doing this, I'm just a bit terrified about the traveling. I'm not to fond of that since I'll be going alone, even if Malmö is pretty close.
In 9 days I'll finally be playing Tales of Hearts R on PlayStation TV! I'm really looking forward to that! TOHR will most likely be my last JRPG for this year, then I will have to try and get started with The Last of Us Remastered. Sure I played the original on PS3, but I want to play it again and see how much "better" the PS4-version is. I also want to play the new Tomb Raider again, finally got a hold of the Definite Edition so gotta get through that too.
Next year will be a crazy year for gaming, Final Fantasy Type-0, Xenoblade Chronicles X, Tales of Zestiria, Batman Arkham Knight and many more! My gawd!
I finished the second season of The Walking Dead game, pretty good. The first season was a bit better, but this was good too. I also beat The Legend of Korra game, I'm not so sure what I think of that… I liked parts of it, others not so much. I wish it was more polished, had a bit more variety to it. If you like Korra and Platinum Games, sure give it a try. But perhaps buy it when it's discounted. I know there was something else I really wanted to write about, but for the life of me I can't remember what. Hm… So I guess I'll leave it at that today. Thinking a bit about doing a third YazTalks, just have to find a subject to talk about and I would like to make it better. Just wish I had the time for all the stuff I want to do.