Not much has happened today. I've been a bit slow and haven't had the energy to do anything. So I decided to visit the kitchen. Nothing good to eat. Eh, so what the heck?! If you don't have anything good at home, make something yourself. And I did. Today I've made "Chokladbollar" / Chocolate balls. Sadly we had no more "cocos" at home. T-T
Yes I actually can bake if I want to. Its fun. If I ever get the time I want to bake more. So if you have any cool recipies on something good, please tell me.
BTW, I'm on my 2nd day as a coca cola free man. Yeah, sure 2 days that's along time! Well I hope the days as coca cola free continues to grow. I know my stomach will feel better the more days I'm not drinking cola.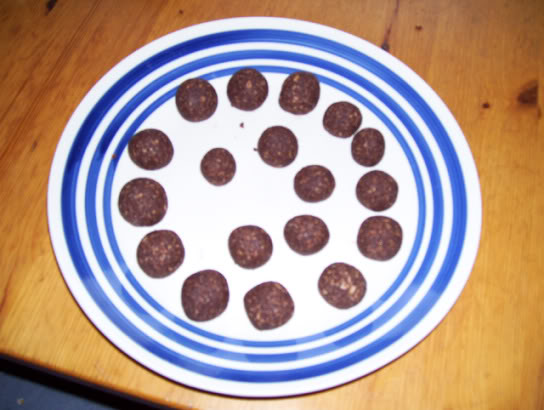 And thanks for listening people, here have some chocolate balls :)
Hey! All you people out there. Got me a DS Lite today. I was planing on buying a new one, but a friend of mine sold was going to sell hers for 650SEK. I could not resist that price. But to my surprise it was "new". She had never opened the charger, she had only played with the DS a little and then got bored of it. Hey, I don't care! :D
I got it for a good price, so I'm happy!! almost… Its pink. :(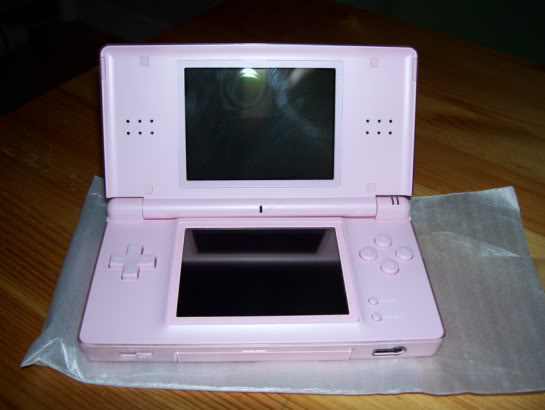 Not my kind of color exactly.. Well for the price I paid I won't go around bitching about the color. :)
Today I finally got Valkyrie Profile 2 Silmeria. I haven't had the chance to play much yet, but it seems like it's fun.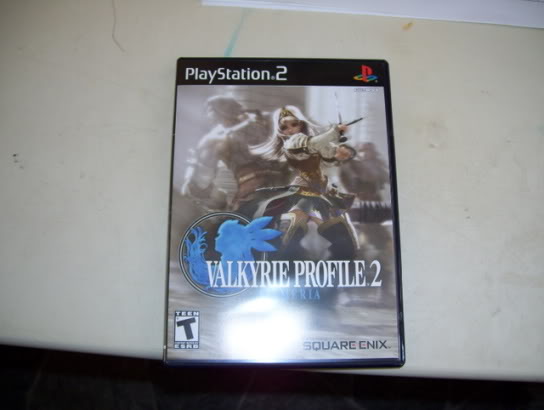 I just finished uploading the newly recorded video.
This time its from Shadow Hearts 2. And from the sidequest "The Man Festival".
I'll just let the video speak for itself…

Be prepared…. XD
When I opened the mailbox today what did I find? I fine packed from VideoGamesPlus. I thought to myself what ever could it be? (Of course I knew, I ordered the game! Duh!)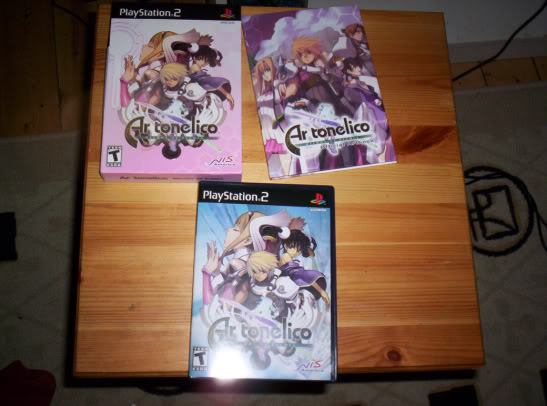 So I'll go try this game and be back later, to see what I thought.
I finally got Phantasy Star Universe for the Xbox 360 on monday. Its better than I
excpected actually. Pretty fun. And when not playing PSU its Dead Rising all the way.
I also got another thing today, something I've been wanting a long time. Xenosaga figures!
I got KOS-MOS & T-elos from Xenosaga Legends 1.
I love the quality! And I needed it since its Xenosaga stuff!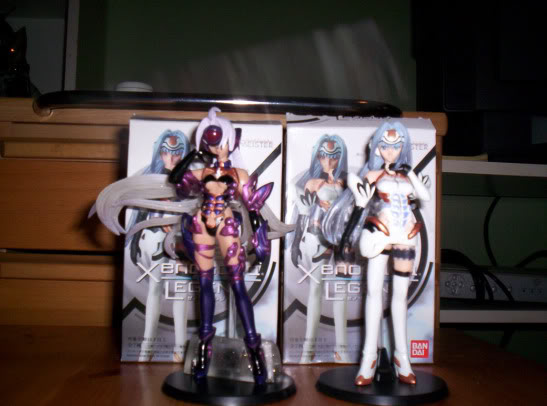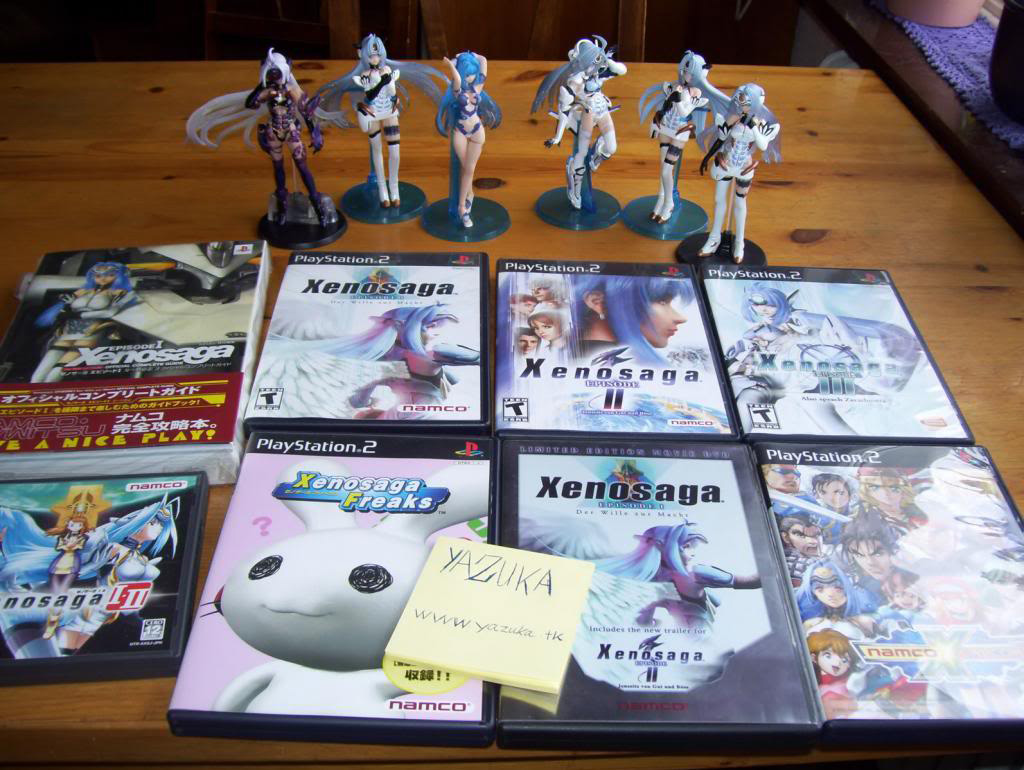 And I took this picture of my entire XS collection.
Thanks to a friend of mine, I now have a working Xbox 360! And hopefully it will stay functional. Hurray! But I think it will at least longer since this one has not acted up as my previous one did.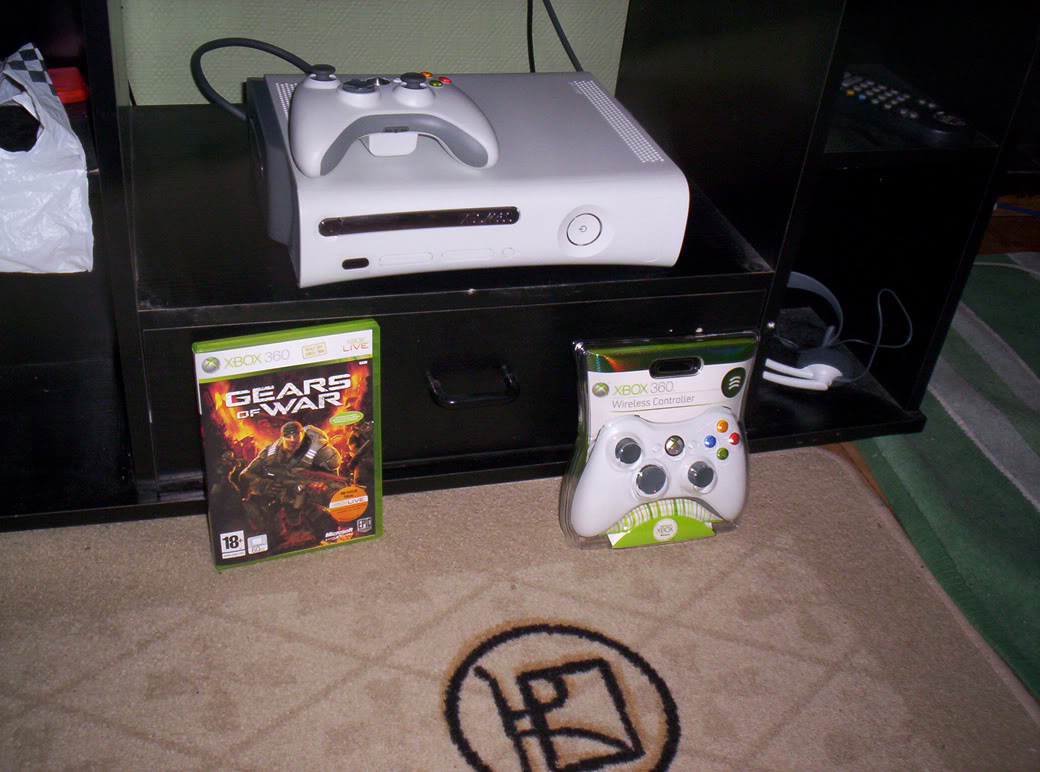 Please let there be a god and keep mine safe!
As people might know Nintendo Wii was released in Europe on Friday the 8th of December. A friend of mine "Kundkorgen" had bought it. And came all the way from his home down to another friend Ezakiel. Of course he brought his Wii with him. So me and my other friend Elden, went over to Ezakiel to try it out.
And to meet with Kundkorgen to of course! Hadn't seen him in a long time!
So there we where, in Ezakiel's basement. Touching and feeling the Wii. God it's gorgeous! So we got to try Wii Sports. Love bowling. Well since me and Elden couldn't stay very long we decided that we would come over again on Saturday. Which we did, and later wen't home to Elden and played there.
I have to say this is the most fun I've had in ages! And I really do mean it. Thank you guys, I hope we can have as much fun again soon!
Kundkorgen also showed us some Zelda, and me and Elden started to cry. It was magical. (The little of the game we allowed him to show us). So now I want a Wii even more! Hopefully I can get money soon. :(
Here's a picture of us… Well at least our hands when we are touching the Wiimotes. Kundkorgen, Me & Elden. Ezakiel took the photo.