Det var ett tag sedan jag gjorde ett inlägg om anime intron och outron jag gillar.
Så jag tyckte det var dags att försöka få ut någon igen, får se vad jag hittar när jag väl börjar skriva detta. Den här gången kommer jag inte ge en motivering till varför jag valt de sånger jag gjort utan jag bara postar video nu.
Men ofta är det för de är lite gladlynta och sätter sig i huvudet. Det är typ min favorit typ av anime intro eller outro. Kommer även vara några klipp där jag gillar både introt och outrot med här, brukar bara ha haft med en av de annars.
Paripi Koumei – Chitty Chitty Bang Bang


Isekai Quartet – Isekai Girls Talk


Dumbbell Nan-Kilo Moteru? – Onegai Muscle


Magical sempai – Fantastic Illusion


Magical sempai – Dame Wa Dame


Tropical-Rouge! Pretty Cure – Akogare Go My Way


Tropical-Rouge! Pretty Cure – Viva Spark


Yeah, guess I'm back to write in English. I've missed it. So we'll see how many posts I'll do, if it will be more I'll change the stuff of my site to English too.
I found this video yesterday that I thought was funny. It's buy an group calling themselves Nanowar of Steel. They are apparently a comedy heavy metal band.
The melody in itself is pretty good. But he lyrics are just.. Yeah. Haha.
Just check it out! It's so weird.
Nu var det dags att köra en sådan här lista tyckte jag, här är några av mina favorit av Tales of-intros. Det var inte lätt att välja ut 5st kan jag säga er, då jag gillar de flesta! Men jag rensade runt tankarna och kom fram till dessa fem följande. Det finns diverse anledningar till jag valde dessa, just på grund av låten, det kan vara animationerna i videon. De kanske håller ett sentimentalt värde för mig, ja ni förstår säker. Men nu ska jag inte tjata längre, här är min topp 5: Tales of-intro låtar.
05. Tales of Phantasia: Yume wa Owaranai av YOMI

Tales of Phantasia var inte bara det första Tales of-spelet, men också ett av de första spelen att ha med sång i sitt intro (om jag inte minns fel). Nu talar jag naturligtvis om Super Nintendo originalet en väldigt skönt och lugnt sång, som jag lyssnar på lite då och då. Den version jag bjuder på är från PlayStation 1 versionen, som tyvärr aldrig släpptes utanför Japan. Som så många Tales of-spel… Dock släpptes den dåliga GBA versionen av spelet här… Har ännu inte spelat igenom detta spel, det är något jag måste rätta till någon dag.
04. Tales of the World: Reve Unitia: Shining Darkness av Nakagawa Nami

Ytterligare en sång från ett spel som aldrig släpptes utanför Japan, Reve Unitia släpptes till 3DS och är något form av crossover spel som alla Tales of the World spelen är. Det var inte allt för längesedan jag hörde denna sången för första gången, den klickade direkt med mig. Tempot, sången, melodin. Det låter för övrigt annorlunda jämfört med hur de flesta Tales of-intron låter. Så den har blivit en snabbt favorit, själva intro filmen är också jäkligt grym.
03. Tales of Symphonia: Starry Heavens av Misono

Tales of Symphonia var det första Tales of-spelet som jag spelade och första gången jag hörde och såg introt blev jag så överförtjust i det. Lyssnade på det i sträck och såg på introt hela tiden, det satte sig verkligen på skallen för min del. Original introt gjordes av gruppen Day After Tomorrow, men gruppen bröt upp och sångerskan Misono fortsatte solo.
02. Tales of the Abyss: Karma av Bump of Chicken

Gitarrer, tempo och rock! Oh, yeah! Tales of the Abyss är ett av mina favorit spel i serien och introt är så jäkla bra! Det har ett schysst tempo som drar med mig in helt och hållet, vi fick en instrumental version av sången i den engelska versionen av spelet. Vi fick dock lite kraftigare gitarrer i sången, men det är synd vi inte fick den som den skulle vara.
01. Tales of Xillia: Progress av Ayumi Hamasaki

I normala fall så är det väl nr 02. som skulle ha varit på första plats då jag verkligen älskar lite rockigare låtar. Men Progress är en sådan låt som sätter sig i hjärtat på mig, den har en sådan vacker och sorgsen melodi. Blir alltid lite rörd och det är även därför den kniper första platsen, film, musik, spel eller vad det nu än kan tänkas vara som berör mig känslomässigt är saker jag värderar väldigt högt. Denna melodin är så underbar.
Håller ni med mig? Tycker ni något annat? Berätta vilka ni tycker är era bästa intron till Tales of-spelen. Har för övrigt en känsla att Tales of Berserias intro Burn av FLOW kommer bli en ny favorit, om jag ska gå efter det jag hört i trailern för spelet.
So I've just started playing Assassin's Creed IV: Black Flag on PlayStation 4, way to early too actually say something about the game. But I will still say I've enjoyed what I've done so far, will play more of it under this weekend.
I'm also going to use the hashtag #YazPlay, when I tweet about games I'm playing from now on. Why? Well, why the hell not? I just think it's great that I can have all playing right now tweets collected by a hashtag. People can follow that if they are interested to see what I've posted in game related stuff I am playing. Or you can avoid it, the choice it yours. I'll be using that hashtag too, when I am posting screenshots from PS4 games. Just thought I should say that too, okay.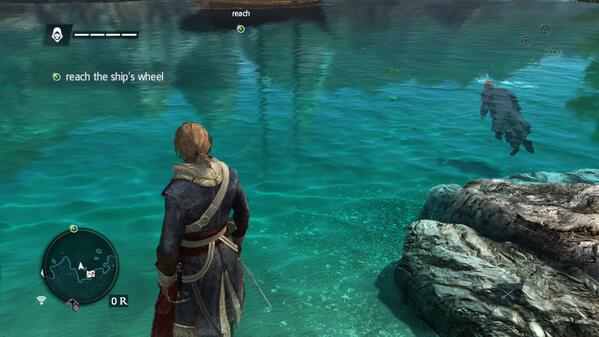 I also enjoy reading what people are searching for on my site and I've seen a couple of things that have made me laugh. But then there are some things that I really can't put to words, like Knack Hentai or keroro fuck natsumi. Well, I laughed at those too. Yeah, yeah. =D
Oh and I got the Hatsune Miku Project Diva f game for the PS3! Hopefully it's fun now. Yeah, I imported it since I don't want to buy a digital version of a game if a physical copy exists. I enjoy Miku otherwise so I think and hope I'll enjoy this too. Been looking for a good music game to entertain me since Gitaroo Man.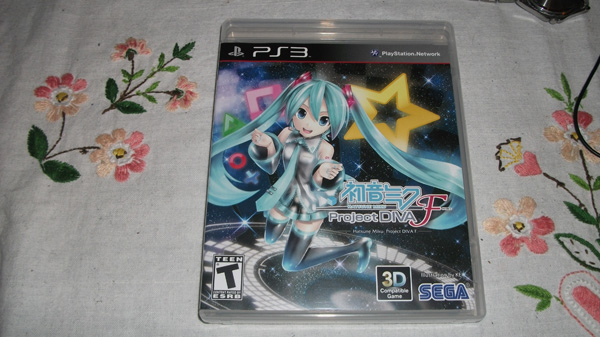 In the past I have posted about a guy who calls himself Miracle of Sound and he does music based on videogames. He has done the song "Roll Out" based on Transformers War/Fall of Cybertron games. The song "Nord Mead" based on Skyrim and so on, but two of my favorite songs from him are based of Ubisoft games.
One if based on Assassin's Creed IV: Black Flag and is called "Beneath The Black Flag", I love that one. A bit of pirate rock, I'll post a video below.
But yesterday he uploaded a video from the upcoming WatchDogs, which I am starting to get more and more excited about. I fell for this song immediately and it's called Digital Shadow. I've listened to it a couple of times right now and I am having a hard time stopping. Check it out below.
So while surfing around and looking for stuff on YouTube, I came across a musician that calls himself "Miracle of Sound". He makes music that is related to TV-shows, games and movies. The first thing I heard with them/him where "Joker's Song". I really, really enjoyed that. And I decided to check out their other stuff and I found something they made with Transformers.
And I feel in love with that, I love the music in this. Even if the lyric isn't all that, the music in itself is so good. I could listen to an instrumental of this all day, but I decided to share the video with you. So check them out and check out their other stuff, you might find something you like.
Or not. Who knows? I can't stop listening to this song. <3
"

The Autobots are hunted by the cruel Decepticons. The slaughter is directed by the evil

Megatron!

This metal robot-Stalin only has one equal foe… So ready up your battle cry, its time to let them know!

Autobots… transform… ROLL OUT!!

"
Just saw this video and I love it! I really like violin music when done right and I think this is some of the best stuff I've heard so far. Check it out! Damn, really want to play some Zelda now. Hope I can play Skyward Sword soon or perhaps Zelda Ocarina of Time 3D.