Nu har man varit inflyttad i ett par dagar och lyckats komma någorlunda till ro, känns riktigt bra och känns skönt att ha plats över till att göra saker. Det mesta har kommit på plats känns det som, ska sortera bland kläder och sådant. Ni vet det där jätteroliga! Det får fasen vänta, inget jag orkar med nu. XD
Städade av den gamla lägenheten igår med hjälp av syrran, tack än en gång om du läser detta. Så nu håller jag tummarna för att den går igenom städbesiktningen utan några problem. Dom har äger byggnaderna är lite kända för att vara lite speciella när det gäller städbesiktningar. Men men, jag håller tummarna så man kan släppa den andra lägenheten helt och hållet. Fixat till en del i nya lägenheten idag, ställt upp mina figurer och rensat upp på golvet så det ser ordentligare ut. Spelen var det första som kom upp i hyllan, klart man måste packa upp det viktigaste först! Haha. Lovade lite bilder på hur det ser ut, så här kommer det. Vill man jämföra med förra lägenheten kan ni göra det här.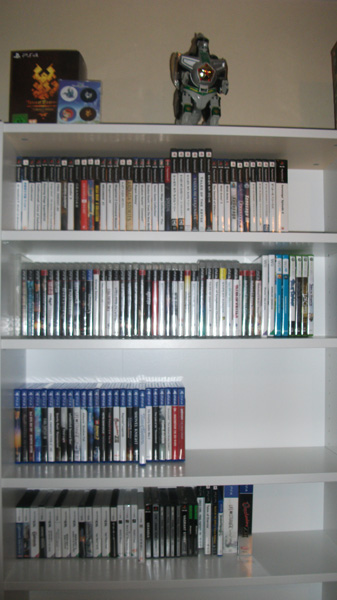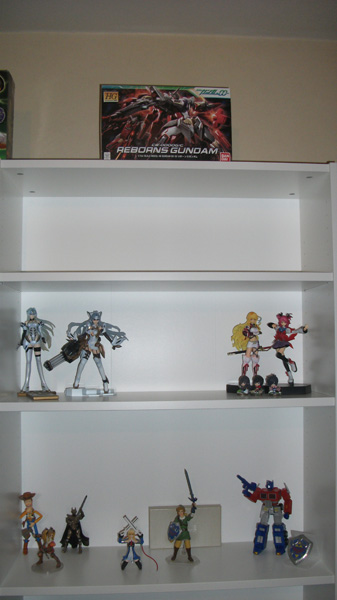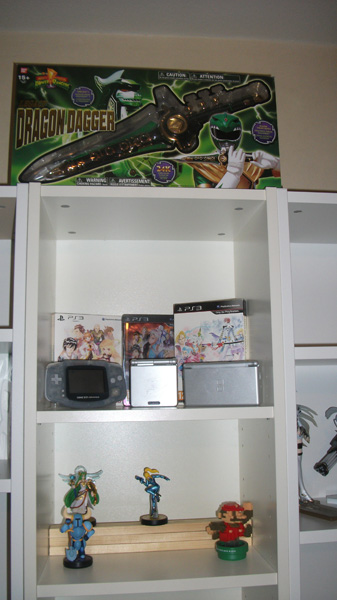 Här är lite hur det ser ut i spel hyllorna. Det är tillfälligt just nu, ska fixa till bättre sedan. Bland annat så spelen står i kant med hyllan, men detta får funka just nu.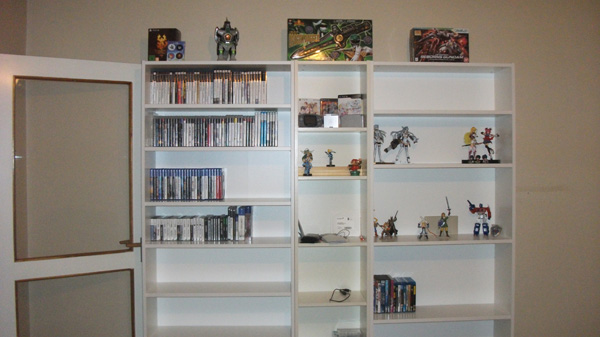 Och så lite hur det ser ut vid soffan och tv-delen, ursäkta röran. Och mitt kök som jag faktiskt kan sitta i! :D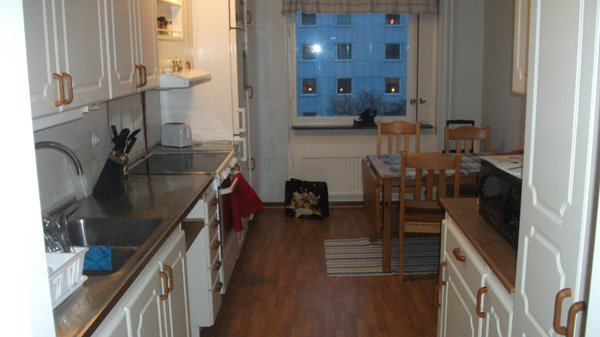 Lite så det ser ut hos mig nu, fast jag rensade upp bordet efter jag tagit fotot. Skulle gjort det innan, men aja. Sådant som händer. Trivs hur som helst väldigt bra i min nya lägenhet och det är ett skönt och lugnt område. Det tråkigaste med flytten är att jag tvunget måste åka buss nu för att komma till jobbet, innan kunde jag gå. Men det är en smäll man får ta helt enkelt. Det känns verkligen värt det.
I was in and did a mini operation last Friday, it went well I am feeling fine. It was nothing big or dangerous. I didn't do this because of some danger to myself either, it was just something that had to be done to enhance my quality of life. It wasn't a Gastric Bypass operation either, since I believe I can loose weight if I really work hard at it. Something I'll start doing once I'm healed.
I won't go into details on the operations, it's hard to talk about. Some people can guess and probably guess right. The important thing is that it went well and I'm feeling fine. I don't have a lot of pain, next to none really. But I do feel sore and I do feel some nausea from time to time. I want to give a really big warm thank you to my buddy Elden, who helped me with various things on the day of operation. And being company at home and looking over me, if there was any complication. Really man, thank you.
Now I'm just waiting to everything to heal, so I can be back 100%. Will be doing some other stuff at work for the time being, while I heal. So it will be nice when I can return to my normal work later. But for now this comes as a good break from the usual stuff I do. Sometimes its great to focus on other stuff.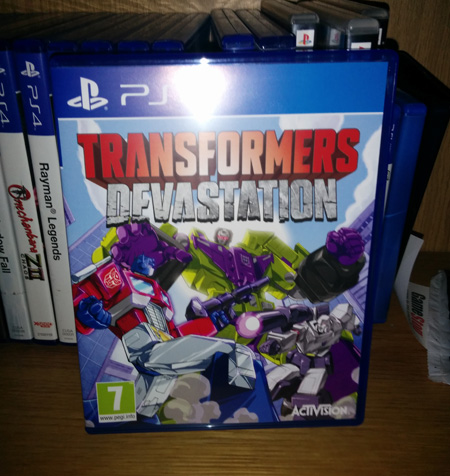 In the meantime I'm spending time with Transformers Devastation, while I'm healing. Great game so far! I'm really enjoying it, will probably write something about it later. Keep your eyes open. I've also gotten my first Amiibo, it is Zerosuit Samus. Which I really dig.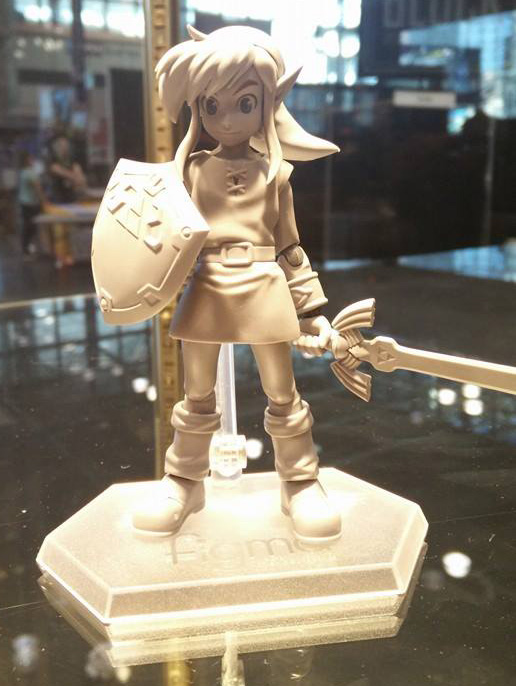 Looking forward to next week, it finally time for Tales of Zestiria!! How I've waited for that game! The wait is soon over, I'm really starting to feel hyped now. Well that's a lie, I've been hyped for some time now. ;)
Next year I need to buy a new figurine. Figma is releasing a new The Legend of Zelda, Link figure. This time it is based of A Link Between Worlds, Link!! So his design is more like in the Oracle of Ages/Seasons games and A Link To The Past. In other words, my favorite design for Link!! This is something I really want, hopefully you can preorder it soon.
Av någon anledning har jag undvikit att gå till doktorn, kan väl ha med att göra att jag haft lite misstro till dem. Då de aldrig hjälpt mig så mycket när jag var yngre och hade behövt hjälp, en annan sak är väl att jag helt enkelt inte gillar det. Jag blir verkligen tvungen att öppna upp mig för någon och berätta precis allt, hur jobbigt det än är och det är väl just det som tar mycket på mig. Men det var givande med de saker jag tog upp med doktorn, han lyssnade och antecknade allt och har en teori om vad det är. Om det är det som "felar" så förklarar det en helt del av hur jag mår och är.
Just nu vill jag inte skriva något här, mest för att inget är bekräftat än. Men jag ska återkomma och göra lite fler tester, ni behöver inte vara oroliga dock. Det är inget farligt eller jo kanske, men det beror nog på hur det drabbar person till person.
För min del är det ingen fara om det är som det är nu. Alltid roligt med sådana här, jag ska berätta en sak men ändå säger jag inget texter eller hur?
Nä, jag ville mest säga att de är något på spåret och vi ska följa upp med det och är det som felar, kommer jag berätta. Tror jag kommer må bättre efter det, då jag kommer få den hjälp jag behöver. Plus att som jag då sa, att det är en förklaring till varför jag är som jag är ibland.
I övrigt känns det väl helt okej, just nu åtminstone. Är väl lite glad över att jag inte blev sjukskriven, hade nog börjat klättra på väggarna efter ett tag. Men fasen vad jag längtar till april, då är jag ledig en hel vecka. Det ska bli underbart att få vila ut sig riktigt ordentligt då, då blir det att spela en hel de Final Fantasy Type 0 HD och då även demot på Final Fantasy XV, det ska bli kul. För att inte nämna att jag och min polare ska se klart på andra halvan av The Walking Dead season 5, det är också något jag ser fram emot. Ja, jag ska helt enkelt bara göra saker jag tycker är kul och förhoppningsvis innebär det också att det blir lite sittande vid datorn.
Hade jag haft mer pengar hade jag nog lite smått velat börja samla på tv-spels figurer igen. Hade verkligen velat ha de två Play-Arts figurerna av Rinoa Heartilly och Squall Leonhart från Final Fantasy VIII. Även en figur på Zack Fair från Final Fantasy VII / Crisis Core hade varit grymt att ha. Man får se vad som händer i framtiden, kanske blir det något man kan spara ihop till.
Hello ya all! I've finally updated my Xenosaga Collections part of this site. I've gotten some new stuff since the last update I did in 2009, so I thought why not update now. And this will probably be the last update/addition to my collection, I feel like I have the stuff I want right now.
Sure there are a couple of more things I'd like to have, but only if I can get them cheap. And I mean really cheap, but we'll see what the future holds.
It's been fun collection all these things since 2003-2004, I think that was when I started to collect Xenosaga stuff. So what is next then? Will there be something to collect next? I'm not sure actually, I've been thinking of trying to get a hold of all Tales of games that have been released in English. That's not a very hard thing to do, so I might do that. Since I really love the Tales of games too. So among the games I want to get are, Tales of Destiny, Eternia, Symphonia, Symphonia 2 and so on. But all that's still in the future, we'll see. Nothing has been decided and right now I do not have the economy to build any sort of collection. But when I do, it would be kind of nice to get a nice collection of NES and SNES games. Start a little bit of retro collecting… Ahh! Well I can always dream.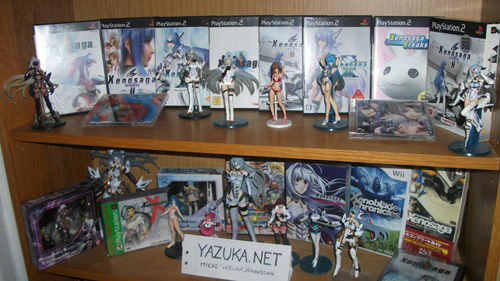 Hahaha! I'm so damn happy! Finally!! I have wanted to get the Revoltech, Toy Story figure of Woody for quite some time. Most likely since I saw if the first time. For those of you who know the of the figure, you probably know why I wanted it. XD
You really should visit TheOneCam to see a bunch of funny pictures with this figure.
Oh, god I've laughed so much at just about everyone with Woody in them. Pretty much all photos feature Woody in some way. As soon as I get the time, I'm gonna do my own "naughty" photos with Woody. Perhaps a few when the Link figure from Figma arrives. Oh, yes. You better scream Link. ;)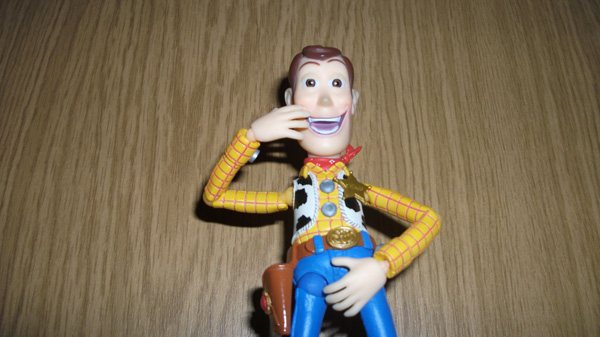 "Wait a minute, I just lit a rocket… Rockets explode! If you know what I mean, deputy."
I finally had some time to get around and take some photos of my Figma KOS-MOS figure. God I love that figure, its so awesome! And detailed! And not to mention, so flexible! Hohoh… I love all the extra stuff she comes with, her R-Blade, G-Shot, DragonTooth, her normal gun.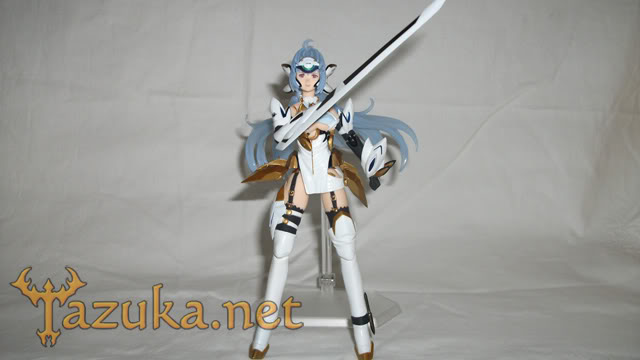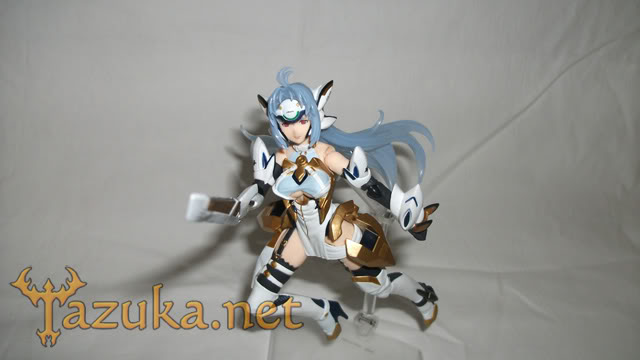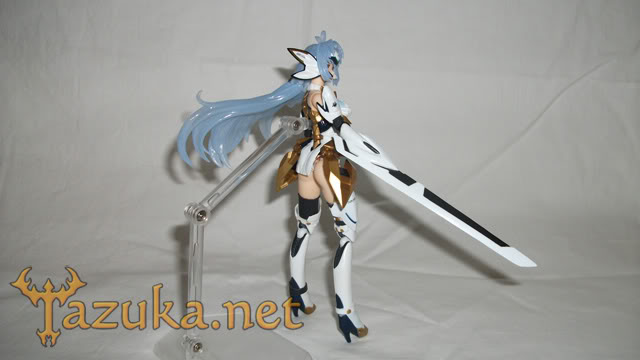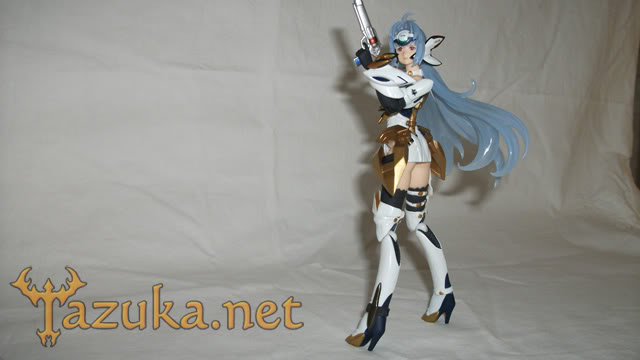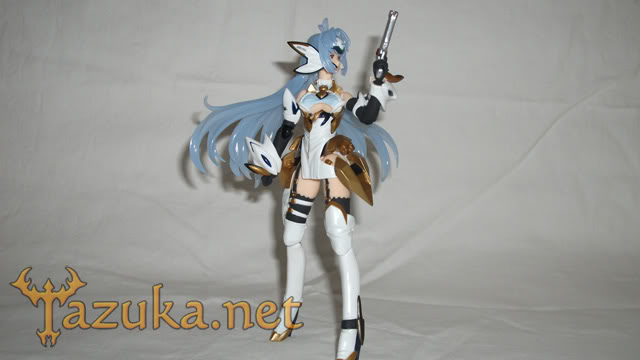 First picture here below shows the DragonTooth in its open form. A big damn blade! So awesome. I also like you get lite plastic parts that makes it seems like KOS-MOS is firing her gatling guns. And then we have her in a naughty kitty pose, rawr! Man that is hot! HOT! And then I thought I'd let her hang out with Optimus Prime, two of my favorite characters of all time hanging out together. So awesome. This Optimus Prime figure is based of his appearance in War for Cybertron.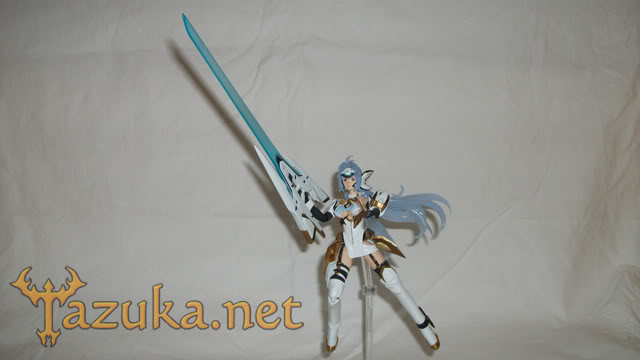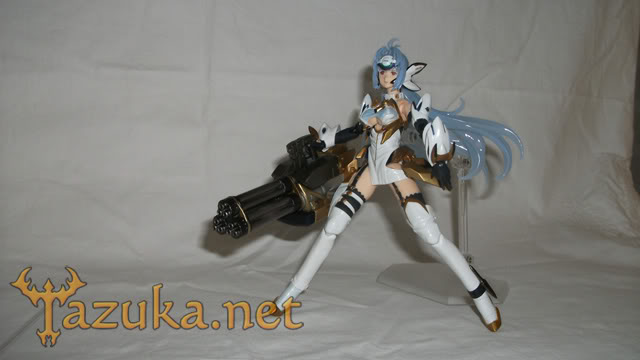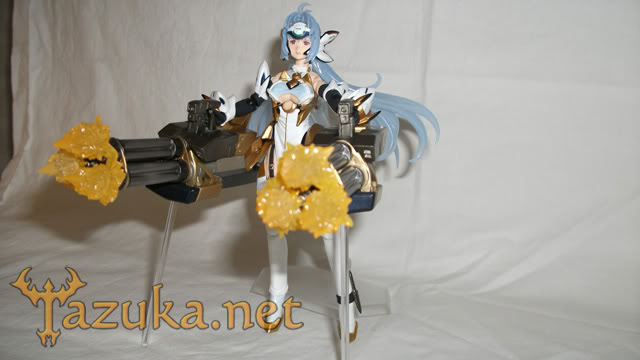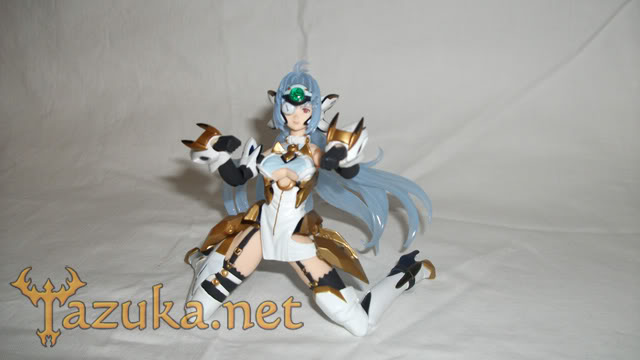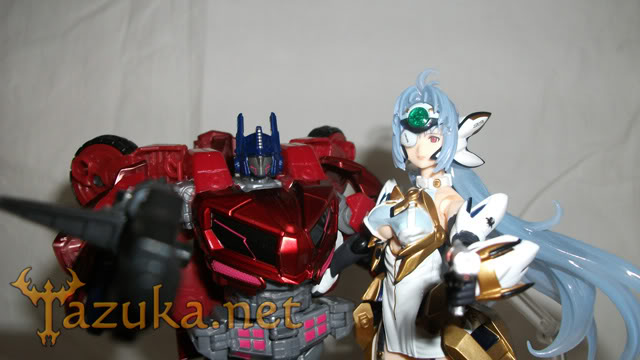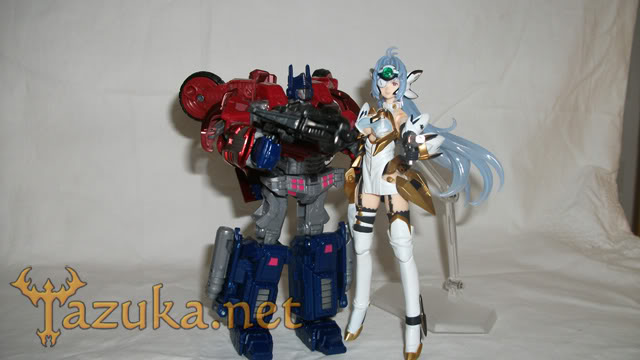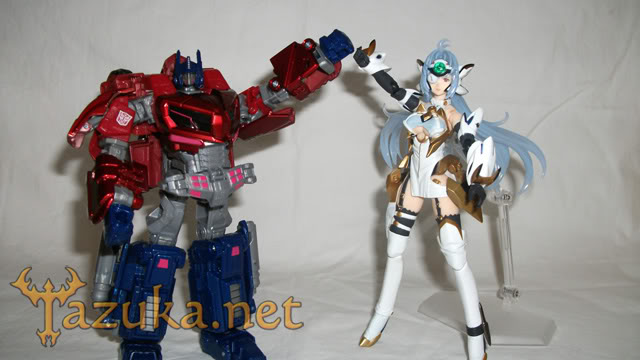 As you all have guess I love this Figma figure very much, its detailed its awesome. I'm a bit sad that they didn't choose to do version 1 of KOS-MOS. You know, how she looked in the fist game. But still going with Version 4 is nice. Well, I'm so happy I got this. Thought I wouldn't get a change to get my hands on this one. Let's see if there are more figures down the line, that I want.
Yay! Hurray! After much wait I finally have my KOS-MOS figma figure! Happy day! I'm gonna take some better photos of this baby later and post here! For now this one will have to do!