I watch a lot of anime, I watch every chance I get. And now that I am home and sick, I can finally get around to watch of the winter seasons anime shows. Here are some that I liked particular for various reasons, I'll give a good explanation of some. Other I'll just rant a bit on the story, so its doesn't follow some pattern here. But I'm watching them since I like them. =)
KILL la KILL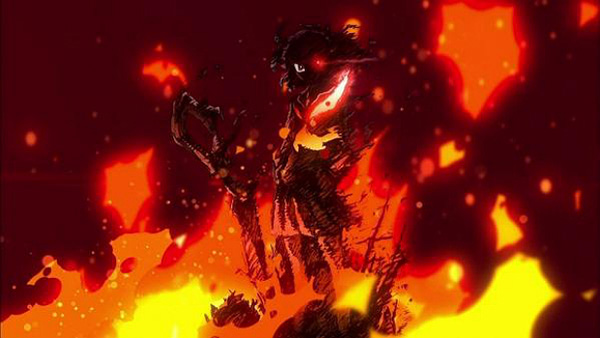 This is probably the craziest show of the season. From the team that gave us Tengen Toppa Gurren Lagann and Panty & Stockings. They have a very unique animation style and I can't help but to like it. Here is the simple breakdown of the show, Ryuko a girl with one half of a giant scissor is looking for her fathers killer. The killer should have the other half of the giant scissor. She comes to a school where the the high-ranking students have clothes that give them superhuman powers. Her scissor is the only thing that can cut through these special clothes. Later she finds her own powerful clothes, but the clothes are alive and has a personality. It was made by Ryuko's father. This was a very crude breakdown of the show, go watch it! It is funny and the animation is great and really special, just like all the stuff this team makes.
Machine-Doll wa Kizutsukanai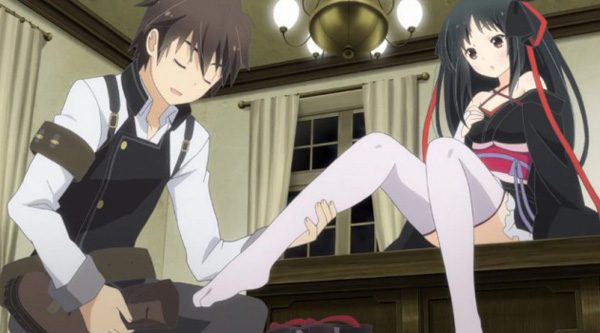 Raishin, a man seeking revenge for the death of his childhood friend, most people in this world seems to be able to control a "puppet", automaton or rather machine-doll or what you'll like to call it. Not only that but he want to learn magic and become a great wizard, so he can get money, power and fame. But for what reason? Only for revenge? Hmm… Raishin's doll is called Yaya and is the spitting image of his childhood friend. Its also apparently rare for dolls to look so much like humans, so we'll see how Yaya impacts the story. I think it's a pretty good mix of humor (not so much, action and a bit of pervertedness. Yaya wants Raishin hard! I fell for the series immediately, I didn't think I would but I'm liking it so far. Oh, right maybe because its fantasy mixed pretty well with some modern stuff…
BlazBlue: Alter Memory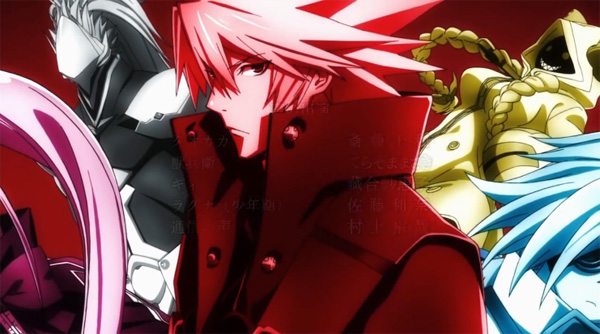 An anime based on the hit fighting game-series BlazBlue! I just needed to watch this, even if I'm not very interested in playing the games. The story and characters have always interested me and I love Daisuke Ishiwatari music, even if I think his Guilty Gear music is better. But I'm glad they are using the games music in the anime, it sound a bit remixed though. Not really sure what to think after the first episode, I felt pretty confused, but I got to see much of Noel so I'm happy. It wasn't crap for me at least so I'll continue to watch and see what happens.
Infinite Stratos 2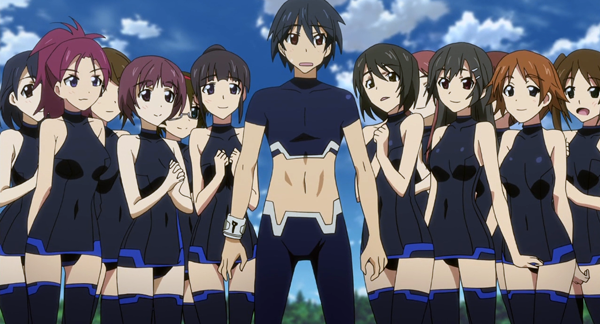 Well of course I needed a harem anime too and Infinite Stratos 2 fills that part pretty good. As the "two" implies this is a sequel. It starts Ichika a typical doesn't get that girls love him anime guy and he is surrounded by girls. In fact girls are the only ones which can use "IS" a sort of mecha armor, but for some reason Ichika is the only male in the world who can use it. So he is in an all girls school, where he meets childhood friends and all that typical. You get really pissed at a guy like him, how the hell can a guy be so damn oblivious. I would love to be in his situation. I also have my favorite girl, Charlotte. I'd would spend all my time with her and make it clear that I liked her, if I was in Ichika's situation. At least I'm not that goddamn oblivious. Pretty decent show, with some funny segments.
Hahaha! I'm so damn happy! Finally!! I have wanted to get the Revoltech, Toy Story figure of Woody for quite some time. Most likely since I saw if the first time. For those of you who know the of the figure, you probably know why I wanted it. XD
You really should visit TheOneCam to see a bunch of funny pictures with this figure.
Oh, god I've laughed so much at just about everyone with Woody in them. Pretty much all photos feature Woody in some way. As soon as I get the time, I'm gonna do my own "naughty" photos with Woody. Perhaps a few when the Link figure from Figma arrives. Oh, yes. You better scream Link. ;)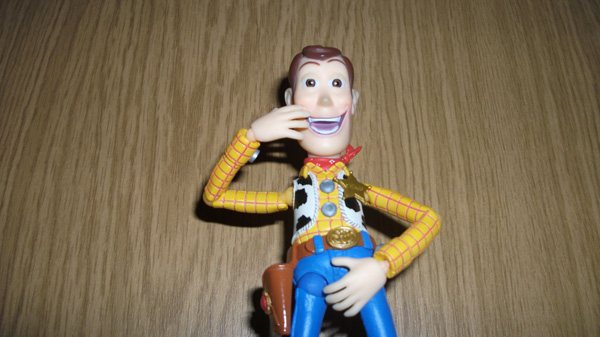 "Wait a minute, I just lit a rocket… Rockets explode! If you know what I mean, deputy."
Yes! Now its time for me to share some of my favorite anime intros with you! I'm going to start out easy and a bit cheap here, by posting the my two favorite openings videos for two of this seasons anime shows. They are Softenni and Nichijou. Softenni is a show about tennis, at first I wasn't interested but I decided to give it a go. And I was a bit surprised it was an ecchi comedy, I fell for in an instant I'm weak for ecchi comedies. I think the song is pretty catchy and if gives me a feel good feeling. And there are some nice panty shoots in it. ;D

And now we are here with Nichijou. I feel its a very random anime, in the style of Pani Poni Dash. But its pretty nice to watch a show like this once in a while too. The intro is sung by Hyadain, he has become famous by adding lyrics and singing a bunch of songs on YouTube. He sings both male and female parts. Yes, even the female parts! That's why I think its extra nice that one of his original songs got to be the opening for an anime, it fits the show well. I'll be making a whole post about Hyadain in the upcoming days, so I'll explain more there and post videos.

So I've been watching Girls Bravo. An ecchi comedy anime. The first season was pretty good. It had some ecchi without going overboard. But in the 2nd season it was all about tits! Sure, some might thing that's a good thing…
But when its the only that seems to matter in an anime I just get sick of it.
"Hey, let's give all the girls much bouncier boobs, and it will be a huge success!".
Yeah, that pretty much wraps up how I think the producers thought about the 2nd season. So I'll give that anime 5/10. And that is thanks to the 1st season.
So I'd ratter recommend DearS if you want an ecchi anime, that is both good and never goes overboard.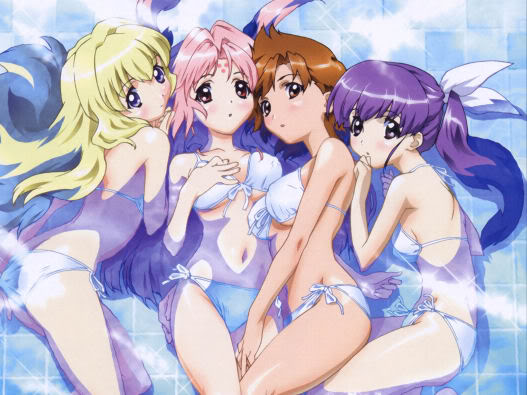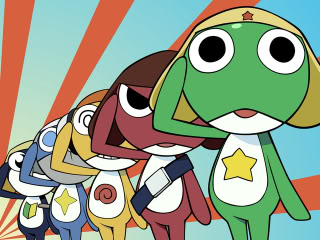 Well now I'm going to watch an anime series I've been wanting to watch forever! Keroro Gunso. I've seen 4 episodes before and I really liked it. We Pekoponians must beware Keroro, he will own us all!
So things have been pretty dead for a while now. Nothing to do, and no insperation/materials to make new AMVs. It sad. Hopefully I can at least finish my Swedish AMV before christmas! Wish me luck! I must get the video out of my system!
Five days left untill christmas huh? It's scary how time flies. And I haven't even had fun. And only 12days left of this year. Scary, that's a year has already passed and I've haven't gotten even one job under that time.
Its very depressing. Hopefully 2007 will bring some better luck and fortune for me. Well I promised you an Ecchi amv here you are folks! From one of the new animes I'm watching; Sumomo mo Momo mo. Its good! Check it out! And check out Busou Renkin also!
Sumomo mo Momo mo – Momoko The Pervert