ÅH, jag är överlycklig att jag fick in en bokning på denna figuren alltså. Det är en ny figur på KOS-MOS från Xenosaga-serien. Det är bara det att hon hade en liten extra roll i Nintendo och MonolithSofts Xenoblade Chronicles 2.
Där hon fick en ny exklusive uppdaterad design, det är då denna designen som denna figuren baseras på. För de som vet så älskar jag ju Xeno-serien och KOS-MOS är en av mina favorit karaktärer någonsin. Så denna var jag tvungen att ha!
Visst är den lite dyr, men jag har ett par månader på mig att lägga undan lite i månaden innan den kommer. Den släpps nämligen inte förrän i Maj 2020, men hade jag inte bokat den nu så hade jag inte haft en chans att få henne sedan. Inte för överdrivna priser på eBay. Gick ju miste om både Pyra och Mythra figurerna från Xenoblade Chronicles 2 för jag inte hade råd just då, något jag ångrar att jag inte försökte lösa det ordentligare.
Så nu blir det att lägga undan lite pengar varje månad till denna figur, blir ju absolut den dyraste figuren jag någonsin köpt. Tar emot lite att betala så mycket för formad och målad plast, men ack! Det är så vackert och så är det en av mina favorit karaktärer. Köper jag inte denna så kommer jag bara ångra mig något otroligt, så jag är väldigt glad att det är typ 8 månader kvar innan den släpps.
Vad jag hoppas att Xenosaga-serien en dag kan komma tillbaka på ett eller annat sätt, hade varit trevligt att se hela gänget få design uppdateringar. Man bara drömmer om hur de hade kunnat se ut idag om alla gick i KOS-MOS stil, så underbart det hade varit. Sedan fortsätter jag ju drömma om HD Remasters av hela Xenosaga Trilogin, om det någon gång sker så hoppas jag de lägger till denna designen i spelen som en bonus dräkt. Hoppas Bandai Namco en vacker dag låter oss få återuppleva serien.
För att inte nämna låta nya spelare få bekanta sig med serien.
Äntligen har jag tagit mig igenom Kingdom Hearts III, väldigt kluven till det spelet. Gameplayet är bra och förmodligen det roligaste i hela serien.
Men jag känner mig kluven till en del av det andra, så som story och karaktärer, men lugn. Jag tänker inte gå in på något av detta här, vill inte spoila något för någon.
Nintendo Switch fyllde två år igår, vilken fantastisk liten konsol som hjälpte mig att hitta tillbaka till Nintendo. Tänkte jag passar på att passa en bild på hela min samling av just nu 28 fysiska spel till Nintendo Switch.
Har fått min nya dator nu, något jag aldrig trodde jag skulle skaffa. Så nu blir det väl att äntligen testade lite av de där spelen jag aldrig kunnat spela. Funderar på att sätta mig med Crackdown 3 just nu, passade på att testa GamePass i 14 dagar gratis.
Det tråkiga med en ny dator är dock att man får installera om allt man hade innan, men samtidigt så slipper jag installera sådant som jag inte har en användning för.
Sådant man installerat för att testa, men sedan glömt bort att man har eller glömt ta bort. Nu blir det en fräsch start.
Tänkte även posta lite av det jag köpt på mig på senare tid, det är inte så mycket men det är kul att posta ändå. :)
Ska ha lite extra ledighet nu. Det ska bli väldigt skönt ska jag säga, ska försöka ta igen det jag inte orkar eller känner jag hunnit spela. Har ju den del…
På onsdag ska jag och två kompisar gå och se Captain Marvel på bio, det ska bli spännande. Varit sugen på denna ett tag, hoppas den levererar. Men jag brukar ju sällan bli besviken på Marvels filmer, så tror nog chansen är liten.
Jag ska börja med en ny arbetsuppgift så tänkte passa på att vila ut mig innan det drar igång. Det ska bli spännande och jag kommer vara i rörelse igen, det ska bli skönt och förhoppningsvis gör det sitt på vikten.
Har ju inte varit bra att ha mest stilla sittande jobb när man redan är stor, så det ska bli rejält skönt att röra på sig ordentligt igen.
Nu har man varit inflyttad i ett par dagar och lyckats komma någorlunda till ro, känns riktigt bra och känns skönt att ha plats över till att göra saker. Det mesta har kommit på plats känns det som, ska sortera bland kläder och sådant. Ni vet det där jätteroliga! Det får fasen vänta, inget jag orkar med nu. XD
Städade av den gamla lägenheten igår med hjälp av syrran, tack än en gång om du läser detta. Så nu håller jag tummarna för att den går igenom städbesiktningen utan några problem. Dom har äger byggnaderna är lite kända för att vara lite speciella när det gäller städbesiktningar. Men men, jag håller tummarna så man kan släppa den andra lägenheten helt och hållet. Fixat till en del i nya lägenheten idag, ställt upp mina figurer och rensat upp på golvet så det ser ordentligare ut. Spelen var det första som kom upp i hyllan, klart man måste packa upp det viktigaste först! Haha. Lovade lite bilder på hur det ser ut, så här kommer det. Vill man jämföra med förra lägenheten kan ni göra det här.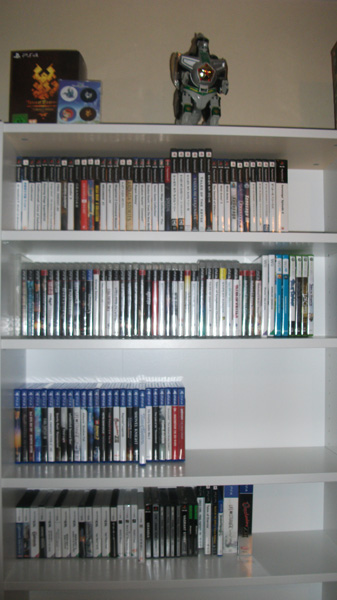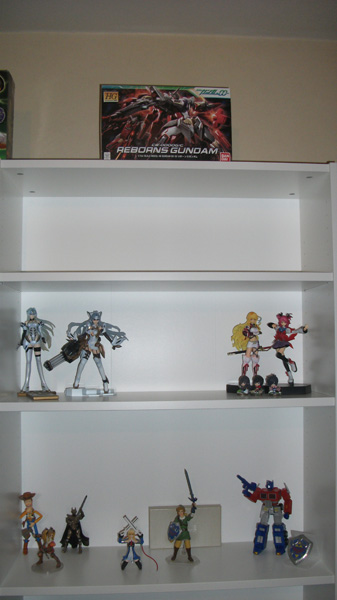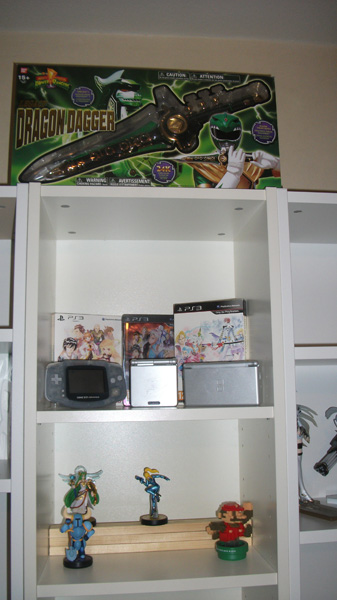 Här är lite hur det ser ut i spel hyllorna. Det är tillfälligt just nu, ska fixa till bättre sedan. Bland annat så spelen står i kant med hyllan, men detta får funka just nu.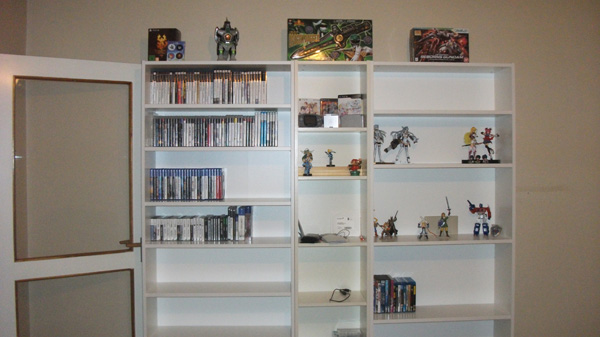 Och så lite hur det ser ut vid soffan och tv-delen, ursäkta röran. Och mitt kök som jag faktiskt kan sitta i! :D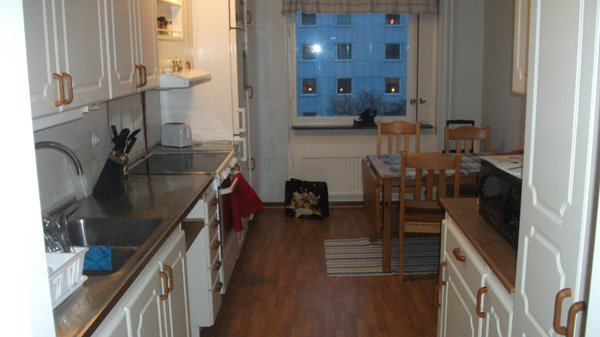 Lite så det ser ut hos mig nu, fast jag rensade upp bordet efter jag tagit fotot. Skulle gjort det innan, men aja. Sådant som händer. Trivs hur som helst väldigt bra i min nya lägenhet och det är ett skönt och lugnt område. Det tråkigaste med flytten är att jag tvunget måste åka buss nu för att komma till jobbet, innan kunde jag gå. Men det är en smäll man får ta helt enkelt. Det känns verkligen värt det.
I downloaded the Mega Man Legacy Collection for the PlayStation 4 last night, so I've been playing that all day. I've made my way through Mega Man 1-3.
All games I've beaten in the past, but it was fun returning to them, so it is going to be extra fun when I start playing Mega Man 4-6, since I've never played them before. Hopefully I like them too, but who knows. At least I'll be going into those games with no knowledge of weaknesses or stuff like that.
Other than playing Mega Man games things have been pretty quite, not much has happened. Well there is a big thing that is happening in my life, something I will go deeper into later. Why not now? I feel like each time I talk about something good, before it has started something always comes in the way and screws with it. I'm not taking any chances now, but it will be something that is good for me and might possible lead me to actually try and go and visit friends that live far away from me. (No, I'm sadly not getting a drives license. But I wish I was.)
Well I won't be able to spend money on stuff, for the upcoming future at least.
But it's worth it. And I'm lucky I've used my local GameStops trade-in deals, to preorder all the stuff I wanted this year anyway. So I'm all set! I'm awaiting a DualShock 4 20th Anniversary edition, Tales of Zestiria, Dragon Quest Heroes and Transformers: Devastation. I'm set for the rest of the year.
And hopefully I'll get Metal Gear Solid V: The Phantom Pain, tomorrow in the mail. Keeping my fingers crossed.
I've also done some work on my site, mostly stuff you wouldn't think twice about. Fixing old posts, that had missing pictures. Sadly couldn't fix all since some photos I don't have anymore. But everything under the hood of the site is more streamlined for me.
Oh, boy! My first YouTube video upload for years! And the first real episode of YazTalks. Hopefully both will go well… I'm not so good at this and a bit nervous, but I hope it will help a little…
Please follow and keep in touch with Operation KOS-MOS via the following:
Twitter – Facebook – Petition
Please use the #OperationKOSMOS hashtag, as well.
A while ago, I reported about a rumor that there perhaps was a Tales of Symphonia HD Collection coming. And that it would include Tales of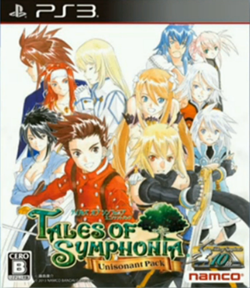 Symphonia and Tales of Symphonia Dawn of The New World and today this pack was announced to be true!! This collection will be called Tales of Symphonia Unisonant Pack and will be released October 10th. This was all announced just right now in an event in Japan called Tales of Festival.
Right now I am so very hyped! I actually cried a little bit when I saw this announcement, guess that just proves to me how much I really liked Symphonia. Well it was my first Tales of game and it sure was love at first sight. The opening song too Tales of Symphonia "Starry Heavens" will be getting a new version, a 2013 remix if you will. Same with ToS2 opening song.
And to top it of, as I was writing this we got confirmation that this collection will be released in Europe and America early 2014!! My god! This has been the best day of this entire week for me I am so goddamn happy right now. Long live the Tales of series!!
It seems the collection will go under the name Tales of Symphonia Chronicles in Europe and America, a name I think is a bit better than Unisonant Pack or just HD Collection that some developers just call their HD versions.
Hello ya all! I've finally updated my Xenosaga Collections part of this site. I've gotten some new stuff since the last update I did in 2009, so I thought why not update now. And this will probably be the last update/addition to my collection, I feel like I have the stuff I want right now.
Sure there are a couple of more things I'd like to have, but only if I can get them cheap. And I mean really cheap, but we'll see what the future holds.
It's been fun collection all these things since 2003-2004, I think that was when I started to collect Xenosaga stuff. So what is next then? Will there be something to collect next? I'm not sure actually, I've been thinking of trying to get a hold of all Tales of games that have been released in English. That's not a very hard thing to do, so I might do that. Since I really love the Tales of games too. So among the games I want to get are, Tales of Destiny, Eternia, Symphonia, Symphonia 2 and so on. But all that's still in the future, we'll see. Nothing has been decided and right now I do not have the economy to build any sort of collection. But when I do, it would be kind of nice to get a nice collection of NES and SNES games. Start a little bit of retro collecting… Ahh! Well I can always dream.