Yeah, I am a bit late with this post. I was going to post it by the middle of the first week in January, that was my original goal at least. But I didn't really know what to write about, well I did but it didn't seem so important to just write a few lines and then be done. I wanted to make a bigger entry and then I had to handle a few things at work, like fixing a few stuff for my "big" travel later this month.
I'm going to Stockholm and while I do live in Sweden I have never been there, much less traveled by airplane. And that's what I'm going to do, going to travel to Stockholm for my work and stay there for one night and then fly home again. I'm terrified of flying, but it takes about 45min – 1hour, it beats taking the train for 8hours plus… So that's is going to be a real adventure for me, so we'll see how that goes.
While I'm in Stockholm I'm going to try and find "Japanska Torget", where I can buy Japanese curry roux. So I can try and make my own Japanese curry, I've wanted to try that so damn long! It always looks so damn tasty!
And I have been drinking/eaten any sodas/candy since the end of 2014, but this weekend I ate some candy. But I didn't really taste all that good, so I more or less think I'm done with that sugar shit. Sure there are some things I'll miss, but why eat or drink something that's not good? I really want to lay of all of those things so I can loose some weight. Sure I have to train too, but I'll start with getting rid of that shit first. So I'm hoping that will go well, because I really, really want to loose weight and I've been eating sweets, candy and drinking soda on almost daily bases. So it needs to stop. =/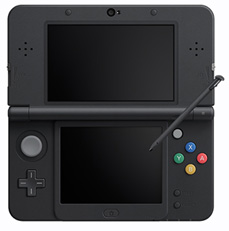 The New Nintendo 3DS is releasing February 13 in Europe and I'm very glad we are getting the black regular one, that is the one I want! So I've gotten a preorder for one, traded away some old stuff I'm probably never going to touch again. I need a handheld console now if there is going to be more traveling with my work, as I suspect. Will be getting Xenoblade Chronicles 3D when it releases in April for it, it is exclusive to NN3DS. Then I want to play a bunch of older Nintendo DS titles, like the Dragon Quest games. I really want to play Super Princess Peach too, it looks like a fun game and for once you have to rescue Mario. Then in March it is time for Final Fantasy Type 0 HD, I am really looking forward to that one as well. I've wanted to play it since the original was released 2011 on the PSP, but now I'll get my chance.
I'd like to get some kind of gaming headset too, so I can use it on the computer too. So I can chat on my PS4, PS3 and PC. That's the most important, but that will have to come in the future. Oh, right I almost forgot. This year I'm going to Sci-Fi Mässan in Malmö again. I didn't go last year since I was a bit tired of it, but I'm definitely going this year. So I'm looking forward to that a bit, hopefully there will be some great stuff and hopefully great cosplay again.
I'm counting the days! Which are 1½ more days of work and then its finally time to have some vacation time! I'm so looking forward to this, I really feel like I need to get some relax time right about now. Its been pretty busy at work these past weeks, especially when it comes closer to vacation time. We've gotten some new folks over the summer that will cover for us that will go on vacation now. And they need to be taught and shown around and there has been some extra work here and there. So yeah, its going to be so good to have 3½ weeks vacation. Vacation, vacation, vacation. =D
In other news that aren't vacations news. I finished the story of Watch_Dogs last weekend, I more or less wanted to get it out of the way for other games. Since I just play one game at a time. It was an okay game, can't understand the hype it gets. Sure I had some fun with game, but it still feels like I've done it before and better in other games. Minus the "Hacking" segments. Yeah, I thought it was good but far from a GOTY title in my opinion. I could probably go into more detail of what I don't like and think, but to be completely honesty I don't really have the energy too do that.
But do I have a title I can consider GOTY so far? I'm not sure actually. While I do love games, I am very picky at the same time and I have a very different taste in games than most people do. I usually don't fall for the media hyped games, I usually enjoy the ones that gets less attention or just is in a genre I prefer more. So I'm thinking Tales of Xillia 2 could be a potential contender for my GOTY 2014.
Another game that I've enjoyed very much so far is Rayman Legends, I think I needed a game like this. Just good old fun and its so nice too look at! Even if I'm not a very big fan of Rayman's design in general,I don't know it just doesn't sit all that well with me. Which might be ironic since I usually like some of the weird stuff, but the design is not important it's the game in itself and that's good. It's charming and I like the games overall design and my first contact was a few play test of Rayman Origins. We'll see how much time I have for gaming under these upcoming weeks, I really want to leave the house more and travel a bit. I need to get out more and I'm going to go to the gym everyday under my vacation. I've been cooped up for too long and I want to enjoy my free time, so we'll see what happens.
So we enter month seven of 2013. Just a little more than a month left until Tales of Xillia is released, I am so looking forward that! And about 20days left until my vacation starts, its going to be so nice to take it easy for three weeks.
But right now I'm not feeling so well, my stomache is acting up.
Thanks to "Skånekortet" I can travel around Skåne by bus and train. So this upcoming weekend me and a couple of friends are going to Skånes djurpark, I'm looking forward to that. Its been an eternity since Iast visited a zoo.
A shame I don't have much money, since I was invited to a friend who lives far away. He has offered to pay for half the tickets, but I can't accept that.
I don't want to borrow/loan money from people. I appreciate it, but it wouldn't feel good for me.
So I hope we can meet in the future.
Posted with WordPress for Android
I really, really, really would like to be able to go to NärCon here in Sweden. They will have a very special guest that I desperately would like to meet in real life. NärCon will be held in Linköping on July 25 and will last a few days, but the special guest will be there on the 25th.
Mr. Hideo Baba from Namco Bandai will be there! And I guess, people have no idea who this is. Well this name is the producer to the Tales of series, a videogame series I love very much.
And he is coming to Sweden! My home country of all the countries!! Gah!!
Since the Tales of series, is among my favorite game series. I would to be able to go and meet him and get my copy of Tales of Graces f signed. And just thank him for releasing more of the Tales of games outside of Japan. You'll also be able try a demo of Tales of Xillia there.
Would be nice, very nice indeed. This man has given me such games of joy, games that have helped me feel better when I was down and depressed.
But unless I can get some kind of boost in my budget, which is very unlikely right now. There is no way I can afford to go, I can keep my fingers-crossed that a friend of mine could go an he could drive… So I'll keep hoping that the festival he was going to, is cut short. ;)
Hehe, no of course I don't hope that will happen too my friend. But if it should happen…. I wouldn't complain.
Tomorrow is the day when I will go and participate in a course that make an instructor at work. I am really looking forward to this and this will only help me grow as a person, I have the confidence that I'll make this. Deep breaths, deep breaths! I am getting a little bit excited and nervous now.
I can hardly wait for June, the month of E3. I am so looking forward to it this year, mostly because of the next generation will start there. Sure the new Xbox will be unveiled tomorrow and Playstation 4 is already confirmed. But it still there all the bombs will drop, at least I think and hope so. It is so exciting to see what both Sony and Microsoft will bring, of course I am looking forward to Nintendo too. But they weren't supposed to have a big E3 thing? I think I've heard something like that being confirmed. Oh, well. Only a few more weeks and then it go time. Good thing I'm free from work since Sony's conference is in the middle of the night if you go by Swedish time.
I've started to play One Piece: Pirate Warriors for Playstation 3, I most say so far I am liking it much more than I though I would. I've had good honest fun with that game and it even rekindle some of my interest for the anime, so I might try to give it a go again later. Just need to remember where I stopped watching. Either way, if I continue to like this game the way I do now. I'll definitely get the sequel when its out.
Next Tuesday it is finally time for me to evolve. I am going on a work trip to Växsjö and I am going to become a "intern lärare". I am so sorry, but the English word for this escapes me. I am going to study so I,ll get permission to teach other people. I guess that sums it up pretty well.
This is my first time making a trip like this, so I am starting to get a bit nervous now. But it will probably be good, I am looking forward to it. And I'll be able to spend the night at a hotel, that's another first time for me. So that is going to be really fun. It might not be all that far away from home, but it is still a trip.
I really love my job, so I am looking forward to this so very much. Hopefully I can be of even more help
I just want to give a big shout out to the people who has supported me. It means a lot to me and I am very thankful to have been given a chance to do this. If this also gives me the ability to help people who was/is like me, feel much better or introduce them to a nice enviorment. Then I'll be very happy. Well time for some sleep and I need to pack some stuff that I am going to bring.
Posted on WordPress for Android