Tiden den bara går på, nu är vi snart i september. Sedan jag sist skrev har jag faktiskt fått en hel del spelat, något som gör mig oerhört glad.
Har kört igenom den tredje säsongen av TellTales Walking Dead-serie, The Walking Dead: A New Frontier. Inte lika bra som första och andra säsongen, men fan så mycket bättre skiten de släppte med mini-serien The Walking Dead: Michonne.
Nu ser jag faktiskt fram emot säsong 4 som TellTale påstår skall vara den sista säsongen. Ska den följa den vanliga TWD vägen, så kommer det nog inte sluta speciellt bra…
När det väl var klart tog jag en dags paus och hoppade på ett annat spel jag velat spela en längre tid, Disgaea 5 Complete. Precis bara petat lite på det innan, men nu var det dags att grinda med demon pingviner igen. Det var trevligt även om vissa saker blev tröttsamma väldigt snabbt, som karaktären Seraphinas ständiga slapstick med att skjuta folk som inte håller med henne eller säger något dumt till henne. Det pågår hela jävla spelet… Och nej, karaktärer som hon skjuter i de scenerna dör inte. Det är bara till för att visa att hon är sur typ. De andra karaktärerna som har quirks som irriterar, försvinner under spelets gång du karaktärerna utvecklas. Tråkigt att de lät henne behålla detta. Men, men. Spelet är trevligt och jag klarade det idag, landade på nästan 34timmar spelade.
Direkt efter det var klart hoppade jag över till Sonic Mania, som är väldigt trevligt än så länge! Kul att Sonic verkar ha hittat tillbaka till sin toppen form. På Onsdag blir det sedan Uncharted The Lost Legacy till PlayStation 4. Så det är lite på gång nu, men det är skönt att ha hittat tillbaka och man har kul som fasen med spelen igen.
Det som återstår att få hem i spelväg i år, som jag vet just nu och som är bokade är;
Undertale (PS4, fysisk utgåva), .Hack G.U. Last Recode, Super Mario Odyssey,
South Park The Fractured But Whole och sist och kanske det jag längtar mest efter, nämligen Xenoblade Chronicles 2. Kommer en massa mer spel jag skulle vilja ha, men de får helt enkelt vänta tills man har råd.
Nu blir det lite gnäll också. ;)
Jag måste ta tag och fortsätta med att återställa bilderna på sidan också, det tar en sådan jävla tid alltså… Har inte rört det nu på en månad, det tog sin lilla tid att arbeta sig från 2006 till 2010. Så sju år av inlägg kvar att gå igenom och fixa bilder till. Yay… Önskar det fanns en bilduppladdnings tjänst som fungerade som PhotoBucket gör/gjorde. Imgur fungerar okej, men jag kan inte ha en ordentligt sortering av bilderna och jag kan få url adresser med vad jag döpt bilderna till. DropBox funkar också, men det är samma där. Det är ett jäkla jobb att få det att fungera, men jag kan åtminstone sortera bättre där. Gah! Jävla PhotoBucket, kunde ni inte bara tagit 10dollar i månaden och varit glada!? Det hade jag betalt.
I am a little late to the party, but I finished The Last of Us today. I enjoyed it very much, it was fun and a bit scary/creepy.
The parts in the game without any enemies are pretty creepy. Since it is so quiet, you get pretty tense.
And those damn clickers… Before playing this game I was wondering why people hated them. But yeah, damn fuckers.
I like both Joel and Ellie as characters and their whole adventure is great. I am not going to be talking more about the game, since I think you should play the game yourself.
So far its my favorite game of the year, a great experience. Like a really great movie. And now I am looking forward to Taled of Xillia, not long until it's released.
Posted with WordPress for Android
Been spending the last few days getting through Jak 2: Renegade HD on the Playstation 3. Good, fun game that can become so frustrating at times you want to rip your hair out.
Still the characters, story and humor are enough to keep me coming back. If it wasn't for those things I would probably have put this game back on the shelf.
The action and platforming parts of the game are great! But it's when they put in other stuff like racing I feel the game looses a lot, since the control on those aren't very good. Sure, you'll get used to them right away. But it is still the fact that it seems like this game changes genres and isn't really sure what kind of game it wants to be. And it's those parts of the game that can be so goddamn frustrating at times.
But since I find the story interesting for me and I really, really like the characters and the humor of the game. I can see past all that, I would love to see more of these characters. I'm really hoping Naughty Dog will make a real Jak & Daxter 4 someday. Daxter was one of the characters I really didn't like from the first game, since he was just a big fucking asshole. His attitude as an asshole has been toned done to a better lever and he has really become the comic relief of the series. And he really has some great oneliners.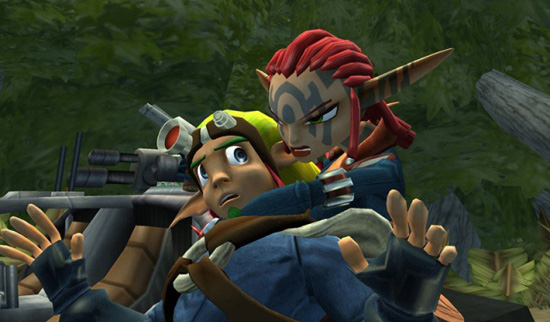 Gonna take a break from the series now before I start to play Jak III, will probably play through Lollipop Chainsaw fist. Going to get that next Friday, looking forward to that very much. Can't wait to kick zombie ass with a chainsaw as a cheerleader, yes that is actually one of my hidden dreams. I wish to be a cheerleader who kills zombies, so I'm so glad that dream is finally coming true! Ohhh….
Been playing Jak and Daxter Trilogy for Playstation 3. Been playing the first game in the series and I liked it very much, never got/took a chance to play it when it was out for the Playstation2. So I had been looking forward to a HD collection with these games for some time, so I'm glad they where made. When all three games are finished, when that will be… I'll probably do a proper review for them.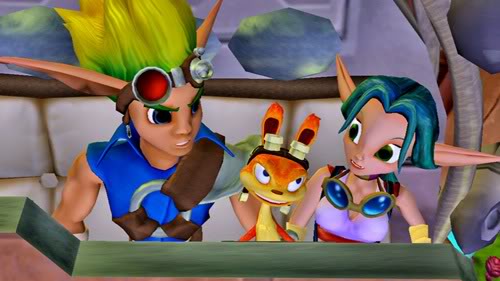 This post also marks my 500th entry on my page! Goddamn, a big number! I'll be going for another 500 of course! I'm not stopping, I'll keep on writing as long as I need to. And if people want to read that, then that's even better. So thanks to all who's stuck with me.
I really, really hope my copy of Tales of Graces f will arrive by Friday next week… I really want to play that game, right now! Hope I have time to play it too, much to do at work so I've been tired as hell when I get home. And I'm preparing for my move to the new apartment too.
I've gotten my hands on Jak and Daxter Trilogy! I have wanted to play these games for such a long time, but never really had a chance. Well, that's not entirely true, but it would have a bit bothersome. Either way, I have them now and I am looking forward to sink my teeth into the games. Which I'll do as soon as this post has gone up.
And Tales of Graces f is preordered and I'm just waiting for it to be released and shipped. Good god I'm so eager to play that game! Final Fantasy XIII-2 is okay, not much more. At least that's what I think now, so I really need a game like TOGF. I'll see if I have the interest to finish FFXIII-2 one day. Perhaps when there is nothing more of interest for me to play, so I guess its good to have a backup game for such a time.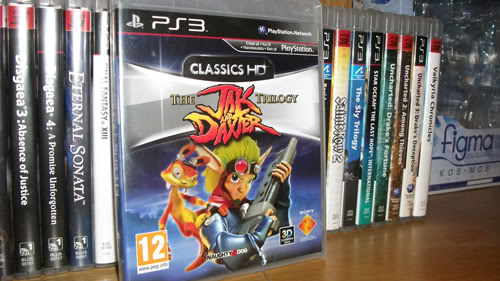 Just came back from my local Gamestop about 30minutes ago. Picked up my copy of Uncharted 2 Among Thieves. Now I'm just gonna check my email, fix something to eat. Fix a few other stuff and then its of to game land!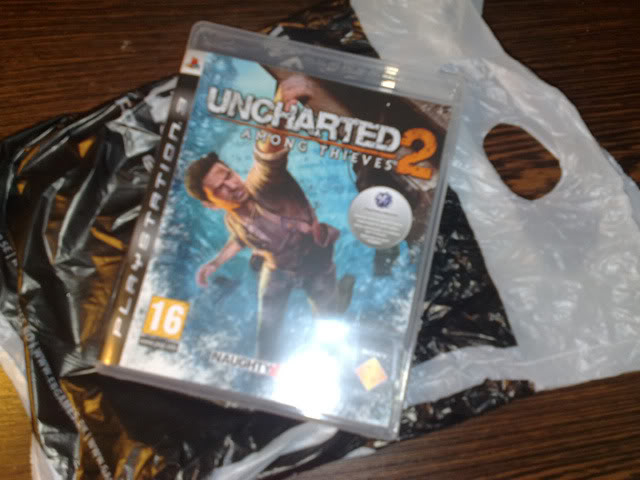 Tomorrow is the release of Uncharted 2 Among Thieves in Europe. Well, Sweden at least. I've been eagerly awaiting that game. It feels a bit unrealistic that the game is finally here. But I'm glad it is here. I really needed something new to play.
Will probably post some of my impressions tomorrow, if I'm not too busy with the game. Now I just have to wait for Ratchet & Clank: A Crack in Time to be released and I'm very happy. Perhaps we will see each other online in the multiplayer mode.
But probably not, will most likely just play with some friends. But who knows?