We'll finally be getting some info on Darksiders 2 soon! I can't wait! It was one of my favorite games of 2010 and I'm buying the second one as soon as its released. The reason I'm posting is that they have released one piece of artwork from Darksiders 2. And if the artwork is any indication of the second game, you'll be playing as
War's brother Death in this game. And that is something I'm looking forward to!
I'm also hoping we'll learn something of the two remaining
Horsemen of the Apocalypse. Now we just have to sit back and wait for the information to be released in GameInformer's July issue. It can't come soon enough I'm hope this game will turn out just as good as the first one, at least that I can enjoy it as much as the first one.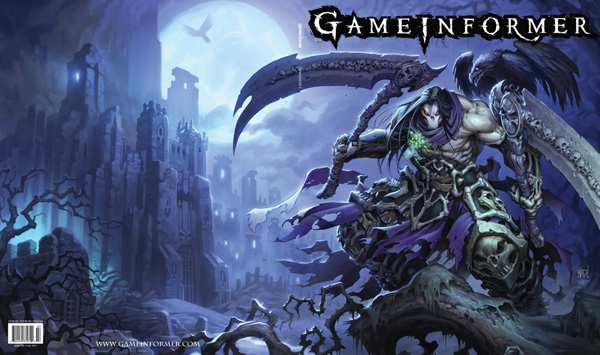 One of this years best games games, Batman Arkham Asylum is getting a sequel. The game has the tagline "Arkham Has Moved". And the teaser here below shows a ruined Gotham City, hopefully we'll get to play in the entire city this time!
That thought alone it enough to make me joygasm! Yet another must have!!
Tomorrow is the release of Uncharted 2 Among Thieves in Europe. Well, Sweden at least. I've been eagerly awaiting that game. It feels a bit unrealistic that the game is finally here. But I'm glad it is here. I really needed something new to play.
Will probably post some of my impressions tomorrow, if I'm not too busy with the game. Now I just have to wait for Ratchet & Clank: A Crack in Time to be released and I'm very happy. Perhaps we will see each other online in the multiplayer mode.
But probably not, will most likely just play with some friends. But who knows?