Som en del av er vet, så hänger jag ju på det svenska spelforumet Loading.se. Förr i tiden ägdes det av ResetMedia som gav ut tidningen Level.
Det som blev lite av mitt kall på sidan var att göra officiella trådar för Tales of-serien, en serie som jag gillar väldigt mycket. Trådar som jag lade ner mycket tid på.
Men så en dag så bestämde sig ResetMedia för att lägga ner Loading och allt hände så snabbt och skötes så jävla dåligt att ingen hann spara något av sina saker från sidan.
Det vill ju säga att både mina officiella trådar och andras officiella Loading trådar var borta, bara så där. Precis som när Thanos knäpper med fingrarna, fast det tog 100%!
Vi spolar fram tiden lite. Ett gäng eldsjälar startar upp Loading igen och nu är det inte ett girigt företag som står bakom det. Visst Loading är inte vad det än en gång var, men det har varit mitt hem så länge på nätet att jag inte kan eller vill överge det.
Efter mycket om och men och trixande så har jag lyckats få fram mina Tales of-trådar igen och har kunnat spara ner dem. Jag har återupplivat dem på min sida här.
Varför? Det är ju gammalt, det är väl ingen som bryr sig?
Jo, det är väl dessvärre lite så. Hehe. Men detta är gjort för egen del, jag har lagt ner så mycket tid på dessa och höll igång trådarna och drev stora diskussioner med medlemmarna där. Nu har jag inte kunnat rädda alla kommenterar och sådant, men jag har lyckats återskapa huvudinläggen hyfsat.
Så nu får trådarna nytt liv och kan än en gång delas med det härliga folk på Loading som jag väljer att spendera min online tid med.
Här är de gamla trådarna, fast Tales of Vesperia-tråden är en av de nya trådarna och ligger redan på nya Loading. Kände jag ville bara ha med den här också.
Original tråden för Tales of Vesperia var aldrig min, så den återskapar jag inte.

– Tales of Berseria – Tales of Graces ƒ – Tales of Hearts R –
– Tales of Vesperia: Definitive Editon – Tales of Xillia – Tales of Xillia 2 –
– Tales of Zestiria –
Hoppas ni kommer uppskatta det lite åtminstone, kan ju vara kul att se kanske?
Som sagt om inget annat så är detta för min skull, men jag kommer fortsätta göra nya Tales of-trådar på Loading så länge jag kan.
Det känns som det blivit lite av en tradition nu och det är väl en av få traditioner jag har. Arbetet och pillandet har påbörjats på nästa tråd till kommande Tales of-spel.

I love my PlayStation 3, it has brought me literally thousand of hours of joy! Its probably the only console so far that I have beaten over 100 games on also. Of course I have gotten some favorites over the years, so this post will be about those titles I've enjoyed or just liked extra much. It will not be about all my favorites, just some of the titles I've had a blast with. They might have given me an extra laugh or just been fun to play, they had something little extra that made playing them awesome for me. Now some of these games are multiplatform games and are also out on the Xbox 360 for example, but it's just that I beat the game on a PS3. Of course I've gone through some crappy games too, but I don't want to talk about those games.
---
Batman: Arkham Asylum (Arkham series)



There has been a bunch of Batman games in the past, but none of them was especially good in my opinion. It was when Rocksteady made Batman: Arkham Asylum I played my first good Batman game. And boy I really enjoyed it!
While I also do like Arkham City and Arkham Origins. As I said Arkham Asylum was the first game that I thought that did Batman justice. The presentation of Batman, the designs of the villains. Everything feels top notch! I am so looking forward to Batman: Arkham Knight.
Darksiders



I'm a big fan of The Legend of Zelda series and I've always wondered why no one besides Nintendo could make really good adventure games like that. It seemed like no one ever really tried, until Darksiders! It has the elements of a TLOZ game and is set in a post apocalyptic future (meh), but it is a really great game. Of course it has its own problems like every game does, but this is still the closes thing to a 3D Zelda game, that isn't a Zelda game and that isn't on a Nintendo console. If you haven't played a single Zelda game BTW, go do it now!
Lollipop Chainsaw



Now a lot of people will probably look at me and go WTF!? But this game is awesome! It has it all! Humor, music, zombies, foul language, and a hot babe with a fucking chainsaw (swing). The story is whacked and the whole game is just crazy, but that's the reason I like it, and it has really good music! The zombie bosses in the game all have their own music style, for example, we have the viking metal boss Vikke. Voiced by Michael Rooker, badass! And the games script is written by James Gunn who directed Marvel's, The Guardians of the Galaxy. I had a ton of fun with and at this game, I really do love this game.
Tales of Graces f



While the PS3 has gotten a bunch of awesome Tales of games, of all that are released in the west my favorite is… Dare I say it? Tales of Graces f. The characters are not the best, I'll admit that. But I still like them and the world they live in and I really love the combat! Out of all the Tales of games, this is probably one of my favorite when it comes to combat. It was a blast playing! So much that I actually cleared the game three times! And I got the platinum trophie from the game. Love it, like it, hate it. Do what you must, I love it.
Uncharted 2



The first and third Uncharted games are also great, but it was the second game I found to be the best. The one I enjoyed more. Good villain, good story and I loved the environments. It had a great cinematic feel to it and was my favorite game to be released in 2009. And it had a fun multiplayer, which I and some friends constantly played. We loved it! Too bad the multiplayer in Uncharted 3 wasn't as good in my opinion.
As I started in the beginning of this post, these are just some of my favorites. There are tons of games I have enjoyed immensely. But listing them all and why, would be too time consuming and I'm not sure I can put into words why I enjoyed them all. No one has to agree with this list, but it would be nice to find more people who actually enjoyed these games.
Yeah, I'm not feeling to well right now. Guess it was time for another depression to visit. Huh. I just want to get rid of this whole feeling that is covering me, I don't like it. I loose all energy and will to do anything, what's the use.
Hopefully I'll start feeling better tomorrow when it time to work again, I always seem to steer clear of the dark thoughts when I am working. But we'll see…
Well in better news at least, tomorrow is the start of E3 and I bet that'll get me feeling much better. It is exciting this year, can't wait to see what they'll be announced. Looking forward to the Playstation 4. I'll do my usual E3 posts later.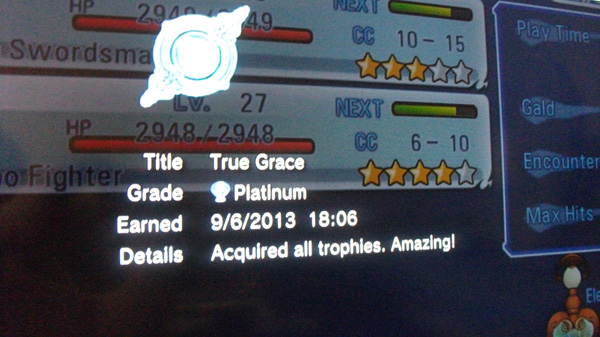 And last but not least. I managed to get the platinum trophy in Tales of Graces f, I never thought I'd go for that. So now there is nothing more for me in that game, a bit sad. But still a nice feeling when you know you've done everything in the game. All special bosses and stuff like that.
Namco Bandai has today revealed the release date for the European version of Tales of Xillia. It will be released on August 9th. Only three days after the US release, that's great! Europe will be treated with a Day One Edition this time around too, just like we where with Tales of Graces f. We'll get a CD soundtrack and an artbook, plus the first edition print of the game.
I can hardly wait until I get my hands on this game, I'm looking forward to it so damn much!
I think that just about everyone should preorder this game, even if you like it or not!
The Tales of games, need more support! Show them your love, show Namco Bandai that you care and want more Tales of games released in the West.
Not much left of 2012! Who knew we would get here, seeing as the world ended seven days ago. Hahaha, mmm! Yeah! Well, for me 2012 has been a year of disappointing games. Or rather perhaps not disappointing games, but rather lack of games that has made me really excited. And of course this list is only for game that came out this year in America or Europe, I've played a few older games this year too. But I won't list them here. If you want too see them, check out my "Games I've beaten" section. Oh, and I will only be posting two games in each categories. Mostly since there haven't been so many good games for me this year.
THE GOOD/SURPRISES
A game I waited a long time for and probably is my favorite game of the whole year, it didn't disappoint me the slightest. I am even on my second round of the game right now and I'm a person who rarely replays RPGs, so for me that's saying a whole lot of how much I like the game. And its even more fun now, since I understand its system much more now than the first playthrough.
Hilarious, Sexy, Funny, Humor, Movie references, Great Soundtrack, Zombies, Cheerleaders, Black Magic, Badass, Music styles, Parodies, Juliet, Lollipops, Pervy I could probably think of more fitting "tags" to post about this game. I really, really enjoyed it. Play it if you get the chance and like these kinds of games.
THE BAD/DISAPPOINTMENTS
The sequel to one of the best games I played 2010, so of course I was hyped. But boy, did I get slapped in the face. Death as a character is cool and I love his voice, so awesome and really fitting. But the world is boring, large and filled with empty space. The bosses in the game had no charm what so ever, at least in Darksiders 1 they had dialogue and felt like characters. In DS2 they just feel like bigger tougher monsters, that are in no way special. I think there are two-three exceptions. I do like the loot system and the ability to change costume, but those are a few pluses short. No, sir. This is a big disappointment for me.
People are probably going to dislike me for this… It was not a bad game, it was just disappointing. Since everyone was hyping this to be some damn super great game. I enjoyed it somewhat, and Cat was an okay character. I'd like to see more of here, but I can't say I enjoyed the came all that much. Sadly. =/
All in all, I have finished 19 games through this year. And it seems like there won't be much time left to finish anything else. And why hurry? I'll take my time and enjoy my games in my own pace. Happy new year everyone. Take care and let's hope 2013 will be a kickass year, for games!
I decided to try a bit NintendoLand before going to bed. That was about two-three hours ago. Hehe, yeah I lost track of time. Pretty fun game with minigames. But I've just tried The Legend of Zelda: Battle Quest and Yoshi's Fruit Cart. They are both pretty fun, I enjoyed Yoshi's FC more than I thought I would. But it was fun, can't wait to try the rest of the attractions. For Zelda I really need to get a Wiimote, so I can play it and use the sword. With the Gamepad, you can only use the bow. But I wanna slice things up too!
And that's not the only reason for why I want it, I want to be able to play the Wii games I already own. Like Xenoblade Chronicles, Tales of Symphonia 2, Mario Galaxy and the The Legend of Zelda games. Ahh, hope this "Nintendo high" will last. Feels good man.
And as you should be well aware of by now, I am replaying Tales of Graces f. And I just love that game, so today I beat the last boss in the main arc. And managed to do so under 60 seconds. So I got that trophy and it felt pretty good actually! No, I'm not really playing to get trophies, but it is fun to test yourself. If I wanted to get the platinum trophy for this game, there are still a lot of things left. Like winning over the Rockgagong, beating another certain boss under 60 seconds. Getting all the in requests so I can face the gentleman… Yeah, all the hard stuff left. Not to mention, maxing out the Eleth meter to 9999. I'm at a little more than 3000 right now, so it would take a long, long time…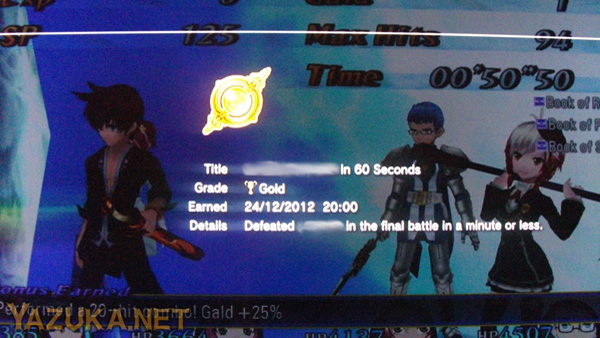 Yes, I erased the last boss' name. I don't want to spoil anything for people who haven't played the game yet, I don't want to be that guy. We'll see if I will continue to play TOGf for now or if I'll take a break there for now and focus on the Wii U and the games I have for it. Well I'll be back on the Playstation 3 pretty soon, since Ni No Kuni will be releasing next month. Eagerly looking forward to that title, really hope it turns out good.
Ugh… I've been unable to shake my depression for over a whole week, I really hope it's run its course soon. It's getting really hard to get things done, when you are feeling this down. And I still don't want to use as much medication just too feel good, but as I said i hope it will go away soon and my spirit and energy will return. It's most likely my winter depression kicking in, as some know I don't like Christmas all that much… I still miss the magic feeling it had when I was a kid, I'll probably never feel like that again about Christmas.
I have started a second playthrough of Tales of Graces f for Playstation 3, it just about the only thing I've had some interest in. I think I am nearing 60hours now and I'm about to enter Ghardia Shaft. For those of you who don't know what that is, it's the last dungeon in the main game. But I'm not going to face the last boss just yet, I'm going to do some power leveling there. And then I am going to kick the last boss so damn hard, he will feel it into next month! I really want to try to beat the boss in 60seconds or less, so I can get the trophy for it. Just to know i have finished it. Even if there are harder trophies to get…
I hope it gets better soon. It probably will, just have to run its course. Glad that I'll soon have five whole days that I can spend on what I want, it is going to be really nice! Since it's Christmas break from work (best thing about X-mas right now). Looking forward to that and hopefully my batteries will be fully charged again after that.