I am a little late to the party, but I finished The Last of Us today. I enjoyed it very much, it was fun and a bit scary/creepy.
The parts in the game without any enemies are pretty creepy. Since it is so quiet, you get pretty tense.
And those damn clickers… Before playing this game I was wondering why people hated them. But yeah, damn fuckers.
I like both Joel and Ellie as characters and their whole adventure is great. I am not going to be talking more about the game, since I think you should play the game yourself.
So far its my favorite game of the year, a great experience. Like a really great movie. And now I am looking forward to Taled of Xillia, not long until it's released.
Posted with WordPress for Android
October is Halloween month, the month for spooks and monsters to roam free! Or something like that. This year I'm doing something different in October, namely me and my friend are watching monster/Halloween themed movies every weekend! We've seen some classics and some new ones, like Cabin in the Woods. Which we both liked very much! I am very surprised by that movie, I instantly became a fan. I really thought it was going to suck donkey balls, might be one of my favorite movies of this year. Yeah, yeah, bad movie taste and all that! =P
The last weekend in October (when my birthday is) we are going to watch the original Halloween movie, neither me or my friend have seen that one. With Michael Myers and stuff, yes we are incredible ashamed of that. And we'll continue our yearly tradition with Freddy VS Jason and then we'll probably finish of with Trick or Treat.
And we are also going through Dead Space 2, I think it's pretty boring to play but I love to watch it. So my friend will be going through the game, I've had some parts where I've been scared and I love it. How come I don't enjoy playing the games? Not sure actually, but I had to force myself to play Dead Space 1. I liked the story and setting and such, but I could never fall for it as a game. As a movie I would have loved it! Funny how things can be sometimes…
So far we've seen Cabin in the Woods, Thinner, Werewolf: Beast among us, The Blob, How to make a monster. If you have any tips on some good movies to watch, write me a line here and I hope I'll be able to check them out.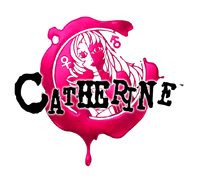 I had my eyes set on Catherine for some time, it seemed to be a fairly interesting game. While I wasn't very interested in the puzzle aspect of the game, I decided to give it a whirl. The game had gotten a bunch of praises from people who had played it, so I started dreaming and started climbing.
What can you call this game? A puzzle, climbing horror game? No idea, but that's about the gist of it. I wanted to play the game for the story. It start with Vincent a regular Joe, with a regular job. His girlfriend since way back, Katherine (yeah, with a K) wants to move on. She wants to get married, but Vincent thinks are fine the way they are. And he becomes a bit pressured and stressed about the future. He doesn't want things to change and that is where he meets Catherine. He "accidentally" cheats on his girlfriend and from there on it's just a road of lies and trouble ahead. This is also the part where I started to hate Vincent.
Either way, he starts having nightmares where he has to climb blocks to reach a goal. If you die in this dream, you die for real.
It pretty fun and a bit disgusting to see how Vincent tries to handle the mess he got him into. I really enjoyed the story, I won't go into it anymore. I don't want to spoil anything for people who want to play it. As I said I played it for the story and got a sweet game! I'm not to fond of the puzzles or should I say game play. Some where fun others not, hard to say something other about it. It was a nice experience, I'm glad I played it.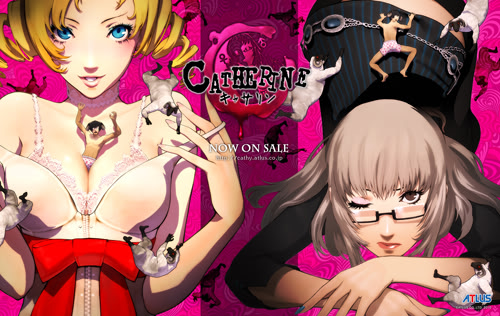 Catherine to the left and Katherine, Vincent's girlfriend to the right. Who would you pick? Katherine all the way for me!