Yesterday was a pretty awful day. Work was pretty okay, but then my colleague that I work with got sick and headed home. Leaving me with a bunch of work. And driving our big cleaner machine, which I've only have received little training for. It went okay, but still… That was a bit to much to take in all on one day, but it had to be done and I was pretty stressed out.
Well after this hard day, I managed to get home a bit earlier. Needed to do some shopping since my fridge was empty as fuck, yay out into the wild! People everywhere for some reason, more people than it usually is. And me having "torg skräck" I get very stressful around lot's of people and got a minor panic attack.
After a few hours I'm finally done, I have about 3 hours before I should go to bed and try to get some sleep. So I think, hey Micke. You work hard today, buy something good. So I order some kebab from my usually place, but this could possibly have been the worst meal I've had in ages. It cost 84SEK and the fries where tasteless, the kebab unfinished. URGH!
There quality have been dropping much lately and this was the last straw for me, I'm not eating there anymore.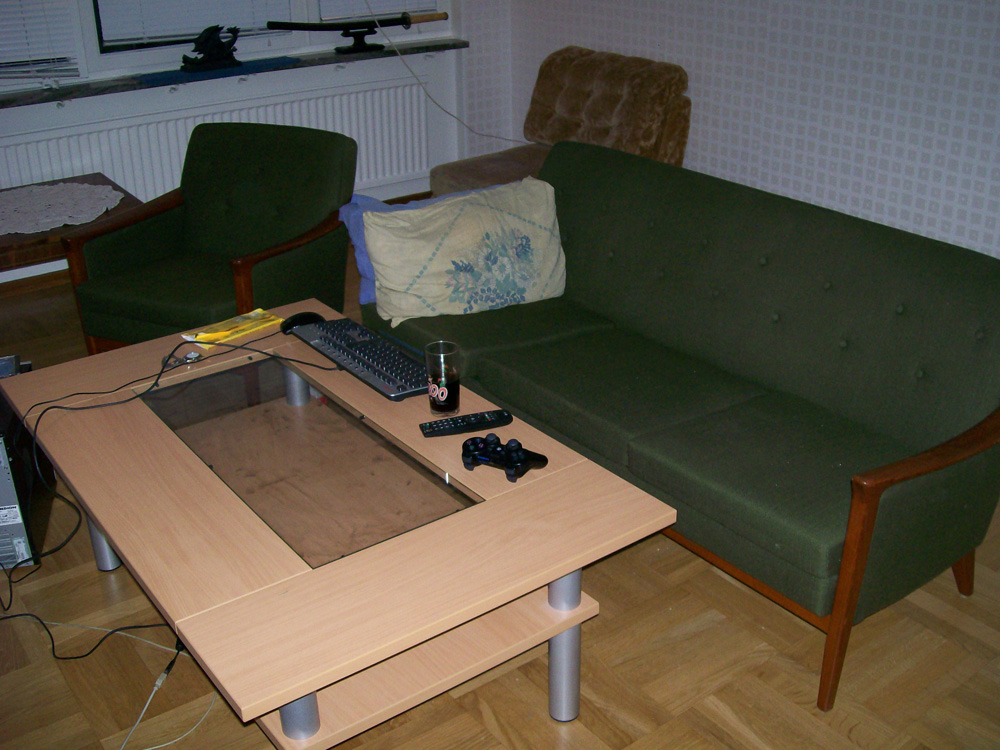 My friend Hubbe came to visit me today and be brought gifts, his brother is moving and he was getting rid of some old furniture.
So I thought I could maybe buy them cheap, but he was just going to throw them away so I got them. I really appreciate it man.
Sure I gotta admit the couch is not very attractive, but its actually pretty comfy. And I really can't complain since it was a nice gesture and as I said I'm very thankful..
You can read the rest of the post, but its mostly just stuff that happened in the week.
I've been playing a whole lot of Trinity Universe for the Playstation 3 in the past week, it was pretty fun. But it got to repetitive in the end for me. Slow and with a battle system that could use some adjustments. Other than that, it was a good game. I'll hopefully have the energy to finish it one day. So instead I chose to play Infamous, a game I started playing long ago but never finished. I'll probably write more about that another time, but I really liked the game!
The end of last week just wasn't my day, I was sick and I managed to get hurt two times on the same day. Firstly I tried to make something to eat while I was sick, not good. My concentration was not there, so I burned a bit of my hand. Nothing serious, but still hurt like hell! And finally when the hurt from the burn started to fade, a goddamn bee stung me on my finger. Of course on the same hand I had burned… Ouch, the bee sting actually hurt more. And I don't see to be allergic to bee stings anyway, so it wasn't all that wasteful of an experience. That and I'll keep my flyswatter even closer to me from now on.
Its been a little more than a week now since I moved into my own apartment and I gotta say, I really do love it! Its quite, peaceful, just like I've always wanted it to be.
And I can do just about what I want, it such a good feeling. I really can't express in words how happy I am over this, best thing that has happened this year with out a doubt.
Ahh!! It feels so good to be able to smile and feel happy again. Something I haven't been able to do/feel in a long time.
I've been working hard the past weeks also, I was glad when they asked me to be one of four people who could take care of a very important client for the company. They could just as easily have given another one of my colleagues But still, they could easily have taken someone with more experience, but they trusted me and wanted to give me this chance. This won't hurt my chances of getting a permanent job there either, so I'm hoping for the future.
Since I finally could hook up my TV and Playstation 3 again, I've been playing Trinity Universe as much as I can. I've had some pretty good times with it, love the humor in the game. Loving the active animations portraits in the game, music is pretty awesome to.
The battle system is the only thing I wish they spent more time with, but I stil enjoy the game. I'll have to see what I really think of the game once I have finished it, well at least have finished the Devil Dog King's story of the game. If I like it I'll continue with the Valkyrie's story in the game.
Urgh, I just hate it when you have to go to bed early. I'm supposed to go to a meeting with "Arbetsförmedlingen" today. So I would really like to feel rested when I have to get up around 07,00. Well, what happens? I'm more awake than I've been in a long time. Figures. The one time I really need my sleep, is of course the time I can't sleep!
I was thinking of starting FFXIII but I'm sure I would be stuck with that all night, without any sleep at all. And I'd rather take a little sleep than no sleep at all.
So that kind of sucks, hope I'll get some sleep and the meeting goes well later today. If it does I guess I'll start my trainee post at ***** later this week.
I'll be leaving with some RPG related news. Trinity Universe will get a release outside of Japan, the publisher has not been announced but it would surprise me if its NIS America. It seems like it will be ported to the Xbox 360 too, it was a PS3 game in Japan. Pretty nice, get it out to more people. I will check it out as soon as I can. – Siliconera.