Now I can leave my old apartment and Näsby behind me forever! Had the cleaning inspection today and it passed without any hitched, everything was great according to them. So that feels really good to hear, thanks all my friends who helped there. Otherwise I would have had to spend my entire weekend cleaning all by myself. We'll I've given them the keys to the apartment, so I am officially free from it now. It feels like I'm free from the stuff that has tormented me for sometime, not everything. But I'm getting there, this is a great big start and the last post I'll make about this whole Näsby crap and moving too. So no more bitching about it! Yay! =)
Now I'm gonna get back to my gaming! I'm thinking about starting Dante's Inferno or continuing with Mass Effect 2, not sure what I want to do. Or I'll just continue with ME2 and play Rune Factory Oceans when it arrives, hopefully by the end of the week. Either way I gotta play something until then.
I've seen a few movies too since last time. I saw Dark Shadows on cinema with my friends Hans, Anders and Marija. I liked that movie very much, both funny and good amount of seriousness. It was also my first Tim Burton movie I've watched in a cinema. And the next cinema visit will be when we see Prometheus in little more than a week, really looking forward to that one too.
I'll post more stuff later, now I'm gonna enjoy this day since it I am free from work. So I'll have to make the best of it and then back to work tomorrow. See ya all!
Things are finally coming together at my new home. They put in the new plastic carpets today, or as they say the new "floor". So I can finally start putting up my stuff, that feels great! Will finally feel like a home, one that I like very much. The apartment is smaller, but I like it. It somehow feels freer, it could be because of all the bad stuff I've left behind. But I think I can start a life where I can be more happy, I hope so at least. I don't want to be chained to the bad stuff that has happened in the past, since I've let go of those things I hope I can heal.
Well enough of that shit now, I thought I'd post a few pictures of my new place. Nothing much, but I just wanted to share some of it with those who care. The kitchen is tiny, but there is room for two to sit there at least. That's good enough for me. And while I'll have to have my bed in the living room too, it's not that bad. I really enjoy this place, it is calm and it feels like I got away from the shit at the old place. So yeah, smaller apartment but bigger happiness and feel more secure. Fuck yeah!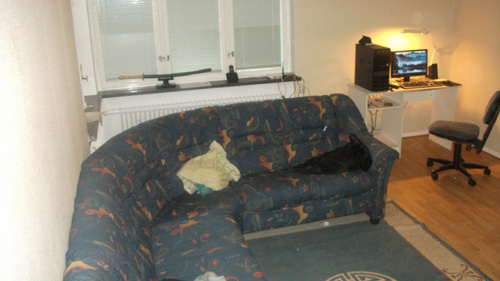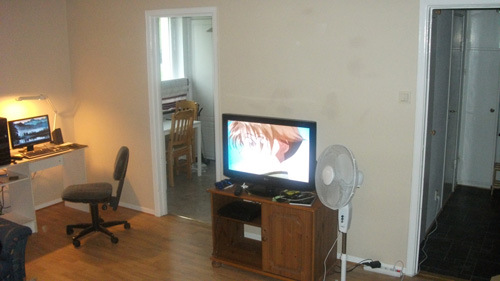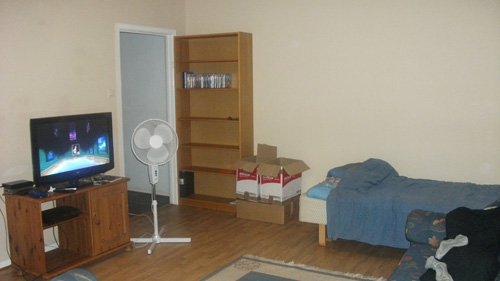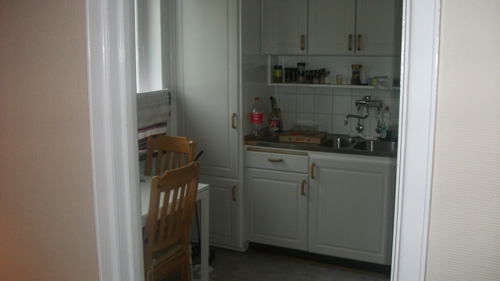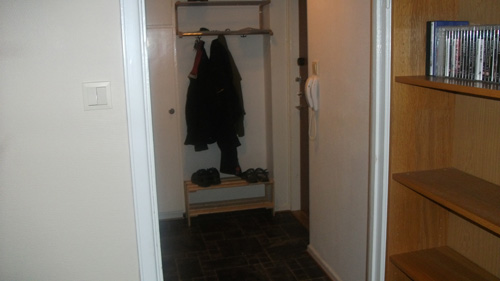 A year goes by fast doesn't it? Well its already been a year since I moved to my own apartment, man how time flies. But its been a fun year, full of stuff that has happened. And will continue to happen. Like at the end of this month good friend Kristoffer (KNtheking) will come visit me again. So that is going to be really nice and awesome, looking forward to it as hell. God I love living alone, it can be lonely sometimes.
But the freedom! Oh, yes! Sweet, sweet freedom!! :D
This what was my apartment looked like when I just moved in one year ago. Just posting the picture of my living room/gaming room. And the photo to the right is what the same room looks like now, a year later!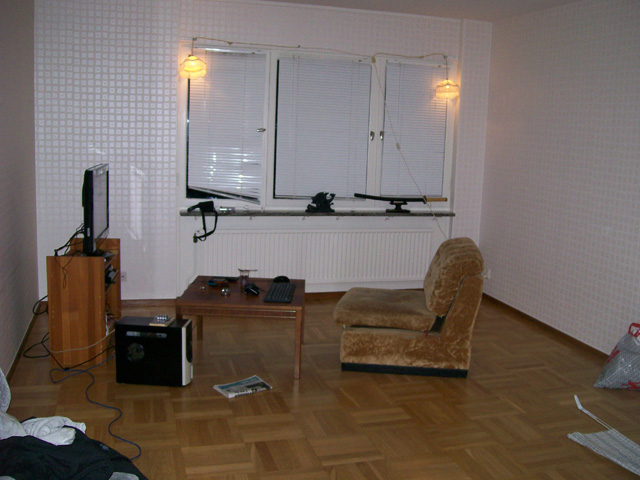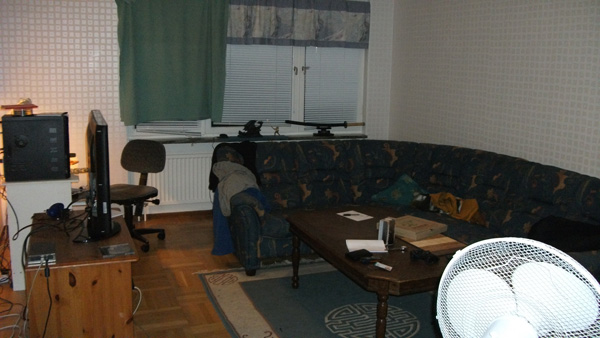 And in other none news I was happy to check my email and see that my copy of Disgaea 4 had been shipped! That was a nice surprise! Hope it will arrive on Monday next week from VideoGamesPlus.
Those who have followed my site over the years, know I'm not the luckiest guy alive.
I've always had bad luck and a somewhat challenging life. But I've tried my best to make it work, but was almost always kicked in face. So to say, 2010 started as a pretty good year.
I started working and got some rhythm in my life. My insomnia problems, I've ha for about 10-12years disappeared. And that felt really good to be able to sleep like a normal human, it has done wonders with my mood.
Despite that crap that happened in June-September, this year has been awesome.
I finally got my own place and it was so awesome and I've never felt so free! But the thing that really make this year one of the best ever for me… Is that I'll get employed! Fuck yeah!
Yes, from January 2011 I'll be employed and earn money!! I've worked hard for this moment, this whole year. I'm so happy to see it finally paying off.
And it seems like things will finally start to change for the better for me, I'm really looking forward to see what 2011 will bring now. Thanks all my friends who have supported me, I appreciate it all.
And here we are, in the last month of the year. Wow, this year really has flown by. There has been a bunch of crap that has happened this year, but I think the positive ones have by far overshadowed the crap. Which is nice, since its the first time in years, that I feel that things are finally going to be good. And they will hopefully just keep getting better in 2011.
Also on Monday (Dec 13) I might have so really good news to share with you, well I hope I can share it everyone then. If not, I'm hoping sometime around next week at least.
Its really something wonderful for me and I hope my friends can enjoy it somewhat too, well as much as friends can enjoy other peoples happiness.
Its been a little more than a week now since I moved into my own apartment and I gotta say, I really do love it! Its quite, peaceful, just like I've always wanted it to be.
And I can do just about what I want, it such a good feeling. I really can't express in words how happy I am over this, best thing that has happened this year with out a doubt.
Ahh!! It feels so good to be able to smile and feel happy again. Something I haven't been able to do/feel in a long time.
I've been working hard the past weeks also, I was glad when they asked me to be one of four people who could take care of a very important client for the company. They could just as easily have given another one of my colleagues But still, they could easily have taken someone with more experience, but they trusted me and wanted to give me this chance. This won't hurt my chances of getting a permanent job there either, so I'm hoping for the future.
Since I finally could hook up my TV and Playstation 3 again, I've been playing Trinity Universe as much as I can. I've had some pretty good times with it, love the humor in the game. Loving the active animations portraits in the game, music is pretty awesome to.
The battle system is the only thing I wish they spent more time with, but I stil enjoy the game. I'll have to see what I really think of the game once I have finished it, well at least have finished the Devil Dog King's story of the game. If I like it I'll continue with the Valkyrie's story in the game.
So I've finally finished moving the few stuff I had into the apartment and, I've finished cleaning the kitchen also. Wow, it feels great to have to do all these things by yourself. It feels great to finally have my own home. I promised I'd take some photos and I have, but its not much to see. I will take new ones once I have more furniture and I've decided how to decorate the living room. But for now these will do, oh just look at that stain on picture #4. Nice little gift from the previous resident…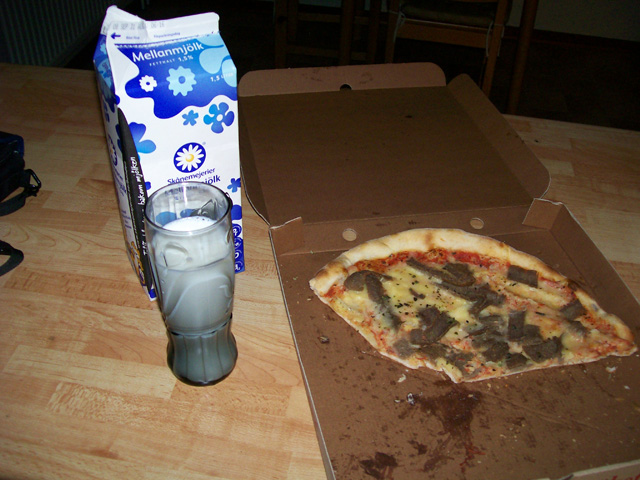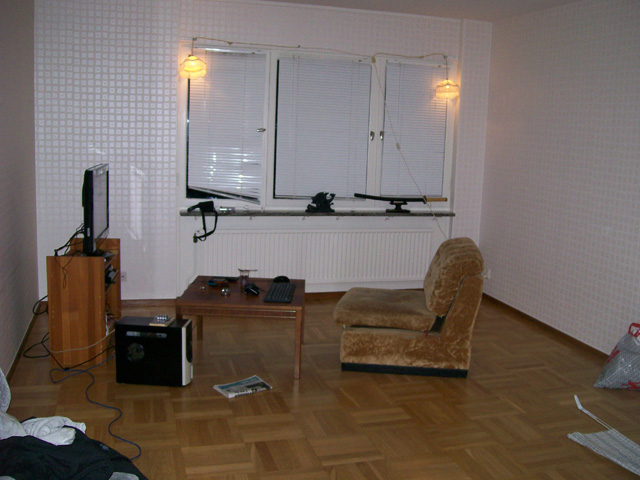 Went with milk and a kebab pizza as moving in food, it was so delicious. Tasted extra good eating it in my own home. And then you see my living room, haven't done much there. At least I can play games again. Need a couch… Computer table will come later.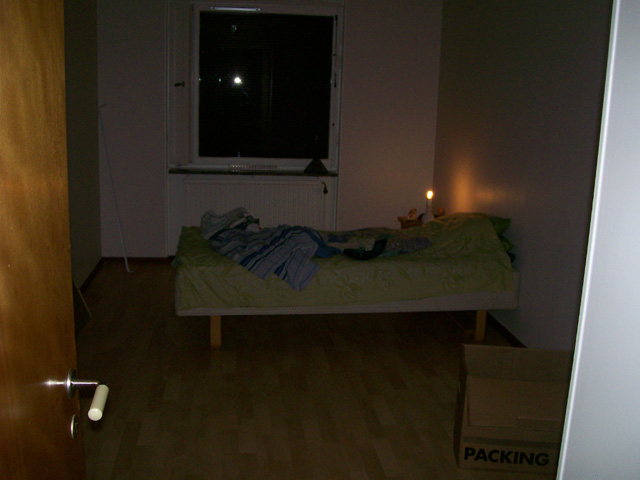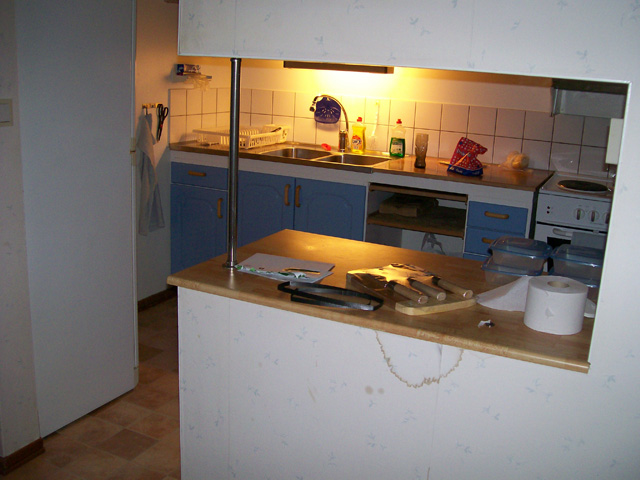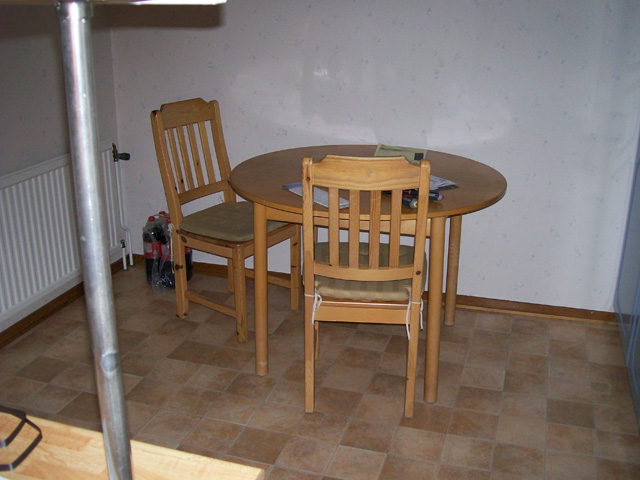 My very simple bed in my very simple bedroom. God its nice to sleep in a bed again… The nice stain the previous folk living here left in the kitchen, it's the only thing that sucks in the kitchen. And my two man kitchen table. Perfect for me.