And we've arrived at the last day of 2011, this year has just flown by. Perhaps a bit too fast at times, as always.  But that's life I guess, of course time will go faster when you actually have something to do for once. And I've been working this whole year, and its felt great.
Except those times when I was sick, which sadly was a few times over the year. I hate my weak body for being so frail and easily get sick.
Its been a fairly good year otherwise. A bit disappointed with both Transformers Dark of The Moon and Uncharted 3: Drake's Deception. Sadly they didn't live up to my expectations. While Uncharted 3 still is a good game, Uncharted 2 is a much better game IMO. I think my game of the year will be Batman: Arkham City. I can't really seem to think of a game that I've enjoyed more this year, or rather lived up to all my expectations.
Looking forward to 2012, for both movies and games. Amazing Spider-Man, Avengers and a bunch of other movies I can't remember right now. But I really want to see them!
Oh, yeah G.I Joe Retaliation is one movie I want to see too. And when it comes to games I guess Tales of Graces F is my most anticipated game, so far of 2012. Then we have Darksiders II, Soul Calibur V, Ni no Kuni… Yeah, I'm hoping they will all be good and that we'll be getting a lot of other good games next year. So tell me, what has been your disappointment / best experience of 2012. I want to know, so please tell me.
Have a really good new year everyone!
Got the Metal Gear Solid HD Collection with the Friday mail. It's nice to replay MGS3 again with some better textues. The game it self is just as good today as the day it first came out imo. MGS3 is my favorite of the MGS games, so I am enjoying it. Looking.forward to Peace Walker which I've never played before.
I am still playing some Uncharted 3, well the multiplayer at least. It is a blast and offers more veriety than the multiplayer in Uncharted 2. I am hoping more of my friends will get it so we can play together. Hopefully before I put the multiplayer part on the shelf. Gotta finish it on crushing one.day too, but there are so much to play now, so it wil just have to wait.
And hopefully I'll get Saints Row The Third in the upcoming week too. So I've got a lot to play but to litte time, but at least I feel that awesome feeling you get when you do something that you love.
Posted from WordPress for Android
Earlier today I finished Uncharted 3: Drake's Deception. A good game, but in my opinion not as great as the first or second game. The adventure doesn't feel as great as the one in the first and second game, it actually feels a little lacking. Don't get me wrong, I like it very much but it didn't live up to my expectations. One of the things I'm most frustrated with is that the writers leaves so many questions unanswered.
The villains where lacking, I hardly noticed them in the game. Just their henchmen, not like Lazarevic in Uncharted 2. Which was ruthless and a real asshole, who did anything to get what he wanted. Sure they fit the game, but I wish they had more presence in the game.
Especially since both Drake and Sully had a past with Marlowe. And how could Talbot disappear like he did? Is he a wizard? No, but seriously. I wish there was a bit more too it. Both game wise and story wise. Still a good game, that I recommend everyone to try if you like the other two Uncharted games. For me this game was contender for GOTY (Game Of The Year), but this time I don't think it will win that for me. The same year Uncharted 2 came out, so did also Batman: Arkham Asylum. Both of them competed for GOTY for me that year, the winner was Uncharted. But this year with Uncharted 3 and Batman: Arkham City. It could very well be Batman what will take my own personal GOTY this time. We'll see, I am not finished with that game yet, so anything can happen.
After much wait, Uncharted 3: Drake´s Deception is finally here! Guess Batman will have to wait a bit, now I wanna go chart! See you all when I got the time.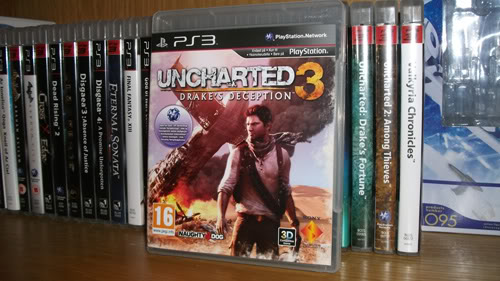 This weekend has been a great one actually! Me and Elden finally got started on our lite "movie" project. I'm still keeping it a secret, but we are pleased so far and we've had a blast with it.
And we hope you all will enjoy it too, when we finally show it. I don't want to say anything, because I want it to be a surprise and keep people from judging it beforehand. If this is received well, we'll continue to make more. Well to be honest, whether is is received well or not, we'll still do more. And another, and another until you learn to like it! Hehe, just kidding folks. But I'm hoping I'll be able to share it with you all shortly, we got a lot of work on one it. So perhaps I can have something to show next week. No promises, but as I said. I'm hoping. =)
Not much other stuff going on I'm afraid. Well I've started to replay Sly 3: Honor Among Thieves, its the only game in the series I haven't finished yet. And I'm hoping to clear it before Disagea 4 arrives, because that game will be getting my full attention. And I keep hearing more and more good stuff about Xenoblade Chronicles! Goddamn I want that game!! So many games coming out now, how the hell are you supposed to find the time to play everything? Yeah, you have to pick the games you wanna play, but when so many AAA-titles are coming out at the same time you really want to play them all immediately.
What are you looking forward to mostly right now? My top three list at the moment is as follows:
Batman Arkham City, Uncharted 3: Drake's Deception and Saints Row The Third. No surprised there I guess, but goddamn! I can't wait to get my greedy lite mittens on those games! I think I've mentioned this before also, but I'm very much looking forward to the Metal Gear Solid HD Collection.
I've been dreaming about replaying MGS3 in HD. So I hope it will be a nice experience and its gonna be fun to see if the game is as good as I remember it.
Just finished watching Sony's E3 conferance. And I'm tired as hell now. I'm not used to be up this late. But either way it was pretty okay, was hoping for more stuff actually. But Uncharted 3 and Sly Cooper Thieves in Time where nice! And I got more interested in the Playstation Vita, their new portble console.
I'm also getting the God of War Origins Collection. All in all a pretty goof show, its gonna be interesting to watch Nintendos show later today.
But damn! I really need to start saving for a PSVita! I really need to play Uncharted Golden Abyss.
2011 seems to be a good year for games, a lot of big squeals are coming out. And of course being a Playstation 3 owner that I am, I have a few treats to look forward to. Games like Infamous 2, Uncharted 3 and Batman Arkham City (also on PC & X360). I'm a bit sad to say that I've only kept eyes on the Playstation 3 games, well since its the only console I have right now. I think that's pretty understandable, I just wanted to make it clear to people I'm in no way a fanboy. I like all consoles they each have something to bring to the table, but right now I'm mainly focused on Playstation 3. So sadly, I have no idea what's coming to the other consoles.
2011 in all seems to be a pretty big gaming year Nintendo 3DS has been released, the squeal to Nintendo DS. And Sony's "NGP" (PSP2) might also see a release this year.
And then there are rumors about Nintendo showing their newest stationary console on this years E3, can't wait to see all the goodness that will be shown this year. Well here is a little list of games I'm looking forward to this year. Well here is my list of some of the games I'm really looking forward to, they are in no particular oder. I wrote them down as I remembered them. So tell me, what games are you looking forward to?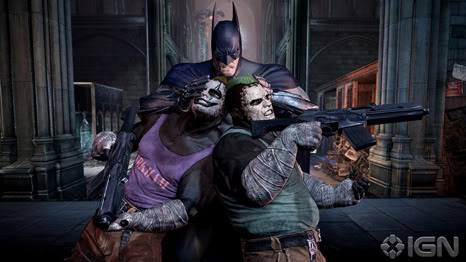 Batman Arkham City
The sequel to one of the best games in 2009 is of course on this list! Anything else would be a goddamn shame! The world in the game seems to have expanded a whole lot. From being in Arkham Asylum in the first game, to run around in Gotham City. Or rather Arkham City that it has been renamed too. The whole city has become a prison, which Hugo Strange seems to govern with an iron fist. I want this game, I want this game now! I have complete faith in Rocksteady and can't wait for them to give me my next Batman kick!
Disgaea 4: A Promise Unforgotten
The Disgaea series is about the only SRPG that I really like. Thanks to my friend Kntheking who introduced me too the series and since then, I've just keep on liking it more. The fourth game has new HD sprites, which looks really tasty. I'm hoping for the same kind of wonky humor I've come to love and expect from this series. It will be released sometime in September is nothing changes and I'm hoping it don't. So in September its time for some crazy ass leveling again/grinding again!!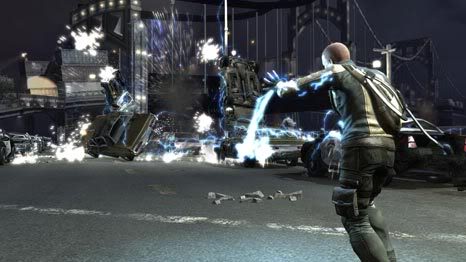 Infamous 2
I really liked the first one, it took some time for me to get into it. But once I was there I was caught. I loved running around in Empire City and frying people with my electrical powers! Whahaha! Sure, I helped people too. But it was a fun game and the sequel seems to be more of the same. But hopefully there is more variation, guess I'll know next month. And boy! I'm having a hard time waiting!