Då har det visats en del konferenser och spel i massor, en del intressanta och en del mindre intressanta för min del. EAs hela konferens var en enda stor snarkfest och dem hade inget som intresserade mig. Eller jo det skulle väl vara det Star Wars spelet som Viceral och Amy Hennings håller på med, som de visade hela 5sekunder ifrån.

Microsoft avslöjade att de håller på med en ny konsol "Project Scorpio" som ska vara en grymt kraftig Xbox One och att den ska släppas nästa år. Ska bli spännande att få mer info om den, annars avslöjade de en Xbox One Slim eller helt enkelt Xbox One S som ska släppas i Augusti. Xbox One S är en riktigt snyggt konsol, kanske blir dags att titta närmare på Xbone nu så man kan få spela Rare Replay.7
---

Capcom visade Dead Rising 4 till Xbox One och det ser precis lika sjukt kul ut som serien brukar vara och förhoppningsvis är den lika skruvad och skum som vanligt. Här har ni en julig trailer.
---

Ett spel som jag ser väldigt mycket fram emot och som kommer i år, vilket jag inte trodde det skulle göra är South Park: Fractured But Whole. Det förra spelet Stick of Truth tände ter mitt intresse för South Park och gjorde att jag sträck kollade alla säsonger, så jo jag ser verkligen fram emot detta. Och med Superhjälte tema istället för fantasy så är jag mer intresserad. Släpps i december.
---

Det var ingen större överraskning att se nyaste God of War på E3, det som däremot kom som en mindre chock var hur pass annorlunda spelet ser ut. Verkar inte bara vara slakt på slakt som i tidigare, här såg vi en lugnare och mer mogen Kratos. Spelet verkade vara mer äventyrs aktigt, förnyat intresse för Kratos fick jag i alla fall och är riktigt nyfiken på spelet.
---

Något som jag blev barnsligt förtjust i är det kommande Spider-Man spelet från Insomiac Games. Har länge velat ha ett bra Spider-Man spel igen, då de som släppts av Activision har inte var så värst bra. Men trailer var actionpackad, fartfylld och ser roligt ut. Ser fram emot att se mer om spelet.
Vi ses i del två som kommer upp efter Nintendo haft sin presentation/demo av det nya The Legend of Zelda. Ska bli sjukt spännande att se vad dem har att visa.
Today was the day when I finally was going to watch Pacific Rim. And how I have waited. Ever since I saw the first trailer I was in love with it or rather I knew I had to watch it. So earlier today I went and saw it with two of my best friends.
And I can only speak for me, but I loved the movie! Giant robots kicking monster ass and vise-versa. I am pleased and I am happy, I got exactly that. I can't really complain about anything in particular. I got what I wanted and it lived up to my expectations, what more could I want?
Well maybe some of mechs could have gotten more screen-time and a few things could be better. But I am not complaining, it is so rare we get a movie like this. I hope we can get more! This is how giant robots should be! I am seriously thinking about buying it on blu-ray later and I almost never buy movies.
Most anticipated movie of the year. And yeah, for me it lived up to the hype. Next movie that I am really hyped for is Amazing Spider-Man 2, but that's next year.
Saw the first two episodes of the Ultimate Spider-Man animated show today, they where special… I liked them a lot and I'm going to keep watching this show, but it had its fails. And for me they where pretty big, I can live with them and I won't drop the show for this. But it is going to get really old really fast. So I'm hoping this is just something for the first few episodes and hope it will tone down a bit later.
The animations where nice and in some parts they where rather spectacular (narf), but it's also the visuals I have the main problems with… As I said the visuals are great, really great. When they are not trying to mimic anime! This is the same problem (for me problem) that was with Teen Titans, but at least in that show they fitted. But here it feels so damn out of the place. And there where plenty of this in just the two first episodes. And by mimic anime I mean they make it look more chibi-anime like and all kiddy and try to be funny. Don't get me wrong, frequent readers should know I love anime, but I was hoping for a little bit more seriousness in that department.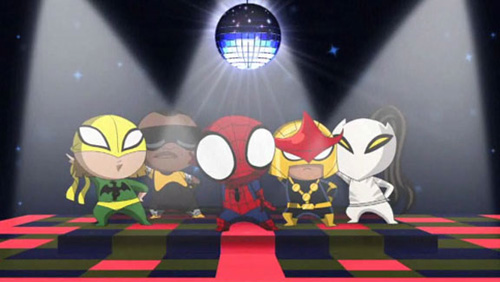 But other than that, the show seems very promising. Even if I seemed to be one of few who liked the last show Spectacular! Spider-Man and would have loved to see that one get another seasons. I'm really hoping this will turn out good, I'm going to be real sad otherwise. But it is still to early to tell, I'll give it few more episodes hopefully the stuff I don't like will either grow on me or it will be toned down. Either way, Spider-Man is back and now I'm longing for the new movie even more!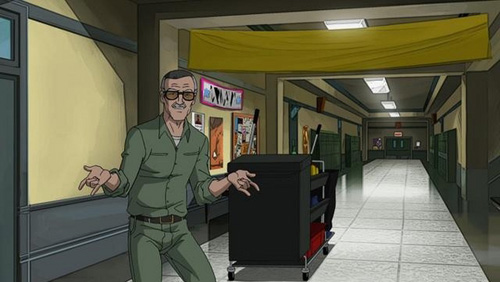 I was interested in Spider-Man Shattered Dimensions for some time. It seemed to actually be a pretty decent game and it actually is. It has its problems but its one of the better Spider-Man game in years.
One thing I really do love about this game is the humor, I think they've successfully captured Spider-Man's humor. And that they have reused some old Spider-Man voice actors to do the voices for the four Spider-Men in the game is a really nice touch.
Shattered Dimensions tells the story of four Spider-Men from different dimensions, I'll be coming to that very shortly. The game starts with Mysterio breaking into a museum to get a hold of a mystic tablet. Let's sell it on the black market he says and make a fortune!
But good old Spidey comes in to save the day. But he accidentally shatters the tablet, sending its pieces into three other dimensions. And this whole scene has been narrated by the man himself, Stan Lee. Don't know who he is? Shame on you, go google him right away.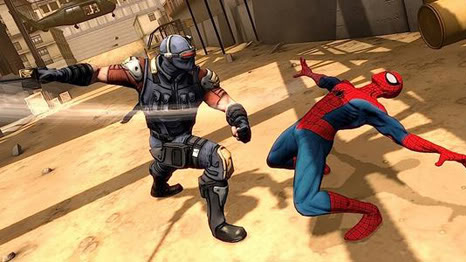 First out we have the dimension where is all begins. The Amazing dimension, with the classic lovable Spider-Man we all know. Amazing S-M is voiced by Neil Patrick Harris. This dimension is also more cell-shaded than the others, to give of that cartoony feeling. Then we have the Noir dimensions which is a dark and a bit more mature, its also almost always in black and white. To give that feeling of being an old movie. The 2099 dimension is a futuristic hightech take on Spider-Man, something I didn't look forward to. But ended up liking really well. And last but not least, my favorite dimension Ultimate Spider-Man. The Spider-Man here is a bit younger and its also a bit more serious at times and sometimes funnier. And it has Deadpool in it, instant win.
The controls are okay, but could use some more work. One thing I do hate is that the Spider-Men have all the same attacks and never feel really special to use. They have a special attack that is unique to them, but its more of a variation between the attack the others have. The game is not free-roaming as the last games featuring Spider-Man has been, they gone for a more level design of it all. Some levels are big and give of a bit of a free-roaming feel, I think if the developers but down more time on an squeal they could make a real good Spidey game. The potential is there, but it really doesn't come to surface because of the four Spider-Men. It would have been better to concentrate on one Spider-Man and making that game awesome.
All in all Shattered Dimensions is a pretty decent game, it has its problems. Problems that I'm hoping will be fixed, its a fun game. And I think I haven't enjoyed a Spider-Man game like this since Spider-Man 2 on the GameCube. I'm looking forward to a new Spider-Man game and I hope they don't do a dimension game again, focus on one Spider-Man that is more than enough. Flesh out that Spider-Man's story and level. I think everyone will benefit from this, play the game, borrow it or rent it. I think you'll enjoy it if you like Spider-Man.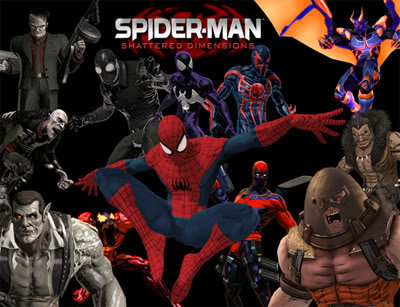 Its been some time since I last made a post here or was online on MSN or Skype. Well, I haven't been feeling all to well. And last weekend it finally exploded, I was struck with both fever and a cold from hell. Lost my voice a few days, cough so much that my ribs started to hurt. Was awesome. NOT! But at least I'm starting to feel better now. Thankfully. When I've had the energy to do stuff, I've mostly watched some TV, or been playing Spider-Man Shattered Dimensions. Will probably post a mini-review of that game later. So if you are interested in what I have to say about the game, check back later.
And finally thanks to my job I'm able to pay of my old debts, it feels great. Even if I'll be poor for some upcoming months, but I've waited so long for this. To finally be able to pay back what I've loaned, it really feels good for the soul. And I'm really hoping I'll be able to attend the Sci-Fi convention that is going to take place in Malmö in April. I'm going there with a few friends on April 2nd. Pictures will of course be posted from this event, perhaps even movies. We'll see about the last one, but pictures is a guarantee!
I'm also glad that I've finally been able to score a real couch. It took some time, but finally I can sit really comfortably too! I'm thankful for the couch my friend Hubbe gave me, but this one is so much better, bigger and much better looking. Now just about everyone who comes over can have a place to sit at. Except Ezakiel, he just breaks couches.