Idag (för en liten stund sedan) så visade Disney/Marvel lite kommande spel, bland annat fick vi lite mer info om arbetet bakom det nya Spider-Man spelet. Men det som kändes roligast att få se och veta, var att vi fick en ny värld i Kingdom Hearts III avslöjad. Det blev nämligen en Toy Story värld! Här är trailern för världen, hade dock hoppats vi fått något av den engelska dubben men vi får nöja oss med japanska med engelska undertexter.
Ser riktigt bra ut! Ser verkligen ut som filmerna ser ut, ska bli riktigt kul att få spela denna världen sedan. Bekräftade världar är nu, Big Hero 6, Trassel (Tangled), Olympus/Herkules värld och Toy Story. Undrar vad vi mer får? Frost (Frozen) känns som om det vore en självklarhet, men vi får väl se. Det var faktiskt en annan stor sak som också avslöjades i trailer och det är att spelet kommer släppas nästa år! Nu kan man börja längta ordentligt! :D
Saw the first two episodes of the Ultimate Spider-Man animated show today, they where special… I liked them a lot and I'm going to keep watching this show, but it had its fails. And for me they where pretty big, I can live with them and I won't drop the show for this. But it is going to get really old really fast. So I'm hoping this is just something for the first few episodes and hope it will tone down a bit later.
The animations where nice and in some parts they where rather spectacular (narf), but it's also the visuals I have the main problems with… As I said the visuals are great, really great. When they are not trying to mimic anime! This is the same problem (for me problem) that was with Teen Titans, but at least in that show they fitted. But here it feels so damn out of the place. And there where plenty of this in just the two first episodes. And by mimic anime I mean they make it look more chibi-anime like and all kiddy and try to be funny. Don't get me wrong, frequent readers should know I love anime, but I was hoping for a little bit more seriousness in that department.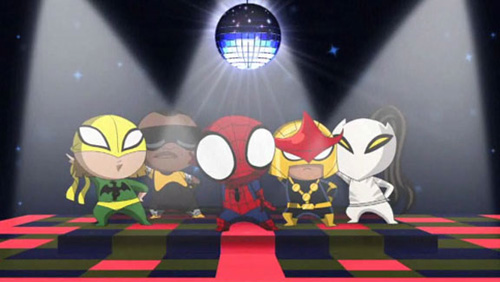 But other than that, the show seems very promising. Even if I seemed to be one of few who liked the last show Spectacular! Spider-Man and would have loved to see that one get another seasons. I'm really hoping this will turn out good, I'm going to be real sad otherwise. But it is still to early to tell, I'll give it few more episodes hopefully the stuff I don't like will either grow on me or it will be toned down. Either way, Spider-Man is back and now I'm longing for the new movie even more!