While we have gotten our fair share of JRPG's this year, it seems like 2020 is going to start with a big bang when it comes to Japanese roll playing games. And these are just games that are announced now, who knows what more will be announced and revealed in the upcoming months. It feels like it's a really good time to be a JRPG fan.
And yes I must say that almost all games listed here is a port/remake or the like.
Doesn't make it any less worthwhile, for a lot of people have not been able to play the original versions. So I still think they are worth checking in, some of them have had some tremendous work done on them, like Xenoblade Chronicles.
And I'm going to miss some titles, if you feel like something is missing give me a shout! Then I'll consider them for a second post or a video.
Tokyo Mirage Sessions #FE Encore
RELEASE: 2020-01-17 —- CONSOLES: Nintendo Switch

Like many other games for the Wii U, I missed this one completely. But then again it wasn't entirely on my radar at the time either. As of writing this is the first JRPG that will be released in 2020. It will apparently feature some new story content not found in the original Wii U version and feature new characters.

Final Fantasy VII Remake
RELEASE: 2020-03-03 —- CONSOLES: PlayStation 4

This new trailer actually dropped today! And it's so gorgeous, I want to remind everyone I'm not a FF7 fan, but man I'm very hyped for the remake! Everything I've seen so far looks so good, This game looks fun and I'm really liking the action battle system and not to mention that both Aerith and Tifa look so good! Can't wait to see the rest and hopefully we won't have to wait all that long for the second part of the game to be released… And frog Cloud is precious! He must the protected!
They've also confirmed there will be a classic mode in the game, that will do away with all the action and you'll be playing like the old classic turn based mode. Where you don't have to feel the stress of the action, it's great there is something for everyone.

Trails of Mana
RELEASE: 2020-04-24 —- CONSOLES: PlayStation 4, Nintendo Switch

I never played the original and while I do have Collection of Mana, I feel the remake is more up my alley than the original. Fully 3D environment and more action based combat is making this look great. Glad they learned for the horrid Secret of Mana remake. Riesz will absolutely be in my team and probably Angela too.

Xenoblade Chronicles: Definitive Edition
RELEASE: 2020-??-?? —- CONSOLES: Nintendo Switch

The biggest and best surprise from the latest Nintendo Direct, I had almost given up hope they we would see the first Xenoblade on Switch. I've said it a couple of times but this game really deserved a port that would do it justice and not be stuck on the 3DS.
So I'm glad that's happening now and from what we can see in the trailer above it looks really fantastic. New character models, improved textures for everything and rumors of them adding cut content. Yeah, you best believe I'm hyped for this!
I hope they do a nice collectors edition for this and I want the release date now!

Tales of Arise
RELEASE: 2020-??-?? —- CONSOLES: PlayStation 4, Xbox One, Steam

The newest trailer from Tokyo Game Show, it doesn't show much new stuff and it's very short. But we get a tease of our third party member and what I expect to be the games mascot character. I was really hoping for more, at least get a good look and a name for this third character, oh well. I'm super hyped for this Tales of game anyways, it looks so freaking good! So looking forward to what a Tales of game with a bigger budget can deliver, so far it's nailing it with it's visuals.

Persona 5: Royal
RELEASE: 2020-??-?? —- CONSOLES: PlayStation 4

I haven't really clicked with the Persona series and I tried the regular version of 5, but I only played a few hours of it. Thought I'd give it a second chance with this new edition.
For me this one is on the bottom of those games I'm looking forward to, I'm hoping it will click more with me this time, but we'll see.

Genshin Impact
RELEASE: 2020-??-?? —- CONSOLES: PlayStation 4

A gorgeous open-world game that has some clear inspirations from our lovely
Legend of Zelda: Breath of The Wild. Holy hell I'm looking forward to play this game, I'm in love with the cell-shading style. If it's only half as good as BOTW then I'm going to have a blast with this game, everything I've seen so far just makes me want the game even more. I like that they have a few different playable characters, hopefully that will add some variation to the game. Already liking the bow users.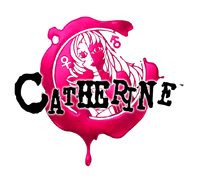 I had my eyes set on Catherine for some time, it seemed to be a fairly interesting game. While I wasn't very interested in the puzzle aspect of the game, I decided to give it a whirl. The game had gotten a bunch of praises from people who had played it, so I started dreaming and started climbing.
What can you call this game? A puzzle, climbing horror game? No idea, but that's about the gist of it. I wanted to play the game for the story. It start with Vincent a regular Joe, with a regular job. His girlfriend since way back, Katherine (yeah, with a K) wants to move on. She wants to get married, but Vincent thinks are fine the way they are. And he becomes a bit pressured and stressed about the future. He doesn't want things to change and that is where he meets Catherine. He "accidentally" cheats on his girlfriend and from there on it's just a road of lies and trouble ahead. This is also the part where I started to hate Vincent.
Either way, he starts having nightmares where he has to climb blocks to reach a goal. If you die in this dream, you die for real.
It pretty fun and a bit disgusting to see how Vincent tries to handle the mess he got him into. I really enjoyed the story, I won't go into it anymore. I don't want to spoil anything for people who want to play it. As I said I played it for the story and got a sweet game! I'm not to fond of the puzzles or should I say game play. Some where fun others not, hard to say something other about it. It was a nice experience, I'm glad I played it.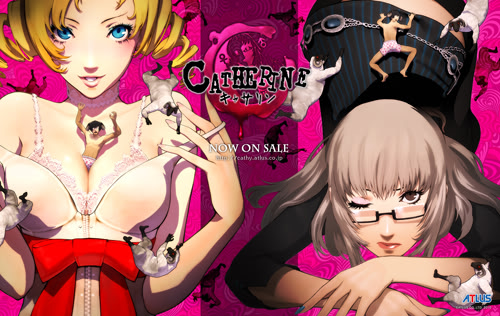 Catherine to the left and Katherine, Vincent's girlfriend to the right. Who would you pick? Katherine all the way for me!