While we have gotten our fair share of JRPG's this year, it seems like 2020 is going to start with a big bang when it comes to Japanese roll playing games. And these are just games that are announced now, who knows what more will be announced and revealed in the upcoming months. It feels like it's a really good time to be a JRPG fan.
And yes I must say that almost all games listed here is a port/remake or the like.
Doesn't make it any less worthwhile, for a lot of people have not been able to play the original versions. So I still think they are worth checking in, some of them have had some tremendous work done on them, like Xenoblade Chronicles.
And I'm going to miss some titles, if you feel like something is missing give me a shout! Then I'll consider them for a second post or a video.
Tokyo Mirage Sessions #FE Encore
RELEASE: 2020-01-17 —- CONSOLES: Nintendo Switch

Like many other games for the Wii U, I missed this one completely. But then again it wasn't entirely on my radar at the time either. As of writing this is the first JRPG that will be released in 2020. It will apparently feature some new story content not found in the original Wii U version and feature new characters.

Final Fantasy VII Remake
RELEASE: 2020-03-03 —- CONSOLES: PlayStation 4

This new trailer actually dropped today! And it's so gorgeous, I want to remind everyone I'm not a FF7 fan, but man I'm very hyped for the remake! Everything I've seen so far looks so good, This game looks fun and I'm really liking the action battle system and not to mention that both Aerith and Tifa look so good! Can't wait to see the rest and hopefully we won't have to wait all that long for the second part of the game to be released… And frog Cloud is precious! He must the protected!
They've also confirmed there will be a classic mode in the game, that will do away with all the action and you'll be playing like the old classic turn based mode. Where you don't have to feel the stress of the action, it's great there is something for everyone.

Trails of Mana
RELEASE: 2020-04-24 —- CONSOLES: PlayStation 4, Nintendo Switch

I never played the original and while I do have Collection of Mana, I feel the remake is more up my alley than the original. Fully 3D environment and more action based combat is making this look great. Glad they learned for the horrid Secret of Mana remake. Riesz will absolutely be in my team and probably Angela too.

Xenoblade Chronicles: Definitive Edition
RELEASE: 2020-??-?? —- CONSOLES: Nintendo Switch

The biggest and best surprise from the latest Nintendo Direct, I had almost given up hope they we would see the first Xenoblade on Switch. I've said it a couple of times but this game really deserved a port that would do it justice and not be stuck on the 3DS.
So I'm glad that's happening now and from what we can see in the trailer above it looks really fantastic. New character models, improved textures for everything and rumors of them adding cut content. Yeah, you best believe I'm hyped for this!
I hope they do a nice collectors edition for this and I want the release date now!

Tales of Arise
RELEASE: 2020-??-?? —- CONSOLES: PlayStation 4, Xbox One, Steam

The newest trailer from Tokyo Game Show, it doesn't show much new stuff and it's very short. But we get a tease of our third party member and what I expect to be the games mascot character. I was really hoping for more, at least get a good look and a name for this third character, oh well. I'm super hyped for this Tales of game anyways, it looks so freaking good! So looking forward to what a Tales of game with a bigger budget can deliver, so far it's nailing it with it's visuals.

Persona 5: Royal
RELEASE: 2020-??-?? —- CONSOLES: PlayStation 4

I haven't really clicked with the Persona series and I tried the regular version of 5, but I only played a few hours of it. Thought I'd give it a second chance with this new edition.
For me this one is on the bottom of those games I'm looking forward to, I'm hoping it will click more with me this time, but we'll see.

Genshin Impact
RELEASE: 2020-??-?? —- CONSOLES: PlayStation 4

A gorgeous open-world game that has some clear inspirations from our lovely
Legend of Zelda: Breath of The Wild. Holy hell I'm looking forward to play this game, I'm in love with the cell-shading style. If it's only half as good as BOTW then I'm going to have a blast with this game, everything I've seen so far just makes me want the game even more. I like that they have a few different playable characters, hopefully that will add some variation to the game. Already liking the bow users.
Tänkte det var dags att slänga upp en uppdatering eller något, så att folk vet att jag fortfarande lever. Haha. Det har varit stressigt den senaste månaden, mycket att göra på en och samma gång. Det har tröttat ut mig ganska kraftigt fysiskt.
Annars har det väl varit lugnt bortsett från utmattningen, har inte hänt så mycket.
Eller snarare man har inte orkat anstränga sig för att något ska hända, men det är okej. Har varit skönt att det lugnt här hemma, önskar bara jag hade kunnat spela lite mer. Har inte varit så mycket av den varan heller, har mest vilat när jag haft chansen.
Nu på fredag är det julbord med jobbet, det är väl den största ansträngningen jag har tagit mig an denna månaden. Känns som det får räcka också, måste spara mig tills min polare CrilleKross kommer på besök i jul, så man inte är helt död/slut.
Black Friday har ju kommit och gått också, brukar aldrig köpa något under BF.
Men denna gången blev det faktiskt lite. Nämligen följande saker…
Logitech Z906 5.1 THX högtalare
Hitman: Definitive Edition (PS4)
The Witcher 3: The Wild Hunt – Game of The Year Edition (PS4)
Persona 5 (PS4)
Cosmic Star Heroine fysisk förbokning (Switch)

Den officiella tråden för Tales of Vesperia: Definitive Edition finns nu uppe på Loading.se, så är ni nyfikna så kolla gärna in den!
På tal om Loading, så har jag för första gången gått med i deras julklappsbyte.
Det ska bli kul och spännande faktiskt och jag hoppas den som får mitt paket blir nöjd.
Hoppas själv man får något roligt också, om inte annat är det kul att bara delta.
Som jag nämnde innan så kommer min polare CrilleKross på besök i jul och stannar några dagar, det ska bli trevligt att göra något annat. Som några av er vet så firar jag ju inte jul, så det ska bli kul att bara ta det lugnt med en kompis.
Han ska även hjälpa mig koppla in högtalarna, så vidare jag inte försöker mig på det själv i helgen. Får se om jag kan hålla mig eller inte. Hahaha.
Hoppas man kan få tummen ur och köra lite mer på Kingdom Hearts Dream Drop Distance HD, vill ju spela klart det så man är uppdaterad på storyn och händelserna lagom tills Kingdom Hearts III kommer, även om jag inte lär spela det till releasen.
Just nu spelar jag lite Sushi Striker: Way of Sushido på Nintendo Switch, ett trevligt lite spel att spela i omgångar. Annars längtar jag nog mest efter Tales of Vesperia just nu, vill ha ett Tales of-spel att spela igen! Men får lugnt behärska mig.
Är ju turligt nog inte allt för långt kvar tills januari och där emellan eller ja, nästa fredag för att vara mer exakt! Så blir det Super Smash Bros Ultimate till Switch!
Har typ inte rört ett Smash Bros-spel sedan Smash Bros Melee så detta ska bli extremt kul. Vi höres nästa gång!
Well it's been a while since I made a post, I haven't had the time to post anything. I've been working the entire time, perhaps a bit too much. But it's been my own choice so I can't really complain, but now that I've worked the past three weekends and now it's enough, now I'm going to have my weekends for me, gaming and my friends.
I feel like I really need to take it a bit easy now and just sit down and play some of my games, that just have been piling up. Yeah, sadly I haven't really been in a playing mood these past weeks. After I finished playing The Legend of Zelda: Breath of the Wild I've had a hard time playing anything. Guess it left a greater impression on me than I initially thought. I have NieR Automata just lying an waiting for me but I don't really feel like it, which is a damn shame since I love the original NieR. But I will be getting to it, I must! And on top of that I know have Persona 5 to play too, but I'm not all that hyped for it. For now I've settled with the PlayStation 4 version of Kingdom Hearts 2, since I've never played Kingdom Hearts 2 before (not counting the 2hours I played on PlayStation 3). It feels great so far and I've managed to play six hours so far, going to continue to play it today.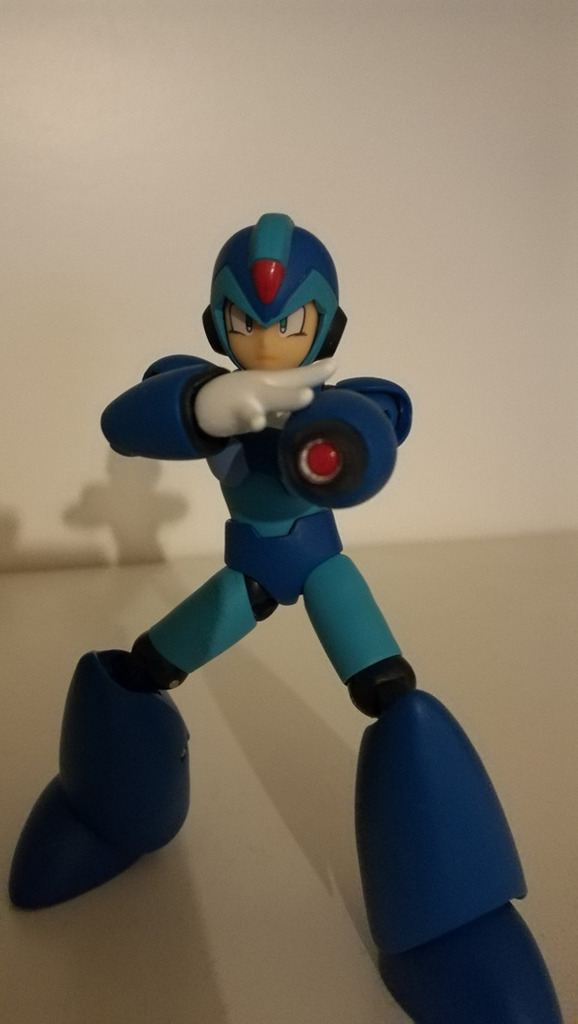 Thanks to my good buddy CrilleCross I've managed to get a hold of a GameCube controller, so I can finally use my GameCube. I'm thinking about playing Mario Sunshine later, I've wanted to try it for some time now and to be able to use my Gameboy Player too. I also got a hold of a complete copy of Mystical Ninja Starring Goemon for the Nintendo 64 from him, so happy about that! It's one of my, if not my favorite game for the console. Now I need an N64 so I can replay it.
And speaking of happy stuff, I've finally been able to get a MegaMan X figure! Something I've wanted for a very long time now! And I just love it, it looks so good! Sure I wish the figure was a bit taller but this will do, if I can get a hold of the now expensive D-Arts MegaMan X figure I would be stoked.
I've finally seen Rouge One and it was nice! So good to see something Star Wars that is not focused on the Jedi all the time. It was much better than I thought it would be and it was quite enjoyable. Speaking of movies, this upcoming Friday (hopefully) we are going to watch Guardians of the Galaxy vol.2, so hyped for it! The first one if one of my favorite Marvel movies ever and hopefully this one will be just as entertaining as the first one.
Also a big thanks to one of my best friends Hasse, for helping me with creating a ladder of sorts for my Amiibo figures. Now I can display them all much better than I could before.
I am also waiting to get the Amiibo fo Celica for Fire Emblem Echos. It looks so nice! I've also preordered the Cloud and Bayonetta Amiibo's, since I really want them for my collection. I really want to get a hold of the Twilight Princess Link Amiibo too! But for now I'm going to try and get a hold of some of the past Amiibo's like, Sonic, MegaMan, Lucina and Ganondorf maybe.
Earlier this morning for us EU folks, Sony of Japan held a conference to announce some new games. I was actually expecting to be let down, or rather there would be nothing that would really interest me. And I was wrong! Which I am very happy about. Worth nothing is that some of the games mentioned here are also releasing on PlayStation 3 and PlayStation Vita too, but for this post I'll only be focusing on PS4.
Dragon Quest Heroes
Said to be an action-rpg, but are made by Dynasty Warriors developer Omega Force. Not only that but it does look a bit like a "musou" game as they are called in Japan. Not that it bothers me, I like the trailer and I'm definitely getting it if they release it outside of Japan. Come on Square Enix, you know what to do.

(more…)