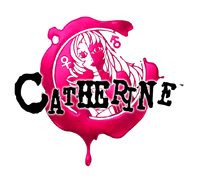 I had my eyes set on Catherine for some time, it seemed to be a fairly interesting game. While I wasn't very interested in the puzzle aspect of the game, I decided to give it a whirl. The game had gotten a bunch of praises from people who had played it, so I started dreaming and started climbing.
What can you call this game? A puzzle, climbing horror game? No idea, but that's about the gist of it. I wanted to play the game for the story. It start with Vincent a regular Joe, with a regular job. His girlfriend since way back, Katherine (yeah, with a K) wants to move on. She wants to get married, but Vincent thinks are fine the way they are. And he becomes a bit pressured and stressed about the future. He doesn't want things to change and that is where he meets Catherine. He "accidentally" cheats on his girlfriend and from there on it's just a road of lies and trouble ahead. This is also the part where I started to hate Vincent.
Either way, he starts having nightmares where he has to climb blocks to reach a goal. If you die in this dream, you die for real.
It pretty fun and a bit disgusting to see how Vincent tries to handle the mess he got him into. I really enjoyed the story, I won't go into it anymore. I don't want to spoil anything for people who want to play it. As I said I played it for the story and got a sweet game! I'm not to fond of the puzzles or should I say game play. Some where fun others not, hard to say something other about it. It was a nice experience, I'm glad I played it.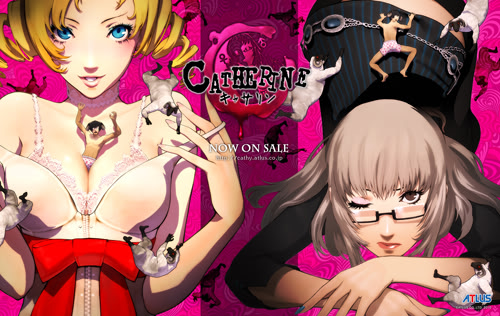 Catherine to the left and Katherine, Vincent's girlfriend to the right. Who would you pick? Katherine all the way for me!
Wow, the last month I have been swamped with work… And after tomorrow it's finally a new weekend. Time to recharge those batteries, I really hope things will be better once I've moved and I can rid myself of stress. And I'm still not feeling well, I actually don't have the energy to do much. Good thing there are stuff I have to do, or I might have faded way deep into depression.
I've at least managed to get a few more hours played on Sonic Generations and finished the game yesterday, pretty nice game actually. I enjoyed the classic Sonics parts more than modern Sonic. Even if both where good, classic was better IMO.
Now I'm going to sink my teeth into Catherine (I literally would love that, if it was Katherine.), so I'm hoping that it's a good game. I've heard both good and bad things about it, so we'll see which side I'll land on.
This coming weekend my good friend ZX-Omega is coming to visit. I haven't seen him in a while, so I'm going for total internet blackout this weekend. So I won't be reachable, perhaps not much different from now. But this time I'm choosing it of my own will, but because I have to go to bed early just to try and get a few hours of sleep… Good god, I can hardly think about anything else than my new apartment. I want to move now! Now!! I really want to get away from where i live now, for a bunch or various reasons. So I can start to feel and get better.
And on the 27th it's finally time for The Avengers! Really looking forward to see that on the big screen, being the nerd I am. And that is also the last weekend before the move!