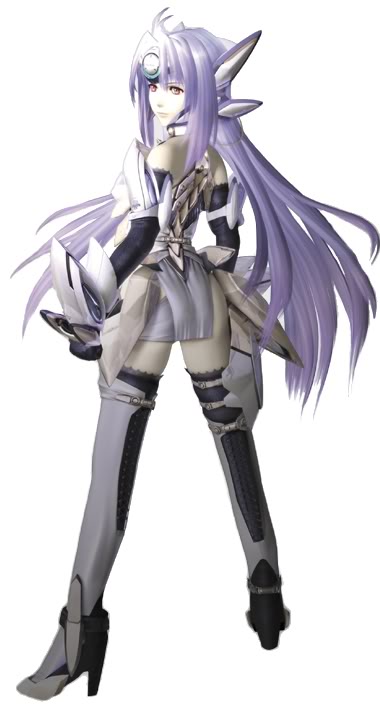 För ett tag sedan firade Xenosaga Episode III: Also Spracht Zarathustra 10 år i japan, funderade på att skriva något då men tänkte jag väntar tills 10år jubileet för USA. Dessa 10 år har gått förbi väldigt snabbt, på tok för snabbt. Känner hur det vattnas lite i ögonen när jag tänker på att det är 10år sedan jag tog farväl till Shion och gänget. Det är alltid jobbigt att säga farväl till något som har påverkar en så mycket som Xenosaga-serien gjort mig och visst kan jag återse dem när jag vill. Det är ju bara att spela om spelen, men det tar ändå inte bort det faktum att det var "sista" gången man såg dem. För det kommer ju inga fler Xenosaga-spel, hur mycket jag och andra har önskat så är serien avslutad.
Sedan får man tycka precis vad man vill om Xenoblade Chronicles och Xenoblade Chronicles X men inget av de två spelen lever upp till Xenosaga för min del, speciellt inte när det gäller karaktärer och speciellt inte Xenoblade Chronicles X med sin fruktansvärda musik (i mitt tycke) de skulle låtit teamet som gjorde musiken till Xenoblade Chronicles fått arbeta med den i X också. Men nu är det inte det jag ska snacka om, så ignorera gärna det.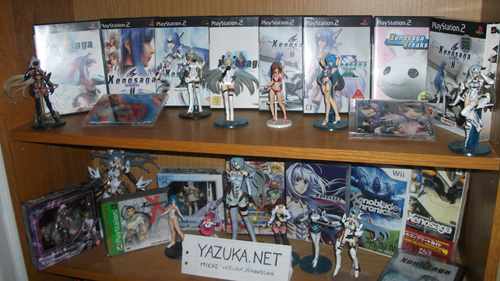 Xenosaga-serien är en av få spelserier som lämnat mig med så mycket diverse känslor, det är den serie som troligen påverkat mig mest. Inget jag trodde när jag såg första spelet för första gången i en SuperPlay tidning. Det är också en av få spelserie som jag någonsin har samlat på och något jag kände mig rätt stolt över då man kände sig rätt ensam om att gilla denna spelserie, speciellt om man nu bodde i Sverige.
Det är en sådan spelserie där alla huvudkaraktärerna verkligen talar till mig, alla har något tragedi som tynger dem. Som Ziggurat 8 (Ziggy) förlorade hela sin familj och begick självmord, dock blev han återupplivad som cyborg i framtiden. Hans mål är att förstöra allt som gjorde honom mänsklig han vill bli en komplett robot så han kan glömma allt som hände.
Sedan får man inte glömma seriens underbara musik som började i första spelet med Yasunori Mitsuda, men för min egna del blev mycket bättre i och med andra spelet när Yuki Kajiura kom in och började göra låtar till spelet. Det var då jag var helt hooked, med sånger om Fatal Fight eller She's coming back blev jag så otroligt pumpad av energi, jag tycker hennes musik passar spelets stil mycket mer. Gillar naturligtvis Yasunori Mitsuda musik väldigt mycket också, men i detta fallet är Yuki Kajiuras musik ett steg högre i min bok. Sedan i tredje spelet så gjorde Yuki Kajiura all musik själv och det är ett av mina favorit soundtrack någonsin, så underbart. Gå ut på YouTube eller något och kolla upp soundtracken om ni vill höra något ut det, det är varmt rekommenderat!
Det är svårt att få i text vad jag känner för dessa spelen, jag vet bara att jag måste spela om dem när jag väl får tiden. Jag vill tillbaka till KOS-MOS och Shion, jag vill uppleva deras äventyr igen kämpa tillsammans med dem när de möter sina demoner. Vill se Rubedos galna bror Albedo igen och deras konflikt med varandra, vill se Margulis och Jin Uzukis fight från Xenosaga II igen. Vill se MOMO överkomma Sakuras skugga, återse den alltid lika mystika chaos och få återuppleva hans roll i allt det som sker. Att se Ziggy återfår en del av det han förlorat.
Se Shion växa och axla det öde som lagts på henne och att återigen få se KOS-MOS kicka röv som ingen annan! Känner en massa olika känslor när man sitter och tänker på detta, det virvlar runt i både huvud och hjärta. Jag små avslutar detta inlägget med en av mina egna personliga AMVs som jag gjorde för Xenosaga serien. Det är också en av mina favorit AMVs.

Jag hoppas få göra om denna videon en dag med HD-kvalité och nyare och bättre bilder, det är väl lite ett av mina evighets projekt. Det är lite av mina tankar om Xenosaga-serien, den berörde mig djupt och har fått mig i tårar både en och tre gånger. Jag kommer aldrig att glömma dessa spel, den resa som jag tog med karaktärerna. En önskan hade varit att jag hade fått uppleva spelen på nytt igen, glömma det man spelat och få bekanta om sig med alla igen.
Förr i tiden gjorde jag en hel del AMV (Anime Music Video), men tyvärr så tog idéerna slut och jag visste inte riktigt vad jag skulle göra. Något som var riktigt trist för jag gillade verkligen det och det blev ju några stycken som ni kan se på min YouTube kanal.
Min mest sedda AMV är en Dragon Ball Z video jag gjorde för 9år sedan. Den har nu uppnått 1 392 711 visningar. Videon gjordes med klipp från olika spel intron, lite scener ifrån serien och med en tysk version av en av Dragon Ball Z låtar.
Det visade sig vara ett bra koncept som gick hem hos tyskarna, detta gjordes för jag kollade mycket på Dragon Ball Z på tysk tv när jag var yngre. Föredrar själv helt klart den tyska versionen av serien framför någon annan version, ja även framför den Japanska. (Ogillar Gokus röst något otroligt på Japanska).
Hur som helst här är videon om ni vill se.
Det är själv en video jag inte lade ner speciellt mycket tid på, men ändå har den fått så här mycket visningar. Finns ju andra videos jag har gjort där man verkligen lagt ner hur mycket tid som helst på, som folk knappt tittat på. Tror också det var lite av det som dödade mitt intresse för att göra AMVs. Vi får se vad som sker i framtiden, för jag skulle gärna vilja sitta och göra sådant igen. Har ju åtminstone en video jag vill göra och det är en remake på en av de videos jag har gjort, fast med HD upplösning och helt enkelt bättre gjord. En vacker dag kanske den kommer.
In November of 2011 I made my own intro to the newest ThunderCats series. Now I am back with the same intro, with some minor stuff changed in it and some added sound effects in it.
And last not not least, it's now available in HD. But wait there's more! This time there are no logos from the network it aired on, so it's a clean HD version of my original ThunderCats opening. Hope you'll enjoy this too, and I might have one more ThunderCats related video in the making. But we'll see it it turns into something or I'll move on to something else.
Its been a little more than three years since I last made a video, man time sure flies. It hasn't felt that long… Now I'm back with my take on a ThunderCats 2011 intro, It's somewhat based on the original intro. There have been others who have made intros like this, but this is my take on it. And a big thanks to RazorDave for being awesome and allowing me to use his version of the ThunderCats theme for my video. Click his name to visit his YouTube channel.
I've fixed a few things on the site, just minor stuff. But the biggest thing I changed or rather added was  a new category called "My Videos". There you will find all posts with videos I've done. Be it normal recorded videos, music videos or AMVs.
If I've made it, there's where it should be. I wanted to have a bit more structure on that part, all those posts where so scattered before.
I have also re:added to videos that where taken down from YouTube. But this time I'm hosting them myself. So fuck you YouTube and your stupid removal of video clips. That said, I'll still be using YouTube for my videos when I can. But for the stuff they don't like or are being bitchy about, I'll upload myself. Those clips that where removed where;
Nightwish: Rockin' AMV & VG and Xenosaga: Wish I Had An Angel. Click on the links and it will take you to the posts with the videos in them.
But hopefully they won't remove anymore videos I've made, I'll make a whole page later with some of my own favorite AMVs. So you can watch them all there if you want. Until then I hope this will do. Now I'm going back to bed, I still feel sick. Urgh.
Haha. I always wonder why I get much exited about making videos/amvs when I need to sleep. I started a new video project earlier today, something a friend of mine wanted to see. So I got the ball rolling today and I've built up some steam now, but alas… I need to try and get some sleep now, goddamn. I wanna continue!!
I actually have a few ongoing movie projects, and I hope to be able to finish them too soon. Work just takes to much of my time and then there are so many games I wanna play. Hopefully I can devote the entire upcoming Saturday to try and make/finish some of my stuff. I really want to upload new stuff. I am also going to make a new category on the site, that will feature all my videos I've posted. And I am hoping to reupload some that YouTube has taken down. But host the files myself.
We'll just have to see what the weekend will bring. I am hoping for the best, hope I still have my hype/drive by then.
Posted from WordPress for Android
As some might know Sony has started to offer a few Playstation 2 games on PSN. For now it is only up on the American PSN store. One of the games they have is Capcom's classic God Hand. An okay game but pretty nice humor. I'll be getting it later, for now I wanted to share my music video I made for the game a few years back. Hope ya'll enjoy it. Or you might get your ass kick to the milky-way.