I just finished watching the ending to a wonderfull game!
A game I really liked. Valkyria Chronicles, yes it really is as good as everyone says it is. Guess the next best thing now is to look forward to the anime. Hope its good. I am really hoping there will be a sequal to Valkyria Chronicles. Come on SEGA do it! We love it! I really didn't want the game to end I wanted to see and know more about what the rest of the characters in the game where doing. I wanted to be a part of them a bit longer…
Nothing much to report besides that I'm afraid. Its been boring and I've just been playing like a maniac. So I'm probably going to start playing MegaMan 9 a bit harder now and even Prince of Persia. I'm going with this untill something that catches my fancy more shows up. Take care ya'll!
EDIT: Seems like I'll be starting Eternal Sonata instead for now.
God I've waited a long time to play this. I'm really looking forward to it.
And so I've already completed a new game. As the title says its,
Ratchet & Clank: Quest for Booty. I'm a bit dissapointed in that game. I was expecting a bit more from it. I know it was made to be a short, PSN game but still. I would give it a 6/10. Its good, but there was nothing new in the game. Its just a "break game", before the real adventure is on.
Well now I'm going to try my luck with Prince of Persia. The great game gift I got from my friend nordiclania , for christmas. (Thank you, thank you!) So I'm of to a fairytale world. And tomorrow I might take a dive into the world of Valkyria Chronicles.
Sådär ja, fick 360 av Kntheking idag. Hämtar den på posten och vad ser jag när jag öppnar paketet? Han har glömt att lägga i den stora tegelstens strömdosan. (så har du den kvar, tar jag gärna emot den, annars är boxen värdelös) Så det har varit av för att försöka hitta en polare som hade en så, jag kunde testa boxen. Efter mycket om och men fick jag låna en sådan tillfälligt… Så 2mil och och ett par timmar senare hemma igen. Yes, jag har allt! Woho. Kopplar in boxen och små städar lite.

BAAAAAAAM!!!!!!!!!
Denna mother fuckern kommer upp direkt. =(
Även om jag uppskattar det du gjort KN, så måste jag nu skicka iväg skiten direkt. En jävla tur att de tar det på garantin (den är snart slut, ju) annars hade jag suttit fast med boxen. Så förhoppningsvis kan jag ringa UPS i veckan (om jag får lapparna jag behöver för det av MS) och så bär det av till Tyskland där den ska sprättas upp och fixas. Hade dock hoppas kunna få spela något idag. =(
Visste ju redan om att den RLOD:at en gång, men trodde den skulle funka nu, så man blev lite ledsen i ögat.
So I've been playing Crisis Core Final Fantasy VII, for the last days. Wow, what a game. First I want to say I'm not a FFVII fanboy like everyone else, but this game was good. And I've never been a fan of Cloud, but this game helped me to like him.
At least I understand his personality a bit more so I don't have very much against him anymore. Glad you finally could learn more about Zack. I've always liked him.
Man he really has a hard life. I can willing admit when the game was over, I was almost crying. it really got to me. Well because I can feel like this is why I love it. Games that can make me cry (in a good way) are good games.
Since they can really bring forth my emotions, still waiting for a movie to do the same. =P
I was going to write a mini-review, but I lost my interesting in writing anything at the moment.
So there has been a lot of rumors the past days that Nintendo would announce a new version of its DS. And now they have announce it.
Its called Nintendo DSi. The screens are bigger, there is no more GBA slot.
But instead they have added an SD cars lot. They will have a download service for it, built in browser, mp3 player. And a whole other neat stuff. Well my problem is that I was thinking about getting a DS lite, but now I think I might wait for this one instead. REally don't know what to do… But I have no use for the GBA slot and I seem to get more that I want with the DSi. But then again, we have to wait untill 2009 to get it. The japanese release is November 1. >.<
Here follows a comparion picture wih the ds lite and dsi. And more specs.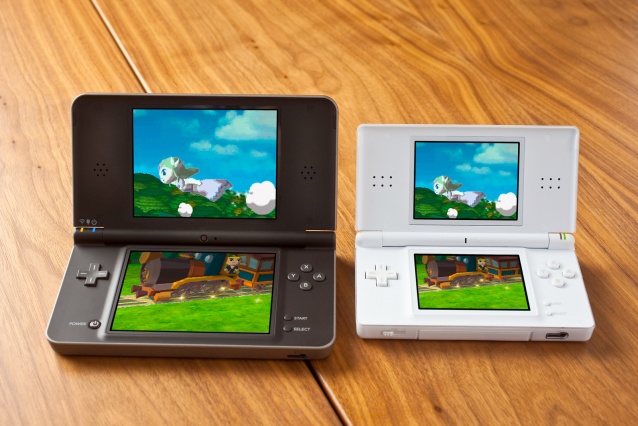 Nintendo DSi
LCD screen size: 3.25 inches
LCD screens: active TFT color LCD (260,000 colors)
Hardware size: L: 137mm, H: 74.9mm, W: 18.9mm (stylus length: ~92mm)
Power source: Nintendo DSi AC Adaptor, battery pack
Weight: ~214g (including the battery pack and stylus)
Battery charging time: ~2.5 hours
Battery charge length:
lowest brightness: ~9-14 hours
low brightness: ~8-12 hours
medium brightness: ~6-9 hours
high brightness: ~4-6 hours
highest brightness: ~3-4 hours
(This may vary from title to title.)
Playable titles: Nintendo DSsoftware, Nintendo DSi software
Inputs: DS card slot, SD memory card slot, AC adaptor port, stereo headphone/microphone port
*GBA games and DS games requiring the GBA slot cannot be played.
So I thought it was time to be a bit nice again (haha). So I thought I would share the opening theme from the game Cross Edge with you all.
The singer is Haruka Shimotsuki, she also did the opening song for
Atelier Iris 3. I really like this. And I hope you will to.
If you have a PS3 and are itching to try some RPG titles, head over to the Japanese PSN store and download demos o Eternal Sonata and Cross Edge.
Then give me a shout with impressions. I would appriciate that..