Då var man tillbaka med en lista av spel man ser fram emot, nu går jag dock in på 2018. Det är inte många spel som är avslöjade än för 2018 men, här är de som som jag känner till och som jag kommer skaffa. Om det inte blir på deras release, så blir det förr eller senare åtminstone.
Dessvärre har ju de flesta spelen jag listat här inga satta release datum.
Ni no Kuni II: Revenant Kingdom
Release: 2018-01-19 | Format: PlayStation 4, PC

Nästa år börjar direkt med ett JRPG! Det är inte illa det! Ni no Kuni 2 ser riktigt bra ut av de få trailers jag har sett. Med ett mer action baserat stridsystemet så tror jag att detta spelet kommer bli riktigt bra. Stridssystemet i första spelet var det jag gillade minst, så det ska bli spännande att se hur stor skillnad det kommer göra. Sedan längtar jag mycket efter ett nytt cellshadat spel också.

Biomutant
Release: 2018-??-?? | Format: PlayStation 4, Xbox One, PC

Jag känner inte till mycket om detta spelet, men fasen jag blev småkär i det efter de första bilderna hade läkt. Sedan fick man lite gameplay och jag blev mer såld, tror detta kommer tilltala mig. Fast man vet aldrig, kul att spela som en liten grävling med ett stort jävla svärd om inget annat! :D
Dragon Quest Builders 2
Release: 2018-??-?? | Format: PlayStation 4, Nintendo Switch

Jag köpte första Builders när det kom ut och spenderade ett par timmar på det, sedan lämnade jag det för att testa ett annat spel. Det tog nästan ett år innan jag återvände till spelet. Men när jag väl gjorde det var det med en ny kärlek, har haft så skoj med första Dragon Quests Builders. Det var faktiskt lite tack vare utannonseringen av uppföljaren som fick mig att vilja dra igång med första spelet igen det och att det kommer finnas multiplayer i tvåan! Man kommer kunna bygga tillsammans! Tyvärr har Square Enix inte bekräftat spelet för en release i väst, men jag håller både tummar och tår för att det kommer.
Darksiders III
Release: 2018-??-?? | Format: PlayStation 4, XBOX One, PC

En sjukt stor överraskning för egen del. Trodde Darksiders serien var körd, ja, jag trodde inte vi skulle få något mer även om de släppte om första och andra spelet på de nuvarande konsolerna. Men ack så glad jag blev när detta avslöjades. Vi kommer få ta rollen som Fury och hon kommer bokstavligen att piska röv! Jag hoppas spelet kommer att vara mer i stil som första Darksiders och mindre som tvåan.
Dragon Quest XI: Echoes of an Elusive Age
Release: 2018-??-?? | Format: PlayStation 4, Nintendo Switch, N3DS

Spelet ser så snyggt ut! För att inte nämna färgglatt, något som jag tycker på tok för få spel är nuförtiden. Jag blev ju ännu gladare när Square Enix bekräftade att spelet kommer släppas i väst under 2018. Dock har dom inte sagt vilken version som kommer släppas… Det finns just nu 2st version, en till PlayStation 4 (trailern är från den versionen) och så finns det en Nintendo 3DS version. I framtiden skall det också släppas till Nintendo Switch. Skall jag gissa så tror och hoppas jag det blir PlayStation 4 versionen, har man tur blir det båda versionerna som släpps här.
Ja, nu skriver jag på svenska igen. Kommer nog fortsätta med det, då jag tycker det känns lite roligare. Skriver så mycket på engelska på forum ändå så. Men lär troligen skifta mellan vilket språk jag skriver på framöver.
Nåka, nu till den stora grejen! Tidigare under dagen råkades det avslöjas att ett Darksiders III var på gång, det var väl egentligen ingen som riktigt vågade hoppas på att det skulle komma ett tredje spel. Men här är vi och jag är överlycklig! Darksiders var ett av mina favorit spel förra generationen, Darksiders II inte lika mycket, men ändå jäkligt bra. Nu det dags för Fury att göra sin entré, hon är den tredje av apokalypsens ryttare. War och Death hade huvudrollerna i de tidigare spelen.
Hon ser ut att kunna sparka mycket röv! Ska bli spännande att se hur det blir att använda piskan i spelet, tankarna förs ju direkt till Castlevania. I alla fall för min del. Ska bli riktigt kul att få lägga vantarna på denna titel när det kommer under 2018, gah nu ska man få börja vänta och längta igen. Lika bra kanske, så hoppas man får lite andrum mellan spelen som kommer i år.
Spelet kommer tydligen utspela sig under samma tid som Darksiders II, vilket man nästan hade förväntat sig om det skulle komma en tredje del. Om det blir ett Darksiders IV så lär det vara Strife som har huvudrollen och kommer det en femma sedan så får vi kanske äntligen gå framåt i storyn och kanske få ett co-op spel? Önsketänkande från min sida, men vem vet? Hoppas verkligen trean blir bra nu och får ett öde det förtjänar. Darksiders III kommer släppas till PlayStation 4, Xbox One och PC.
Det var dags för en ny lista av spel jag ser fram emot, det är ju inte allt för mycket kvar av detta året nu och vi känner ju inte till alla spel som kommer under 2017. Men jag gör ett försök att lista dom jag ser fram emot. Trodde först inte det var så många spel kvar från 2016 som jag ville ha, men när man började skriva denna listan kom man på flera stycken. För att se del ett av denna listan kan ni se den här.
SPEL SOM KOMMER 2016
Release: 11 oktober
Gillade verkligen rebooten av Tomb Raider, originalen föll mig aldrig i smaken dock. Men har sett fram emot uppföljaren ett tag nu. Dock blir detta inget jag spel jag kommer köpa direkt, utan kommer avvakta med detta tills det blir lite billigare. Spelet finns till Xbox One sedan ett år tillbaka.
Release: 18 oktober
I'm Batman. Again. Har varit sugen på att spela om både Arkham Asylum och Arkham City ett tag nu, men har skippat det då jag känner det blir svårare att återvända till PS3 och DualShock 3 kontrollen. Så detta passar ju mig utmärkt.
Release: 25 oktober
Darksiders tillhör ett av mina favorit spel från förra generationen, ett Zelda spel som inte är Zelda och som faktiskt är bra! Blev besviken när de släppte en remaster av tvåan istället för ettan, men nu fixar dem äntligen det och jag är glad! Hoppas vi får ett Darksiders 3 och det är mer som ettan och mindre som tvåan.
Release: 1 november(?)
Har spelat igen Shantae Risky's Revenge & Shantae & the Pirate's Curse och är sjukt taggad på detta! Har verkligen behövt ett plattformsspel och Shantae har levererat och ½ Gene Hero ser ut att ge mig mer av samma. Mums tack så mycket!
---
SPEL SOM KOMMER 2017
Release: 27 januari
Jag vet att jag även har med detta på den första listan, men detta är verkligen det spel jag längtar mest efter just nu. Vi fick ju ett datum för spelet i Europa i går också, det kommer släppas den 27e januari! Så nu ska man bara hålla ut tills dess!
Release: Q1 2017
Ett spel jag själv inte kunde vara med att Kickstarta, men som turligt nog ändå nådde sitt mål! Ett klassiskt 3D äventyr i stil med Banjo & Kazooie av folk från RARE. Så detta kan inte bli annat än fantastiskt. Har längtat otroligt mycket efter ett spel som detta till nyare konsoler. Det avslöjades nyligen också att detta ska släppas fysiskt, hurra för min del som älskar fysiska utgåvor. =)
Release: Q1 2017
Även NieR: Automata finns med på en tidigare lista, men då trodde man att spelet skulle släppas i slutet av året. Men så blev ju inte fallet. Längtan efter mer NieR är stor och jag ser fram emot att se vad PlatinumGames har gjort med gameplayet. Kommer bli så grymt detta. Hoppas det inte kommer samtidigt som alla annat…
Release: Q1 2017
Ett Musou-liknande spel med Fate karaktärerna? Sign me up! Jag är väldigt förtjust i serierna Fate/Zero och Fate/Stay Night med fler. Älskar hur de använder mytologin och sagor om olika personer för att använda dem som Servants i fighter för att få tag på den heliga graalen. Kan jag får en chans att kicka röv med Gilgamesh så ska ni fasen tro att jag gör det! Mongrels!
Release: 2017
Efter en hel del misslyckanden och mindre dåliga spel lyssnade SEGA äntligen på fansen och ger dem ett spel i stil med de klassiska MegaDrive spelen. Allt jag sett och hört av detta än så länge är underbart! Detta är ett spel jag längtat efter sedan Sonic & Knuckles. Längtar mycket!
Release: 2017
Detta är kanske det man är mest spänd på nästa år, Nintendos kommande konsol. En konsol vi fortfarande inte vet något om! Inte mer än att den sägs släppas nästa år, jag ser fram emot att få veta mer om den vilket vi förhoppningsvis får i år. Jag vill veta om spelen som kommer, jag jag vill veta allt! Det var länge sedan jag kände mig så här sugen på en Nintendo konsol igen.
Not much left of 2012! Who knew we would get here, seeing as the world ended seven days ago. Hahaha, mmm! Yeah! Well, for me 2012 has been a year of disappointing games. Or rather perhaps not disappointing games, but rather lack of games that has made me really excited. And of course this list is only for game that came out this year in America or Europe, I've played a few older games this year too. But I won't list them here. If you want too see them, check out my "Games I've beaten" section. Oh, and I will only be posting two games in each categories. Mostly since there haven't been so many good games for me this year.
THE GOOD/SURPRISES
A game I waited a long time for and probably is my favorite game of the whole year, it didn't disappoint me the slightest. I am even on my second round of the game right now and I'm a person who rarely replays RPGs, so for me that's saying a whole lot of how much I like the game. And its even more fun now, since I understand its system much more now than the first playthrough.
Hilarious, Sexy, Funny, Humor, Movie references, Great Soundtrack, Zombies, Cheerleaders, Black Magic, Badass, Music styles, Parodies, Juliet, Lollipops, Pervy I could probably think of more fitting "tags" to post about this game. I really, really enjoyed it. Play it if you get the chance and like these kinds of games.
THE BAD/DISAPPOINTMENTS
The sequel to one of the best games I played 2010, so of course I was hyped. But boy, did I get slapped in the face. Death as a character is cool and I love his voice, so awesome and really fitting. But the world is boring, large and filled with empty space. The bosses in the game had no charm what so ever, at least in Darksiders 1 they had dialogue and felt like characters. In DS2 they just feel like bigger tougher monsters, that are in no way special. I think there are two-three exceptions. I do like the loot system and the ability to change costume, but those are a few pluses short. No, sir. This is a big disappointment for me.
People are probably going to dislike me for this… It was not a bad game, it was just disappointing. Since everyone was hyping this to be some damn super great game. I enjoyed it somewhat, and Cat was an okay character. I'd like to see more of here, but I can't say I enjoyed the came all that much. Sadly. =/
All in all, I have finished 19 games through this year. And it seems like there won't be much time left to finish anything else. And why hurry? I'll take my time and enjoy my games in my own pace. Happy new year everyone. Take care and let's hope 2013 will be a kickass year, for games!
And so I've beaten Darksiders II. I can't say it has been very enjoyable, well some parts of the game where. But the first Darksiders is so much better in my opinion.
I like Death as a character he is awesome and what a voice! I could listen to him all day! Especially his annoyed/pissed/tired voice, it is so damn awesome! I really love that. The game in itself is much more boring than the first one, better bosses, better world.
Better interactions with characters. Yeah, I like just about everything in the first game more than in Darksiders II. And that's a damn shame, since Darksiders II was one of my most anticipated titles. It was pretty nice to see Samael in this game, to get a taste of his powers. The worlds are to big for its own good, there are so many places that are empty. And I liked the style of the first game much, much more. Even if the "World of Warcraft" artwork look alike is pretty nice, but it becomes a bit too much after a while.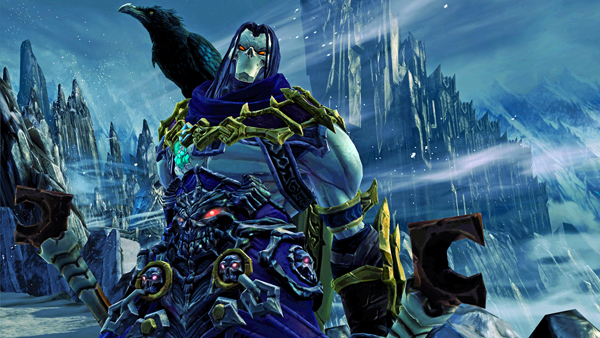 And I fucking hate "The rule of three". You go to a dungeon, you need to get three items to move on. And then you repeat that for just about the entire game. And the last boss was a joke, I was expecting more. A second form perhaps? But no… This is not the game I had hoped for and I am very disappointed, if there will ever be a Darksiders 3 I sure hope they do it more like Darksiders one than two.
It has been while since my last post, been busy with my work. We've had some extra stuff to do because of some of my work buddies still are on vacation. But they should all be back on this upcoming monday, so I am glad everything will return to normal.
I've been reading a lot of Deadpool comics, god I love Deadpool. Without a doubt one of my favorite comic characters, was going to write heroes but that wouldn't be right. Just as it wouldn't be right to call him a villian. He is just awesome! Very, very awesome. I am so looking forward to the Deadpool videogame. And when we are on the subject of games I am hyped for Tuesday. Since Darksiders II will finally be released, I am gonna hurry home from work so I can play it.
Last but not least I have started a new video project, it will be a fan trailer. That's all the info I am willing to part with right now. Since I haven't gotten all the stuff right yet and if everything falls into place I hope I'll have the video finished in no time, or soonish at least.
Hoping this turns out well, if it does it will be the first of my trailers I will have finished. If I blow it with this trailer I will what I was trying to do.
I've started playing Shadow of the Damned. After Lollipop Chainsaw I really felt like I had to give this game a try and so far I am really liking it! Garcia Hotspur is one cool character with one foul mouth, and I like it! But from the start I never thought I'd like it, but the humor and Garcia's personality made it all awesome. Steven Blum who voices Garcia does a wonderful job and it's one of my favorite voice works by him.
So from now on I'm gonna keep an eye out for Shuda 51's games, well at least all the new ones.
Hehe, I've really been on a roll with games under my vacation. Yesterday I finished
Final Fantasy XIII-2 also, I think I like this one better than the first. It feels like you have more freedom, but then again it's the same boring world. But yeah, I probably like it more than the first game. Well i started playing this late at night and was gonna play for an hour or so… I didn't even notice it had become morning, haha was so into the game at that point. And not to mention the last part of the game was long as hell.
Just a little more than a month away from two highly anticipated games, Darksiders II and Transformers: Fall of Cybertron. Hard to imagine it's almost time, I'm starting to feel that excited giggly feeling you feel when longing for something. And of course I'm really eager to try Epic Mickey 2. Since it is supposed to have musical segments like the old Disney movies, I love that!
Ahh, less than a week left on my vacation. So hope I can use that time wisely, perhaps go to Malmö one more time. But we'll see, even if I have been taking it pretty easy the whole vacation I still feel like doing just about nothing right now. You know, just take it easy until next week.
When work starts again, I won't lie I've missed it. It is going to feel good to comeback and do something again, since I tend to get a bit lazy when I'm home for such a long time. Hehe. Oh, well I bet I'm not the only ones. But it's going to feel better when you come home after a hard day at work and sit down to do some gaming, it like a reward and I like that feeling. Even if your life/hobby shouldn't be a reward.