And so we are in March now! Time really has gone fast.
Fixed a bit on the site as you might see. Thanks to my friend Evangela for the new banner. Hopefully I can get a little more cash this month. I really feel like I must get an Xbox 360 now. Star Ocean 4 will be released here next month and I don't want to miss that game. And I'm eagerly awaiting Tales of Vesperia to be released in Europe too. I need to think about this hard and see If I have the money for this, probably not. Wouldn't surprise me one bit.
And then I need to get Blue Dragon, Lost Oddessey and Infinite Undiscovery.
I know many people seem to hate Infinite Undiscovery, but I need to give it a try.
I think you can order it pretty cheap from some sites. Also something I need to check out more clearly, if it becomes reality. And I'm also getting Resident Evil 5 for me and my friend Kntheking. Thanks to Gamestops deal. But I will probably not play it right away. It all depends if I have other games to play, in other words. If I have a Xbox 360 and a few RPGs for it. I also think I'm gonna start with mini-reviews of the games I finish. I'm not 100% sure about that. Since I'm not very good to write down my feelings and thoughts.
And speaking of writing, I would really like to continue to write my fantasy stories.
But can't seem to get the insperation for it. I need to take a day and just did down and start with some drafts. Even if no one wants to read them, I really need to do it. For myself. But I would be glad If people would read it and comment on what is good and bad.
I went threw some old CDs a couple of days ago and found some stuff there I had forgotten. In the past me and Kristoffer (kntheking ) used to make small pictures/comics and send to each other.
I found one that is a spoof of Terrance and Phillip from South Park, that I made December 12 2005. Its in Swedish only so sorry. Well we where talking about Xenosaga at the time and I guess Kristoffer joked around and said he would get Xenosaga Episode III before me. And I made the comic. I can't remember all the details. Its childish, immature. And made with love.
And as a bonus. Even if it pains me to say this. But this picture from
World of Warcraft is actually very nice. Snow covered lands are beautiful.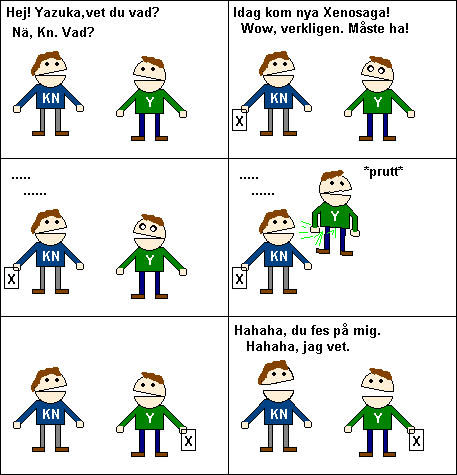 Sådär ja, fick 360 av Kntheking idag. Hämtar den på posten och vad ser jag när jag öppnar paketet? Han har glömt att lägga i den stora tegelstens strömdosan. (så har du den kvar, tar jag gärna emot den, annars är boxen värdelös) Så det har varit av för att försöka hitta en polare som hade en så, jag kunde testa boxen. Efter mycket om och men fick jag låna en sådan tillfälligt… Så 2mil och och ett par timmar senare hemma igen. Yes, jag har allt! Woho. Kopplar in boxen och små städar lite.

BAAAAAAAM!!!!!!!!!
Denna mother fuckern kommer upp direkt. =(
Även om jag uppskattar det du gjort KN, så måste jag nu skicka iväg skiten direkt. En jävla tur att de tar det på garantin (den är snart slut, ju) annars hade jag suttit fast med boxen. Så förhoppningsvis kan jag ringa UPS i veckan (om jag får lapparna jag behöver för det av MS) och så bär det av till Tyskland där den ska sprättas upp och fixas. Hade dock hoppas kunna få spela något idag. =(
Visste ju redan om att den RLOD:at en gång, men trodde den skulle funka nu, så man blev lite ledsen i ögat.
Welcome fellow friends and visitors to my newly redecorated site! It still might not be anything speciall to you, but at last I've made this site more personal. And that's always been my goal. I started playing a bit with CSS and I hope to continue to play with it and learn more as time goes by. Untill that time comes, this is my new design.
And I like it! Hope some of you will like it to. I spent to much time making this, so I didn't get to play Final Fantasy XII today. T-T
And now for a few updates! Oh, where to begin….
First of all. January has been a relatively good month for me. Except for one tragedy, that ha do happen to a friend of mine.
A very good friend of mine "
KNtheking
" gave me one of this PSP. Yes, he game me! As in free! But the display was a bit broken, but I don't care. Its one of the nicest things anyone has done for me in a long time. Hopefully I can find a good place that sells replacement screens for PSP.
And then we have round two! I played the lottery for the first time the 28th of January. guess, what…? I won!
1900SEK. I payed for the lottery with my fathers money so he took 700kr. Fair enough. But the money disappeared fast since I had very pressing bills to pay… So the money came at the right time.
And I (okay, my mother) managed to get a PS2 phat that my brother is going to use later, but I'm using it right now to play Final Fantasy XII.
And I got to DS phats from my friends brothers. One had a cracked upper display, and the other a flipped out touchscreen. I did manage to make one of them fully functional. So I'll be getting a new touchscreen & a upper screen for the other DS later and give it to my mother, as a late/early birthday gift. Which everway people want to see it. And I'm awaiting Enchanted Arms for the PS3 do drop into my postbox later today (Friday). No still no PS3, but at least now I have one game for it and something to play when I can afford a PS3.
And I'm going to play the lottery again on Saturday/Sunday. So wish me luck! Hopefully I can win some more cash and the dream of a PS3 can turn into reality. *hopes*
Edited later on Friday: Damn! No mail for me today. Fuck. =/
Oh, well. Hopefully it will come on Monday, together with the DS pens & a tri-screwdriver I ordered so I can get inside the DSes. Now off to play more FFXII.
So I was going to borrow three games from my friend Kntheking.
They where, I-Ninja, Sly 3 & Ratchet Gladiator. I'm very thankful for that.
But wait there is more. I got them games today and he told me I could keep them. I mean how awesome is that?!
I'm really thankful so thanks yet again Kntheking