Wow! Denna månaden har ju flugit förbi! Allvarligt? Var fan tog den vägen!? Nu är vi på övergången till Februari och det känns som man knappt hunnit känna av Januari. För egen del har det ju varit en del på gång, så det är väl därför det har gått så snabbt för mig. Det har varit en del förberedelser för min resa till Stockholm, då det även var min första gång att flyga så kan jag säga nervositeten var på sin max nivå. Men jag överlevde, både resan dit och hem. Kändes rätt skönt faktiskt, dock fick vi en jävla turbulens på hemvägen så jag trodde jag skulle få ett hjärtattack.
Tyvärr hann jag inte få någon större uppfattning om Stockholm, inte mycket mer än att det var folk precis överallt. Satan vad fullpackat det var precis överallt, restauranger så som fik. Önskar vi hade kommit ifrån kursen tidigare dag 1, så man hade fått en chans att se vad staden hade att erbjuda, när vi var klara var det mesta stängt och jag var fysiskt slut i skallen efter hela resan. Jag tyckte Malmö var stort nog för mig, men numera så känns det som en väldigt liten stad. Jag hoppas det blir fler besök i Stockholm i alla fall, där det ger chansen att faktiskt få kolla runt lite ordentligt. Det hade säkert kunnat vara riktigt trevligt. =)
Då som sagt mina tankar varit fokuserade på min resa har inte mycket annat blivit gjort. Har inte spelat så mycket, vilket känns lite trist må jag säga. Lyckades dock komma igång lite med Super Princess Peach till Nintendo DS under resan, så det var trevligt. Spelet är rätt skoj, gillar det verkligen än så länge. Har lite svårt att veta vad jag ska sätta mig med, har en del att spela men jag känner inget "sug" för någon av dem. Tyvärr funkar det inte bara att sätta sig och spela för mig, måste gärna känna en liten dragning till det. Men det blir väl troligen South Park: Stick of Truth eller Kingdom Hearts 2.5 HD ReMIX som kommer spelas. Annars så väntar jag väl mest på att Final Fantasy Type 0 ska släppas, samma sak med Batman: Arkham Knight. Tillsammans med Tales of Zestiria är de spelen mina mest efterlängtade spel i år.
Ser fram emot att få se hur Power Rangers Dino Charge blir. Såg ju på Zyuden Sentai Kyoryuger som Dino Charge baseras på och den gillade jag verkligen. Men fan att de hoppar över min favorit säsong Go-Busters! Fast kanske lika bra, blir svårt att toppa eller göra en karaktär lik Enter från Go-Busters, om det här låter som goja för er googla det. Ser även fram emot att få se den senaste sentai serien från japan, nämligen Shuriken Sentai Ninninger. Har förhoppningar på den, men tills vidare lämnar jag er med introt till Dino Charge.
Jaha, då var det verkligen klart att man åker till Stockholm i januari. Det är första gången jag reser så långt och själv för den delen. Jag ska inte ljuga, jag är så nervös så jag mår lite illa. Även om det är en hel månad tills man ska iväg. Men bättre att ta skiten nu, så kanske det har lugnat ner sig när det väl är dags. Det verkar som det blir flyg och det känns också nervöst, jag har aldrig flugit förr. Så vi får se hur det går, hoppas att höjdrädslan inte blir för påtaglig.
Det kommer ju säkert blir fler resor i framtiden, så nu känns det som rätt tid att återintroduceras till det bärbara spelandet. Då menar jag inte mobil-spel för det är inget som intresserar. Jag vill spela med något som har knappar först och främst, touch-kontroller får vara ett alternativ. Men helst fysiska knappar ska det vara, så en bärbar konsol ska det vara.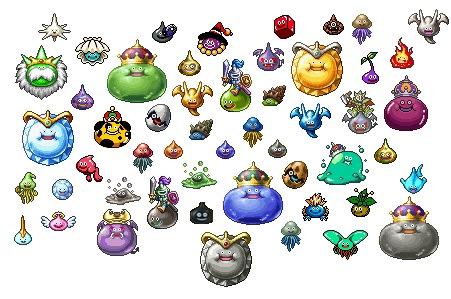 Så tankarna är ju att köpa en New Nintendo 3DS, när den väl släpps ordentligt i Europa. Just nu har jag möjlighet att låna en vanlig 3DS, så då gör jag hellre det.
Ska jag själv köpa, vill jag ha modellen som kan spela det mesta.
Speciellt då att New N3DS kommer få exklusiva spel som bara går att spela på den maskinen. Som Xenoblade Chronicles, för att vara ett exempel. Hålla på att försöka köpa olika modeller fram och tillbaka blir då helt meningslöst för min del, för att inte nämna onödigt dyrt. Men jag har inte varit i så bra kontakt med den bärbara spelmarknaden, så jag vet inte riktigt vilka titlar som är värda att plocka upp.
Jag skulle gärna vilja ha tag på Dragon Quest IV, DQV och DQVI till Nintendo DS.
Då har man ju att göra ett bra tag. Har hört att Fantasy Life till N3DS ska vara bra, men jag tar tacksamt emot fler tips. Som ni kanske märker så har jag bara nämnt JRPG just nu och det är väl det som först och främst intresserar mig.
Men för all del tipsa om alla typer av spel till Nintendo DS och Nintendo 3DS, jag tar tacksamt emot alla tips det hjälper.
För att avsluta inlägget lämnar jag här den senaste trailern från Dragon Quest Heroes, som jag verkligen vill ha! Hoppas Square Enix beslutar sig för att släppa detta utanför Japan.

It will soon be the 27th October and that means I will turn 31. A year older and a year wiser as they might say, haha. Well not so sure about the last part, but at least older. And today I was moved, I'm still at a loss for expressing my gratitude.
My friends banded together and got me something I've wanted for a long, long time. Or rather I wanted to regain something that I lost a long time ago. This year marks 20years since I got the Green Ranger's Dragon Dagger for Christmas and my friends got me the Legacy Dragon Dagger. And my emotions are all over the damn place! The original Dragon Dagger was my favorite Power Rangers toy when I was a child and I've always loved to, so to finally have it again has made me happy beyond words. I really can't express how I feel, but hopefully I can get though a bit more in the second episode of YazTalks.
Oh, boy! My first YouTube video upload for years! And the first real episode of YazTalks. Hopefully both will go well… I'm not so good at this and a bit nervous, but I hope it will help a little…
Please follow and keep in touch with Operation KOS-MOS via the following:
Twitter – Facebook – Petition
Please use the #OperationKOSMOS hashtag, as well.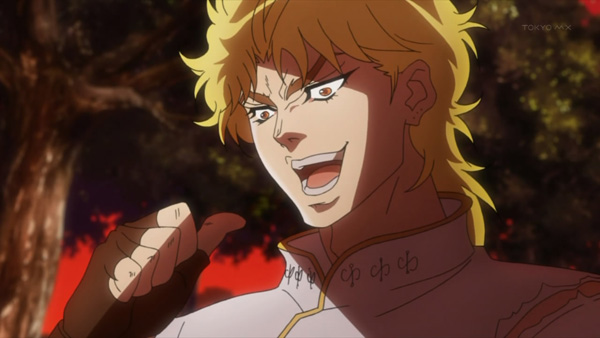 I've really fallen for JoJo's Bizarre Adventure. It was an anime I honestly I couldn't stand, but it turns out I enjoyed it very much. And I can see why so many others have been a fan of Jojo. I started to watch this series in November last year and I'm currently watching the third season that's called "Stardust Crusade".
I enjoy the fighting, both it and it's characters are so over the top sometimes that I can't help but love it! It's hard to explain this show, without going into all the good stuff and its those things you should see for yourself. I'm actually very interested in the PlayStation 3 game that came out sometime ago, mostly because of the show. So I might get that in the future too.
Well the series is about the Joestar family and their cursed struggle with Dio Brando a man who was one taken in an treated like a fellow member in the Joestar family. Jonathan Joestar and Dio where friends at first, but Dio grew jealous of Jonathan an wanted everything for himself. He comes into contact with an old stone mask, that has the power to turn you into a vampire. Dio uses it on himself and is forever transformed, he had fallen and he likes his new dark powers. This is what sparks the "eternal" fued between the Joestar's and Dio, this series really takes a few timeskips over its course. We'll get to see Jonathan's grandchild, Joseph Joestar as a youngster and we see him to grow up into an old man, with a grandchild of his own, Jotaro Kujo. I won't spoil anything more, but go watch it. Its a really great show.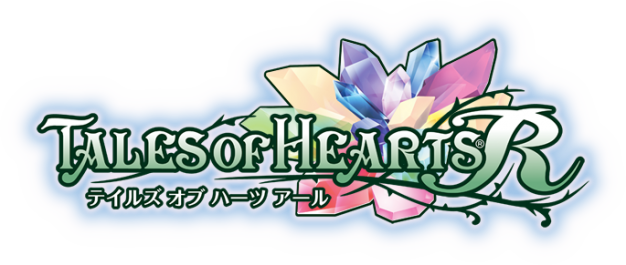 While it could be a video that leaked out before time, Tales of-series producer Hideo Baba has confirmed that Tales of Hearts R will be released in the west!
Bandai Namco but up a video on their YouTube channel but marked it as private pretty fast, but thanks for the internet folks who are fast. We still have the video too watch.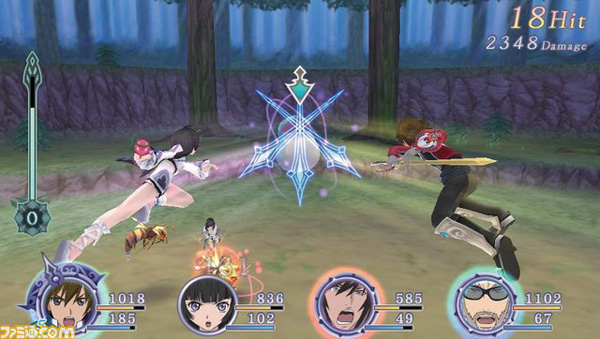 About a week ago GameStop in the US, put up a preorder for this game. With it coming in winter 2014, so its great to get a confirmation of it really coming. I am really looking forward to this game, will have to get a hold of a new PlayStation Vita for this game. As soon as there is more info, I and other Tales of-fans will share it!
As some of the people who read here might know, I do enjoy Tokusatsu. Mostly the series that is called Garo, if you have any kind of interest in Japanese live-action stuff, watch it. Season 1 and Season 2 are really good! But I'm afraid I wasn't all that fond of Garo: The One Who Shines in the Darkness.
It started off slow as hell, got really good in the middle, to just die of completely for me.
Well 2014 seems to be the year for Garo related stuff. Zero who is a Makai Knight in season 1 & 2 will be getting his own series or if its just a special. But it will be around his character at least. That could be really nice, I hope they dwell deeper into that character. I want too know more about him and see what kind of trails he has gone though.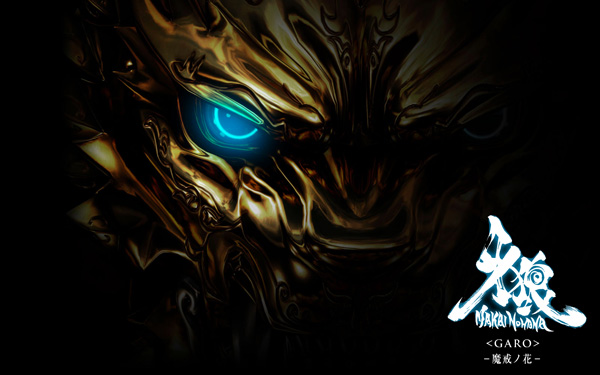 That's not all, apparently Garo is to become an anime! That was a pretty big surprise for me, but one that could really turn in favor for the show. Really looking forward too see how it will look and get more details on that. It could be really good or it could be crap, but hopefully it will at least be decent. So as I said, I sure hope we get more info on this soon! I want to know who is animating it, what it looks like and how mature the series will be.
But the one thing I am mostly looking forward too is Garo: Makai No Hana. It will be a squeal to the season 1 and season 2 and will star Raiga Saejima, the son of Kouga Saejima. Raiga has taken over the mantel of Garo, just like Kouga did from his father. So that's going to be nice to see and the best part of it is, that the director from the first Garo season will be doing this series! So I actually have great hope for this one!