So I thought I was going to make a little list of the games I've beaten so far this year and write a little something about them. I will list ten games on this list at a time, that way the list won't be to long and I can perhaps write a little more about certain games, not sure I will though since this, will just reflect some simple thoughts about the games. If anyone wants to know more of what I think of a game, I can write in the comments. The dates by the name is the date I beat the game.
01: Tomb Raider: Definitive Edition [ 2015-01-01 ]
I was never a fan of the original Tomb Rider series, but this rebooted series really clicked with me. So much that I had finished the last gen version of this game and I had to play the current gen version too. I don't replay games that often, but this was so good. A great way to start the year.
02: Tales of Symphonia Dawn of The New World HD [ 2015-01-10 ]
In my opinion it is a much weaker game than its predecessor, but I don't think it's flat out bad as so many others do. I had fun with the game, Martha is great!
03: The Wolf Among Us [ 2015-01-15 ]
Bigsby is one cool wolf. I really liked the story in this game, it might not have been anything special but it was fun seeing fairytale creatures hide in our world like regular humans.
04: Super Princess Peach [ 2015-02-01 ]
Move over Mario! It's time for Peach to kick some butt! And she sure kicked it hard. A pretty typical Mario platformer game, really nice to see Peach being the star and not being kidnapped for once.
05: Transistor [ 2015-02-22 ]
I've heard people say so many great thing about this game, so of course I had to try it. But I honestly don't see why people like this game. I didn't really enjoy it while I was playing and wanted it mostly to end, sorry folks. This was the first disappointment of the year for me..
06: Wolfenstein: The New Order [ 2015-03-08 ]
Those who might have read what I've written before, know I'm not a fan of FPS but I got this one recommend from a friend who also didn't like FPS. I must say I was really surprised! I had a blast with this game, it was fun and it was pretty nice to play something else than only JRPGs. A breath of fresh air for me.
07: Wild Arms 5 [ 2015-03-22 ]
And speaking about playing only JRPG's… I wanted to finish this game for sometime and when I did I felt a bit empty, the game starts out great but I think it slowly goes downhill from there. Don't get me wrong it is a good game, it just didn't reach all the way to the end for me. Still hope we'll see a Wild Arms 6 one day.
08: Saints Row: Gat out of Hell [ 2015-03-23 ]
Chaos, mayhem and destruction. A few words to describe the Saints Row series as of late, Gat out of Hell was short, very, very short. But it game some enjoyment, like punching Satan right in the face.
09: Metroid: Zero Mission [ 2015-04-03 ]
This was actually my very first Metroid game and I really liked it. It was enjoyable from start to finish, well the Zero Mission part was a bit frustrating, but enjoyable. We'll see if I'll ever finish Metroid Fusion.
10: The Legend of Zelda: Wind Waker HD [ 2015-04-04 ]
Me and my pal played thought the entire game together, it was really fun I must say. This was also my very first time clearing the game, I sadly lost all interest in the original when it came to gather the Triforce pieces. I am a bit ashamed of that, but at least I finished it, this time around
Jaha, då var det verkligen klart att man åker till Stockholm i januari. Det är första gången jag reser så långt och själv för den delen. Jag ska inte ljuga, jag är så nervös så jag mår lite illa. Även om det är en hel månad tills man ska iväg. Men bättre att ta skiten nu, så kanske det har lugnat ner sig när det väl är dags. Det verkar som det blir flyg och det känns också nervöst, jag har aldrig flugit förr. Så vi får se hur det går, hoppas att höjdrädslan inte blir för påtaglig.
Det kommer ju säkert blir fler resor i framtiden, så nu känns det som rätt tid att återintroduceras till det bärbara spelandet. Då menar jag inte mobil-spel för det är inget som intresserar. Jag vill spela med något som har knappar först och främst, touch-kontroller får vara ett alternativ. Men helst fysiska knappar ska det vara, så en bärbar konsol ska det vara.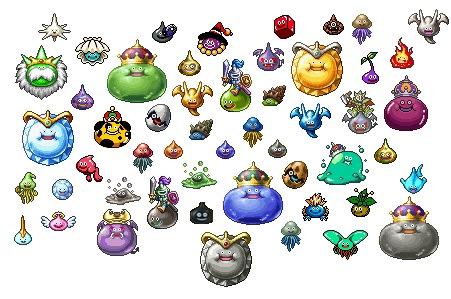 Så tankarna är ju att köpa en New Nintendo 3DS, när den väl släpps ordentligt i Europa. Just nu har jag möjlighet att låna en vanlig 3DS, så då gör jag hellre det.
Ska jag själv köpa, vill jag ha modellen som kan spela det mesta.
Speciellt då att New N3DS kommer få exklusiva spel som bara går att spela på den maskinen. Som Xenoblade Chronicles, för att vara ett exempel. Hålla på att försöka köpa olika modeller fram och tillbaka blir då helt meningslöst för min del, för att inte nämna onödigt dyrt. Men jag har inte varit i så bra kontakt med den bärbara spelmarknaden, så jag vet inte riktigt vilka titlar som är värda att plocka upp.
Jag skulle gärna vilja ha tag på Dragon Quest IV, DQV och DQVI till Nintendo DS.
Då har man ju att göra ett bra tag. Har hört att Fantasy Life till N3DS ska vara bra, men jag tar tacksamt emot fler tips. Som ni kanske märker så har jag bara nämnt JRPG just nu och det är väl det som först och främst intresserar mig.
Men för all del tipsa om alla typer av spel till Nintendo DS och Nintendo 3DS, jag tar tacksamt emot alla tips det hjälper.
För att avsluta inlägget lämnar jag här den senaste trailern från Dragon Quest Heroes, som jag verkligen vill ha! Hoppas Square Enix beslutar sig för att släppa detta utanför Japan.