When the land End Earth is facing destruction, Soul Bladers from another world shall come and save them. Soul Bladers are people who can draw a soul sword out of a person that trust/likes him.
Souma, Kiriya, Saionji, Hiruda, Kureha & Seena. All people from the same school and they are all close friends. They get summoned to end Earth. Souma & Kureha gets sent to one country on End Eart, Kiriya & Seena to a different country. Saionji & Hiruda are also sent to a different country. And all three countries are in battle with each other. Old friends become new enemies. But all countries are fighting because they think they can save the world. Soon they will meet a common enemy.
Really sounds like something from an RPG, right? A bit cliché to, no? So I've been following the anime Shining Tears X Wind, for some time. And i finally saw the two last episodes today. If I have understood correctly its a continuation of the game Shining Tears, with the Shining Wind characters. Well at least characters from both games are in it. And its a fantasy anime.
The visuals of the anime is pretty good. Sometimes it looks like crap and minor characters are not very detailed. Other than that, Taka Tony's artwork turned out great in anime form. Taka Tony is the character designer for the games. Love his art, BTW. Usually when I watch an anime, the ending almost always seems to let me down. But in Shining Tears X Wind, I like the ending very much.
Its was a good ending. And I felt as nothing was left unexplained. Well some things maybe, but I still liked this ending than most other anime's.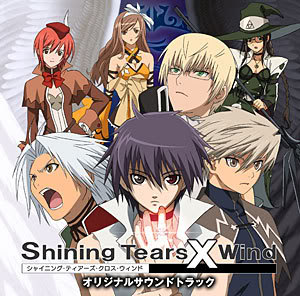 Well the anime was pretty good. Far from a masterpiece. But then again I think its hard to find good fantasy anime. Even if you might get turned of by my big RPG cliché intro text, give it a chance. As I said its not a masterpiece anime, but its only 13 episodes long. And if you don't have anything to watch, why not?
7/10. And one of the better Fantasy anime's I've seen.