Today me and Elden finished up or play session of The Legend of Zelda: Skyward Sword, it took a while but now we are finished. A good Zelda game but not my favorite, I'm not very fond of motion controls. They do work good, but I feel they are not for me, I prefer playing the Zelda games with a controller and not motion controllers. But that's just me, no need for ya'll to agree with me. But I would have loved to see how this game would have been if you could have picked controller type, like the pro controller for Wii. But alas, enough talk about the damn controls.
I liked the game, I like the world. Even if I would have preferred a more open world like Ocarina of Time and a bit more towns to visit. But I get why it isn't so, so it isn't really a problem. Just something I would like to see more of. I really like the design of the game and the graphics they've used, I very much enjoy the games feeling. I like Link's design, even if he is not all that different. And I adore Zelda's design, I think she is really cute in this game. And then we have Ghirahim, who is both a bit creepy and a little freaky.
Fi is just annoying and she treated the player like an idiot most times. There was to much holding the players hand and with "help" from her side. Like you are in a volcano etc. "Master, I'm 85% certain this is a volcano". Well, big woop! Congrats Fi, I was to stupid to know that myself.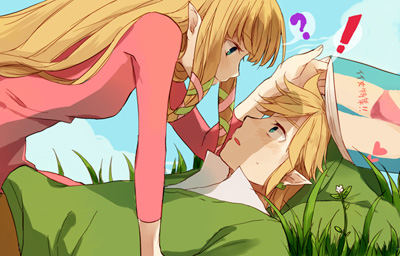 And as I've mention in other posts, I very much love that there are feelings between Link and Zelda. It make me at least all that more eager to actually save her. And you know they've grown up together, so they do know each other well. A lot of those things make me think that Skyward Sword, Zelda and Link are my favorite versions of the characters. I do hope they continue to flesh out Zelda & Link love/have feelings for each other stuff in coming games. I would like to see even more of it, maybe even see them being more romantically involved. Or a kiss, just more feeling. Even if it sound like there are a lot of complaints I did enjoy the game very much and it was a great game, I'm pleased and happy with it.
The next time me and Elden get together we are going to start our round of The Legend of Zelda: Twilight Princess. I haven't gone from beginning to end on that game, so I need to finish it. After that, I'll probably try Majora's Mask, that I have never ever played in my whole life.