CROSS EDGE
(mer…)
Har inte haft så stor lust att spela heller. Här om dagen fortsatte jag på Cross Edge och då hade jag inte rört det på nio dagar, sedan spelade man ett par timmar så fastnade man igen. Rätt frustrerande, att spelen ska vara så förbannat obalanserat.
Du kan powerlevla om du känner för det och äger allt på området du är på, så går du vidare och så kommer en boss. Och då betyder din powerlevling inte ett piss. Borde kanske lära mig stridssystemet bättre, men det är ändå frustrerande när det är så här. Att svårighetsgraden går upp och ner som en förbannad jojo.
Har verkligen inget emot svåra spel, så länge det är något balanserade. Detta spelet är ute efter blod känns det som. Men det är bara att bita ihop och fortsätta träna, försöka samla mer material så man kan göra bättre utrustningar till ens karaktärer. Vill gärna klara spelet, när man ändå spelat det i X-antal timmar. Nåja, nog med gnäll och tjat, får ge mig ann det senare igen. Och plocka boss jäveln.
So I'm playing Cross Edge now. Wow, that game is hard.
Or unbalanced. Maybe both. You can train until you can kickass, but then you go to a new section an the enemies there will totally rape you. I have nothing against the game being hard, but when the difference is like this I kinda loose my interest. I will continue to go at it, but if this keeps up, I might pick something else to play in the meantime. Or rather… This is all perhaps because of me.
Right now I don't feel like playing anything. Or doing anything for that matter. I'm bored because I don't do anything, but I don't have any strength to do anything. Guess its just one of those days.
Hope it will feel better soon, I hate feeling like this. Guess I'll give the game a few tries again later. Or perhaps just lie on the sofa and watch some anime/series. Even if I don't feel like doing any of it.
And I really do hope I can post good news tomorrow.
Haven't been playing much these past days. Even if I have Cross Edge, I can't seem to find any peace to sit down and play.
There have been some things on my mind. I will speak of them later, but right now I just don't want to. Hopefully I can post about this next week sometime, perhaps earlier. It could be good news. For me at least. Well have to wait and see
I looked in the mail today. And what did I find? Two copies of Cross Edge! Oh, yeah! One for me and one for my buddy Ezakiel. I'll be back with impressions later.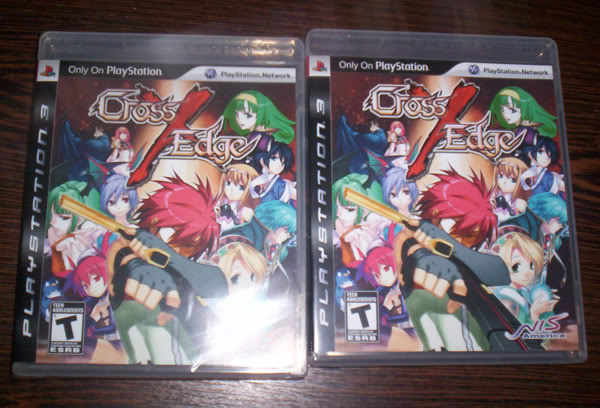 Woho! My copy + my friend Ezakiel's copy of Cross Edge has now been shipped from Videogamesplaus. Too bad they didn't get it yesterday, I might have gotten the game before the weekend then. Guess I'll have to wait untill monday now.
So I just came back from Gamestop with a copy of inFamous! I got the second last Special Edition version copy. So that felt good. So right now just checking the mail and stuff. Oh… And Cross Edge will probably not get here before the weekend. Since VideoGamesPlus seems to get shipping copies today, not yesterday. -.-