I finished Metal Gear Solid V: The Phantom Pain earlier today, it was a bit of a chore to get the "true" ending. Well okay, not really I was just more or less a bit tired of having to do a bunch of side-ops to get it to unlock. But now that I'm finished I'm going to share some of my thoughts on the game, I was going to make this spoiler free from the beginning, but to talk about what I want I can't do that.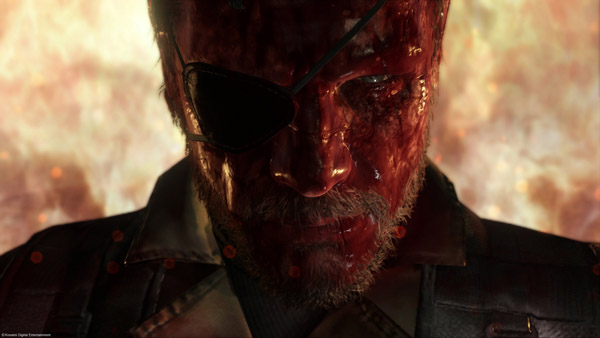 So if you don't want anything spoiled don't read past this.
Firstly am I pleased or disappointed? I guess I'm leaning more towards disappointment. This is not the game I hope it would be. It lacks those awesome cutscenes that Kojima has made himself famous for and the story is weak at best, even if I like parts of it. But I would have liked a more fleshed out story, not told via audio cassettes. I do not like the mission interface, I wanted the story more to feel like it belonged together more, here it feels like its a bit all over the place.
But the side-ops are pretty fun, I've spent way to much time fulton extracting things.
Where are all the iconic characters? The great bosses? Where are the boss fights!? Well we have one with this games Metal Gear and one with Quiet, but that's about it.
I miss the codec conversations very much, they added a whole lot to the other games. People will argue but, you have the audio cassettes. They are not the same for not, but by a long shot, they where not enough. And much of the story told in the cassettes are stuff I would like to have seen, not just listen to! And I hate that Venom Snake is mute, or rather I don't hate it is much as I did when I thought he was Big Boss. Yeah, you don't play as the real Big Boss in the game but Venom Snake isn't a clone at least, but I won't go to much into all that. But that made me feel better and I can buy that as an explanation why Venom Snake is more or less mute. The real Big Boss speaks more, thank god. But it is such a damn shame they replaced David Hayter. It is not the same without him. Keifer Sutherland is okay in my opinion, but he is no Big Boss.
I like that we get to see Eli (a young Liquid Snake), but I wish they fleshed out his story more. I think that is my main gripe with the game, that there wasn't enough story and things weren't explained to my satisfaction. Not to the point of the older MGS games at least. A shame they didn't go deeper into the whole "Les enfants terribles" with the clones. Would have been nice to see David too.
I know I'm very negative towards the game and these are all things that bugs me.
But all in all I had a pretty good time with the game, since the gameplay is pretty solid. (HA!). I managed to play 63 hours before finishing the game, a lot of that time went to side-ops.
Perhaps if you don't go into the game with as high hopes as I did, you won't be disappointed. So all in all I think it is a pretty good game, nowhere near those 10/10 imo, but a good game. I need to replay some of the older ones again, to get the "right" feeling.