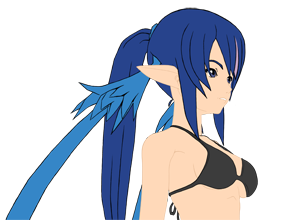 I'm back with a new vector! Its been ages since I've uploaded anything.
Well according to my DeviantART account its been a bit over a year, but now finally I have something to post again. Something I've been working on for some time, its Judith from Tales of Vesperia!
The base for this vector comes from a screenshot from the Playstation 3 version of Tales of Vesperia.
Where she is sporting a black bikini, rawr! I think Judith is super hot! But then again I like elven type girls, they really get to me. Must be DEM EARS!
I'm hoping I'll get the chance to work on more Tales of art, since I'm a fan of the series. I have something that is kind of an ongoing project concerning a certain Tales of female. I'm hoping I can finish that vector sometime too.
Just click the image and follow the link to my DeviantART page, where you can download a much bigger version of this picture. I guess you'll like it!