So there has been a lot of rumors the past days that Nintendo would announce a new version of its DS. And now they have announce it.
Its called Nintendo DSi. The screens are bigger, there is no more GBA slot.
But instead they have added an SD cars lot. They will have a download service for it, built in browser, mp3 player. And a whole other neat stuff. Well my problem is that I was thinking about getting a DS lite, but now I think I might wait for this one instead. REally don't know what to do… But I have no use for the GBA slot and I seem to get more that I want with the DSi. But then again, we have to wait untill 2009 to get it. The japanese release is November 1. >.<
Here follows a comparion picture wih the ds lite and dsi. And more specs.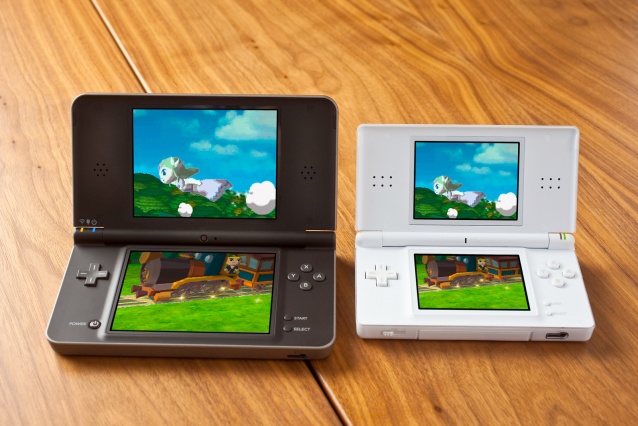 Nintendo DSi
LCD screen size: 3.25 inches
LCD screens: active TFT color LCD (260,000 colors)
Hardware size: L: 137mm, H: 74.9mm, W: 18.9mm (stylus length: ~92mm)
Power source: Nintendo DSi AC Adaptor, battery pack
Weight: ~214g (including the battery pack and stylus)
Battery charging time: ~2.5 hours
Battery charge length:
lowest brightness: ~9-14 hours
low brightness: ~8-12 hours
medium brightness: ~6-9 hours
high brightness: ~4-6 hours
highest brightness: ~3-4 hours
(This may vary from title to title.)
Playable titles: Nintendo DSsoftware, Nintendo DSi software
Inputs: DS card slot, SD memory card slot, AC adaptor port, stereo headphone/microphone port
*GBA games and DS games requiring the GBA slot cannot be played.