Hehe, the title might sound worse than it really is. The meaning with revenging is that I finally took care of a game that has been in my backlog since I started to play JRPG's. A game that has been bugging me for years, a game I played when I was very new to JRPG's and I couldn't finish it. That game is Suikoden 1 for the PlayStation. So that felt very great, I did actually manage to get to the last boss when I played the game all those years ago. But I could never beat him, guess that's what it's like being new at something. Because he was no match for me, I took him down fairly easy. I'm almost disappointed in how easy it was and I don't think I was overleveled either. Around level 57 with most of the characters I used.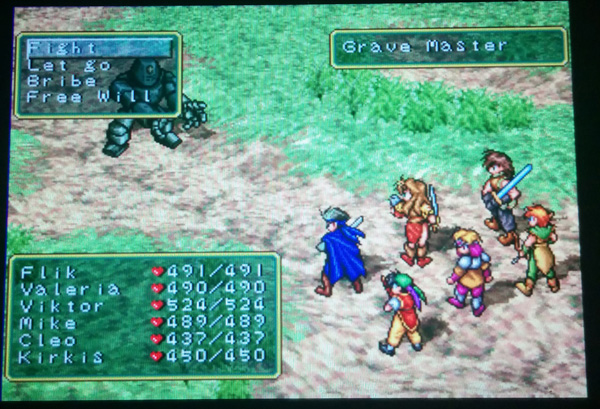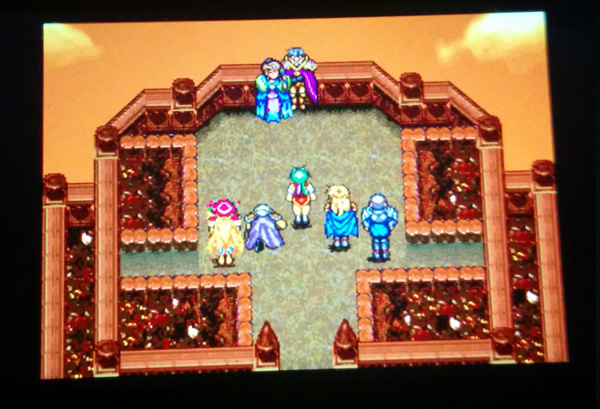 And speaking of the past, today I have my 8th anniversary on WordPress. I started writing in the beginning of 2006, on Blogger and Livejournal. Sadly I forgot to save those early posts when I moved around to different blogs. So I've been writing for about 9years all in all, but what exactly does this have to do with the past? Well you see I started writing blogs as a way for me to went my feelings and stuff, since it was hard talking about various things with friends and others not being so understanding of my problems and condition. And I loved videogames, so I thought "Why the hell not write about what's bothering me and what I love"?
I don't write for anyone else but me, if others want to read and comment that is just a big bonus. But I do this so I can feel good. I can release my dark thoughts in text and get them out of my head, I haven't written about everything. But pretty much and it has really helpt me to let go of some stuff.
So I am going to continue writing as long as I enjoy doing it and as long as it helps me, I do wish I took my times with some of my posts sometimes and made them bigger and better for other to read. But hey, as I said I'm writing for myself first and foremost. But who knows what will happen in the future?
I would like to write more about the anime shows I'm watching and go a bit more in depth in videogames, but then again we'll see. Would that be something you would be interested in reading?
Where do you get the time too do all the stuff you want to do? For the past couple of weeks there has been a lot of stuff for me to do at work, don't get me wrong I love that. Because I love my job, so its fun. And I'm frequent at the gym too, and that takes it time.
You get home, shower, make dinner and after that you have so little time to really do anything before you have to go to bed. Well if you want to get a decent amount of sleep at least. I got Watch_Dogs yesterday and when all was done at home, I could play about an hour before going to bed. I know I have to prioritize and I've already freed some time and stress, but its still not enough for me. I need the time at the gym, since I really want to get in form and I need it for my health. And even if I don't want to say it, my health is more important than games…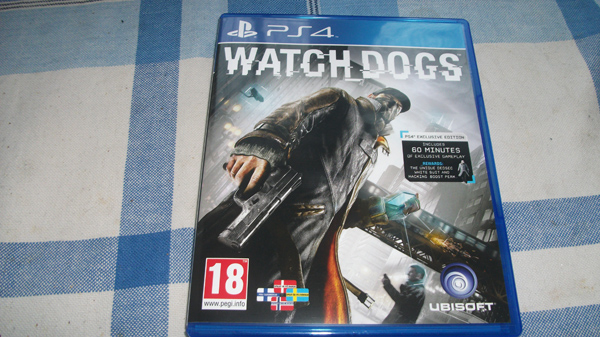 But I'm not working this weekend so I can get some time with my games at least, but then there is the other "problem" or "i-lands problem" as we say here in Sweden.
If I get my copy of Drakengard 3 on Friday, I want to play that. But then I have Watch_Dogs also… And I don't like shifting my attention between games, I want to be 100% focused on one game at a time. Yeah, what a dilemma. Sure it's not a life changing choice, nothing will be better or worse no matter what I choose. But when you are limited for time and want to spend that on your hobby, you really have to pick at the seams. It's not just videogames that suffers, I would like to write more. I really enjoy writing, even with my dyslexia. I try my hardest to form the correct words and to be able to write down what's inside my mind. That's why I would like to continue to write my own fantasy story, and I'd like to continue to write more stuff about "The Saga". But I can't get the peace of mind to sit down and write something more serious with details when I know I want to do other stuff. But like everything else they need planning and again… For that I need time, so if anyone have some good time management tips, please feel free to post them!
In about three weeks my vacation finally starts and I hope, I can get some of this stuff out of my system. At least I can do some catching up on the gaming part and I have so many other projects I'd like to do. Hopefully some of them will actually turn into reality. But there are so much talk about what me and some friends should do this summer and I'm realizing right now that it's really stressing me out. Firstly I don't now how much cash I'll have and if we are going somewhere I'd like to have cash to buy stuff. And all this will of course take time, its time worth spending with my dear friends. I love them all, but it it still stressing me out a bit. But it's only stressing because I want to do so much, so I know I have to narrow some stuff down and take it easy. But it's easier said than done I'm afraid.
Hello everyone! Hope you are having a good time, I've had a splendid time! And its probably going to get even better hopefully. After a break from writing about games and not thinking much about them, nut just playing them. I've now then offered the chance to write about them again and I was happy too do so. But this time its for another site, this time I'm writing for PlayerSelect.se. As you might have guess, it will all be in Swedish. So if you are from Sweden and interested in videogames, come on over! You'll find us on our homepage, Facebook and Twitter. All support it greatly appreciated.
You can read my first review on the site right now, its for Tales of Symphonia Chronicles.
PlayerSelect – Facebook – Twitter
I have a lot of stuff to do at work and it seems like things will keep being busy there and sadly, my job comes first. Since I like to live in an apartment and eat food and even if it's sometimes stressful I do enjoy my job very much. There will soon be a bit more stuff I'm going to do at work, so we'll see exactly how that goes. I'm hoping I can get more to enjoy watching anime, playing games like I used to and hopefully work less weekends.
So I've decided to take a break from some stuff and try to really concentrate on the things that make me happy and feel good. So as soon as I have finished my review on Disgaea D2: A Brighter Darkness, I will take a break from writing for PSSverige. I love writing about games, but since I started writing I feel like I've enjoyed them a bit less. Probably since it feels more like work than my hobby, which is sad. And going around looking for gaming news also became work, so I sorta fell into a hole.
I just want to enjoy playing game like I used to and not thinking as a reviewer, I had a hard time balancing those thoughts and feelings. So thanks to that feeling like a job too, I grew tired pretty quick. Since I started to feel like I had no free time. It was thought and I've had to battle of a few depressions and other anxiety problems. Joel the chief has been nothing but understanding and supportive and I hope I can at least pop up one in a while with a review for the site. I just feel like I can't be an active member, not right now. But I want to keep supporting the site and I think you should too. Joel is very passionate about PSSverige and I hope it will continue to grow.
So I will not be posting much news anymore either, but who knows in the future when things get better for me or things slow down a bit.
Still I want to give a big shout out to Joel who had given me a chance to do something I've dreamt of, thank you. Really man, honestly. I thank you from the bottom of my heart.
And this coming weekend I will try to put a new hard drive in my PlayStation 3, so I hope the stuff that went wrong will fix itself. That I can send messages and add people to my friendlist once again. Hoping I'll be fixing this Friday night or early Saturday. I really hope things will get better there too.
So now that everything is cleared, I can announce that I'll be writing for PSSverige. The biggest Swedish Playstation site. It's also known as PS3Sverige, but we'll be PSSverige from now on. Since we will be covering, Playstation 3, Playstation 4 and Playstation Vita news.
I wrote for PS3Sverige before but because of reasons in  real life I had to leave. Now I am back and it feels good. Of course everything on the site is in Swedish, obviously. So spread the news, tell your friends. You can also click the image to the right of here, to be linked to the site.
So it has been a while since I last posted. Well as usually of late, there has been much to do in my real life, like work and other stuff I have no direct control over.
And I've been having some writers block for some time now. I love to write, but I just can't get into the mood and write something. I'd love to continue writing me and Elden's fantasy story, especially since we rebooted it. The only down part in this, except for the writers block is my mild dyslexia, something I try to overcome as much as possible.
And speaking if writing I have been writing on a blog since 2006, that's a pretty long time. Why do I do it? Well as I said I like to write so that is one reason, another reason is for me to process some stuff. I write both good and bad stuff that happens and by doing that it helps me process some of it. If it's bad stuff I can get it of my chest, and if it is good its worth mentioning.  The best thing about writing the bad stuff is to read it later when you have overcome what ever it was. And I do it for the reason that my memory can be really crappy at times, and there are some things I want to remember. I write my blog for myself and if others see it and read it, that is fine.
On another note, last weekend me and Elden started our Mega Man X marathon. We finished MMX1 to MMX3 and are at the end of MMX4, that was very fun. We had some problem.with a real shit controller but that's fixed now. So next time will be a much better experience. Not really looking forward to playthrough MMX7… But that's just something we have to do. And we would have loved to do.videos if these marathon playthroughs and talk about the games while playing them. Maybe some other time, but that is something I really wanna do.
Ah, finally I have some vacation time! I'm free from work this whole coming week.
Looking forward to it, its going to be so nice not having to clean other peoples shit for a whole week. Seriously some people are so disgusting, ugh! Well its good to get some time of, not sure when I next will have the chance. We've moved to a new building too and its so cramped in there. So I'm glad I don't have to deal with all that right now, but I have a feeling being so close to people will not be good for me. Since I have "torg skräck" I really can't remember a English word for it. Well anyway… I'm going to enjoy this week.
I'm not going into detail, but I've been without my TV for about two weeks now and hopefully on Tuesday I'll get it back. So I haven't been able to play so much as I've wanted. But the first thing I'll do on Tuesday is to continue where I left of in 3D Dot Game Heroes.
I have also gotten some inspiration back, so I might try to write something of my fantasy story. At least I hope I can get something written, usually as soon as I start I seem to loose interest in it. Its pretty damn annoying, since I want to write! I really want to develop the character "Yazuka" more. And I hope one day to do just that.
I want to update and write more important stuff here too. But it just seems like I can't get the time or the energy to do so. Work it taking up much of both those things. So I'm hoping I can post something a bit better in the future or at least more interesting. I'm thinking of doing a couple anime-reviews of shows I've seen and then perhaps a few reviews on games. Not to sure on them yet, but we'll see.
and before I end this post, I just kindly would like to ask. Where the fuck is everyone? Seriously, where are you? My msn has more or less been empty for days. I miss you guys, get on there and talk to me!!
And I have reactivated my CAPTCHA, since I've been drowning in spam the past week. Its so not worth having it off. If you have poroblems posting with the CAPTCHA here get in touch with me on Facebook or Twitter (preferably Twitter) and I'll fix something for ya.