Hehe… Been some time since I last posted here. Well I've had about a week of from work now, the semester is about to start for all the regular workers. That's also why I haven't been online as much and I won't be online as much either for the upcoming weeks. Thanks to regular workers starting their semester tomorrow, I'll be having a place of my own to clean. Where I'll be the boss. So I'm glad they trust me with this and its a great way to show initiative and how good I work. So I'm hoping it will lead to me getting hired by them. Since I've heard rumors that they are going to hire four people, I'm keeping my fingers crossed that I'm one of them.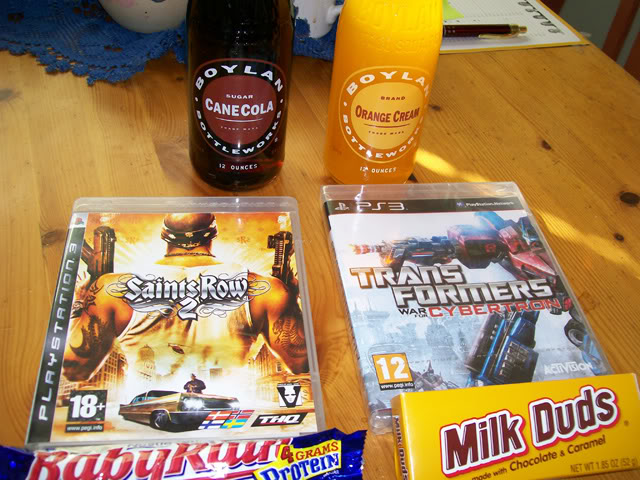 I Wednesday me and Elden took a trip to Malmö.
It was fun to get away from home a bit and just, go to a place I've not visited often.
Even it its not that far away from where I live. I was trying to find the store "Grey's American Eats" since I wanted to try some American soda and Candy. But damn it was expensive!
I got Boylan Cane Cola and Boylan Orange Cream. None of them tasted very good IMO, it wasn't liked by none in my family actually. I also bought a pack of Milk Duds (yum!) and a Babe Ruth (haven't tried it yet).
And thanks to Elden I got Saints Row 2. A very fun and neat game, with a whole lot of glitches. A shame they never patched the game to fix them. And after that we took the train back to Kristianstad, where I decided to pay my local Elgiganten a visit. I had preordered Transformers: War for Cybertron from them and was able to pick it up, one day before its release! Thank goodness I had a little cash left on my "presentkort" from Elgiganten or I wouldn't have been able to get this. And that would have made me very sad, since this game rocks! Best Transformers game ever, not that it had any good competition for that title…
All in all it was a great and fun day, hope to do it again!
For those of you who don't know, if you preorder Transformers War for Cybertron at GameStop (US). You'll get Shockwave as a downlodable character. I wonder if the same will be offered in Sweden? If you are an old Transformers fan, I think you'll enjoy this. If you aren't then you'll probably not see anything particular in this trailer. Either way, I just needed to post this. God I'm looking forward to this game.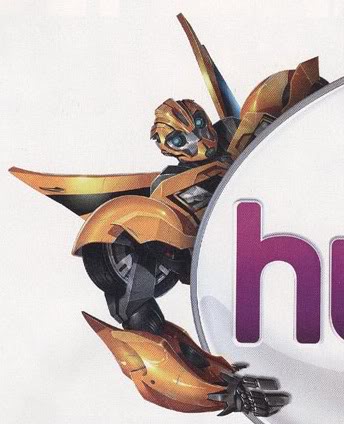 Some people out there might know there is a new Transformers "cartoon" in the making. The last one made was Transformers Animated. And it was a pretty good show, better than the onces before it at least. Well, that's what I think. This new series that will air this year(?), seems to be called Transformers: Prime. And there is next to no info on the series. Nothing more than Jeffery Combs who seems to have landed the roll of Ratchet. According to the picture that has been released the show seem to go more in the movie style, than in the style of the upcoming game,
Transformers: War for Cybertron. Which is a bit of a shame if proven true, but going with a movie style design on the Transformers would be awesome too.
Hope we can get some more info on this show soon, I'm very excited to hear more about this series. I want to know voice actors and other goodies. 2010 seems to be a good year for Transformers fans. A new series and a videogame that for once looks like it will be really good. I'm eagerly awaiting both show and game.
Holy fuck! I'm excisted now! There will be a new Transformers game coming out 2010, its called Transformers: War for Cybertron. It won't be based on any of the old story's, which for my part is something good. then they can't screw up old stuff at least. The art-style seems to be a mix of G1 & War Within which I love!
Transformers: War For Cybertron, A six page exclusive review. PG 48″

Sad part is it's not tied to any continuity. As the name suggests it's pretty much War Within but the Video Games on telling it seems. It's taking cues from Gears of war as a 3rd Person over the shoulder shooter. Will have a Autobot and Decepticon Campaign. They keeping quiet on Multiplayer but it will have some sort of Online modes. Like the Armada game you will be able to choose which bot you want for a mission but the other bots not chosen will be your teams AI. Enemies will drop weapons which is interchangeable. And like the movie games we won't be confined to land vehicles only. And transforming plays a good deal into gameplay.

All in all it looks pretty sweet. Release is for 2010 for 360, PS3, and PC
Source and original source
But I know it might be stupid to expect to much from this, but I haven't been this hyped on a Transformers game since I played Transformers Armada for the PS2.
But at least they are going the right way with the art-style IMO, can't wait to get my hands on this I'm buying this even if it turns out to be shit!
Well okay, maybe not. But I'm getting it at least! And I sure hope it will be good…