It's time again for the sci-fi convention in Malmö! We are getting ready right now, eating breakfast, checking we have everything with us. And it's soon time to roll out! Been looking forward to this for a whole year, so I'm really hoping it will be fun.
Looking forward to see what cosplayers there will be this year, maybe we'll get to see Alica from Valkyria Chronicles again. Either way, I hope for more cosplayers!
I'm going to update later with pictures, I'll do it later today or tomorrow. Hope I have something really fun/nice to show.
We are awake, we are ready! Breakfast ready, waiting for the buss to take us to the train station. We are going to take us to the sci-fi convention in Malmö. Me and my friends, Elden and ZX-Omega have been looking forward to this for a long time. I'll be posting pictures later, when we are home tonight. Bye!
Update 1: Time 12.38
Just saw a cosplayer dressed as Alicia from Valkyria Chronicles. Fucking awesome, must ask her if I can take a photo.
Update 2: Time 13.45
Got a picture of the Alicia cosplayer! Not the best cosplayer I've seen but nice! Too bad I got an Naruto cosplayer on the picture too.
Update 3: Time 17.10
Ahh! The day is now over and we are getting ready to return home, I bought nothing. But Elden bought a bunch of stuff. After we get home, I'll post a new post with some impressions of the convention. And of course with photos. See ya later!
I've been away since thursday. I've been at my friend Elden's place. We've had a blast. And yesterday was his birthday. So a few of our buddies came over and celibrated. Another few things has happened in the past days, that I just don't feel like talking about. Í'll just say that my copy of Valkyria Chronicles under some circumstances….
Well yesterday at my friends party, one of my closest friends ZX-Omega had bought me a whole new copy of the game… And yes it really was a new copy. I don't know what to really say more than I'm very thankful and happy. Thank you very much man.
Thanks to a tip from a friend, I've been able to get some photo prints.
Or "posters" that I like to call them. 30cm wide & 40 cm high. I'll be putting them up on my walls as soon as I've gotten some frames for them. I don't want to ruin this beautiful art. And I'm so glad to finally have some Xenosaga "posters". And a lovely piece of artwork from Valkyria Chronicles got in the mix to. =)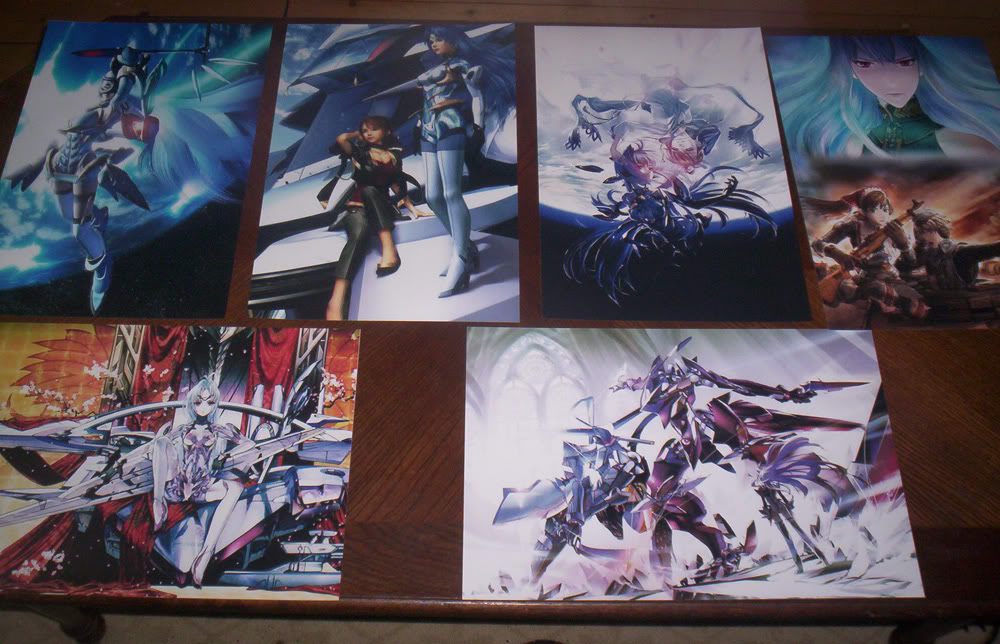 As I said in my last post, I'm thinking of starting to write about the animes I've seen. And I think I'll be doing that. Starting with
Tales of Abyss. But it will come later. The texts won't be long, just to give you a bit of a taste of what to expect. Here are also the following series, I'm going to watch in the future, check them out. They might intresst you. Or not! Who knows?
Fullmetal Alchemist – This is a restart from the old FMA anime.
This one is said to follow the manga more. If it turns out to be just as good and perhaps even better than the last FMA anime, then this will be one of the best animes I've ever seen. Premiers April 5th.
Tears to Tiara – An fantasy anime, based of a RPG for the Playstation 3.
The game features some hentai moments. But none of those will be in the anime.
At least that was the last I've heard. Premiers April 5th.
Valkyria Chronicles – A fictive fantasy twist on worldwar 1. Where a small country is attacked by the large empire to feel their own greedy needs. This anime is based on a SEGAs, Playstation 3 RPG with the same name. I'm really looking forward to see what this anime will bring to VC table. Premiers April 4th.
Well this is all for now. Hope some one out there will be a bit intressted in this at least. Also four days left now until Resident Evil 5 is released.
Hope it turns out good.
Yes, folk! Some of you might already know this. But in April, the new FullMetal Alchemist anime will air. I'm really looking forward to that. Hope it is as good as the first one.
And one of my favorite games Valkyria Chronicles will also have an anime.
All I know is that it will also premier in April. I am so gonna watch both these animes.
I have high hopes for them. I'm also thinking of starting to write about anime series I see. Just for the fun of it. To have something more to write about. =)


I have also changed my logo. Again. But for the first time it feels like a real upgrade.
Old first new second. What to you think? I really like the slimmer and more detailed new version.
I just finished watching the ending to a wonderfull game!
A game I really liked. Valkyria Chronicles, yes it really is as good as everyone says it is. Guess the next best thing now is to look forward to the anime. Hope its good. I am really hoping there will be a sequal to Valkyria Chronicles. Come on SEGA do it! We love it! I really didn't want the game to end I wanted to see and know more about what the rest of the characters in the game where doing. I wanted to be a part of them a bit longer…
Nothing much to report besides that I'm afraid. Its been boring and I've just been playing like a maniac. So I'm probably going to start playing MegaMan 9 a bit harder now and even Prince of Persia. I'm going with this untill something that catches my fancy more shows up. Take care ya'll!
EDIT: Seems like I'll be starting Eternal Sonata instead for now.
God I've waited a long time to play this. I'm really looking forward to it.