Back to winning in English again as you can so clearly see. So here in Sweden we are almost nearing midnight and that means the end of 2014.
It had been an pretty okay year, nothing more nothing less.
The last movie of 2014 for me was Sideways that I've just finished watching. It was a pretty nice movie, Paul Giamatti is always great. Need to rewatch Shoot em Up again soon.
Last game I've played this year turned out to be Injustice: Gods Among Us for PlayStation 4. I'm guessing first game I play/beat in 2015 will be
Tomb Raider: The Definitive Edition, a great game that I've played before for the PlayStation 3. It felt like it was deserved to be replayed on the PS4.
I'm not so sure about my game of the year, but I'm fairly certain is either
Tales of Xillia 2 or Tales of Hearts R. The worst game for me this year is Watch_Dogs, it did not live up to the hype for me. Looking forward to all the games coming out next year all the movies,I really hope 2015 will be a really great year.
Well folks, thanks for this year. Looking forward to the adventures next year will bring. I'm hoping it will be a new start for things. Take care y'all.
So the weekend came and went by and I've finally seen the first half of season 5 of The Walking Dead. Man I really enjoy that show! The hours just flew by! Me and my friend marathon-ed it, like we've done with the past seasons. Now we just have to wait until the shows starts again, but man it is getting interesting. Don't worry, I will not spoil anything for those of you who haven't watched it. I don't do stuff like that, it is fucking evil. I heard AMC spoiled the season ending on their own facebook, what a bunch of idiots… Oh, well.
Before we started out TWD marathon, we had hot-smoked salmon and potatoes, something I don't eat very often. But man it is good, so good!
We also watched the keynote of the PlayStation Experience. Some good stuff there, Uncharted 4 looking really great. The Order 1886 is a bit interesting and Square Enix announcing the PC-version of Final Fantasy VII coming to PlayStation 4. Street Fighter V being a PS4 and PC exclusive, might be good for those who enjoy fighting games, I personally don't care very much about it.
I think one of the best announcements for me was that Shovel Knight is coming to Sony's platforms. And that they actually showed the PlayStation Vita some love. Bringing Yakuza 5 to the west, will please a lot of people. I've never played the games myself. All in all it was a pretty good show, but I was actually hoping for a bit more. Perhaps could have shown some unannounced JRPG or something…
With all that behind me, I can finally relax with two extra days of from work. I'll need it since I'll be working this upcoming weekend too… But it pays good and I really need the extra cash for January, AKA worst month of the year. I'm going to concentrate on playing more Tales of Hearts R today and if I beat the game today or tomorrow I am finally going to try Grand Theft Auto V. Heard a lot of good stuff about the game, but I'm not a GTA fan. But from what I've seen the game speaks to me, so I'm looking forward to see if I'll like it. Really should try to finish Tomb Raider: Definitive Edition too, even if I played the original on PlayStation 3. Still I don't like having games in my backlog. Thankfully I don't have a very big backlog, but I wish I had more time to actually remove some of the games from that backlog. Hopefully I can get some vacation time around easter, so I can relax and just keep gaming. <3
Man I am so glad that next week is going to be a "normal" work week. I've had my hands full with some courses, both learning and holding my own. And right now I'm so tired of it, but I have a two day course left to hold in the beginning of December then that's over for this year. Then we'll get ready for some new stuff next year, I might be tried of it right now but it is fun. I wouldn't have done it if I though it was crap or I didn't get any satisfaction from it. That would just be wasting everyones time.
I'm going to work some extra in December, I really need the extra cash to be able to survive in January. Some big bills are on the way then. Wouldn't be much of a problem if I had the chance to actually save some money. Well at least when my debts are payed that will be a problem of the past and oh boy, I am looking forward too that! I am not looking forward too how tired I'll be from all the extra work, but what can you do? You do what you have to in order to survive, you can rest when you are dead… =/
Would be nice if there was some money over later to actually get something nice, maybe some new clothes or just something. Maybe some new games, maybe could get a better couch I really need a new one… Sadly there isn't any money, but there is always expenses. I really wish it was the other way around, if just for one month. Just to feel how it feels to not have to worry about money and your economy. *dreams*
I've spent almost the entire day changing my blog, I got a new theme I'm very pleased with. Even if it does look a bit like the other one I had, there are some changes here and there. I'm not going to go into detail about it though, I doubt anyone really cares about it either. I am however looking forward to the day when the newly drawn picture of me is ready to use on the site. Not sure when it will be ready, but hopefully soon. =)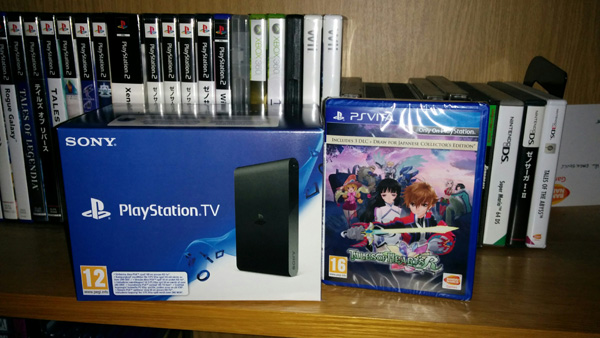 Since it's been a rough past two weeks, I haven't been playing like I wanted to. And I'm not really feeling it today, so I might just watch a movie or something.
But I am about 11hours into Tales of Hearts R and I love that game! No surprise there! Tomorrow is game day, so I'll be spending the whole Sunday just playing. Nothing else matters! I love playing the game on the PlayStation TV, it works great! I just hope they add more support to the thing. Like some of the old PSP Final Fantasy games from PSN and stuff like that. Come on Sony and add more games to your whitelist!
Tomorrow I'll finally be able to pick up my copy of Tales of Hearts R. Really looking forward to play that game, it will most likely be my last JRPG of the year. So I really gotta make it count! The last one for the year has to be special. ;)
But then again, who knows if I'll manage to finish of Tales of Symphonia: Dawn of The New World before the year ends. While I think its unlikely that I'll jump on another JRPG after finishing another, you never know. Oh, right. As I was typing this it just came to my attention that Kingdom Hearts 2.5 HD REMiX will be released soon too, so I'll have to find time for that too. Hummm… Someone have some sparetime to give?
I've started playing Tomb Raider Definitive Edition for PS4. I played the original game before, but I had forgotten how fun I thought it was to play. Love hunting my enemies with a bow, mwhaha! It is my favorit weapon in the game.
I should go over and review the games I've played this year and see what title I'll grown GOTY (Game Of The Year).
And I need to make a better list of some of the games I am looking forward to next year and I mean a better list than I have done in the past. So I hope I can start working on that too.
So here we are, November and almost at the end of 2014. Man this year has really flown by, I hardly noticed where the time went. Oh, well talking about how this year has gone will have to wait until next month. So I have a whole lot of work in front of me in November, I'm going to travel and hold a two day course about my job in Malmö. I've never done it away from home, so it's both incredible freighting and somewhat exciting. The day after that I have a meeting in Malmö and then the week after that I'm going go on a two day course myself. And then there are a couple of smaller things. So yeah, I'm booked for almost two weeks. But like I said its nice and I like doing this, I'm just a bit terrified about the traveling. I'm not to fond of that since I'll be going alone, even if Malmö is pretty close.
In 9 days I'll finally be playing Tales of Hearts R on PlayStation TV! I'm really looking forward to that! TOHR will most likely be my last JRPG for this year, then I will have to try and get started with The Last of Us Remastered. Sure I played the original on PS3, but I want to play it again and see how much "better" the PS4-version is. I also want to play the new Tomb Raider again, finally got a hold of the Definite Edition so gotta get through that too.
Next year will be a crazy year for gaming, Final Fantasy Type-0, Xenoblade Chronicles X, Tales of Zestiria, Batman Arkham Knight and many more! My gawd!
I finished the second season of The Walking Dead game, pretty good. The first season was a bit better, but this was good too. I also beat The Legend of Korra game, I'm not so sure what I think of that… I liked parts of it, others not so much. I wish it was more polished, had a bit more variety to it. If you like Korra and Platinum Games, sure give it a try. But perhaps buy it when it's discounted. I know there was something else I really wanted to write about, but for the life of me I can't remember what. Hm… So I guess I'll leave it at that today. Thinking a bit about doing a third YazTalks, just have to find a subject to talk about and I would like to make it better. Just wish I had the time for all the stuff I want to do.
This is my 700th post on my site! Woo! I started writing in August 2006 and I did so, to keep my mind of other things. And I wanted to have some kind of record of what I did at those times, so yeah its like a diary. I would love to write more than I've done in the past year, but it is getting harder and harder to write about stuff that interest me. Since I'm not always sure how to express myself, in certain circumstances but I write for me, that's enough. =)
And on Monday I turn 31! Heh. And a couple of years ago I didn't think I would live to be 25. Why? Depression and suicide thoughts filled my head, I just wanted stuff to end. While I'm not in that place anymore, I would lie if I said that those thoughts has popped up. When my depression is at its worst, I go to a really dark place sometimes. Nothing has happened and nothing probably will, but people need to understand its hard and just "cheer up" doesn't fucking work. Either way, I will probably not celebrate birthday this year either. Yeah, it wasn't supposed to be a dark post, but yeah it just came out as I was typing this.
I'll be getting myself a present at least, but I won't be able to get it before next month. And its a
PlayStation TV
with
Tales of Hearts R
, that's what I'm getting myself and I'm looking forward to it! Can't wait to play Tales of Hearts R. Might try to get a game this month too, if I can afford it. I'm thinking about
The Walking Dead Season 2
and
The Legend of Korra
, but I'm not quite sure yet…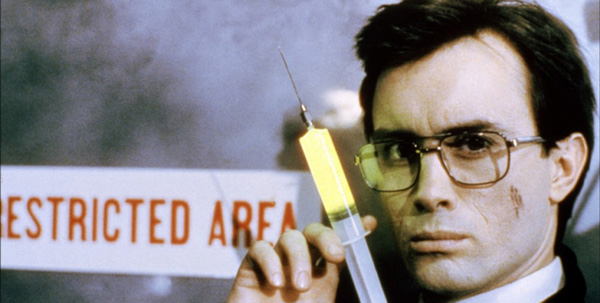 Looking forward to this weekend too, since me and Elden will be resuming our "
scary movie
" marathon. We'll be watching some movies with
Jeffrey Combs
, so I'm looking forward to that. Then we'll see if there is time to watch other stuff. What would you recommend watching?
Man this month has been a killer so far. It hasn't been easy dragging yourself out of that damn hole called depression, I'm still crawling up and it feels better. But I'm more or less still an emotional wreck when I am alone. Well as I said, its better now. But I'll be more than happy when this "period" is over and I can go back to feeling well and actually function properly again.
The worst thing about this is that it leaves me with little to no motivation or energy to do anything, I've had inFAMOUS: First Light for a while now and I've played it for about an hour. I just don't have any motivation to play games. And now I can play Dust: An Elysian Tail that has interested me for a while, but noooo! Just waste the days by staring at the computer of ceiling.
It's the same with Tales of Symphonia: Dawn of The New World, I started playing it and got past the intro part. Met Martha for the first time and had my first fight and lost all interest, and it's not because the game is bad mind you. Still way to early in the game to have an opinion about it, but yeah. It's like this no matter what I play right now. But hopefully after tomorrows work is done, I can start relaxing and get into something. And while we are on the subject of the Tales of-series, next month Tales of Hearts R will finally be released! And Bandai Namco today announced the game will have support for PlayStation TV, so if you rather want to play it on your TV than on an handheld go right ahead. You can read about it here on the PlayStation Blog. I think this was a great choice and I hope more people who release Vita games make them compatible with PSTV. I hope some old games get some patches to work with PSTV too. I like the Vita don't get me wrong, but as I've said before about handhelds, I'd rather play on a TV-screen. Mostly because my hands cramp so damn easily with handhelds.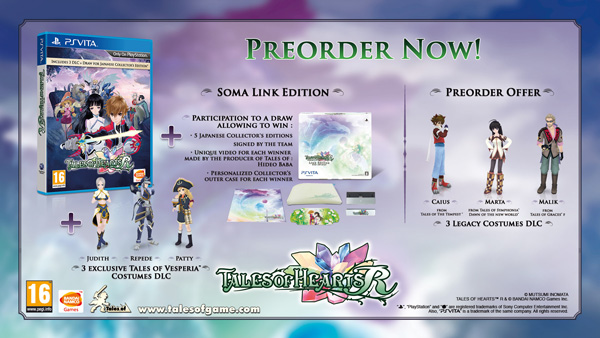 If everything goes well, me and Elden should be watching at least three other horror or monster flicks this weekend. On the menu we'll find, Spiders, Cabin in the Woods and one more that I for the life of me can't remember right now. Which sucks a bit. I have never seen Spiders before and my expectations are as low as they can be, if I can get a laugh out of the movie at least it won't be a total waste. Cabin in the woods on the other hand is a movie favorite of mine, I love it! So I'm really looking forward to see that one again. When it's closer to Halloween we'll be watching Trick 'r Treat, we both like that movie very much! I don't think we'll watch any of the Halloween movies ironically enough, but I'm hoping and we must keep out own tradition of Freddy VS Jason alive! We always watch it around Halloween and have done for the past 3-4 years now.