And we've arrived at the last day of 2011, this year has just flown by. Perhaps a bit too fast at times, as always.  But that's life I guess, of course time will go faster when you actually have something to do for once. And I've been working this whole year, and its felt great.
Except those times when I was sick, which sadly was a few times over the year. I hate my weak body for being so frail and easily get sick.
Its been a fairly good year otherwise. A bit disappointed with both Transformers Dark of The Moon and Uncharted 3: Drake's Deception. Sadly they didn't live up to my expectations. While Uncharted 3 still is a good game, Uncharted 2 is a much better game IMO. I think my game of the year will be Batman: Arkham City. I can't really seem to think of a game that I've enjoyed more this year, or rather lived up to all my expectations.
Looking forward to 2012, for both movies and games. Amazing Spider-Man, Avengers and a bunch of other movies I can't remember right now. But I really want to see them!
Oh, yeah G.I Joe Retaliation is one movie I want to see too. And when it comes to games I guess Tales of Graces F is my most anticipated game, so far of 2012. Then we have Darksiders II, Soul Calibur V, Ni no Kuni… Yeah, I'm hoping they will all be good and that we'll be getting a lot of other good games next year. So tell me, what has been your disappointment / best experience of 2012. I want to know, so please tell me.
Have a really good new year everyone!
We've finally gotten a trailer and a date for Tales of Graces F. It was about time for Namco Bandai to release an English trailer, check it out and let me know what you think.
I can't wait to get my hands on this game! It will be released March 13 2012, this is the US date. Its unsure if the European release date will be the same or if it will arrive here later… Hopefully it will be the same date. Soon… Soon it will be mine!
Not much has happened since I last updated, well I haven't been feeling well. Feeling a bit down and cold, but it will pass eventually. A bit to do at work, that's why I've been out of touch with people. And then I've been tired as fuck, to do anything. I don't like winter/christmas very much anymore. I always feel like this around this time, urgh. I know others love it, good for you! Wish I could share in on your happiness about it.
I have just finished playing Saints Row: The Third. I really don't know what to think of it, it was pretty nice at some parts. But I think I'm overall very disappointed with the game.
The second game was pure fun and crazy, this not so much. Crazy, yes. Fun? Sometimes. I don't think I'll be replaying SR: The Third much more, I'd much rather go back to play SR2.
I almost completely agree with Yahtzee, you know the Zero Punctuation guy. Check out his review of it SRTT.
I managed to snag a cheap copy of Hyperdimension Neptunia from Ebay. I couldn't resist, its going to be interesting to see if the game is as terrible as I fear. Or if I can find some fun with it. Then why the hell would I even buy a game I think is terrible, I got it cheap and I'm an idiot. Good enough of an answer? Its the only honest one I can give. The next games I hope to get to play are Soul Calibur V, The Legend of Zelda: Skyward Sword and Tales of Graces F.
For the past week I have been playing Star Ocean: The Last Hope International for the Playstation 3.
It was refreshing for me to play an RPG again, and it felt very good to have finished a game I started some time ago on the Xbox 360. But due to the red ring, never could finish. So having that of my backlog is great! The game is pretty okay, cheesy as hell and it has its clichés. But I enjoyed parts of if, but I'll probably not replay it again.
And it seems I have a few RPG's to look forward to. The two biggest ones for me are Xenoblade Chronicles and Tales of Graces F. Good thing I can borrow my friend ZX-Omega's Wii so I can play Xenoblade Chronicles in the future. But today Nintendo of Europe announced that both The Last Story and Pandoras Tower will be released i Europe. So that's two more RPG's I just need to have! If I can afford it later I guess I'll try and buy my own Wii.
And I'm really hoping Namco Bandai can give us some English screenshots or a trailer of Tales of Graces F soon! And a release date! I'm so eagerly awaiting this game! But then again I am a big fan of the Tales of games and I really liked the Japanese demo of TOGF.
And I would like to be able to get around playing the RPG's I've missed on Xbox 360. Games like
Blue Dragon, Magna Carta II, Lost Odyssey and of course finish Tales of Vesperia. Ughh… But we'll see what happens, I've been thinking of getting a new Xbox 360 for some time now. With all other games coming out this year that I want I would hardly have the time to play everything, I'm having problems just finding the time right now. So it would be stupid to add to that. But I wanna…
2011 seems to be a good year for games, a lot of big squeals are coming out. And of course being a Playstation 3 owner that I am, I have a few treats to look forward to. Games like Infamous 2, Uncharted 3 and Batman Arkham City (also on PC & X360). I'm a bit sad to say that I've only kept eyes on the Playstation 3 games, well since its the only console I have right now. I think that's pretty understandable, I just wanted to make it clear to people I'm in no way a fanboy. I like all consoles they each have something to bring to the table, but right now I'm mainly focused on Playstation 3. So sadly, I have no idea what's coming to the other consoles.
2011 in all seems to be a pretty big gaming year Nintendo 3DS has been released, the squeal to Nintendo DS. And Sony's "NGP" (PSP2) might also see a release this year.
And then there are rumors about Nintendo showing their newest stationary console on this years E3, can't wait to see all the goodness that will be shown this year. Well here is a little list of games I'm looking forward to this year. Well here is my list of some of the games I'm really looking forward to, they are in no particular oder. I wrote them down as I remembered them. So tell me, what games are you looking forward to?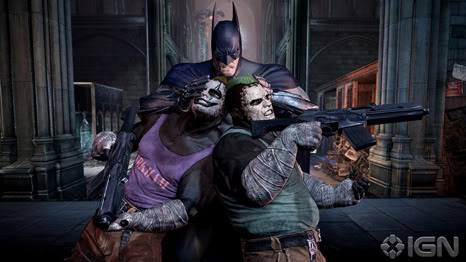 Batman Arkham City
The sequel to one of the best games in 2009 is of course on this list! Anything else would be a goddamn shame! The world in the game seems to have expanded a whole lot. From being in Arkham Asylum in the first game, to run around in Gotham City. Or rather Arkham City that it has been renamed too. The whole city has become a prison, which Hugo Strange seems to govern with an iron fist. I want this game, I want this game now! I have complete faith in Rocksteady and can't wait for them to give me my next Batman kick!
Disgaea 4: A Promise Unforgotten
The Disgaea series is about the only SRPG that I really like. Thanks to my friend Kntheking who introduced me too the series and since then, I've just keep on liking it more. The fourth game has new HD sprites, which looks really tasty. I'm hoping for the same kind of wonky humor I've come to love and expect from this series. It will be released sometime in September is nothing changes and I'm hoping it don't. So in September its time for some crazy ass leveling again/grinding again!!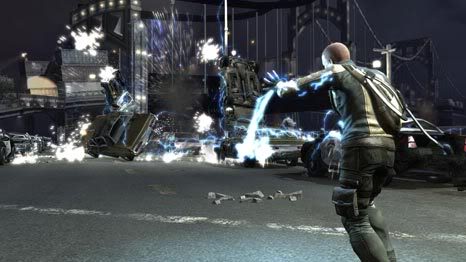 Infamous 2
I really liked the first one, it took some time for me to get into it. But once I was there I was caught. I loved running around in Empire City and frying people with my electrical powers! Whahaha! Sure, I helped people too. But it was a fun game and the sequel seems to be more of the same. But hopefully there is more variation, guess I'll know next month. And boy! I'm having a hard time waiting!
I'm so incredible happy with Namco Bandai right now! They have decided to release
Tales of Graces F in the US, I never thought we would be getting this game. And I was seriously going to import a Japanese copy of the game in the future. Glad I don't need to now, just going to import a copy from America instead. I sure hope they'll release it soon, I can't stand the waiting. Its killing me!
If you are Swedish or know the language you can read the news about the game here. RPGbloggen – Tales of Graces. I'm so happy I probably won't be getting any sleep tonight!