Nu har jag kört igenom DLC kampanjen i The Legend of Zelda: Breath of the Wild, nämligen den som heter Champions' Ballad. Det är då DLC 2 för spelet, jag kommer inte ta upp något om DLC 1 för jag har inte gått igenom Trial of the Sword själv. Men min reaktion är ändå att jag inte tycker DLC:n är värd 200kr, det finns absolut saker här i som är bra. Men samtidigt känns det som de skulle varit en del av spelet från början.
En del av besvikelsen kan väl komma ifrån att jag förväntade mig och hoppades mer, jag gillar ju verkligen Breath of The Wild så ville ju ha mer av allt som var bra.
Jag vill inte gå allt för mycket på vad jag riktigt tänker på, för då skulle jag behöva spoila och det vill jag inte göra. Men man får mer se lite mer med de fyra champions, men det är lite det som känns som det skulle funnits i spelet från början.
Tyvärr är DLC:n till stor del en repetition av det som redan varit i spelet och uppdragen är snarlika varandra. Hitta fyra pelare, dessa pelare pekar sedan på 3 olika platser man ska gå till för att göra något. Antingen besegra en boss eller åka igenom ljusringar. Detta skall gör man nästan 12gånger för att slutföra uppdraget.
Så ja… Väldigt repetitivt. Men spelet är ju fortfarande skoj att spela och man får ju lite utökning av det hela, önskar väl helt enkelt det var lite mer variation i det hela.
Man får dock ett item när man är klar med DLC:n och det är trevligt som tusan, en kul grej. Men man får även se en sak. En sak jag inte tänker berätta. ;)
Men om jag säger så här, när jag väl såg detta så blev jag lite sur på hur spelet är. Eller hur det utspelar sig, nu går jag kanske redan går in på lite för mycket. Hehe.
Hade det bara varit lite billigare så hade jag lättare kunnat välja det hela, typ en 120kr så känner jag att jag hade varit nöjd med det innehåll som gavs. Utöver story DLC:n så har man ju fått hur många nya kläder som helst att kunna bära. Så vill man ha det för det kosmetiska, så är det väl en mindre jackpot.
Som sagt, det kan vara jag som är lite gnällig också. Jag hoppas andra som köpt DLC:n har fått ut mer av den, men nu ska jag börja drömma om nästa Zelda spel. Undrar hur det kommer vara? Troligen magiskt och det behöver inte överträffa Breath of The Wild, bara vara minst lika bra.
Where do you get the time too do all the stuff you want to do? For the past couple of weeks there has been a lot of stuff for me to do at work, don't get me wrong I love that. Because I love my job, so its fun. And I'm frequent at the gym too, and that takes it time.
You get home, shower, make dinner and after that you have so little time to really do anything before you have to go to bed. Well if you want to get a decent amount of sleep at least. I got Watch_Dogs yesterday and when all was done at home, I could play about an hour before going to bed. I know I have to prioritize and I've already freed some time and stress, but its still not enough for me. I need the time at the gym, since I really want to get in form and I need it for my health. And even if I don't want to say it, my health is more important than games…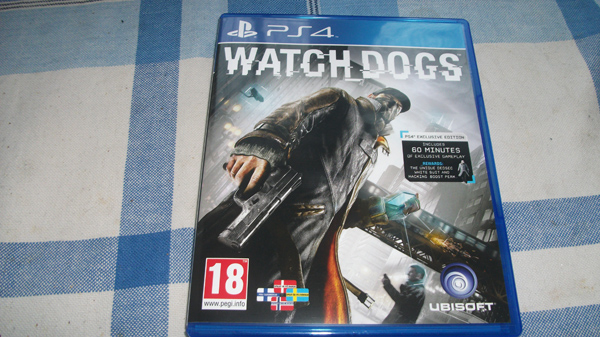 But I'm not working this weekend so I can get some time with my games at least, but then there is the other "problem" or "i-lands problem" as we say here in Sweden.
If I get my copy of Drakengard 3 on Friday, I want to play that. But then I have Watch_Dogs also… And I don't like shifting my attention between games, I want to be 100% focused on one game at a time. Yeah, what a dilemma. Sure it's not a life changing choice, nothing will be better or worse no matter what I choose. But when you are limited for time and want to spend that on your hobby, you really have to pick at the seams. It's not just videogames that suffers, I would like to write more. I really enjoy writing, even with my dyslexia. I try my hardest to form the correct words and to be able to write down what's inside my mind. That's why I would like to continue to write my own fantasy story, and I'd like to continue to write more stuff about "The Saga". But I can't get the peace of mind to sit down and write something more serious with details when I know I want to do other stuff. But like everything else they need planning and again… For that I need time, so if anyone have some good time management tips, please feel free to post them!
In about three weeks my vacation finally starts and I hope, I can get some of this stuff out of my system. At least I can do some catching up on the gaming part and I have so many other projects I'd like to do. Hopefully some of them will actually turn into reality. But there are so much talk about what me and some friends should do this summer and I'm realizing right now that it's really stressing me out. Firstly I don't now how much cash I'll have and if we are going somewhere I'd like to have cash to buy stuff. And all this will of course take time, its time worth spending with my dear friends. I love them all, but it it still stressing me out a bit. But it's only stressing because I want to do so much, so I know I have to narrow some stuff down and take it easy. But it's easier said than done I'm afraid.