Så efter att har varit och sniffat lite på next-gen i förra inlägget så går vi tillbaka till current gen och se vad mer som erbjuds där. Är väl dessvärre några spel här också som inte har ett fast datum just nu, men det får duga!
TIDIGARE INLÄGG
DEL 1 – DEL 2 –

Bloodstained: Curse of the Moon 2
RELEASE: 2020-??-?? —- FORMAT: PlayStation 4, Nintendo Switch, Xbox One, Steam

Utannonserade igår! Trodde nog inte att det skulle få en uppföljare, men blev positivt överraskad. Det första spelet var bra, men jag hade hellre sett ett Metroidvania som Bloodstained: Ritual of the Nigh, men med denna grafiska stilen.
Finns väl inte så mycket mer att säga egentligen. Eller jo. Det finns en karaktär som heter Hatchi. Det är en corgi. Han har en fucking powersuit. Så ondskans makter, ger ni upp direkt eller ska han behöver begrava det som blir kvar av er!?

Ys IX: Monstrum Nox
RELEASE: 2020-07-17 —- FORMAT: PlayStation 4, Nintendo Switch, Steam

Etfer Ys VIII blev jag ännu mer sugen på Ys-serien, framför allt älskar jag musiken de har i serien.Fick faktiskt hem Ys Memories of Celceta till PlayStation 4 så sent som i tisdags, samma dag som detta utannonserades! En tillfällighet?!
Tack vare NIS Americs så får även Switch och PC-spelare ta del av spelet och det är ju inte fel att det når ut till en större publik. Ser fram emot och längtar att få höra all awesome musik i spelet.

Oneechanbara Origin
RELEASE: 2020-??-?? —- FORMAT: PlayStation 4

Zombies, tjejer och bikinis. Behöver man mer egentligen? Fast så får man väl inte säga.
Detta ska vara en remake av det första Oneechanbara-spelet som släpptes, jag har bara spelat Oneechanbara Z2 och det var förvånansvärt skoj! Så jag ser väldigt mycket fram emot detta om det blir ett lika trevligt hack 'n slash.
Det ska få en asiatisk utgåva under sommaren, men exakt när det är kan man ju bara gissa på… Spelet kommer då innehålla engelsk text och tal för den delen.
Bravely Default II
RELEASE: 2020-??-?? —- FORMAT: Nintendo Switch

.Spelade bara en del av första Bravely Default ouch rörde aldrig uppföljaren Bravely Second. Men nu kommer nästa del och det är till Switch, Bravely Default II. Um… Vänta? Det är en hel ny del i serien och ska inte ha något med den andra två att göra, tänk på denna titel mer som titlarna till Final Fantasy funkar. Det finns en del på eshoppen om man vill testa, jag håller ut tills hela spelet släpps.

Tales of Arise
RELEASE: 2020-??-?? —- FORMAT: PlayStation 4, Xbox One, Steam

Var gömmer ni detta spelet Bandai Namco!? Det är ju typ ett år sedan vi fick se något sist! Snälla Bandai Namco, ge oss något nytt nu!! :(
Utvecklar ni en PS5 och Xbox SX version att släppa också? Huh? Kom igen va, ge oss något nytt.. Please sirs…
Is it Febuary already? Man January really flew by, didn't it?
Well new month and new stuff, probably one of the hopefully greatest things this month is that PlatinumGames made a Kickstarter! They have launched a Kickstarter for The Wonderful 101: Remastered.
In the first hours it broke all the goals it had, so the game is confirmed to be coming to Nintendo Switch, PlayStation 4 and Switch. I myself backed so I could get a physical copy of the game. I've posted some news of this on both Twitter and my Instagram, but I gotta say I have NEVER played this game. And that's why I am a bit hyped for it. Like many others I didn't buy many games of the Wii U, outside of Zelda-series and Xenoblade Chronicles X I simply didn't care.
But I was always interested in The Wonderful 101, it looked both fun and different and it being PlatinumGames who made it, I will probably love the humor.
But wasn't this exclusive to Wii U? Why, yes it was. And Nintendo seems to own some of the IP, but that allowed PlatinumGames to do a Kickstarter for it and made it possible to release it on other formats. As it stands now, the game will release in April, so it's not that long of a wait. The game will be getting additional DLC that are free for all backers. And if you back at a higher rate to get some more goodies, you'll have to wait a few more months to get that stuff, but you'll still get the game at the same time as others.
Here are some of the specs for the remastered title.
Switch: Portable 720p/Docked 1080p, FPS:Targeted 60fps
PS4: PS4 1080p/PS4Pro 2160p, FPS: Targeted 60fps
Steam: 1080p (Super Wide monitor support planned), FPS:Targeted 60fps
And last and certainly not least, here is the link to The Wonderful 101: Remastered Kickstarter! Hope you'll support PlatinumGames!
So it appaears that Tales of Arise has been rated… In Korea.
Yeah. Perhaps not what I or you was really looking for, but hopefully it means we can get a release date soon. Because they only rate games that are not to far from being release, or am I completely wrong?
Really hope we can get some more info on the title atleast, it's been so long since any kind of info. Since E3 right? We've not even gotten to see the third character they teased in the last trailer. Come on Bandai Namco, give us something good to eat.
I really want this game now! But hopefully we won't have to wait long.
But we probably will…
It seems like the E3 leaking has begone in earnest and it's a damn shame, but then again I'm so excited right now and I just can't hide it!
It has been very quite around the next mother ship Tales of title, but surly we have a name and a few pictures of it now. We welcome you Tales of Arise.
Tales of Arise seems to have a bigger budget than any other Tales of games.
And probably been in development for longer than the usually titles. They've put this one on Unreal 4 instead of making their own engine. I imagine that has helped a bit with the graphical upgrade. I'm so freaking hyped right now! E3 can't start soon enough!
Here is some PR for the game.
Challenge the Fate That Binds You
On the planet Dahna, reverence has always been given to Rena, the planet in the sky, as a land of the righteous and divine. Stories handed down for generations became truth and masked reality for the people of Dahna. For 300 years, Rena has ruled over Dahna, pillaging the planet of its resources and stripping people of their dignity and freedom. Our tale begins with two people, born on different worlds, each looking to change their fate and create a new future.
Featuring a new cast of characters, updated combat, and classic Tales of gameplay mechanics, experience the next chapter in the world-famous Tale of series, Tales of Arise.
The Next Chapter
Experience the next chapter in the Tales of series, brought to life in stunning HD powered by Unreal Engine 4
Dynamic Action
Dynamic Action RPG featuring an updated battle system that retains classic Tales of gameplay
Stunning Visuals
High quality animation created by Ufotable
Well that was a lot. Now I'm eagerly awaiting the trailer, I really, really hope it doesn't leak beforehand. I wish this hadn't leaked either, would have been a fantastic and wonderful surprise. So yeah, I might be doing wrong in posting about this one right now, but I really can't contain my excitement for this one.
We finally have confirmation of when Dragon Quest XI will be released in the west.
The release date is September 4 for PlayStation 4 and Steam.
So just a few months away! Great news, for me at least is that they will add voice acting. The Japanese original release didn't have voices at all. It will feature some fixes and changes, you can see them a bit down on this post.
Here are some of the stuff they are adding and fixing to the game.
English Voiceover
Draconian Quest, a hard mode that offers additional challenges for more experienced players.
Overhauled Menus & UI, with graphical enhancements and more intuitive navigation.
Camera Mode, allowing players to take in views of the beautiful landscape, character renders and ferocious monsters in detail.
A New Dash Function and many other system enhancements such as improved character and camera movement
They have confirmed that they will not release the 3DS version, but they will release the Nintendo Switch version in both Europe and America when it is released.
Much later. At least they've confirmed it's coming, but we still don't know if it will be an upgraded 3DS version or the same version released on PS4.
I'm just glad we finally have a date, even if it's about five months away. At least now I have something to look forward to. Might even take a vacation day to enjoy it fully.
Bandai Namco has finally announced both a PlayStation 4 version and a PC version of the upcoming JRPG, Tales of Zestiria. This is one badly kept secret, but I'm glad Bandai Namco has confirmed what just about everyone knew. You can read a bit more on it on the PlayStation blog you can read it on the new Tales of blog.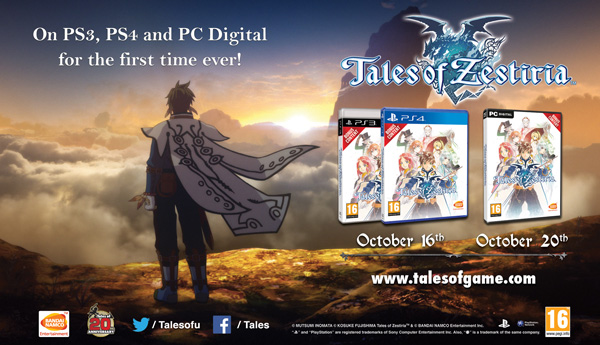 The release date for the PlayStation 3 and PlayStation 4 version is October 16 for Europe and the PC and US version will be released on the 20th October.
So I'll be getting Tales of Zestiria as an early birthday present to myself, man I'm looking forward to this! So hyped right now! I'm just glad we finally have a release date! This is without my most sought after game this year, together with Batman: Arkham Knight. But October will be an expensive month… Uncharted Nathan Drake Collection and Dragon Quest Heroes are released in that month too. Hopefully I can afford everything. The JRPG's are the most important to get or an IP that has ties to an JRPG.