No, I'm not talking about Batman. I'm talking about the other world's greatest detective. You know, Sherlock Holmes. I saw that new Sherlock Holmes movie today with my parents. The one starring Robert Downey Jr and Jude Law.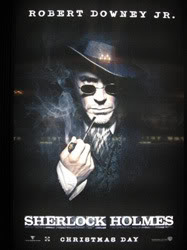 I've never been a fan of Sherlock Holmes, in fact I've always thought he was a pretty boring character. Interesting story around him and such, but boring. That's why I'm so glad about this movie. They have added some humor, not so its silly but in my opinion they make Holmes so much better. I think it really fits this version of Holmes.
The movie didn't feel long even if it was 2hours, if the movie had been bad those 2hours would have been murderous…
The music in the movie was also great, but then again its made by Hans Zimmerman. His music is always good. so if you haven't seen the movie then go do it! Its very good. Now I'm really looking forward to the next movie with Robert Downey Jr, which is my most awaited movie this year. Namely, Iron Man 2.
I'm not a fan of Star Trek. Never have been and will probably never be, but I did enjoy the new movie. Not saying the older movies are bad, not at all. But they are just not something that has clicked for me. Can't like everything now can we?
I have to admit I mostly wanted to watch this because of Zachary Quinto. I've liked him since I saw him in Heroes playing Sylar and he is cool as Spock.
I enjoyed that this was a new start, so a Star Trek noob like me could learn to know some of the characters better. Or at least to get a feeling of them. I have no idea if they are anything like this in the old movies. The movie had a good portion of action. And I thought it was well balanced with story.
The movie didn't feel long either, I almost thought it felt a bit short. Even if its just a bit over two hours long. This is not going to turn me into a Star Trek fan, but I will watch if they make more new movies. And who knows, one day I might do a dive into past movies. All in all, it was a good movie. Which I can recommend.
I'm not 100% sure, but I'll probably see Sherlock Holmes in the coming weekend. You know the one with Robert Downey Jr. My parents wanted to see it, so I'll probably go with them to the cinemas. Nothing is certain, but if they go I'm coming with them. Can't and won't say no to a free cinema ticket.
Other movies I want to see this year is Iron Man 2, Legion, Clash of the Titans and Percy Jackson & the Olympians: The Lightning Thief.