So for the past week I've been playing Batman: Arkham Knight for the
PlayStation 4. Such a great game, I had some troubles putting the controller down. Like yesterday I played for about 15hours straight! Well I took miniature pauses for food and other visits, if ya get my drift. The worst (best) part is that it didn't feel like I spent such a long time with the game, the day just flew by and I haven't done gaming in one sitting like this in years! Mostly I've just gotten 2-3hours in one sitting.
I did really like the game, but I'm a tad sad that the batmobile takes up a bit too much space. I can't go into detail on what exactly what I mean, since I would then have to spoil some stuff and I'm NOT going to do that. All in all it was a good game and a good ending to Rocksteady's Arkham trilogy, I'm please that Rocksteady acknowledges the stuff that happened in Arkham Origins even if they didn't make the game themselves.
I just have some Riddler stuff left (almost all of it) and I'll see if I will give them ago, probably not. But if would be nice, since there is a surprise… ;)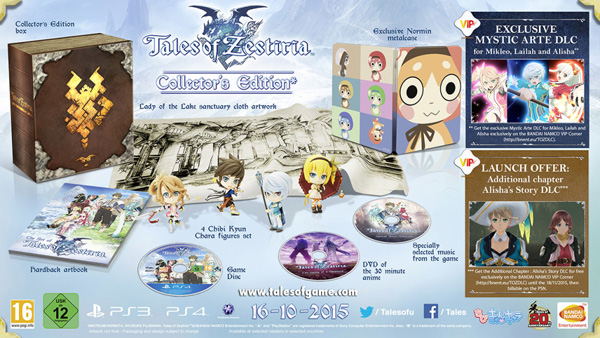 And in other news
Bandai Namco
today announced the Collectors Edition for
Tales of Zestiria
, it's more or less the same version as the Japanese CE. A shame that the will bring the ToZ OVA over, but on a DVD. You would think they would put it on a blu-ray for the PS3 and PS4. You'll get a
cloth artwork, steelbook, 4 Chibi Kyun figures, hardcover arbook, selected soundtrack cd
and a big old box to put everything in. I'm still thinking about getting this or not, some great stuff, but I would have preferred a figure like Milla or Ludger from
Tales of Xillia 1 & 2.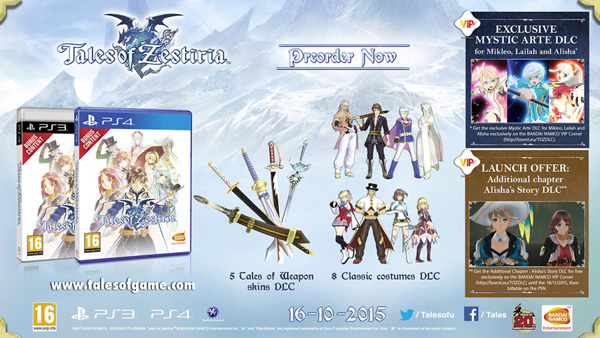 Some retailers will offer some Tales of Cameo costumes! I need them, I must have them! So hopefully my local GameStop will be able to offer these costumes. If you get the game digitally you will get them regardless. I'm not sure if this is true even for the steam version of the game, but I would be surprised if you didn't get them there too. And speaking of steam, they are going to release
Tales of Symphonia HD
on steam next year. If a lot of people preorder Tales of Zestiria on steam and they hit a certain mark, those who preordered ToZ will get ToSHD for free. Not bad, not bad.
So what is next for me in line of games? We'll I'm looking forward to
Onechanbara Z2 Chaos which is coming out the Juli 21 in the US. Guess it will be imported since we still don't have a date in Europe and I want to be sure to get a physical copy. After that its time for Metal Gear Solid V: The Phantom Pain in September, then in October I have no idea how I'm going to find time to play all the games I want. Dragon Quest Heroes, Tales of Zestiria, Transformers: Devastation. Ugh. Uncharted: The Nathan Drake Collection is something I'll be getting later, since I do not have the time and I'm pretty sure it will sell well either way. There are probably so many more games I've missed and for now that is okay, I don't need to remember them all. That would only be more trouble for me. Hehe.
What did you say? I don't have to get all the games at once? I can wait? What are you saying dear sir/madam? You crazy. O.O
Bandai Namco has finally announced both a PlayStation 4 version and a PC version of the upcoming JRPG, Tales of Zestiria. This is one badly kept secret, but I'm glad Bandai Namco has confirmed what just about everyone knew. You can read a bit more on it on the PlayStation blog you can read it on the new Tales of blog.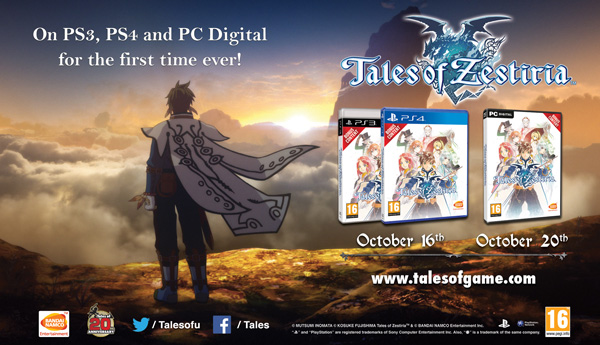 The release date for the PlayStation 3 and PlayStation 4 version is October 16 for Europe and the PC and US version will be released on the 20th October.
So I'll be getting Tales of Zestiria as an early birthday present to myself, man I'm looking forward to this! So hyped right now! I'm just glad we finally have a release date! This is without my most sought after game this year, together with Batman: Arkham Knight. But October will be an expensive month… Uncharted Nathan Drake Collection and Dragon Quest Heroes are released in that month too. Hopefully I can afford everything. The JRPG's are the most important to get or an IP that has ties to an JRPG.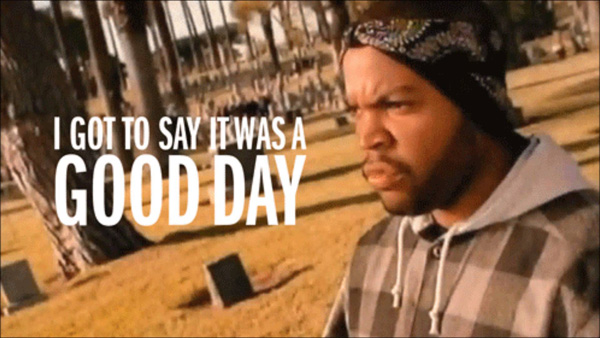 Indeed it was IceCube, it was a good day. A very, very good day I might add. I've had a really good time with two good friends, one of whom I don't see to often. But hopefully that will change and we can have more fun together. Had some food in town, then we sat and talk for a while and it was fun. Overall today has been a great day and any signs of looming depression is wiped away. I really hope this good feeling will last a long time now.
I've also started playing The Order 1886 for the PlayStation 4. Not to far into the game, but so far its pretty nice. I don't really care for graphics but man, that game is beautiful. If it is as good or bad as people say, I can't say anything about right now. I'm to early into the game to have a real opinion of the game.
Hopefully I can start my GameBoy Advance project soon. I've gotten a hold of a faulty GBA SP and I hope the screen at least work as it should. I'm going to mod it so I can a front lit screen in an original GBA since I like the form factor so much more. I'll post some pics when I start my project and hopefully I can get everything to work.
And by the way! If you have a Kickstarter account and love the old platform games Rare used to make like Donkey Kong Country N64 and Banjo-Kazooie. Some old Rare members have formed a new company and is kickstarting Yooka-Laylee. It looks great, so check it out! I've done my part.
Square Enix har nyss släppt TokyoGameShow trailern från Final Fantasy XV med engelska röster. Det kommer säkert bli en massa gnäll som vanligt från folk, men jag gillade verkligen det man fick höra! Det är svårt att ge det någon ordentlig bedömning av det lilla man får höra, men jag gillar som sagt det som hörs! Ska bli väldigt intressant att få testa demot på detta spelet i Mars 2015.
Det är ju även då jag köper Final Fantasy Type 0. Jag köper verkligen inte det för att man får med en demo på FFXV, det är bara en bonus. Utan det som gör mig sugen på FFT0 är att det sa vara ett mer vuxet Final Fantasy.
Aja, det ska bli intressant i vilket fall som helst! Ser fram emot att få testa båda spelen! Kommer ni skaffa något av spelen när de väl släpps?
Earlier this morning for us EU folks, Sony of Japan held a conference to announce some new games. I was actually expecting to be let down, or rather there would be nothing that would really interest me. And I was wrong! Which I am very happy about. Worth nothing is that some of the games mentioned here are also releasing on PlayStation 3 and PlayStation Vita too, but for this post I'll only be focusing on PS4.
Dragon Quest Heroes
Said to be an action-rpg, but are made by Dynasty Warriors developer Omega Force. Not only that but it does look a bit like a "musou" game as they are called in Japan. Not that it bothers me, I like the trailer and I'm definitely getting it if they release it outside of Japan. Come on Square Enix, you know what to do.

(more…)
2013 was a good year for me, sure I still have problems with my depressions and anxiety. Some of those aspects actually got worse over the year, which is sad since I had hoped to get some control over them. Easier said than done, I might tell you. Either way, here are some of the highlights I liked from 2013. They will all be posts from my site, I might add a separate list for other stuff later.
That's all I can think of now, there might be more. But then again I don't live a very exciting life, but I like what I do. And I'm just happy people want to read about it, even if I'm writing for myself. Still it makes me happy that people take the time. You are very appreciated dear reader! =)
The first thing I did when I got the Playstation 4 earlier this morning was to take a few pictures and post on various sites I visit. I just wanted to show of my new sexy thing, after that I unpacked everything. Mmm! That new console smell. Hooked it up and it went smooth as hell, I am impressed at how fast everything went. It downloaded the update and installed it pretty fast, I liked that very much. The interface looks really good and it was so fast, it will take sometime to get used to it. But I think it will be really great. A friend of mine who skipped out completely on the PlayStation 3 was with me when I got my console and he was very impressed with the PS4. He enjoyed the controller much more than the though he would, so that was nice too hear. Even Hentai-Woody likes is!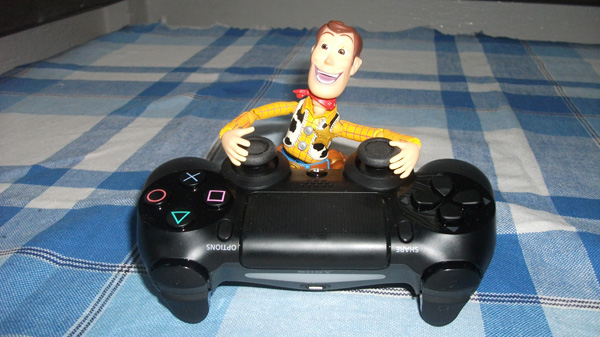 As I posted a couple of days ago, the DualShock 4 is so damn good. I like the weight of the controller, the sticks are much tighter and gives more precision than those on the DualShock 3. And as I thought I love the feature that you can plug-in earphones/headsets and get all the games audio from the controller, perfect for those game sessions that takes place late at night and where I have to be quite in my apartment. Sure, this could have been fixed by buying a more expensive pair of headsets I presume, but that's not something that was in my budget or something that I really want.
I only played Knack and Resogun, before I was to tired to even see. No, seriously I was starting to see fog around the eyes. I had to go to sleep! But I really enjoyed the short time I spent with Knack, going to give it a whirl later when I've gotten some more rest. I only slept for like 5hours and I feel I need some more. Resogun seemed more fun than I thought, I played long enough to clear a stage but it was pretty fun. Gotta try that more later. I don't think I'll be starting Assassin's Creed 4 until I've finished Knack, but then again my friend Elden is coming over later today so who knows? We might take it for a spin, just to feel the ocean breeze.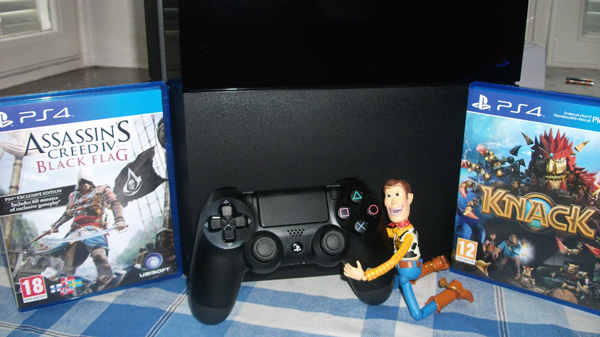 So far I am really enjoy the PS4, I'm very pleased with what I've tried so far. Okay, Knack doesn't have a very next-gen feel too it, but still. The only complaint so far is the lack of media capabilities, I hope that is something Sony fixes soon. I always used my PS3 to watch movies and TV-shows, I can still watch blu-rays on the PS4 but can't watch anime shows that I've downloaded, since the PS4 can't read the files. But it's only the beginning of the PS4 life, I really hope they do add this later. And MP3-support for playing music ingame, it's the feature I love and used most on the Xbox 360. So I really hope Sony will bring that one to the PS4 in a more complete manner than they did on the PS3.