Då var man tillbaka med en lista av spel man ser fram emot, nu går jag dock in på 2018. Det är inte många spel som är avslöjade än för 2018 men, här är de som som jag känner till och som jag kommer skaffa. Om det inte blir på deras release, så blir det förr eller senare åtminstone.
Dessvärre har ju de flesta spelen jag listat här inga satta release datum.
Ni no Kuni II: Revenant Kingdom
Release: 2018-01-19 | Format: PlayStation 4, PC

Nästa år börjar direkt med ett JRPG! Det är inte illa det! Ni no Kuni 2 ser riktigt bra ut av de få trailers jag har sett. Med ett mer action baserat stridsystemet så tror jag att detta spelet kommer bli riktigt bra. Stridssystemet i första spelet var det jag gillade minst, så det ska bli spännande att se hur stor skillnad det kommer göra. Sedan längtar jag mycket efter ett nytt cellshadat spel också.

Biomutant
Release: 2018-??-?? | Format: PlayStation 4, Xbox One, PC

Jag känner inte till mycket om detta spelet, men fasen jag blev småkär i det efter de första bilderna hade läkt. Sedan fick man lite gameplay och jag blev mer såld, tror detta kommer tilltala mig. Fast man vet aldrig, kul att spela som en liten grävling med ett stort jävla svärd om inget annat! :D
Dragon Quest Builders 2
Release: 2018-??-?? | Format: PlayStation 4, Nintendo Switch

Jag köpte första Builders när det kom ut och spenderade ett par timmar på det, sedan lämnade jag det för att testa ett annat spel. Det tog nästan ett år innan jag återvände till spelet. Men när jag väl gjorde det var det med en ny kärlek, har haft så skoj med första Dragon Quests Builders. Det var faktiskt lite tack vare utannonseringen av uppföljaren som fick mig att vilja dra igång med första spelet igen det och att det kommer finnas multiplayer i tvåan! Man kommer kunna bygga tillsammans! Tyvärr har Square Enix inte bekräftat spelet för en release i väst, men jag håller både tummar och tår för att det kommer.
Darksiders III
Release: 2018-??-?? | Format: PlayStation 4, XBOX One, PC

En sjukt stor överraskning för egen del. Trodde Darksiders serien var körd, ja, jag trodde inte vi skulle få något mer även om de släppte om första och andra spelet på de nuvarande konsolerna. Men ack så glad jag blev när detta avslöjades. Vi kommer få ta rollen som Fury och hon kommer bokstavligen att piska röv! Jag hoppas spelet kommer att vara mer i stil som första Darksiders och mindre som tvåan.
Dragon Quest XI: Echoes of an Elusive Age
Release: 2018-??-?? | Format: PlayStation 4, Nintendo Switch, N3DS

Spelet ser så snyggt ut! För att inte nämna färgglatt, något som jag tycker på tok för få spel är nuförtiden. Jag blev ju ännu gladare när Square Enix bekräftade att spelet kommer släppas i väst under 2018. Dock har dom inte sagt vilken version som kommer släppas… Det finns just nu 2st version, en till PlayStation 4 (trailern är från den versionen) och så finns det en Nintendo 3DS version. I framtiden skall det också släppas till Nintendo Switch. Skall jag gissa så tror och hoppas jag det blir PlayStation 4 versionen, har man tur blir det båda versionerna som släpps här.
Snart är det ett nytt år och med det kommer nya saker att se fram emot, som filmer, musik och för min egna del tv-spel. Nästa år kommer bli ett helt fenomenalt år för JRPG, troligen det bästa på bra länge, om inte kanske det bästa någonsin.
Nu betyder ju inte det att man behöver gilla allt som kommer, men jag tror nog aldrig det släpps så mycket JRPG under ett år som det verkar göras under 2016.
Som vanligt är jag här med min lilla lista av de spel jag ser fram emot mest av allt. Skriv gärna de titlar ni ser fram emot, så kan vi se om vi har något gemensamt att längta till.
Blev så otroligt glad här om dagen då Namco Bandai bekräftade att Tales of Berseria kommer släppas i Europa! Så där riktigt barnsligt glad man blev förr på julafton, så tack NB för denna fina julklapp. Nu som alltid när det gäller Tales of-spelen, blir det att vänta. Men nu när man vet att det kommer, så kan jag vänta… Tror jag… Okej. Kanske inte. Vill ha nu!
Nintendo har åter igen bekräftat att spelet ska släppas 2016 och naturligtvis får man väl börja längta lite till. Av det lilla man fått se än så länge, så ser det fantastiskt ut. Håller nästan tummarna för att denna Link inte tar på sig sin klassiska gröna tunika. Gillar verkligen de blåa kläderna han har eller att man har förmågan att byta kläder. Hur som helst nya Zelda lär bli grym!
Den avslutande delen till Uncharted-serien vill jag absolut inte missa! Det ska bli spännande att se vad Naughty Dog kommer att erbjuda i och med detta spelet. En sista runda Drake, en sista runda sedan får du nog vila lite.
Efter fjärde Star Ocean spelet, så trodde nog de flesta att vi inte skulle få se mer av serien. Så det var skönt när Square Enix avslöjade Star Ocean V. Det går tillbaka lite mer till rötterna och skrivs av personerna som var inblandade i andra och tredje spelet, så storyn lär ju vara bättre. Spelet imponerar också genom att ha sju spelbara karaktärer samtidigt! Det ska bli kul att se hur väl det fungerar.
Ett spel jag aldrig trodde skulle få en uppföljare är NieR. NieR råkar också vara ett av mina absoluta favorit spel under förra generationen, så detta var en glad överraskning. Utvecklas av Platinum Games, som ser till att fighterna blir bättre än i förra. Svårt att säga mycket mer om spelet då vi har inte så mycket info, återstår ju att se om spelet ens kommer under 2016.
Ni no Kuni var också ett spel som jag blev positivt överraskad att se skulle få en uppföljare, det första spelet var bra, men det var väl en del problem jag inte riktigt gillade. Just nu fantiserar jag om hur snyggt detta spelet kan bli, vi behöver fler cellshadade spel!
Det var bara några av alla godbitar som kommer nästa år jag vill ha. Tror 2016 kommer bli ett sjukt bra spel år och kommer erbjuda något för alla. Men som tidigare nämnt det är ett grymt år för JRPG spelare.
And so I've rescued the world of Ni no Kuni, just beat the game and it was really nice.
A really nice adventure and a good game. Without a doubt my favorite Level-5 game.
Namco Bandai has done a great job with the localization and I love the English/British voice actors. It had great characters like the Shadar, I really liked him! He was a really cool bad guy, that felt somewhat original. Maybe not much, but he felt like a really great villain, compared to many others in games. And he has such a damn cool voice!
And the lord high lord of the fairies, Drippy! He is a great character and his dialect is great. Even if I have a hard time understanding what he is saying at times. I love his "Abraca-frickin'-dabra!"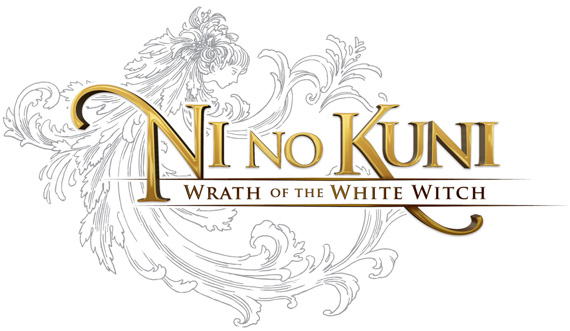 Good big classic world map, a pretty good fight system, really good music. If I have to give one complaint right now, I think I'll say it was a bit too easy. I never really had to set any strategies in a fight, just press "X" and change characters to heal from time to time. I'm not saying it's super easy, I've had some hard fights in the game. Even if they are few, but after a while did stopped being challenging. And I'm not a really big fan of several boss fights after one another. I really hated than in White Knight Chronicles 2, so glad Level-5 made this game so much better than WKC2. Because I wanted to throw the controller out of the window because of that damn game sometimes. Guess, I'll never finish that game.
Ni no Kuni really is such a great game and if you have a PS3 and want a good JRPG, get this one. I don't think you'll be disappointed. I know I wasn't, so 2013 as a game year has started really good. Hope the rest of the year is equally good and hope that Tales of Xillia can be released soon!
It arrived today, just like I hoped it would!! Woohoo! Installing the game data right now and I'll precoded to make some breakfast, haven't eaten a thing yet today. Now it's going to be real interesting to see what I think about this game, I've waited so long for this.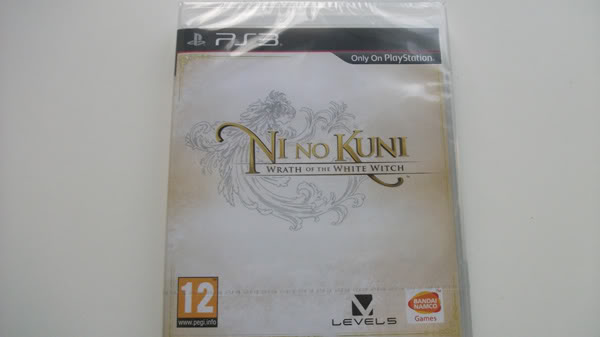 I am feeling somewhat better today, so it's back to work tomorrow. And then I can spend the entire weekend with Ni no Kuni. But now I am off to play!
So I was really disappointed today, I did not receive my copy of Ni No Kuni as I had hoped. Not that I am surprised! But hopefully it will at least arrive by Friday, but it will probably arrive tomorrow! I sure hope it does, playing games or watching TV is about the only thing I have the strength for right now.
Gotta try at least to get out and get some fresh air.
I'm going crazy being cooped up for so long, uuughh! I really goddamn hate being sick.
I'm really thinking of watching Howl's Moving Castle, never seen it before. And with all this Studio Ghibli hype from a lot of people thanks to Ni no Kuni, I'm interested in watching it. To see if I like it, so far the only Ghibli film I've really enjoyed it "The Cat Returns". The others I have seen, didn't really get my interest. So I might just watch that before, I turn in for the night.
I've been feeling really sick since Monday. So I have been home from work, I don't like that. I want to work and not be at home. Well, sure I want to be home but not when I can earn money. But not much I can do about this damn cold, I just hope I can feel well enough to work again on thursday. Right now I am having trouble sleeping, since I keep coughing.
I hate it so much and the cough medicine tastes horrible… Yuck!
I am hoping the postman will bring something good in the mail today. He will probably not arrive for another 12 hours or so. But I sure hope I get my copy of Ni no Kuni today! Since it has been marked as shipped from where I ordered it, so I really, really hope I'll get it today. I will post again in a few hours if I get the game.
I'll never understand how depressions work. I am feeling rather good today, hope this will last long. But you never know, I'll just embrace it and hope for the best.
Just too keep the sad tone a bit, Ni no Kuni has been delayed. Thank god its only delayed with a week, otherwise I would have gotten very sad.
I am really looking forward to the Sci-fi convention in Malmö this year. No guests or anything has been announced yet, but I just love doing this stuff yearly with my friends. This is the best kind of tradition. This will be my third year in a row, was hoping to come dressed as something this year. But it seems that wont be happening, I wouldn't know what to cosplay as. Either way I'll be taking lots of pictures this year too.
I actually got a pair of new shoes, I needed something better for my feet, the ones I had where so bad that my knees started to hurt if I used them more than an hour. The new ones feel great! Now I can go out and take walks again without hurting.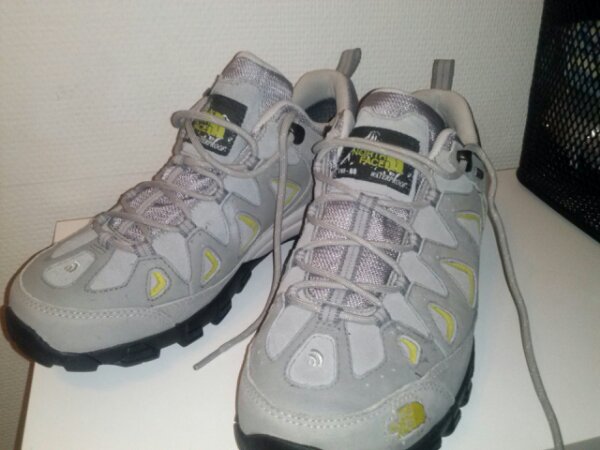 I am also hoping I can start going to the gym soon, hopefully in February or the beginning of March. I really want to get in shape and loose my weight, I really need to do it and I want to do it. I hope one of my friends will join me, I got to speak with him in the upcoming weekend or soon at least.