Blir lite småless på mig själv då det tar en sådan tid mellan inläggen, men det blir dessvärre lätt så när man har massa annat att tänka på. Men mer om det i ett annat inlägg. Nu vill jag mest vissa lite spel jag ser fram emot!

Plauge Huntress

När jag såg detta spelet första gången så trodde jag att Konami äntligen var tillbaka med ett nytt Castlevania-spel i stil med Aria/Dawn of Sorrow. För helt ärligt…
Det enda som saknas är att det heter Castlevania något, grafiken är liknande, musiken känns som något ifrån GBA & DS-spelen. Nu är detta inget negativt för mig, det är ju detta jag vill ha. Men är lite rädd det kanske inte har sin egen identitet.
Ser fram emot att följa detta spelet och jag lär stå där på köp knappen dag ett.

Gestalt: Steam & Cinder

Kan väl inte säga så mycket om spelet mer än att jag är intresserad, ser väldigt kul ut och så är det ju ytterligare ett Metroidvania. Men jag föredrar dem så här och detta ser ju kul ut. Då kanske tillskillnad från Plague Huntress, så står detta lite mer på egna ben med en mer egen design och miljöer.

The Last Faith

Nä, men Micke. Ett tredje pixel-aktigt Metroidvania? Ja, vad kan jag säga. Stäm mig!
Är väldigt nyfiken på detta, säg ju vara ett Metroidvania med influenser av Souls-spelen, den delen är lite avtändande för egen del. Men det man ser i trailern tycker jag ser fantastiskt och kul ut. Blir att hålla ett öga på detta.

Sea of Stars

Sjukt fint pixel JRPG från skaparna av The Messenger, som jag också måste spela någon gång. Tankarna för mig till Chrono Trigger när jag ser spelet och det är ju något som bådar gott för egen del. Ska bli spännande att se hur detta blir.
SacriFire

Huh, blev mest pixel-spel på denna listan. Nåja. :D
Ytterligare ett JRPG som fångar mitt intresse, det tar ju inspiration av HD2D som man bland annat ser i Octopath Traveler. Hoppas dock striderna inte är riktigt lika sega om i O.T. Att Motoi Sakuraba gör musiken till spelet gör mig mera nyfiken, hoppas få se mera snart.

At long last Koji Igarashi and the team behind Bloodstained has revealed the release date of the game! And thankfully we will not have to wait all that long!
After god knows how long we will be able to play this game. I've waited so long for this, it has been on my lists for upcoming games I'm looking forward to many times now.
The game will be released on June 18th. But the Nintendo Switch version will be release a little bit later, on June 25th. So not all that long.
So enjoy the trailer and see how much they have improved the game. I think it looks really good, but then again I'm one of those who never had problems with how the game looked like from the start. But I do appreciate that it looks prettier now.
I'll be taking my chance with the Switch version. I pledge $60 on Kickstarter to get the PlayStation 4 version physically, but I think I'm gonna leave that one unopened. Plus I ordered Bloodstained: Curse of The Moon for Switch from Limited Run Games, would be nice to have both physically for Switch.
Well I posted to separate posts before of the games I have preordered so far this year. And since those lists now has changed a bit, I thought I'd update them and put them in a big post instead. Some of the games have been released, others I changed my preorder for and some new ones have been added to the list.

Release: 2018-07-10 | Buying for: Nintendo Switch
I'm not sure how many Shining games we got outside of Japan, at least the none SRPG ones. Not so interested in those myself, but I'm very interested in this title.
Firstly I really like Tony Taka's artstyle, especially how he draws elfs. Mmm…
But it looks like a fun JRPG, with battles in the vein of the Tales of games. And it's based heavily around music and the characters weapons are also instruments and that is very intriguing to me.

Release: 2018-07-13 | Buying for: Nintendo Switch
I wasn't very into this game from the start, but the more I saw and saw of my friend trying the demo, it sold me on the game. It looks charming and at the same time I feel relaxed and happy when I see the sprites in this game. Time will tell if this preorder was a wise one, since I'm still a bit on the fence about this one.
Sure, Shining Resonance might not be a wise buy either. But I'm taking my chance with both and I hope they'll be great.

Release: 2018-08-04 | Buying for: PlayStation 4
Back in February I made a bigger post about this game, but in Swedish. If you are interested to see my thoughts about it, you can read it here. Well since that post we've actually gotten a release date, it will come out in the beginning of September, more precise the 4th. God I'm looking forward to this! So glad they are adding voice-acting into the version in west. And some other fixes.

Release: 2018-04-07 | Buying for: PlayStation 4
Another one of those games I've been looking forward to since it was announced and as soon as we got the release date I quickly preordered it. It's a shame it will be released 3 days after Dragon Quest XI, that means I'll probably have to wait a bit with DQ before I start it, because I want to give it my complete focus.
And the same with Spider-Man.

Release: 2018-??-?? | Buying for: PlayStation 4
Kingdom Hearts… Well what can I say?
Supposed to the end of Sora's story arc and hopefully tie some of the story together in a good way. But I'm mostly excited for the new worlds, Toy Story, Monsters Inc, Tangled, Big Hero 6 to name a few. With rumors of this one release around November, this will be my Christmas game this year. Just like the first game was, all those years ago when it released.

Release: 2018-??-?? | Buying for: Nintendo Switch
Can't wait to see more from this game! The last Smash Bros game I played was Melee for the GameCube, so I'm really itching to get back into the fun. Keeping my fingers more Xenoblade representatives joins the battle, would love to see Elma from Xenoblade Chronicles X appear in the game. Either was I preordered this was as soon as I knew it was available for preorder. Now like with all other stuff in here, we play the waiting game. (Do I need to preorder that game too?)

Release: 2018-11-16 | Buying for: Nintendo Switch
This is going to be somewhat exciting. A Pokémon game that is a bit tied with Pokémon Go. Which I actually tried for the first time last week. Haha.
I think it looks good and Gen 1 is a bit closer to my heart than all the new Pokémon stuff, so I'm looking forward to heading back to Kanto and see if I still have some love left for Pokémon. :)

Release: 2018-??-?? | Buying for: PlayStation 4
This isn't really a preorder? Or is it? Either way I've been waiting for Bloodstained ever since I donated to the Kickstarter and hopefully nothing happens and we'll finally see a release this year. Well I'm really looking forward to getting a new "Igavania" like game, it could actually be one of the games I'm looking forward to most this year. I'm also thinking about buying a second copy of the game, since my Kickstarter copy is a PlayStation 4 version, I might buy a Switch version.

Release: 2018-??-?? | Buying for: Nintendo Switch
With E3 around the corner, we will probably get the full name and release date of the game. Really looking forward to try this, had a blast with Donkey Kong: Tropical Freeze, so I really want to go back to these kinds of games. I think it looks fun and charming.

De senaste 4 veckorna har varit sjukt intensiva, haft en hel del att göra. Då vi har startat med en ny stor kund, där jag har varit inblandat med starten. Vilket var väldigt kul måste jag säga, sedan hade jag hand om det fram tills förra veckan.
Då jag har lite andra arbetsuppgifter i åtminstone 4 veckor till. Hektiskt och kul som sagt. Har även gått utbildning så går även som driftledare nu, vilket är oerhört kul. Vilket är mer eller mindre det jag jobbar med de kommande veckorna.
Men nu ska jag inte snacka mera jobb, även om jag verkligen älskar mitt jobb. Hehe. Det har dock inte blivit så mycket spelat på senare tid, har varit trött när man kommit hem och annat har helt enkelt kommit i vägen, på både gott och ont. Har varit ute och varit mer aktiv i andra saker, så det får man väl se som ett plus. Saknar dock spelandet, har köpt och klarat Mighty Gunvolt Burst till Nintendo Switch.
Det är ett jävligt bra spel i klassisk Mega Man stil och så otroligt mycket bättre än vad Mighty No.9 någonsin var. Går inte in så mycket mer på spelet, googla det om ni vill veta mer, men kan verkligen rekommendera det.
Har kört ett par timmar på Dragon Quest Heroes II, det är rätt trevligt.
Får väl se om man kommer in i det lite bättre, annars så inväntar jag Cave Story + till Switch. Det ser jag fram emot, har hört väldigt bra saker om det och har velat spela ett nytt "metroidvania" spel.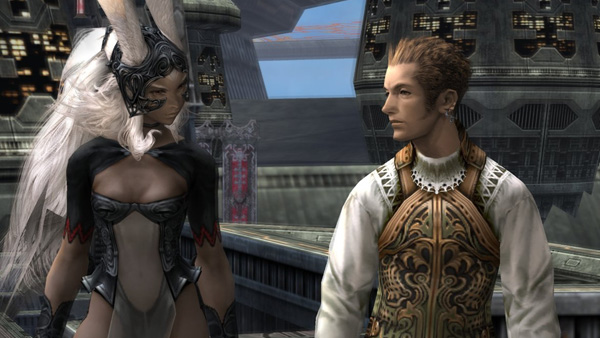 Annars blir det Final Fantasy XII HD till PlayStation 4 nästa månad, ska ge spelet en ny ärlig chans. Gillade det aldrig när det kom, men tror jag kan uppskatta det mer nu. Om inget annat så kan man se HD-versioner av Balthier och Fran. <3
Som folk troligen vet redan, så har Disney släppt det nya introt till den kommande DuckTales serien. Här om dagen släppte de också långversionen av sången, så tänker jag delar den här. Det är den klassiska DuckTales sången i ny förpackning, men ack så bra den är! En klassiker som aldrig dör.

Så även om det inte hänt så mycket på senare tid har det varit bra, kan inte alls klaga på hur det varit. Vi fortsätter köra på i samma takt och hoppas på lite semester snart. Hoppas ni alla har det riktigt bra och får en grymt skön sommar.
Eftersom man deltog i Kickstarter för Bloodstained: Ritual of The Night och man spenderade 60$ eller mer så fick man en demo efter E3, demot är dock bara tillgängligt på Steam. Så inget demo till någon av konsolerna, hade velat ha en demo till PS4. Hur som helst jag deltog med just 60$ för att få en exklusive fysisk backer utgåva av spelet, med tanke på hur mycket jag gillar mina IGAvania-spel så var det värt det.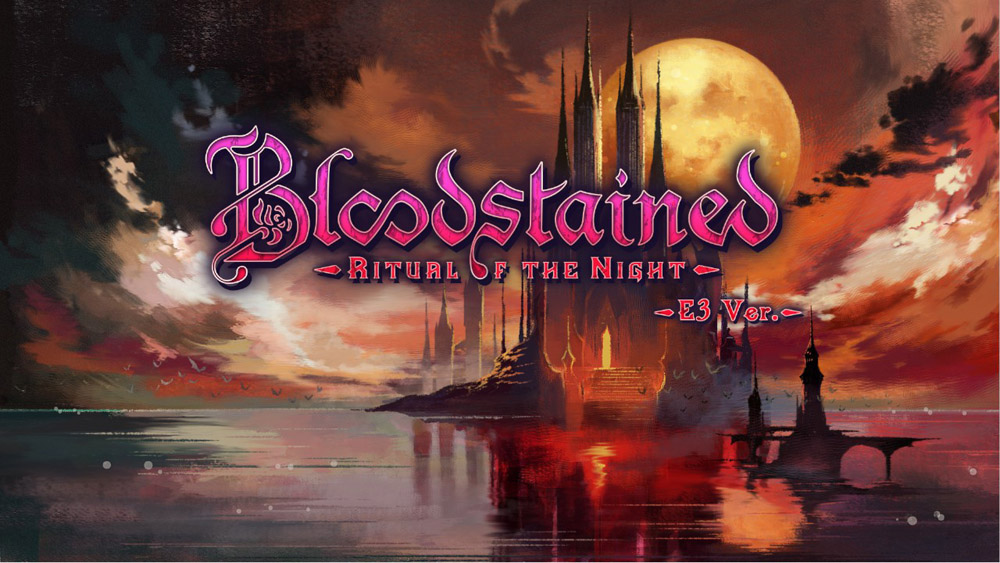 Nu när jag har testat demot så är jag ännu mer såld än tidigare, visst lite wonky grafiskt kanske men jag gillar det. Spelet kändes och kontrollerade som ett av IGAs klassiska Castlevania spel, det kändes rätt få fort man började röra sig.

Väldigt glad över att vi får spela som en tjej, då dom oftast känns både vigare och snabbare. En egenskap jag verkligen uppskattar i denna typ av spel. Miriam är cool och söt, ser fram emot att få spela mer med henne och vända upp och ner på alla som vill henne ont eller står i hennes väg.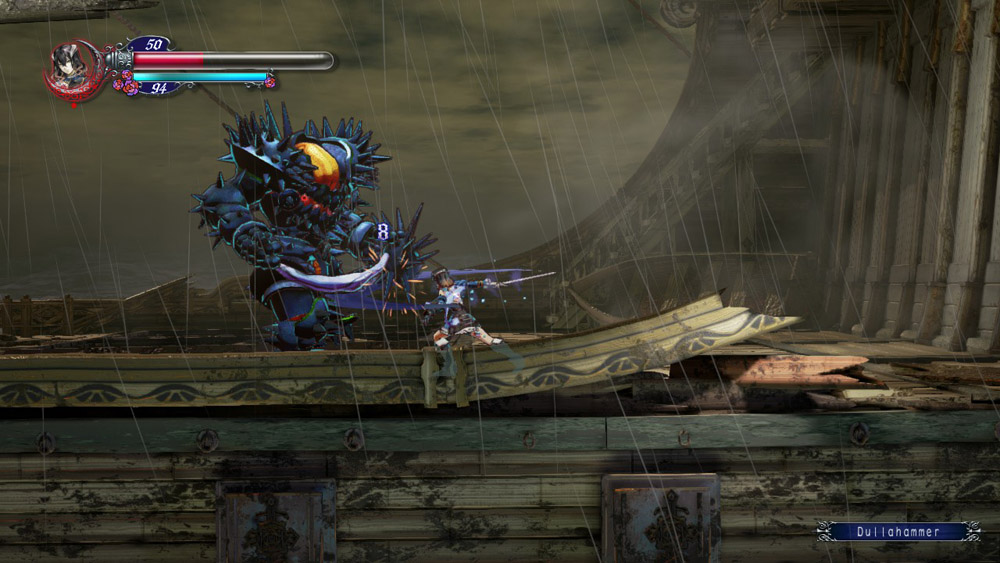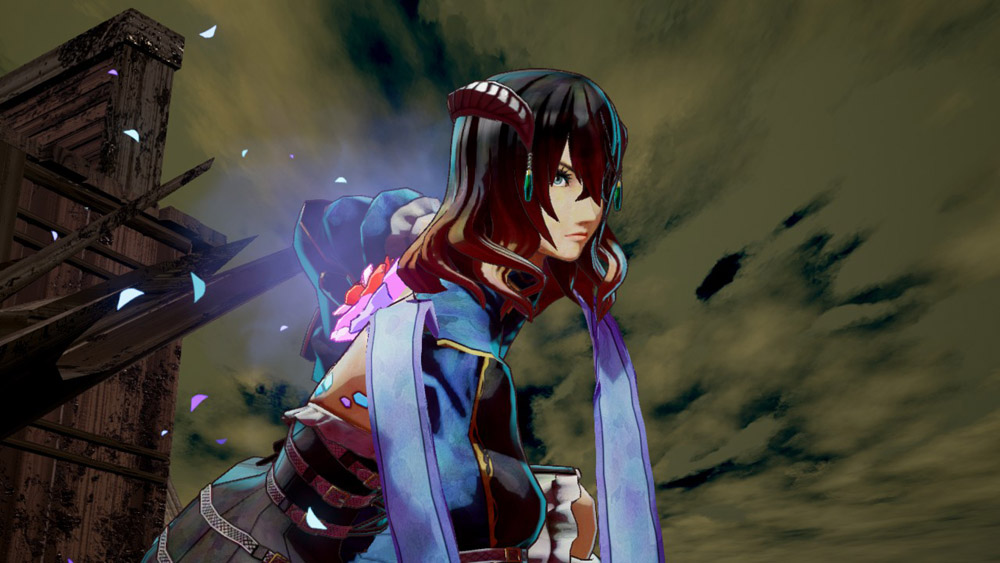 Musiken i demot var riktigt trevligt, kändes också det klassiskt Castlevania som jag vill ha det. Ser så sjukt mycket fram emot att detta ska bli färdigt alltså, kan mycket väl vara ett av de spelen jag ser fram emot mest. Musiken kommer garanterat att rocka vidare i hela spelet så Michiru Yamane är med och gör musiken och hon har då gjort musiken till en hel del Castlevania spel.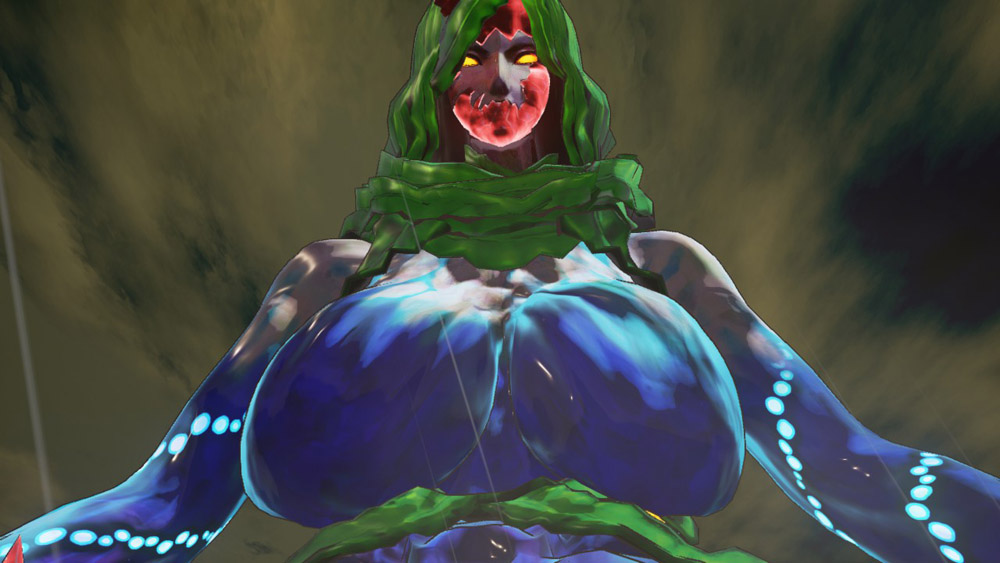 The big bad som man möter i slutet av demo, är ju verkligen stor. På mer än ett sätt. Haha. Kontrollen känns skön och bekväm, som nämndes tidigare så satt kontrollen som gjuten tyckte jag. Det var inget som kändes konstigt för min del, utan det satt som det skulle. Vet att jag själv klagat på att Miriam varit lite slö, men efter att spelat demot tycker jag inte det. Det känns slöare på filmer eller när man ser spelet, än när man själv spelar. Fanns ju inte så mycket monster att möta och inte så mycket vapen heller, men det var nog i demot för att verkligen ge mig mer sug efter spelet.
Nu ska man bara fortsätta den där eviga väntan, som känns lite längre nu när man spelat demot och vet på ett ungefär vad man får. Ser som sagt så sjukt mycket fram emot detta! Åhh! Tack så mycket Koji Igarashi! Dina spel har aldrig svikit mig.
I've longed for a new Castlevania game in the vein of Symphony of The Night and of course the GameBoy Advance and Nintendo DS games. They are some of my favorite games of all time. We have been getting a lot of "Metroidvania" games lately, which is nice! But I've never fallen as much in love with them as I have with Koji Igarashi's Castlevania games. But since he left Konami some time ago, he can't make anymore Castlevania games and I'm pretty sure Konami can't make them own their own, the Lords of Shadows games were okay at best. I myself vastly prefer the PlayStation 2 Castlevania games, something I seem to be somewhat of a minority to like.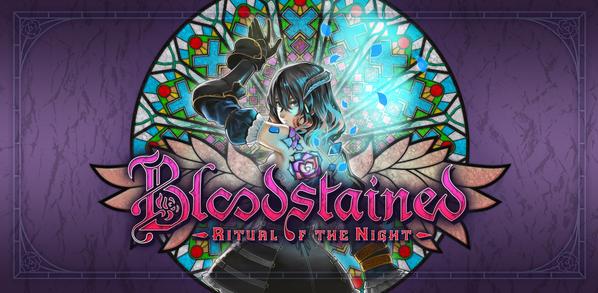 Either way, Mr.Igarashi is back and he brought a Kickstarter with him for Bloodstained: Ritual of The Night. Sadly there are no gameplay, but a lot of concept art of the characters and man I'm really looking forward to this, the game has already reached its funding of 500.000 dollars. So it confirmed to come out on PlayStation 4, Xbox One and PC. So all extra money they get now is to fill the game, with a lot of extra stuff. One of the things I'm looking forward to most is that Michiru Yamane is onboard with this project. She did the music for SOTN and a bunch of Castlevania games after that one. This is very important to me, her music is very important for the right feel, at least for me.
The video he put up together with the Kickstarter is great and you can see it at the end if this post.
So much awesomeness if you like cheesy stuff and Castlevania. I wish I could back this project at a higher level than the digital version, would love to have a physical version of this game, but forking out 60bucks isn't possible now, not with all the other stuff I want. Hopefully they will release a physical version later, that isn't just for Kickstarters. If they do, then I'll be getting that one too.